5 Disney Racecations | Friday Five
This week's Friday Five Link-Up topic (hosted by  Courtney, Cynthia and Mar) is 5 Trips to Take. Today I will share a bit about 5 Disney racecations that I have taken!
5 Disney Racecations
Of course my racecations took place at Disney! There is just something magical about visiting Disney AND running! Running in costume is encouraged, and there are tons of character stops (a great time to take a quick breather!)  🙂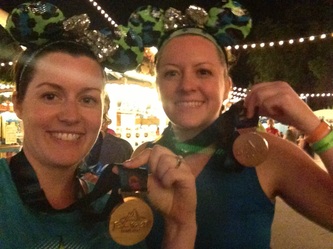 The first racecation that I did  was back in 2013. I hadn't been running for a very long time yet, so it was a big deal that I signed up for this night race! This was also my first runDisney race! I flew to Disney World for a long weekend and helped my mom and niece complete the Expedition Everest Challenge Family Edition, and then that night, I ran the Expedition Everest Challenge (5k with obstacles and scavenger hunt, followed by an after-party in Disney's Animal Kingdom) with my sister! I had a blast doing this race and being at Disney for the Weekend. Unfortunately, this year is the last year for this race. Luckily, Nathan and I are signed up! We leave in 23 days!!!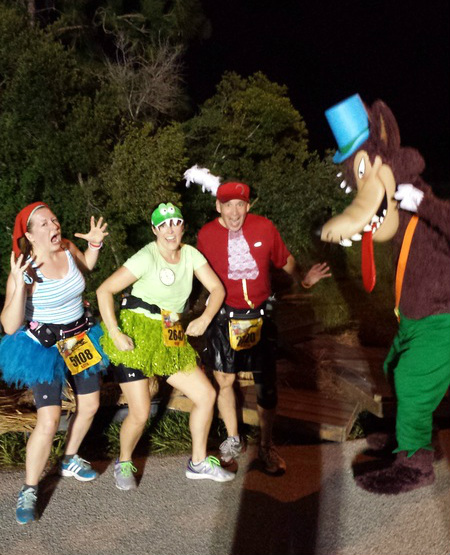 Another Disney Racecation I took (also in 2013 – I caught the bug!), was for the Tower of Terror Weekend. This long weekend consisted of running two races on Saturday – a 5k in the morning and a 10-miler at night. Of course I ran both! Nathan and my mom ran the 5k with me, and I ran the 10-miler with Heidi and my dad.  Afterwards, there is an after-party at Hollywood Studios! Unfortunately, this is another runDisney race that is no more.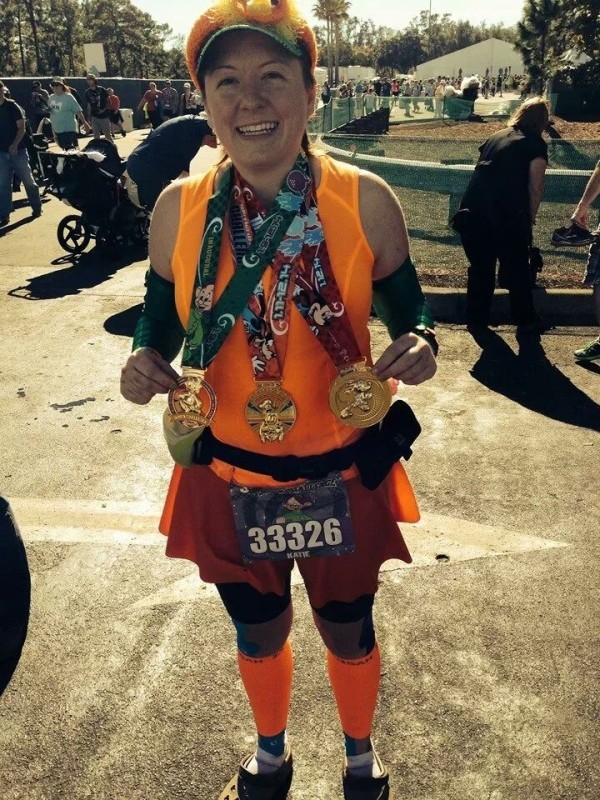 This was a racecation of a lifetime! (Well, hopefully not, I would like to do it again!) I went down from Wednesday night to Monday and ran the Dopey Challenge – 4 races in 4 days, with a total of 48.6 miles! The weekend started off easy with a 5k, but then progressed to a 10k, half marathon, and a full marathon. Lots of running, plus lots of Disney magic, and little time spent in the parks made this an awesome race-cation! Disney's Marathon Weekend takes place every January, and registration for the 2016 races are coming up soon!
 
In August 2014, I took a quick trip to Disneyland and California Adventure over Labor Day weekend to run in the Dumbo Double Dare Challenge, a 10k and half marathon taking place over two days. It was a great time visiting the parks and running around Anaheim. Registration sells out fast (and is already over for this year), so keep an eye out for 2016!
My latest racecation was for the Wine & Dine Half Marathon Weekend.  This race experience for me was a 5k in the morning and the half marathon at night. This race had an after-party at Epcot, but I was so tired, exhausted, frozen, and soaking wet from the rain during the entire race, so I didn't stay. This race takes place each November, and I thought it was tons of fun (despite the rain!)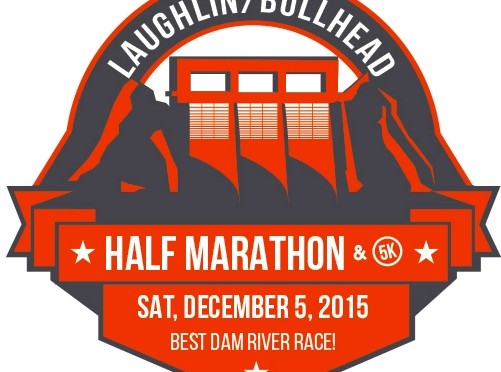 Looking forward – my next racecation is NOT a Disney race. Instead, I will be flying to Las Vegas this December and heading out to Laughlin, NV for the Laughlin Half Marathon! I am super excited for this race because the views are supposed to be amazing: mountains, desserts, and water! We get to run over a dam, and through two states AND two time zones! Why don't you come join me? Sign up NOW and use promo code BIBRAVE to save $15 on the current price of the Half Marathon and $5 off the 5K! (and check out Bibrave.com!)