Last night was date night! My husband and I went to try out Sebastians Bistro over at Disney's Caribbean Beach resort. We parked at Disney's Hollywood Studios, rode Mickey & Minnie's Runaway Railway, looked at the shops, and then took the skyliner over to the resort. We got off at the Caribbean Beach Resort stop and walked to Sebastian's Bistro.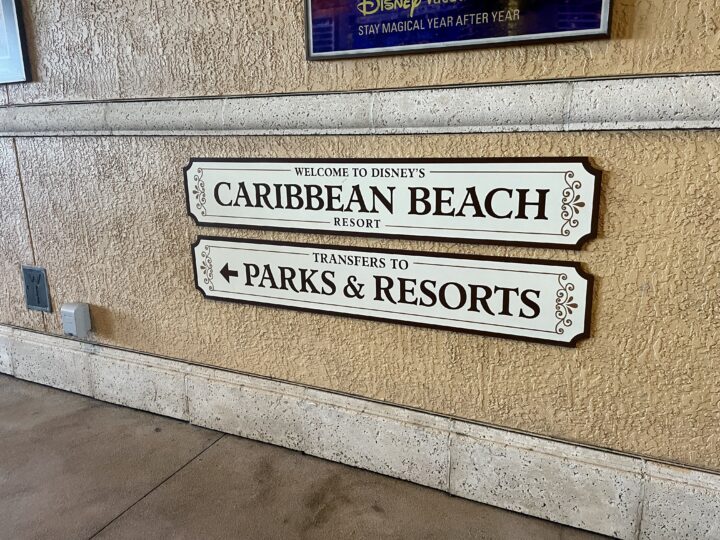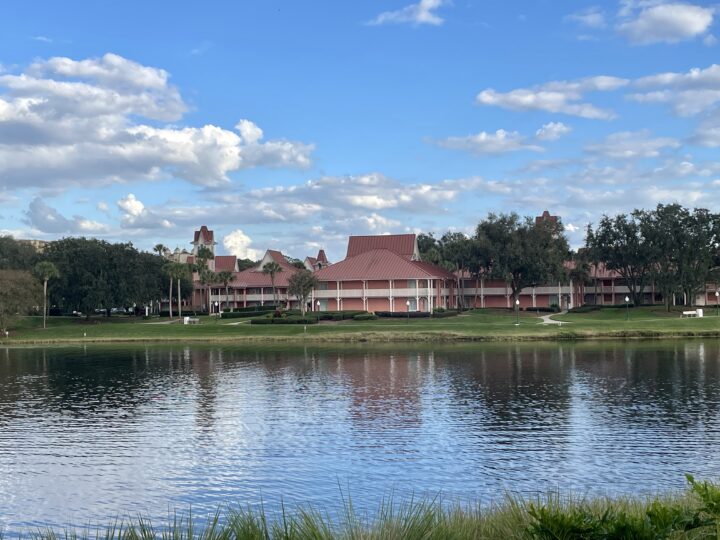 We checked in and sat in the bar area outside the restaurant to wait for the restaurant to open.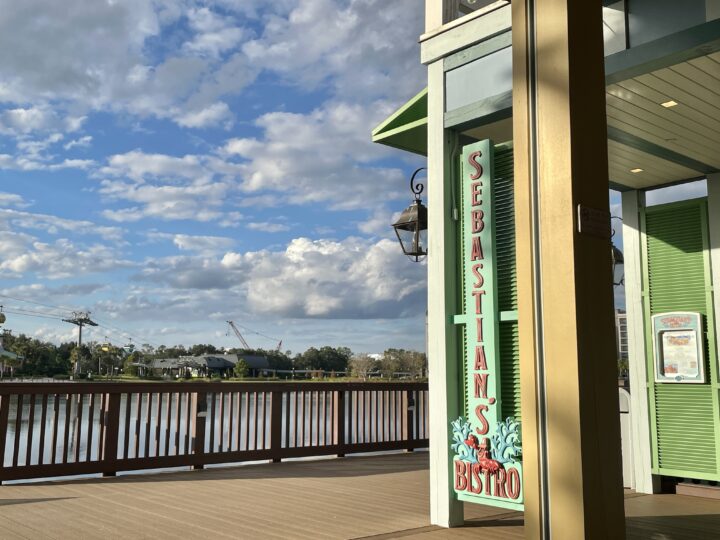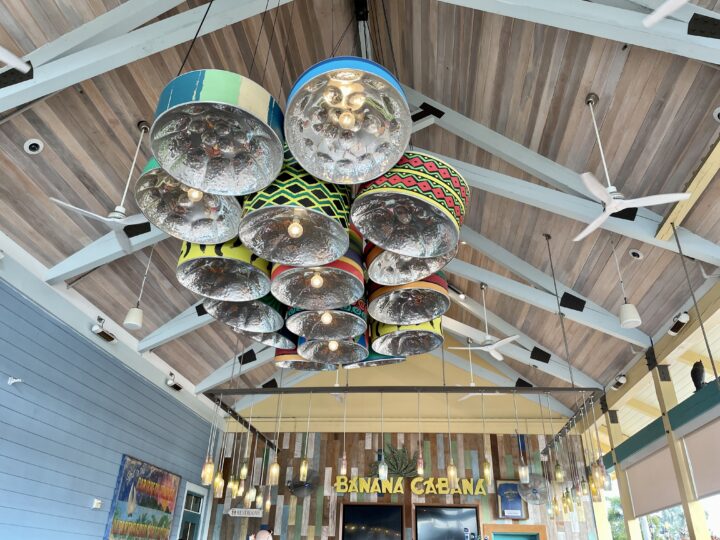 We had a reservation at 4:30 p.m., right when the restaurant opened. We came here because they have a full plant-based menu!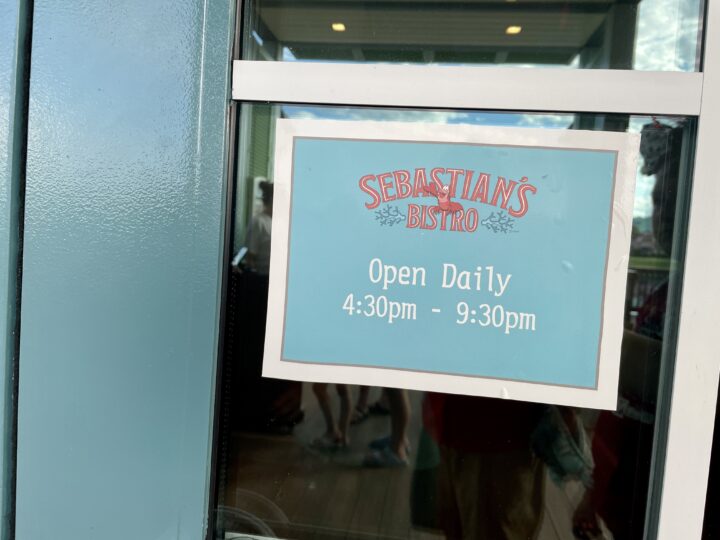 The inside of the restaurant is small but very cute. I loved those chandeliers.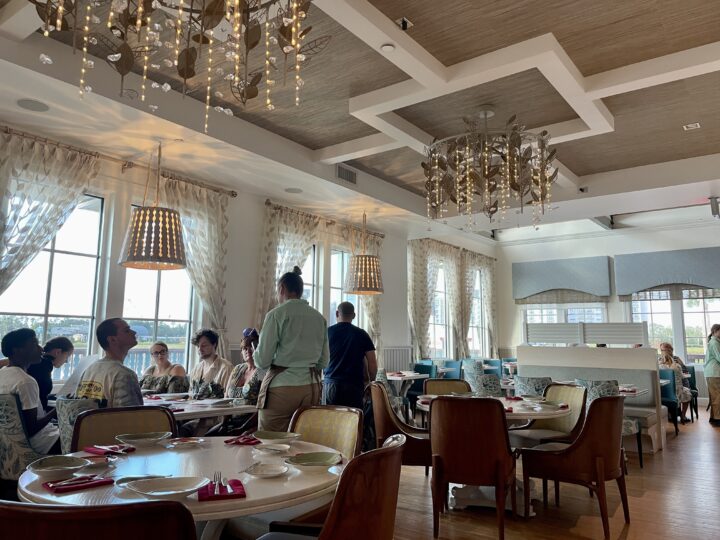 The pricing is pretty good for this family-style restaurant.
$20 per child (Guests Ages 3-9), plus tax and gratuity
$38 per adult, plus tax and gratuity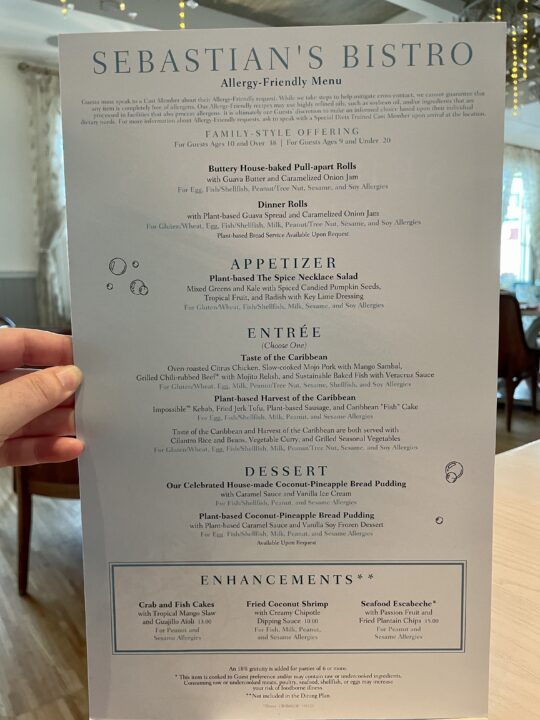 Taste of the Caribbean Plant-based Menu
Dinner Rolls with Plant-based Guava Butter and Caramelized Onion Jam
The Spice Necklace Salad – Mixed Greens and Kale with Roasted Pumpkin Seeds, Tropical Fruit, and Radish with Key Lime Dressing
Harvest of the Caribbean – A selection of dishes inspired by the flavors of the Caribbean. Impossible™ Kabob, Fried Jerk Tofu, Plant-based Sausage, and Caribbean "Fish" Cake served with Cilantro Rice and Red Beans, Vegetable Curry, and Grilled Seasonal Vegetables
Plant-based Coconut-Pineapple Bread Pudding with Plant-based Caramel Sauce and Vanilla Soy Frozen Dessert
Alright, let's get real about the food.
I talked with Chef David and he told me that everything is gluten-free except the fish cakes, which are made with vital wheat gluten. The bread pudding was also not gluten-free, and I would be provided with an allergy cupcake for dessert.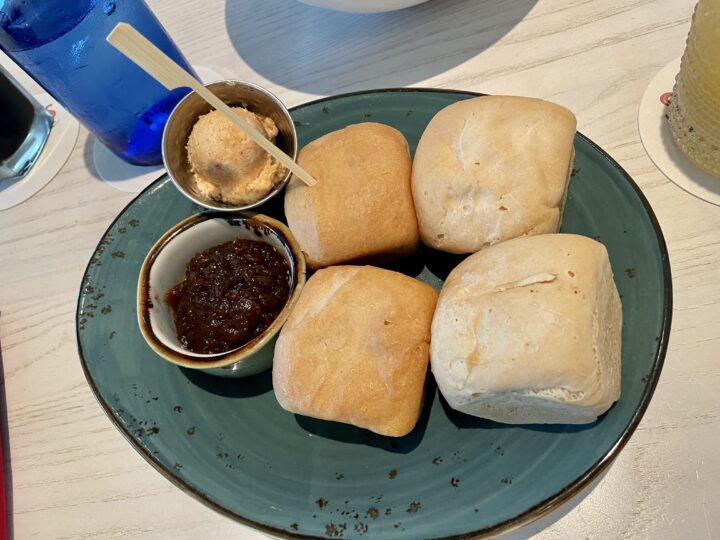 First up, Guava butter – move over, onion jam. This stuff was surprisingly good, with a sweet and tangy twist that made the taste buds do a happy dance. Served with allergy roles, this was a good start to the meal.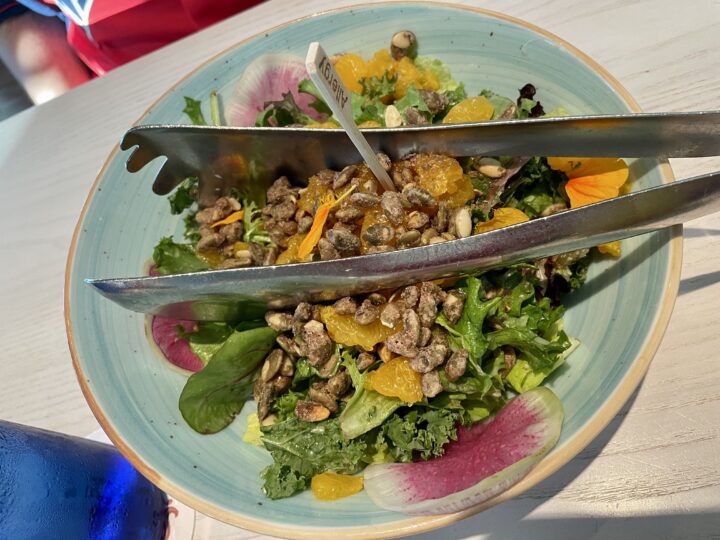 The salad was a pleasant surprise too – light, and fruity, and I went back for seconds. Salads aren't usually my thing, but this one hit the spot. I really enjoyed the pumpkin seeds on the top – slightly sweet and crunchy.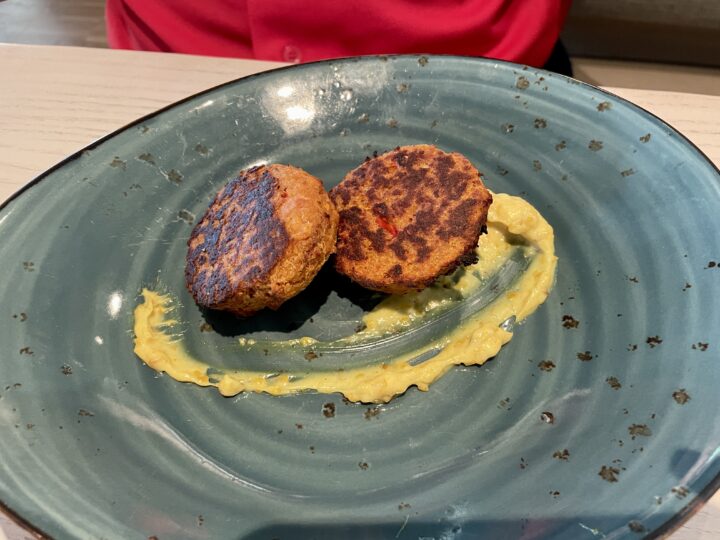 The Fish Cake – remember this is NOT gluten-free – my husband said it didn't taste like fish cake, which was a positive for him! He said it was pretty good.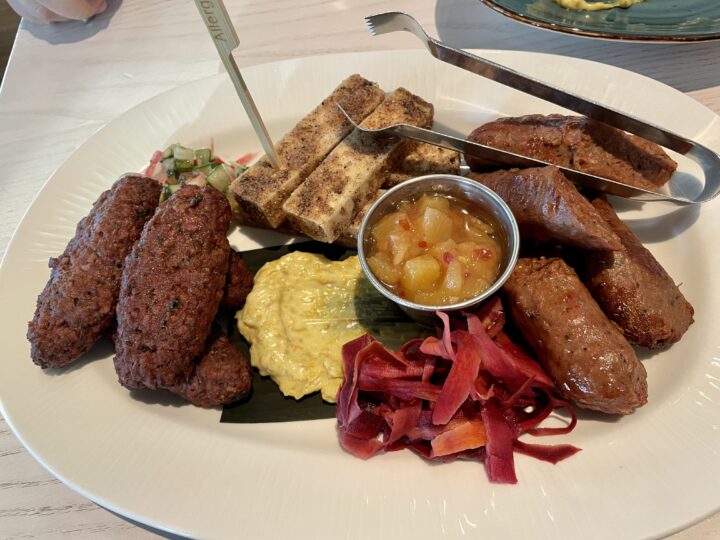 Now, the tofu. Crispy on the outside, soft on the inside – nailed it. And with that pineapple relish? Yeah, it became my go-to "meat" option.
The kebab held its own, tasty with the curry sauce. The sausage was cooked well but was just a plant-based sausage that you can get at a lot of different places.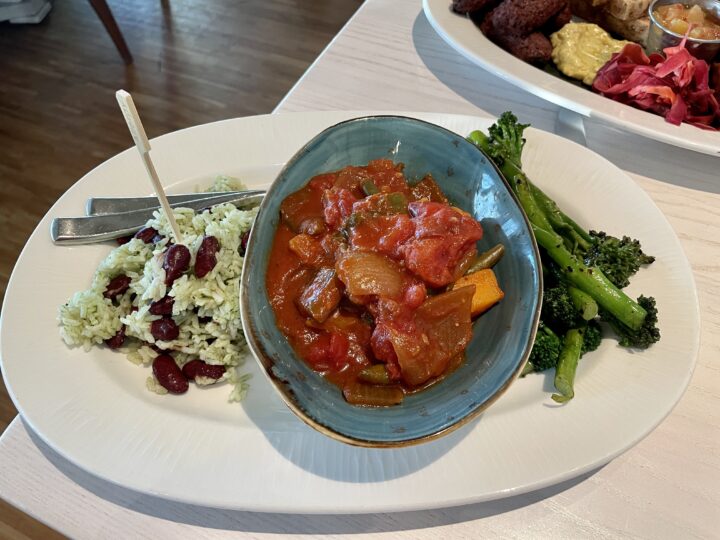 The curry was tasty, but I thought it had too many onions floating around. I would have preferred more vegetables.
The Charred broccolini was surprisingly good – it still had a crunch and had the delish charred taste.
The rice and beans were a great accompaniment to all the 'meats'.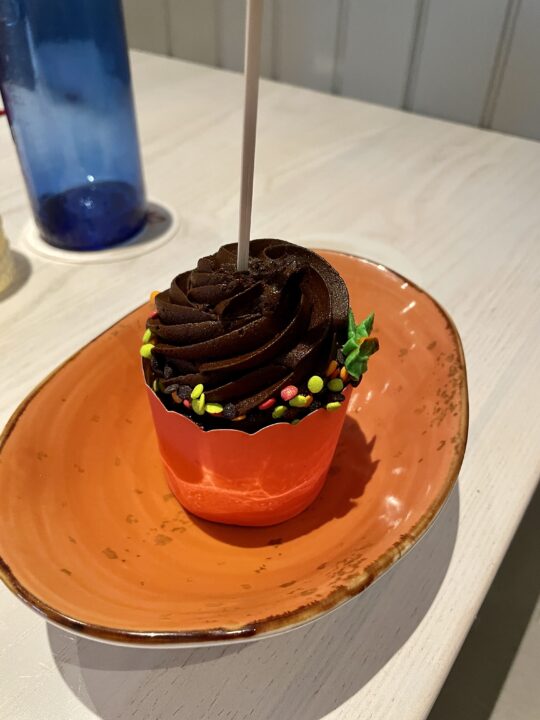 Dessert, the Allergy Cupcake, was a letdown – gluten-free and plant-based but cold and hard. This cupcake is always better at room temperature. I did pour some of the Plant-based Caramel Sauce that came with the bread pudding on the cupcake, and that helped.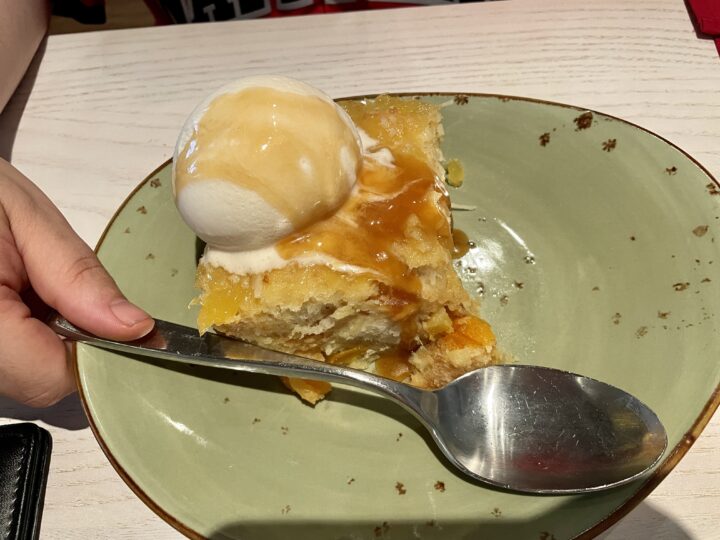 The bread pudding – not gluten-free – was a HUGE portion. My husband could not finish it, but he said it was really good – and he doesn't usually like bread pudding.
Big downer – no to-go boxes. I knew there probably wouldn't be but was hoping they might give me one anyway. I wanted to take home the salad. But, nope. Despite that, I'd pick Sebastion's Bistro over Roundup Rodeo BBQ at Hollywood Studios any day.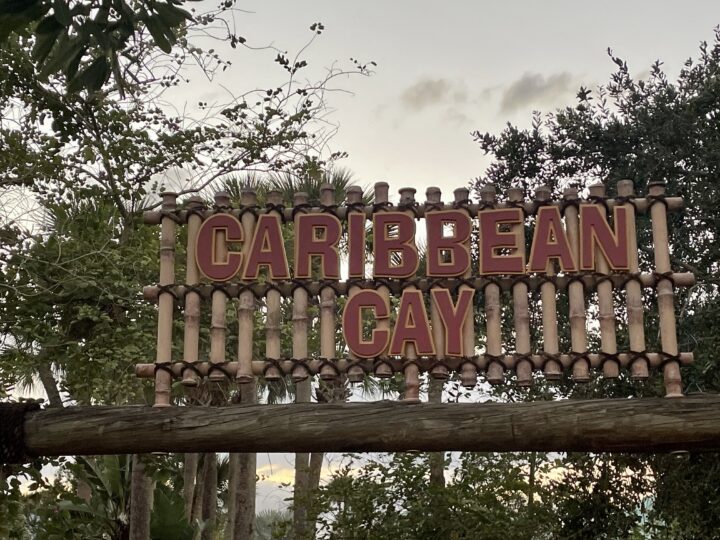 After dinner, we walked to the Riveria Skyline, because it is actually closer to the restaurant than the Caribbean Beach stop. We walked down the path, crossed into the Caribbean Cay walkway, and then we were there. If you are visiting this restaurant from the skyliner, this is the stop to use to get closest.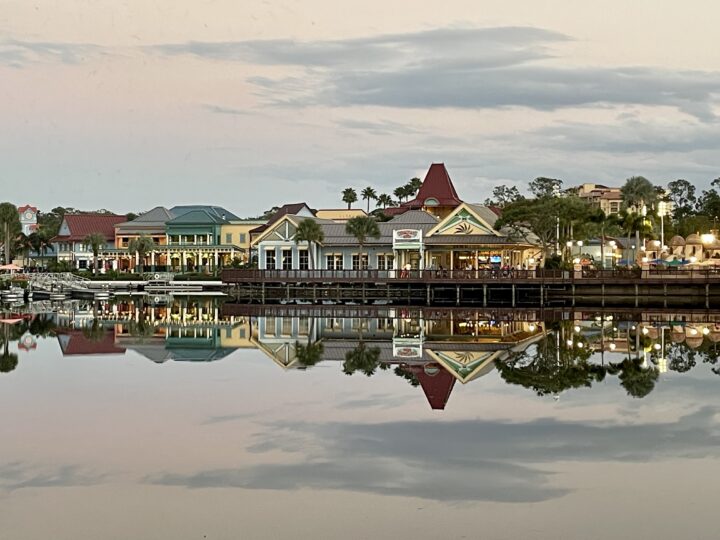 In a nutshell, Sebastion's Bistro is worth a shot. I would totally eat here again. Good food, good value, and a great gluten-free and vegan experience.