D
i
s
n
e
y
l
a
n
d
Half
Marathon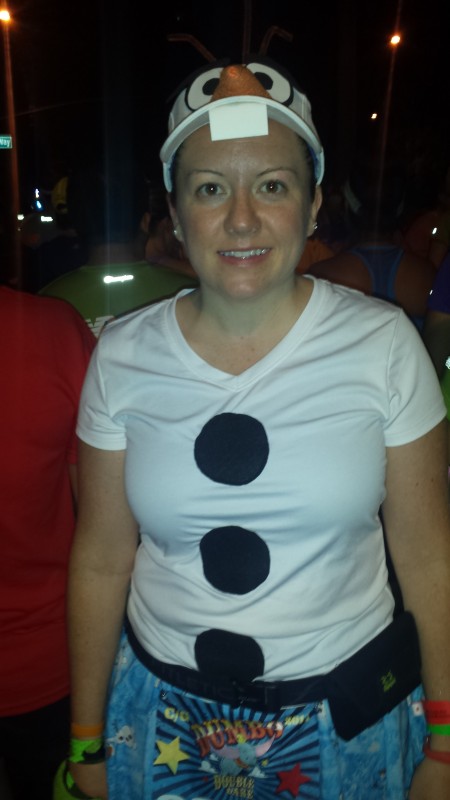 See my recap of the Disneyland 10k here!
I was a bit nervous heading out for this half marathon because of spraining my ankle the day before at the Disneyland 10k. My foot was super swollen the night before and a pretty sore. Regardless, I wrapped it up pretty good with some KT tape, and hoped for the best.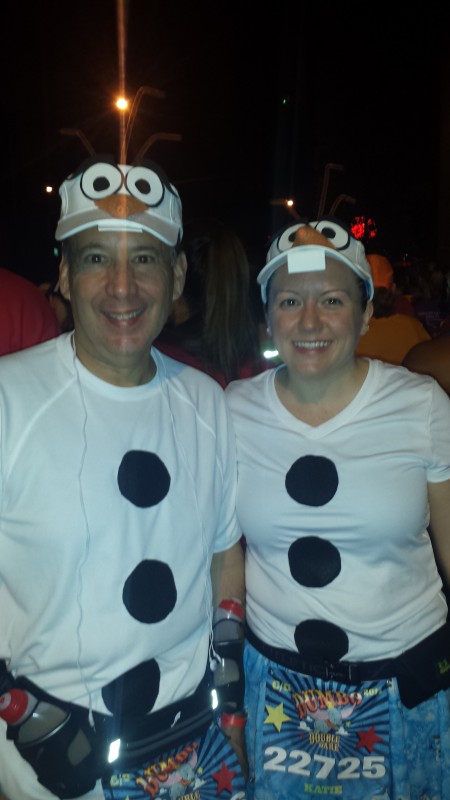 I got to the corrals and met up with some of my family. Marty, Nathan, and I all dressed up as Olaf. And let me tell you, this was an awesome choice because we got so many cheers while we were running! Everyone loves an identifiable character, and Olaf is so IN right now. Yay! GO Olaf!
I have a thing with taking pictures with the mile markers during Disney races. The Disneyland ones aren't as exciting as the Disney World ones, but I still stopped every mile for a picture.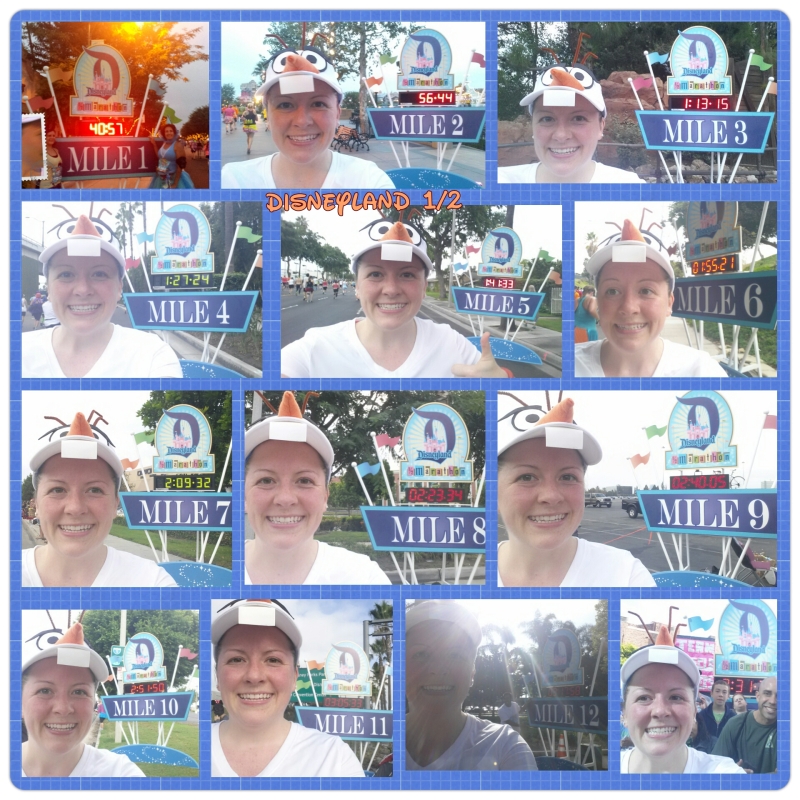 My plan for this race was to survive. I started using the intervals run 15 : walk 45 because I really didn't want to hurt my foot any more. I hobbled along slowly through a bit of Anaheim before we entered California Adventure. Running through Cars Land was just as fun as the day before, and I decided that I would stop for as many pictures as I could.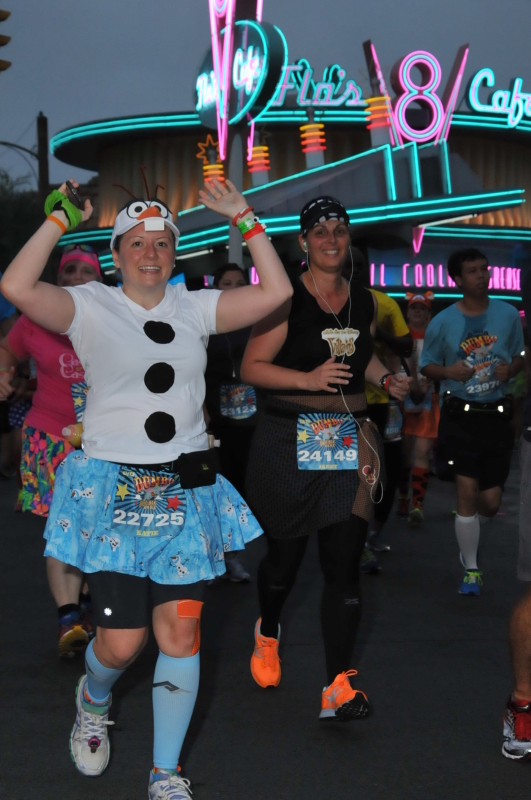 There really was no line to wait for these pictures, so why not?!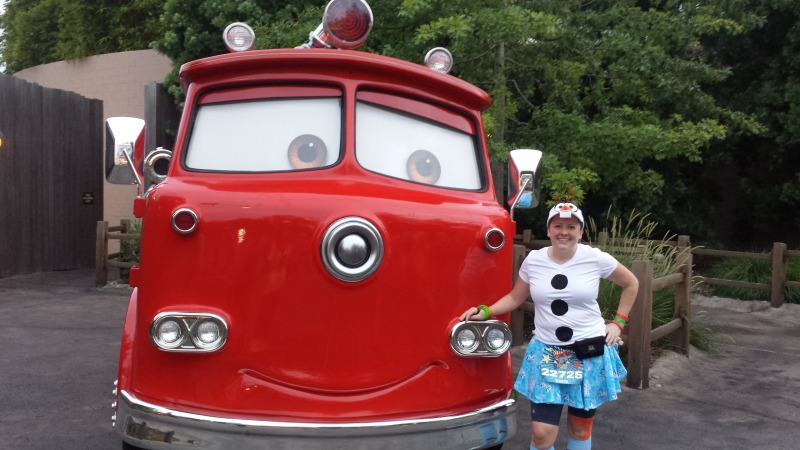 Hi Tow-Mater!!!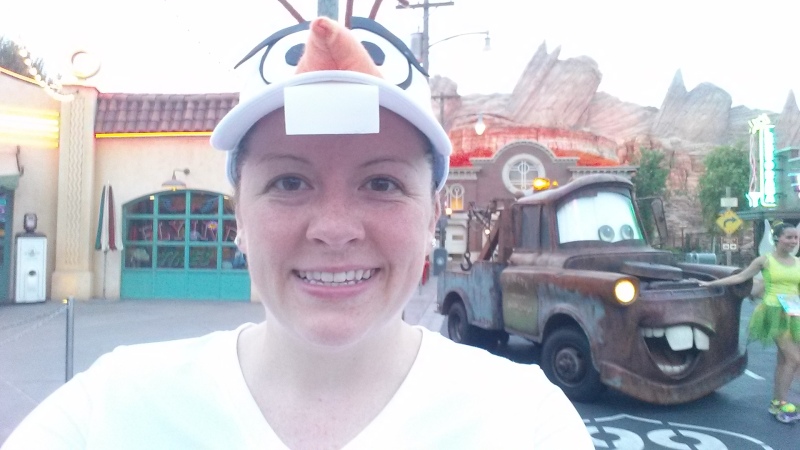 Here I am trying to jump for joy. Except it hurt to jump!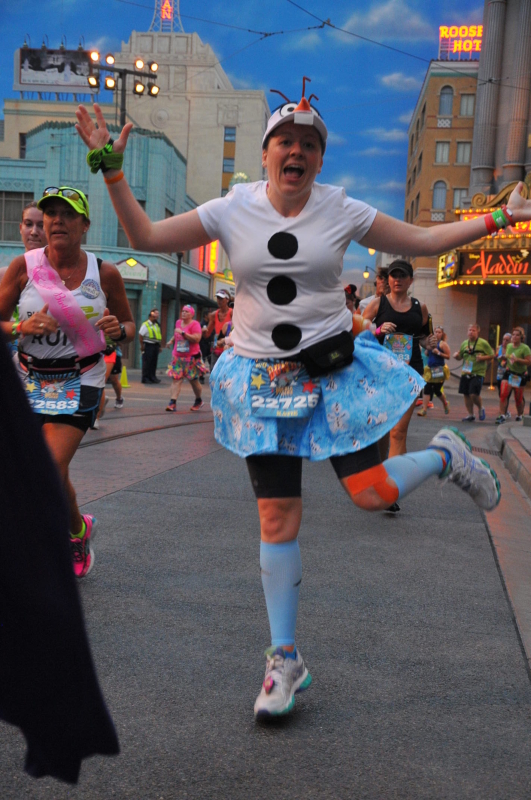 I think one of my favorite sections to run through at California Adventure is Paradise Pier. Even though it technically doesn't have a "Disney" feel, there is just something magical about the lights, water, fountains, and the wheel.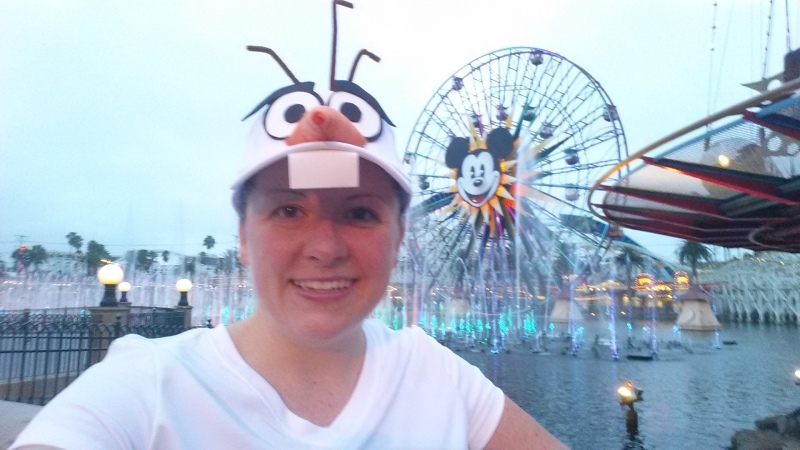 I love running by the floats!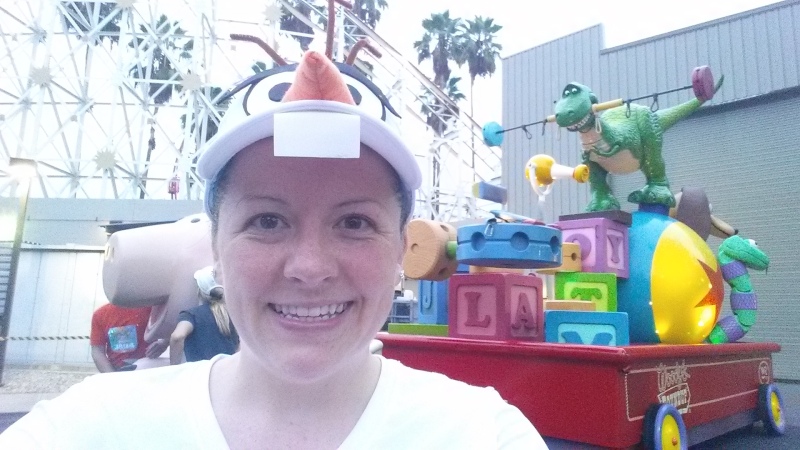 Hanging out with Jake. I thought about my nephews Roy and Gil while taking this picture!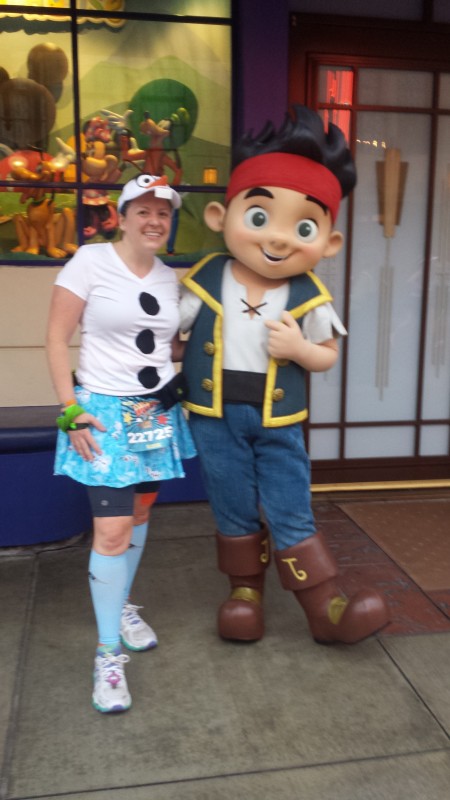 After California Adventure, we heading on to Disneyland where we got to run through the castle. It really is hard to stay on your intervals when you are running through the parks because of all the excitement. I think I walked as needed and then shuffled along for the rest of the time. By now, my ankle was numbish and didn't really cause me much trouble. Probably because it was in shock!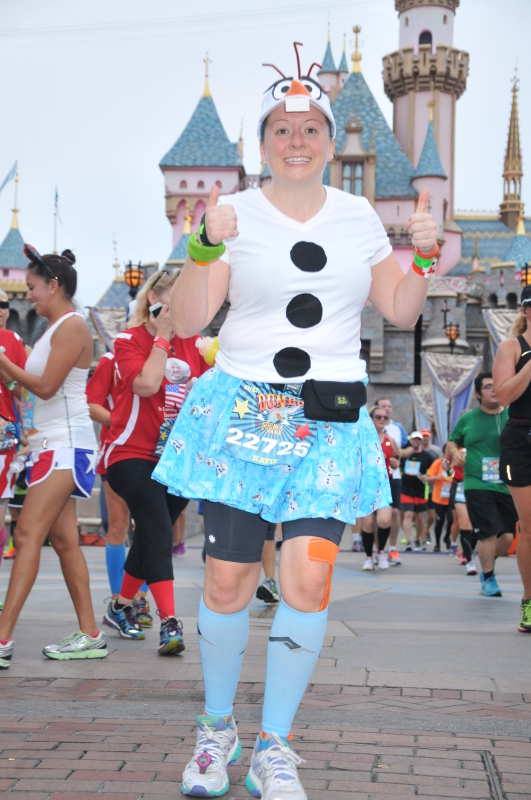 I took this picture for my I Run 4 friend, Lydia. She is such a great supporter of my running!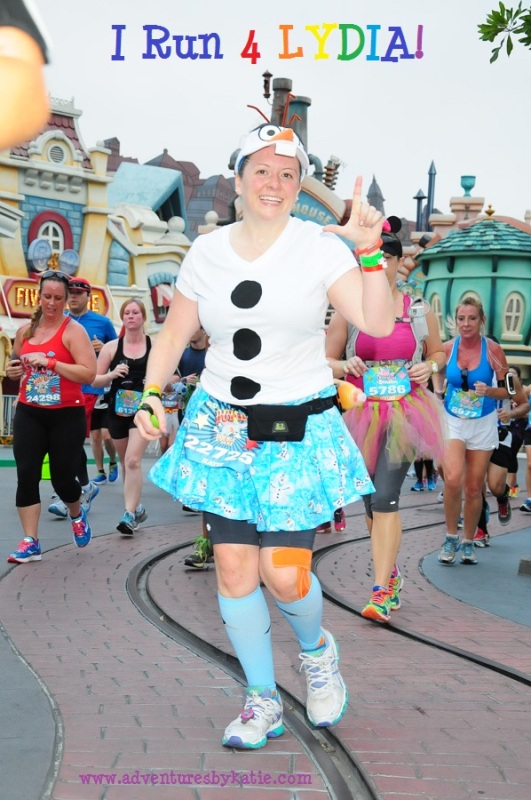 This race had a lot of Green Army Men hanging around.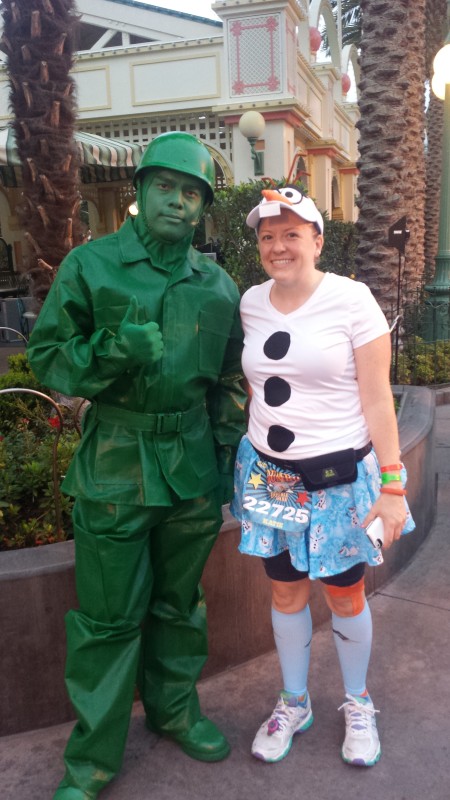 After we got out of Disneyland, we headed to the streets of Anaheim. I did not really enjoy this part because there was nothing exciting to look at! Around mile 6, the 3:00 pace group from a corral behind me started to pass me. I knew that I would finish in the allowed time, but did not want to keep falling slower and slower, so I decided to join them. They started off running 4:1, but switched it to 3:1 a couple of rounds after that. It was good to join this group because it kept me motivated to keep running and moving forward. Below is the pacer guy. I didn't get his name but he was good at motivating and keeping us occupied while running.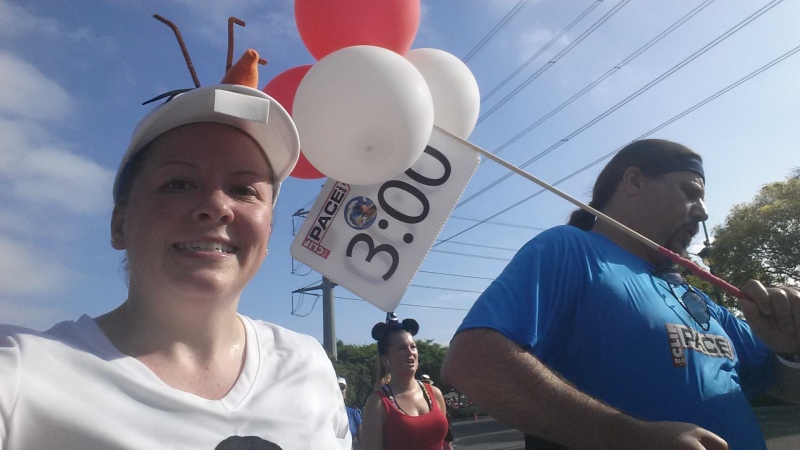 While there was not much to look at on the streets of Anaheim, there were some groups of performers. We passed hula dancers (aren't this girls so cute?), hispanic dancers, marching bands, and more. It certainly did help keep the momentum going for us runners to see people out cheering us along. There was also about a mile of old cars lining the streets (but I did not stop for pictures) with the owners cheering us along. It was neat and reminded me a bit of running around the driving track and seeing the cars during the Disney World Marathon.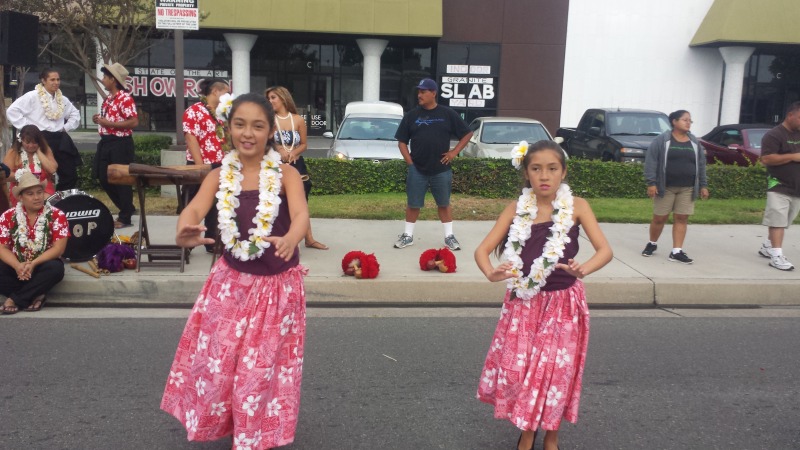 After running on a dirt path next to a dried up river, we finally got to Angel Stadium. We ran under the big A and then around the field with a bunch of girls scouts and others cheering us on!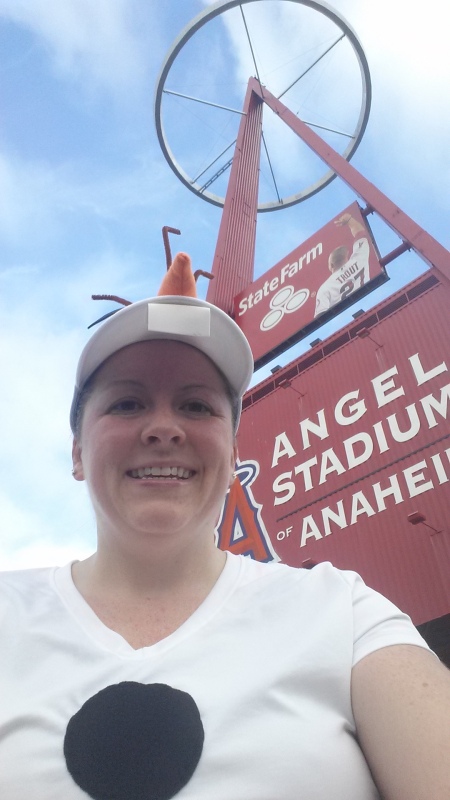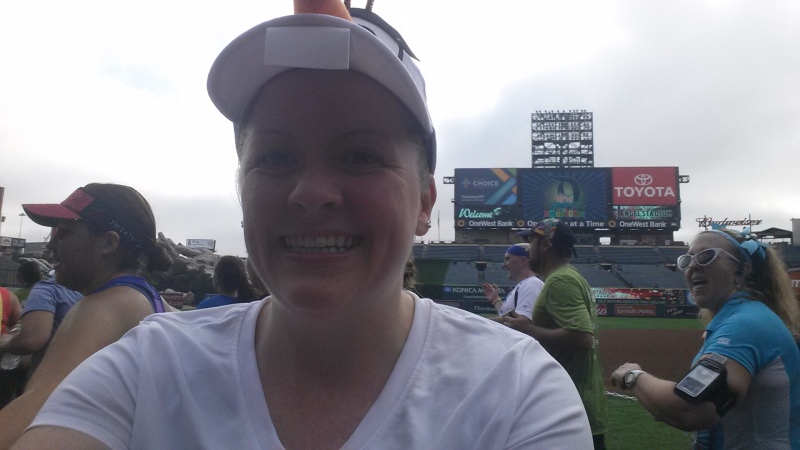 After the stadium, we just needed to head back towards Disney and finish! But at this point the sun started to come out. It had been overcast for the majority of the race, which was awesome, but as soon as that sun came out, my energy waned and I got so tired. Regardless, I kept up with the pace group until the last mile, when I sped up because I just wanted to finish.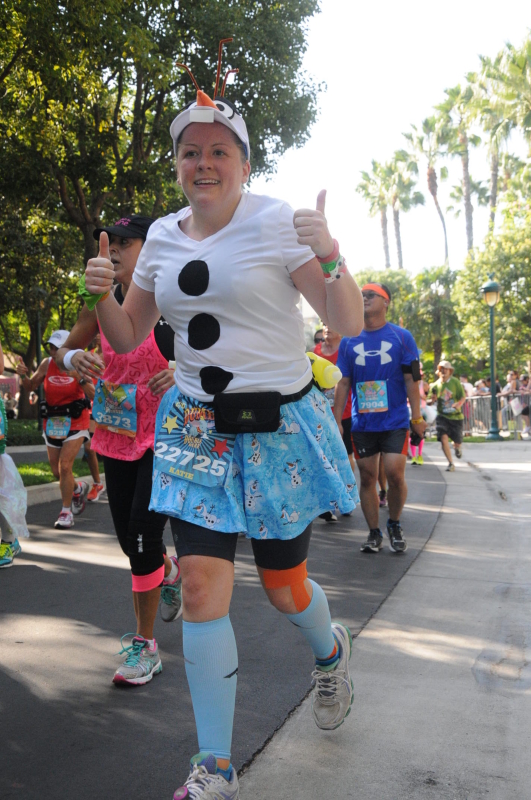 And I'm done! Yay! I survived running a half marathon with a sprained ankle. It was probably not the smartest thing, but I wasn't NOT going to run and miss out on 3 medals…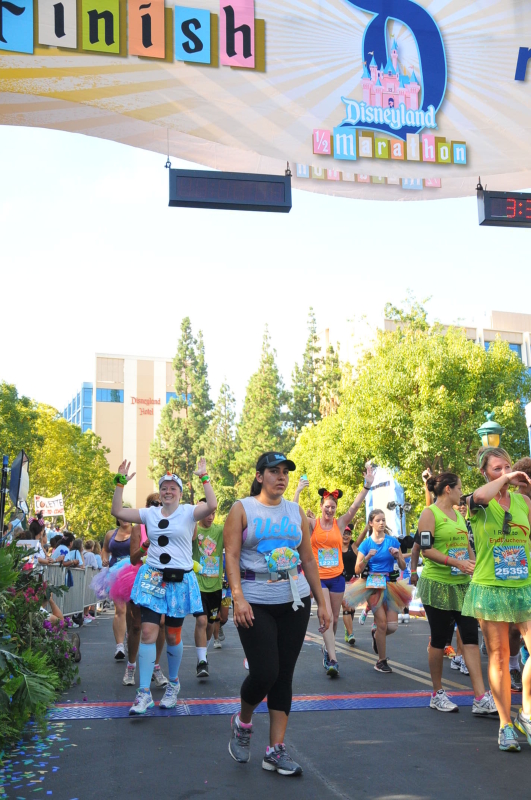 Showing off my half marathon medal: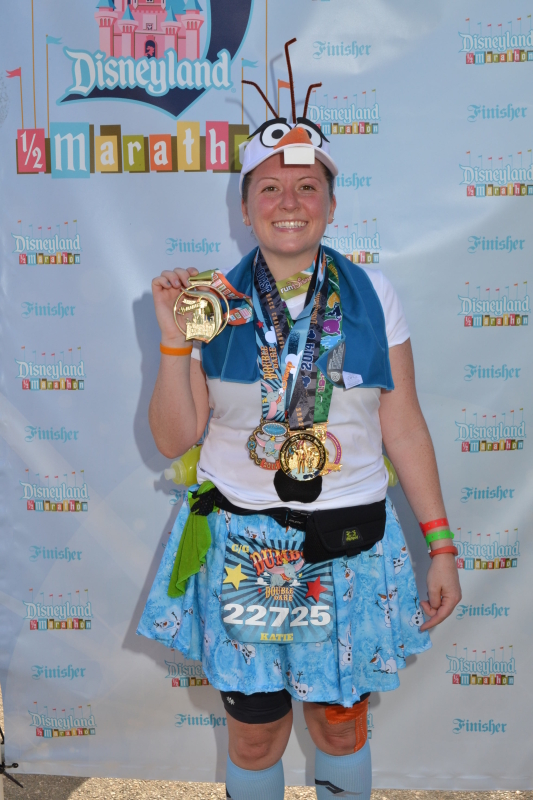 And I got my Dumbo Double Dare medal for running the 10k and half.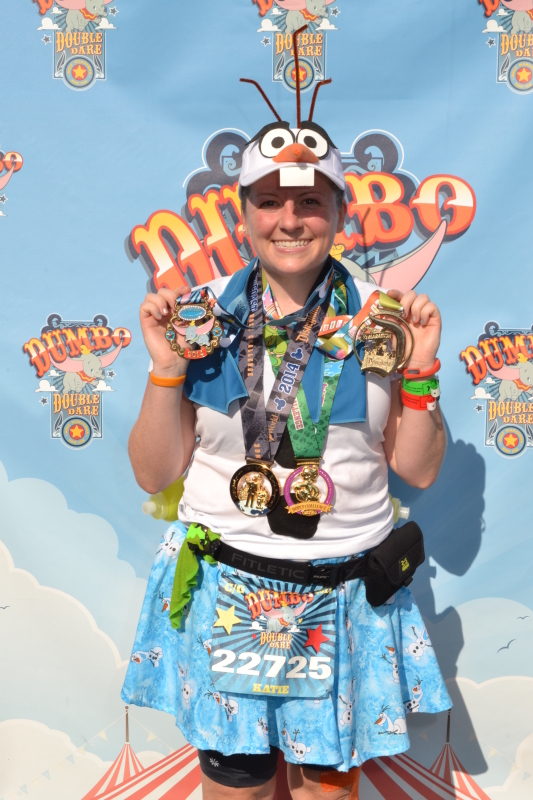 Yes, I did bring my Dopey medal. And yes it was in my pocket for the entire half marathon. I wanted to show it off when I got my Coast to Coast Medal. Dopey + Dumbo = Coast to Coast!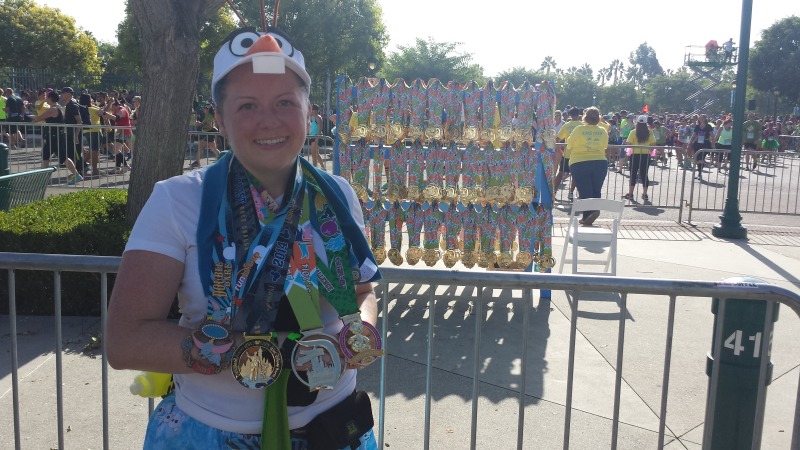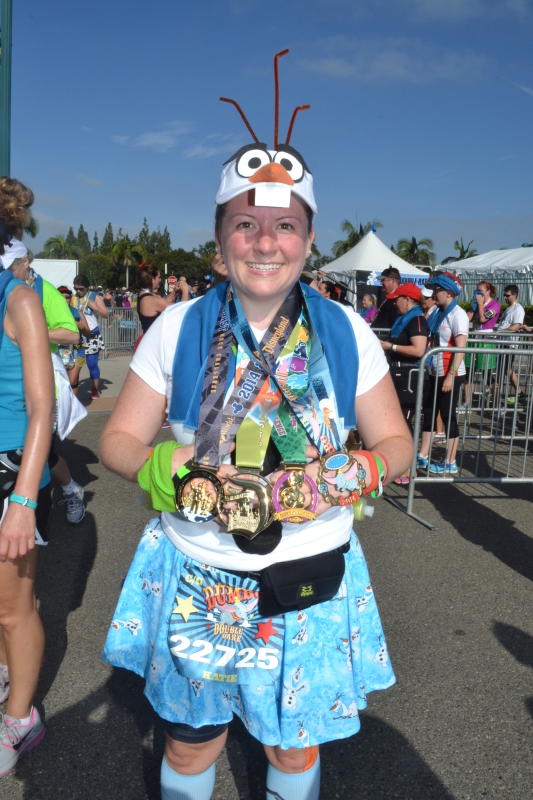 This is me after the race: exhausted, hot, and with a hurt foot. I grabbed a bag of ice and went to sit down while waiting for Nathan and my mom to finish.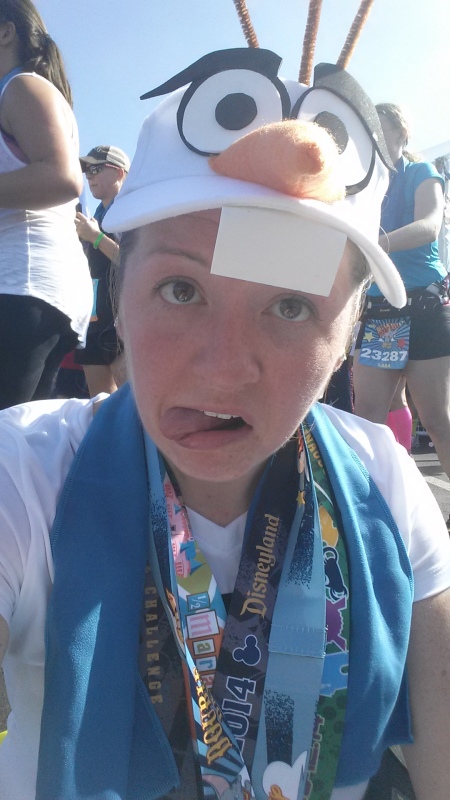 Here are us 3 Olafs!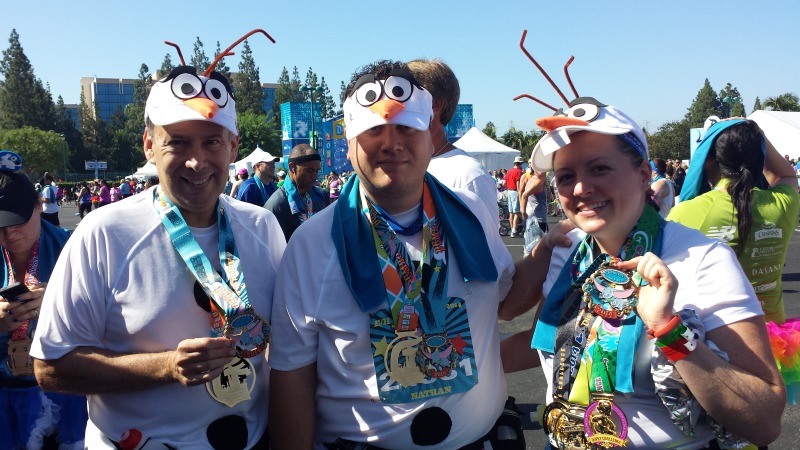 It was a good race and I'm glad I did it. I would like to do another race at Disneyland (Tink?) one day!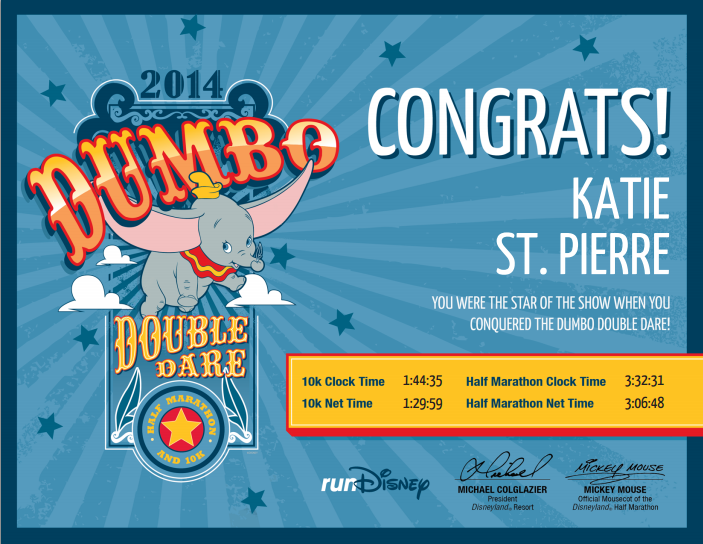 Here are my two medals that I got to earn my Coast to Coast!