Disney's California Adventure
Welcome back to the Mickey Monday linkup! The linkup centers around a love for Disney, sharing that love and connecting with others. The hope is the linkup will help become a great place to turn to for Disney content each week and help all the bloggers participating by helping readers find that great mouse-eared content. Please look at the bottom of this post for the links and how to submit your own link. I'm co-hosting with John from Run. Geek. Run (disney), so of course check him out. Each week we'll both have the linkup widget, so you'll be able to get to all the great bloggers!
---
Disney's California Adventure
While in California for the Dumbo Double Dare Weekend, I had time to visit the parks. I had a 3-day park hopper pass and tried to visit as much as time and energy allowed. I spent a lot of time at Disneyland Park and enjoyed the differences from Disney World. I also had a lot of fun at Disney's California Adventure!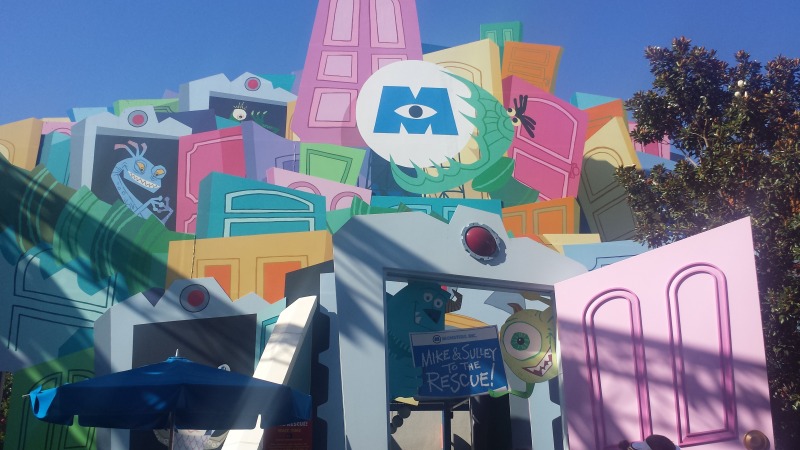 We got to the park one morning and looked around. There was barely anyone there! It was unbelievable how un-crowded the place was, especially since we usually visit WDW at peak season and it is always packed. But, no complaints here! We headed over to go on Monsters, Inc Mike & Sully to the Rescue. We walked right on! This ride was super cute and took you through the movie Monsters, Inc. It was fun traveling through Monstropolis! WDW needs to get a Monsters, Inc (or U) attraction! (by the way, I heard a rumor that there will be a Pixar area built at Hollywood Studios, so maybe?!)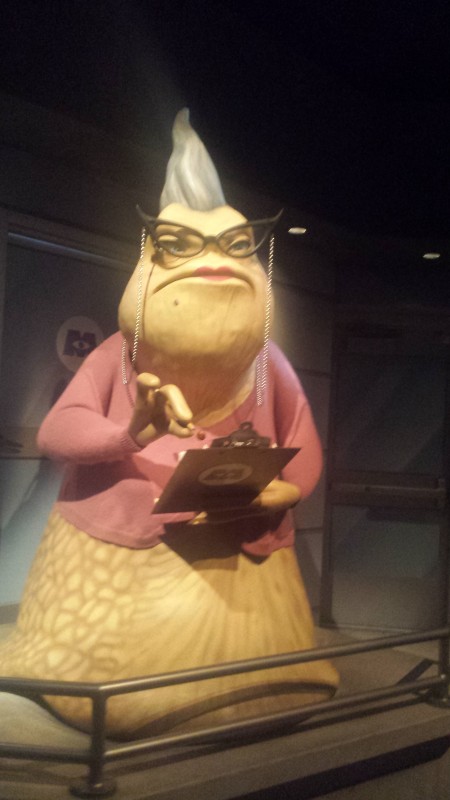 Outside Monsters, Inc we saw Rafiki! I love Rafiki and remember taking one of my favorite pictures of the Walt Disney World Marathon with him, so I just had to stop and say hi. He saw us and started dancing around, so we had a mini dance party. He is so fun!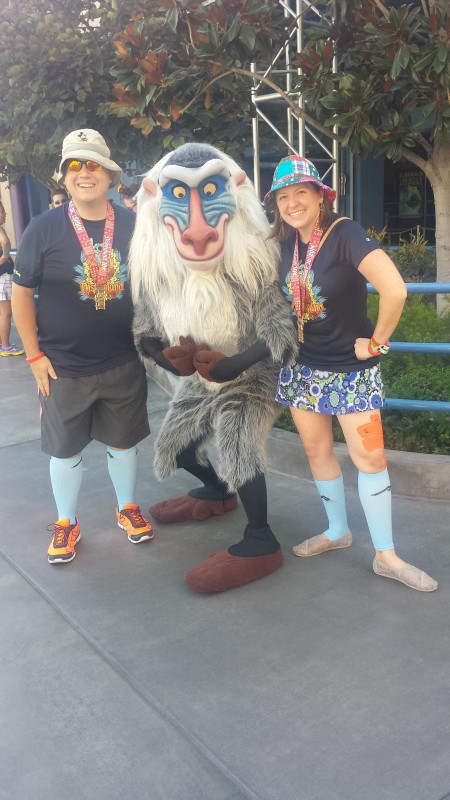 We got to see a street show from the Newsies. They was singing and dancing, and a great time, including newsboy Mickey! One thing we really enjoyed about California Adventure was that there was live music everywhere!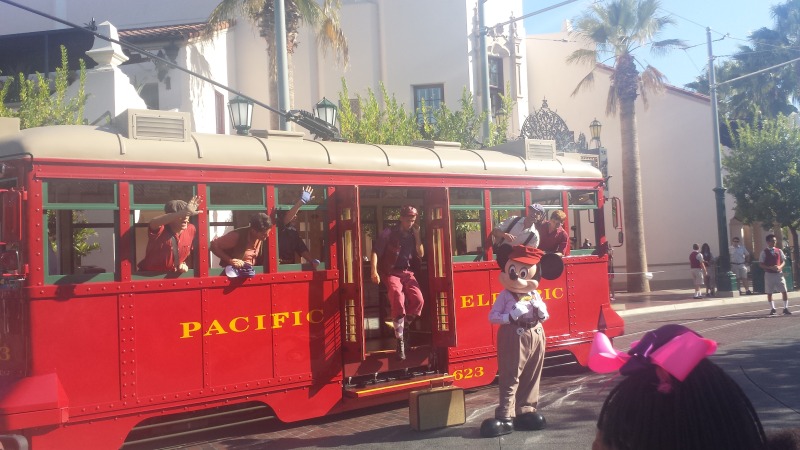 One of my favorite areas of California Adventure is the Paradise Pier area. I don't know why I like it so much, but I really enjoy the ambiance. And the rides are pretty great, too!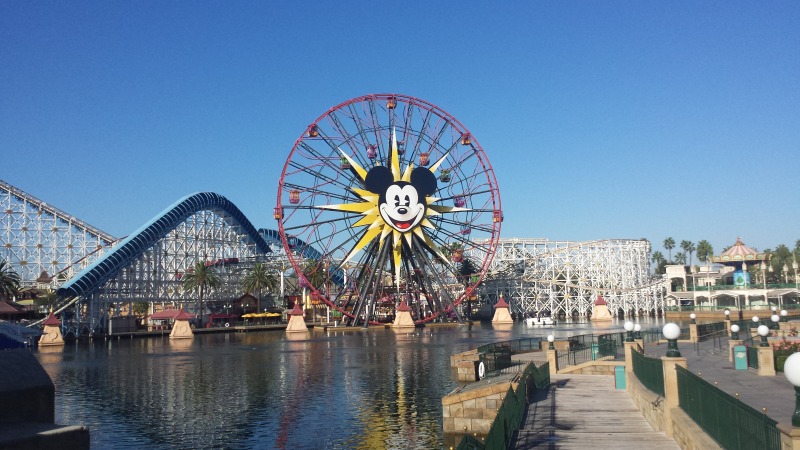 Goofy's Sky School was a pretty fun, short, kid ride. It is on par with the Barnstormer at WDW, but has a lot of side to side movement at the beginning. The guy in front of us had his hat fall off at one part, but luckily I was quick and caught it…so take off your hat!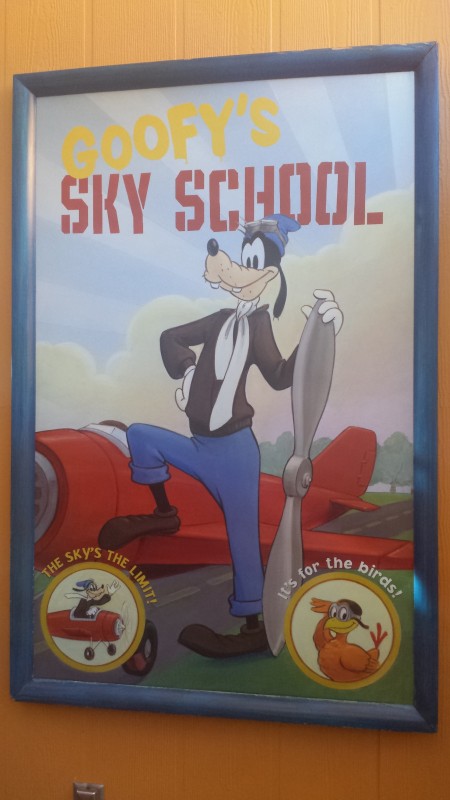 Now, California Screamin' was AWESOME! I convinced Nathan to go on it with me, even though he really doesn't like roller coasters (except Rockin' Roller Coaster). This ride was awesome! There was absolutely no line so we went on it twice in a row. The ride is long, which was very nice (especially if you do have to wait in a line), and you got great views of the park. There were a few drops, but they aren't the type of drops that make your stomach jump around everywhere. I loved this ride 🙂
We also went on Mickey's Fun Wheel. I was so intrigued by this ferris wheel because some of the gondolas swing and slide back and forth. Of course that is what I wanted to try out!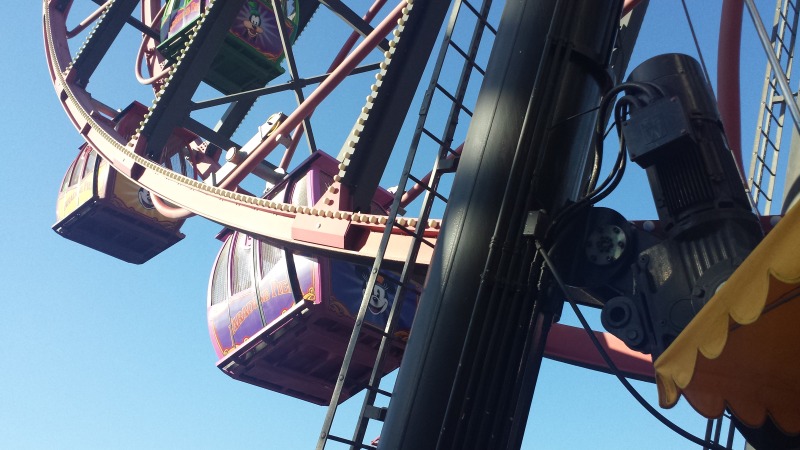 It was actually pretty scary at first (for me!). But, there aren't even seat belts or a lap bar, so it is really not that crazy. I think the worse thing is just the anticipation of the sliding, and a little motion sickness. But after the 2nd turn, I was feeling much better and was able to relax and enjoy the view.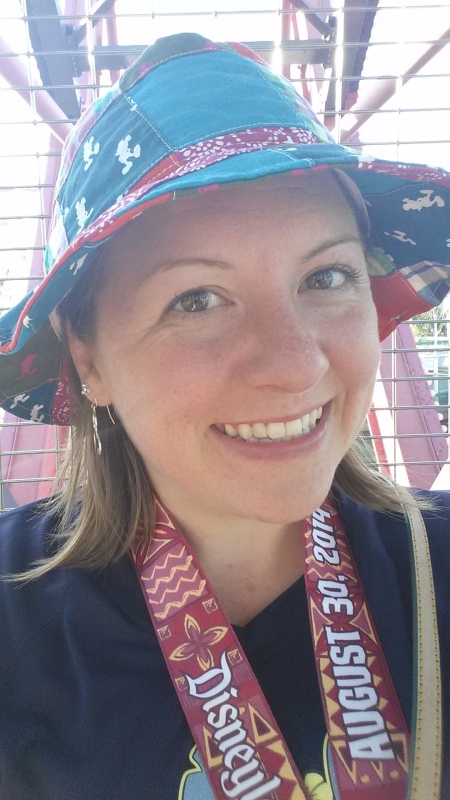 You can see all the pipes and stuff for where they have the World of Color Show.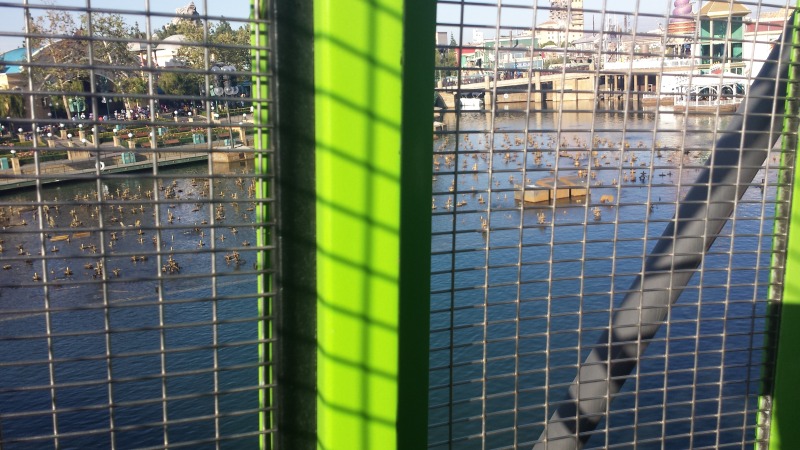 Also located in the Paradise Pier area is one of my favorite rides: Toy Story Mania. I just had to take a picture of this sign, though, because of the wait time. This would NEVER happen at WDW! We had front-of-the-line passes for this ride, so we didn't have to wait very long, but really…that's not bad!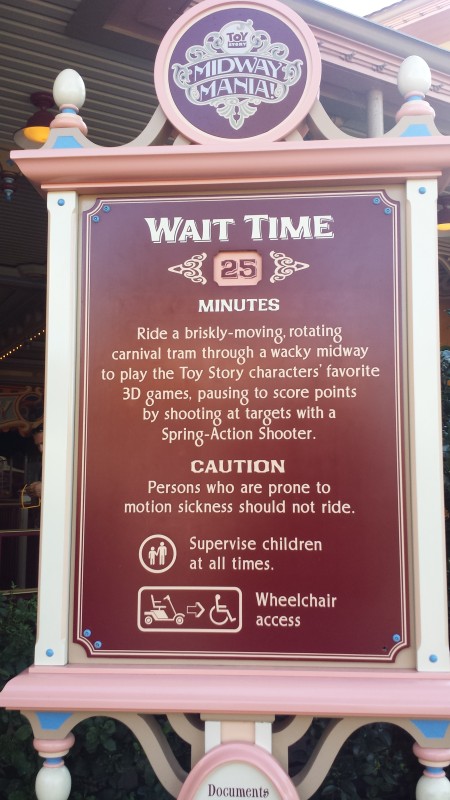 The games in the ride are the same, but the set was a bit different. It like that they don't make the rides at both parks 100% the same.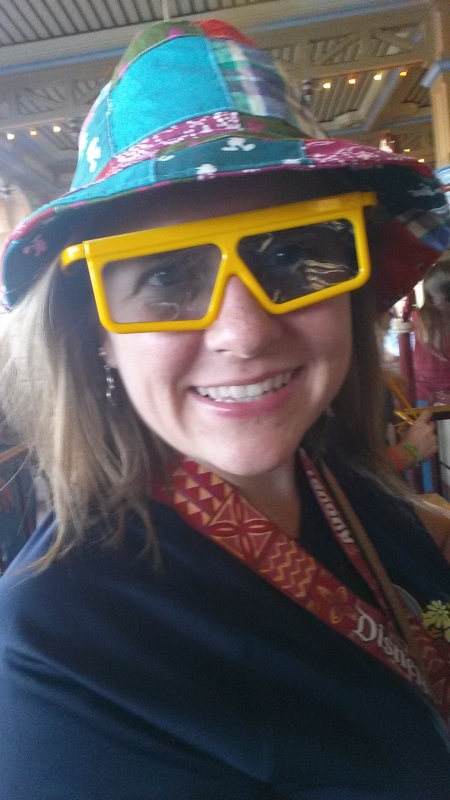 At the exit of the ride was this display. I thought this was neat because they had the toy Midway Mania, so it was like you shrunk down and were playing like all the toys.
Also at California Adventure is Cars Land. I did a separate post about my time at Radiator Springs, so please take a look!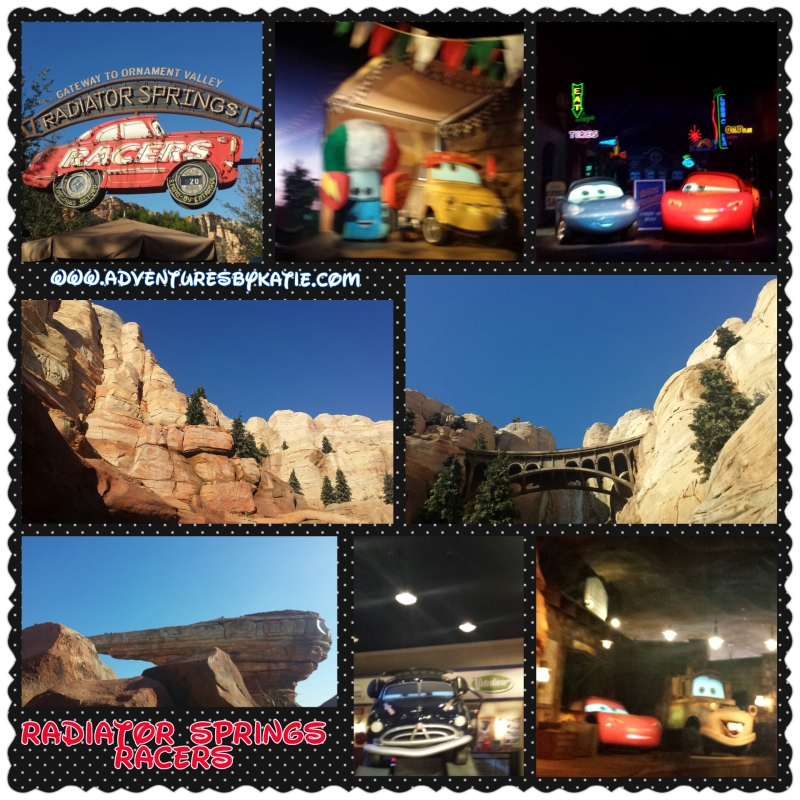 It was neat being able to explore Radiator Springs and really being immersed in everything Cars. The Radiator Springs Racers ride was awesome, and is everything that I wish Test Track would be.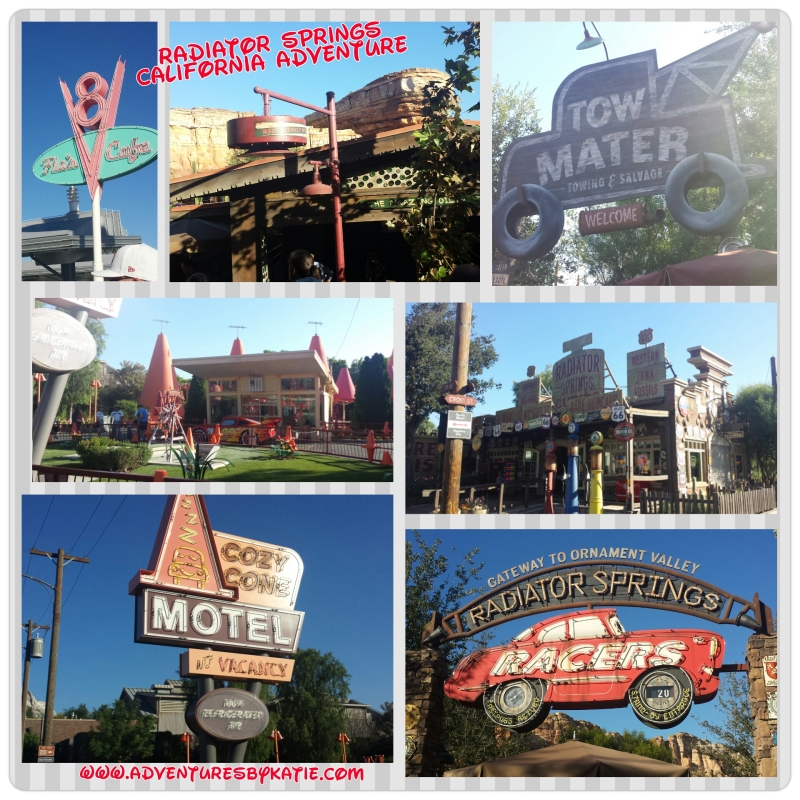 California Adventure has some good counter service restaurants. I ate at two different places in the Pacific Wharf: Lucky Fortune Cookery and Cocina Cucamonga. Please click on the links or pictures for more information about what I ate!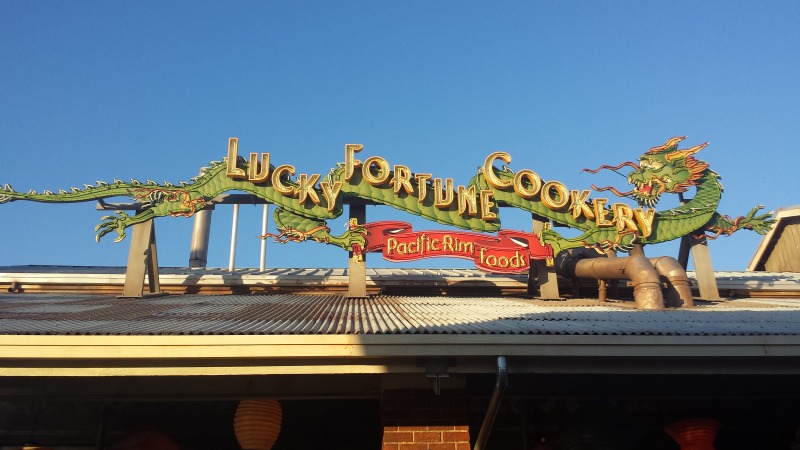 Lucky Fortune Cookery offers stir-fry deliciousness, while Cocina Cucamonga offers Mexican fare.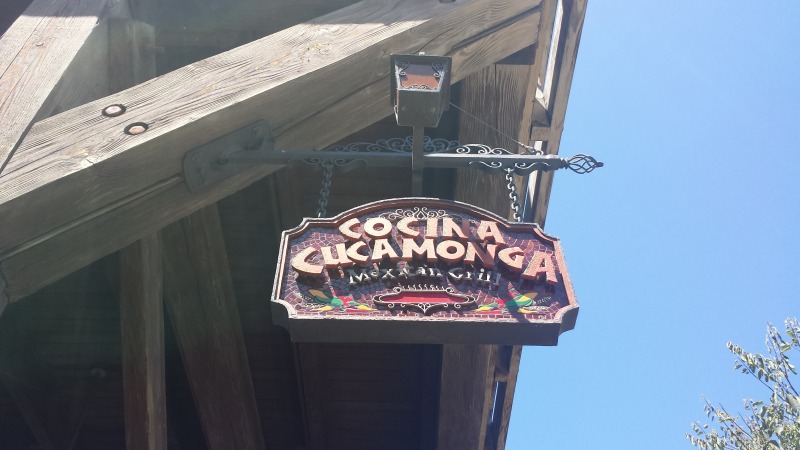 All-in-all, I had an awesome time at Disneyland at California Adventure! I think both parks have a lot to offer in terms of different experiences from Disney World. I would certainly love to visit again and spend more time exploring the parks!
---
It's
M

i

c

k

e

y Monday!!!

To read past Mickey Monday Submissions, please click here!

Mickey Monday link-up guidelines:

*The post just needs to be about anything Disney related.

*New posts are fantastic, but for now, if you have a great old post you want to share, drop it on in.

*Try to visit as many of the posts that you can as time allows. The point of this is to share and support each other.

*If you're going to be a regular, please link back to the host posts. It's just good etiquette and frankly, that's how others will get to your fellow Disney lovers content. Without that link back, they can't find the linkup and, therefore, the other blogs. Help me help you!