Welcome back to the Mickey Monday linkup! The linkup centers around a love for Disney, sharing that love and connecting with others. The hope is the linkup will help become a great place to turn to for Disney content each week and help all the bloggers participating by helping readers find that great mouse-eared content. Please look at the bottom of this post for the links and how to submit your own link. I'm co-hosting with John from Run. Geek. Run (disney), so of course check him out. Each week we'll both have the linkup widget, so you'll be able to get to all the great bloggers!
---
Naples Ristorante e Pizzeria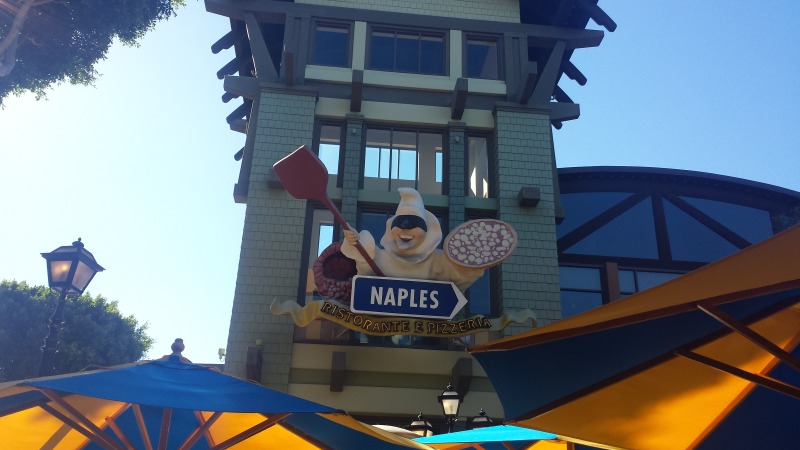 After a day of exploring Disneyland, Nathan and I needed to find some place in which to carb-load before the Disneyland 10k the next morning. We decided we needed some pasta, so we headed over to Naples Ristorante to see if they had any gluten-free options. Luckily, they did, and we quickly got a table out on the patio.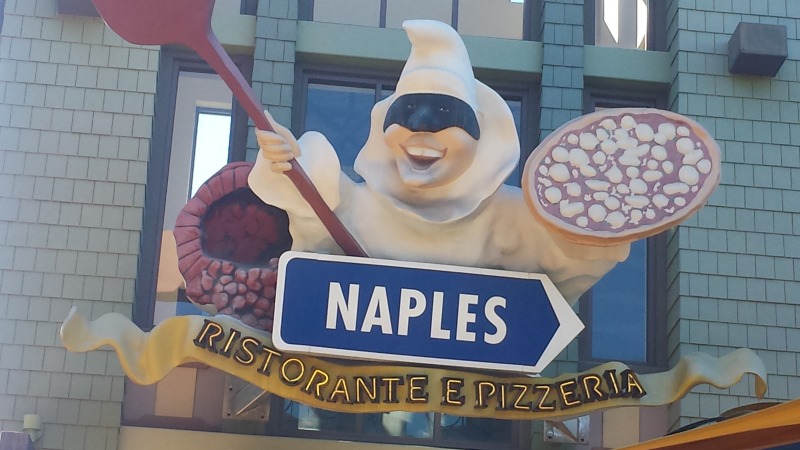 We put in our orders and waited. Some friends at the table got served some bread, but there was no gluten free option for that. But it smelled so good and I was hungry! Our food finally came and I was able to enjoy. I ended up making my own pasta: gluten free noodles, marinara sauce, green beans, broccoli, and zucchini. It was very good and satisfied my need for carbs!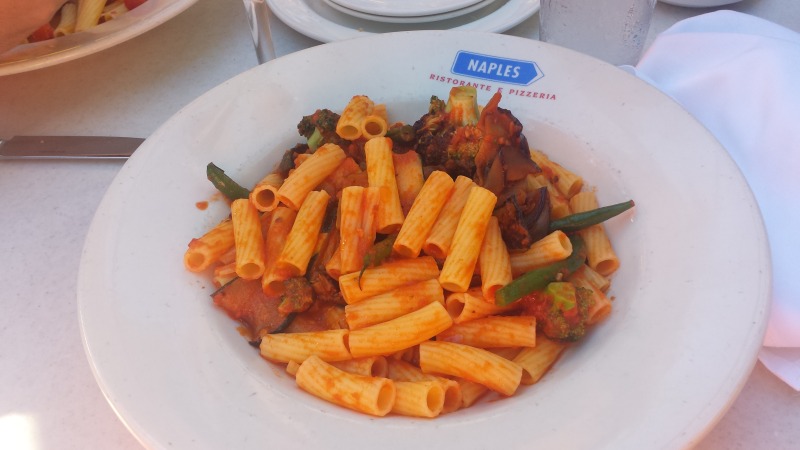 For the non-gluten free/vegan eaters, there are a lot of options: salads, pizzas, pasta, calimari, sandwiches, and more.
Antipasti (Appetizers)
Ovaline – Fresh mozzarella served with roasted tomato sauce and fresh basil. $12
Calamari Fritti – Fried calamari with arrabbiata sauce. $12
Affettati Misti – Italian meats, marinated olives and peppers, Parmesan cheese. $15
Panzerotti – Fried pizza dough filled with fresh mozzarella, artisan ricotta and Parmesan cheese, marinara sauce. Three for $9, Five for $13
Carpaccio di Zucchini – Grilled zucchini carpaccio with arugula salad, roasted peppers, shaved Parmesan and Balsamic reduction dressing. $10
Tonnato – Thinly sliced, chilled veal roast served with tuna and caper sauce. $14
Bruschetta Alla Checca – Toasted ciabatta bread, garlic, fresh tomatoes, basil, shaved Parmesan, extra virgin olive oil. $9
Zuppa del Giorno – Chef's daily soup. Cup $4, Bowl $7
Insalate (Salads)
Della Casa per la Famigila* – Served family style; minimum 2 people. Mixed field greens, roasted red bell peppers, marinated mushrooms, tomatoes, house dressing. $7 per person
Caesar – Romaine lettuce, Parmesan and olive oil croutons. $9/$14
Contadina* – Chopped romaine, radicchio, endive, salami, provolone cheese, garbanzo beans, tomato, olives, cucumber, pepperoncini, red onion, Italian vinaigrette. $13
Arugula* – Arugula, shaved mushrooms, fennel, artichokes, shaved Parmesan, lemon vinaigrette. $11
Spinaci – Spinach salad with Gorgonzola cheese, grapes, caramelized pecans and balsamic vinaigrette. $11
Pastas
Gnocchi – Potato gnocchi with cipsy sausage ragu and shaved pecorino $18
Cesarecce – Short, rolled pasta with eggplant caponata and smoked mozzarella. $20
Spaghetti – Hand-crafted veal meatballs and marinara sauce. $19
Trenette – Long, thin pasta served with basil pesto and spicy Manila clams. $21
Garganelli – Quill shaped pasta, broccoli, chicken, cream, chili flakes, Parmesan. $19
Conchiglie – Sea shell pasta, gulf shrimp, mussels, clams, and calamari in a spicy tomato broth. $22
Ravioli di Piselli – Homemade ravioli filled with fresh peas, ricotta cheese, Parmesan cheese, fresh mint served with fresh tomatoes, garlic and basil sauce. $19
Lasagna – Traditional eight layer lasagna with Bolognese meat sauce, bechamel and Parmesan cheese. $20
Pesce (Fish)
Salmone – Pan-seared served with roasted tomatoes and green beans. $23
Pesce del Giorno – Simply seared fish of the day, spinach, lemon, extra virgin olive oil. $24
Parmigiana
Tortino di Melanzane – Eggplant, tomatoes, mozzarella, Parmesan, served with side of spaghetti marinara. $19
Pollo – Chicken, mozzarella, Parmesan, tomato sauce, served with side of spaghettii marinara. $22
Specialita (specialties)
Fracosta alla Napoletana – short rib with tomatoes, capers, olive and oregano sauce, served with fingerline potatoes. $24
Orata al Rosmarino – Sauteed sea bream filet with rosemary and garlic on a bed of farrotto. $24
Pagnotelle (oven roasted sandwiches)
Sandwiches are available from 11am-5pm and are served with rosemary potato chips
Uno – Parma cotto ham, mozzarella, arugula, tomato. $13
Due – Wood oven roasted vegetables, smoked mozzarella. $14
Tre – Chicken breast, tomato, fontina, arugula. $14
Authentic Neapolitan Pizza
10″ individual/20″ large/1/2 meter family sizes
Margherita – San Marzano tomato sauce, mozzarella, basil. $17/$28/$38
Pepperoni – Pepperoni, mozzarella, tomato sauce. $18/$30/$41
Polpette – Meatballs, roasted peppers and onions, tomato sauce, mozzarella and Parmesan. $19/$32/$45
Ortolana – Roasted eggplant, zucchini, peppers, fresh basil, mozzarella cheese and spicy roasted bell pepper sauce. $18/$30/$41
Quattro Formaggi – Fresh mozzarella, fontina, provolone, Parmesan, fresh tomato and basil. $18/$30/$41
Finocchiona Finocchiona salame, sauteed onions, tomato and mozzarella. $19/$32/$45
Prosciutto e melone – Cantalope and prosciutto ham, arugula, mozzarella. $19/$32/$45
Pollo – Roasted chicken, BBQ sauce, smoked mozzarella, red onions, fontina cheese. $19/$32/$45
Build Your Own – Margherita – San Marzano tomato, mozzarella, basil. $17/$28/$38
Add a Topping $3 each: Pepperoni, Italian Sausage, Parma Ham, Roasted Chicken, Onions, Mushrooms, Roasted Peppers, Green Olives, Artichokes, Fontina Cheese, Provolone Cheese, Tomatoes, Eggplant
Contorni (sides)
Sauteed Spinach – Garlic, olive oil. $4
Green beans – Simply steamed or sauteed. $4
Sauteed Broccoli – Olive oil. $4
Roasted Potatoes – Wood oven roasted, olive oil, rosemary. $4
Creamy Polenta – With parmesan cheese. $3.50
---
It's Mickey Monday!!!
To read past Mickey Monday Submissions, please click here!
Mickey Monday link-up guidelines:
*The post just needs to be about anything Disney related.
*New posts are fantastic, but for now, if you have a great old post you want to share, drop it on in.
*Try to visit as many of the posts that you can as time allows. The point of this is to share and support each other.
*If you're going to be a regular, please link back to the host posts. It's just good etiquette and frankly, that's how others will get to your fellow Disney lovers content. Without that link back, they can't find the linkup and, therefore, the other blogs. Help me help you!