Over Labor Day is the Disneyland Half Marathon/Dumbo Double Dare Weekend. I had a great time last year running through California, and missing it this year as I am starting to see everyone's posts about getting ready! Good luck everyone!
So, for this week's Mickey Monday, and to help me feel better about not attending, (and to help excite everyone else), here is a recap of my 2014 weekend!
Disneyland Half Marathon Weekend Expo
To read my full post about the expo, click here!
Nathan and I headed over to the Disneyland Hotel where the expo was being held. We needed to pick up our bibs, shirts, and any other goodies that we found!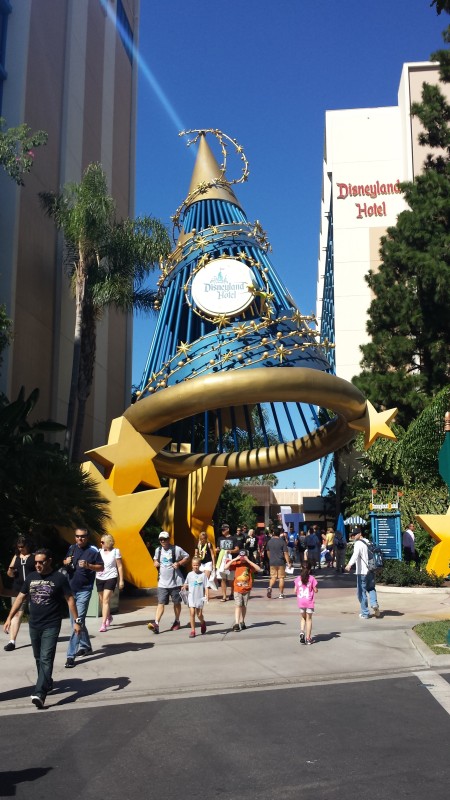 You had to go down in the parking garage/basement area to pick up your bibs and pre-ordered items. This is also where I got my Coast-to-Coast wristband that I had to wear for the entire weekend. I had one bib for both the 10k and the half. As you can see, I was in Corral C for the 10k and Corral G for the half.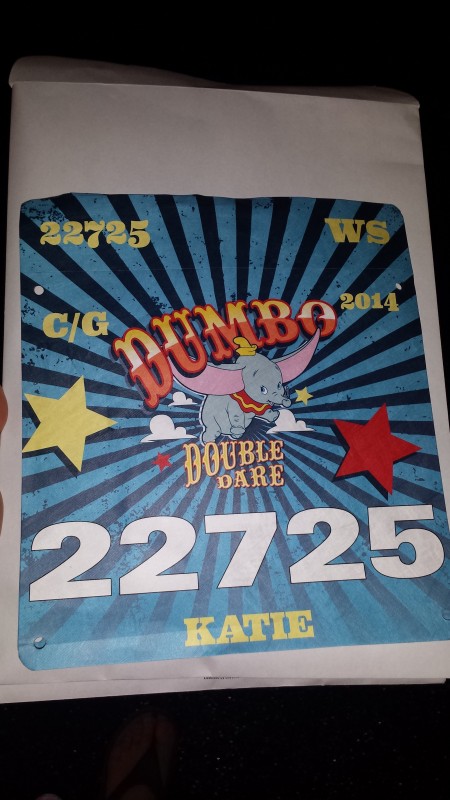 After getting our bibs, we walked into the expo where runDisney folks were giving a session. I was too enthralled with the expo, that I didn't catch what they were talking about and zoned right past them. Though, I know that my sister and  parents did go to the Jeff Galloway session where he gave tips for running the Dumbo Double Dare.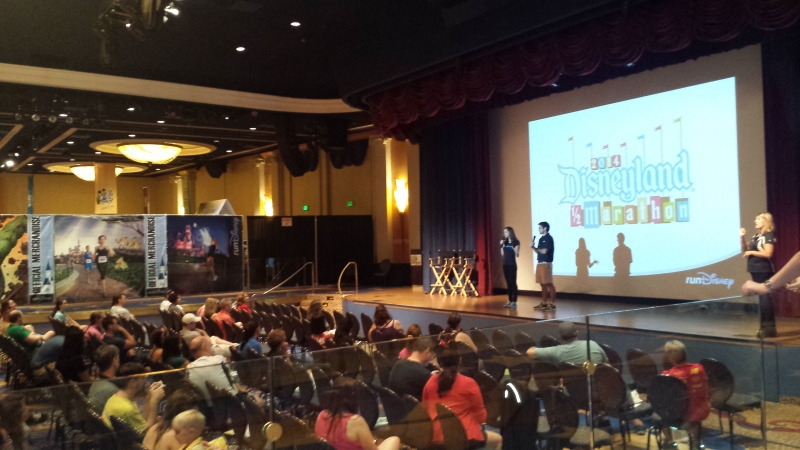 There weren't as many vendors as the Disney World Marathon Expo (but that is to be expected, of course!), but there was still a lot of places to go look and browse. I think the longest line, though, was the KT tape booth. I went to get taped twice (ITB for the 10k, and my ankle before the half), and each time I ended waiting about an hour. They even ran out of tape early on Saturday morning!
One thing that I really liked was that there was a shirt exchange booth at the expo. I remember the fiasco from Expedition Everest and my shirt being WAY too big and there was no good way for me to exchange it. THIS way was much better. Both Nathan and I exchanged our shirts for different sizes with no problems.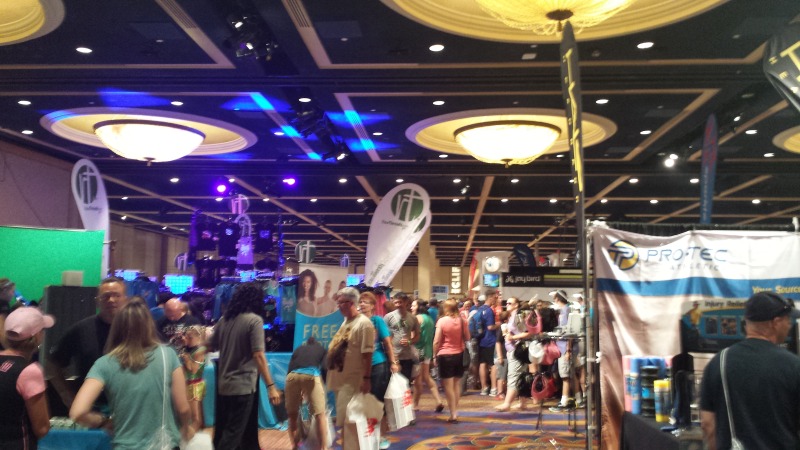 Here is all of our loot! I also got a runDisney Mickey, Dumbo magnet, some more Nuun, and a cup that I won! I  also got a pink Dumbo FLY shirt from Raw Threads, some socks and compression sleeves, a box of Minute Rice that I won, some runDisney pins, a sweatyband for me and a Bondi band for Nathan.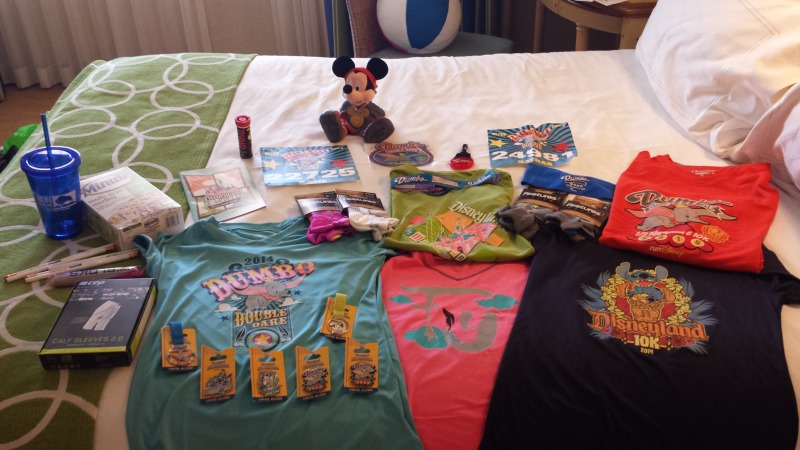 Disneyland 10k
Here are some highlights from the Disneyland 10k! If you want to read my full recap, click here!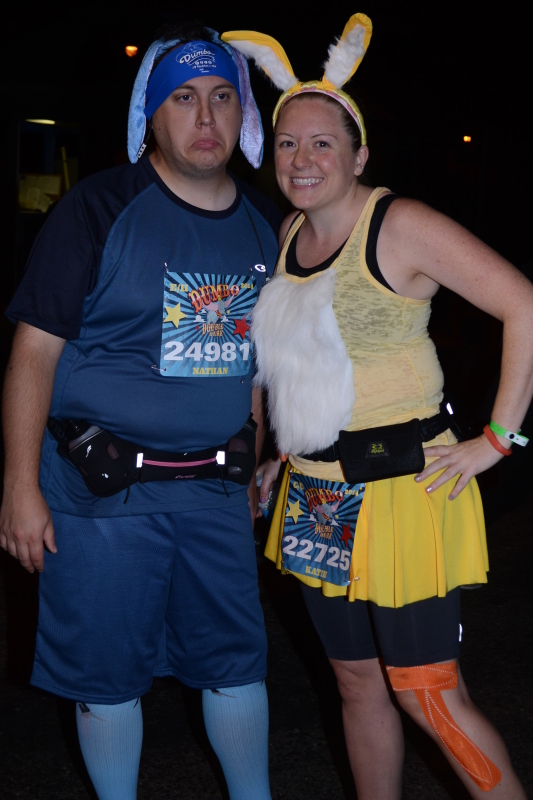 I ended up being in Corral C for the 10k. It wasn't terribly crowded when I first got there, but it quickly got tight. There were no fireworks at the starts of each corral like there are at the Disney World races, but they had lights and lasers.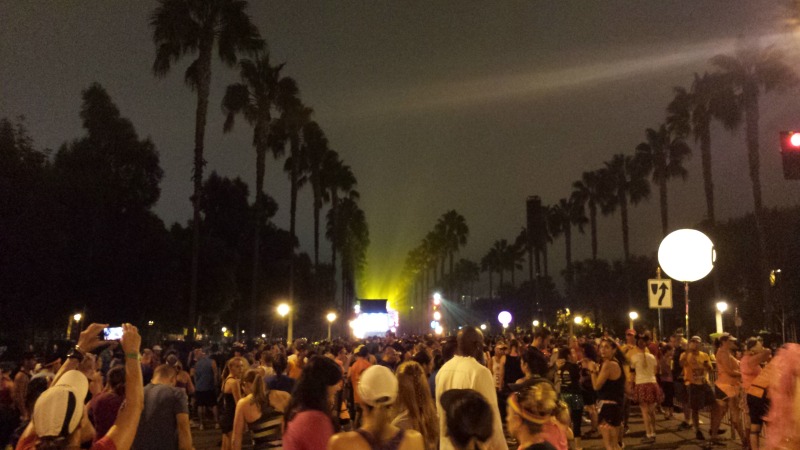 Soon it was time to start running! I had the intervals of Run 1:30, Walk :45 set up and followed it for the first mile or so until I got to the parks. (Well, I ended up running through the first few intervals because it was so crowded on the course that there was no room to walk…) The race started through Downtown Anaheim. It wasn't terribly exciting except for the adrenaline of the race. I didn't take any pictures of this part, except the blurry one below.  I DID, however, get to see a fellow facebook friend who recognized me and we had a nice chat while running through Anaheim and it really helped to pass the time. Hi Kim!!!!
But finally we got to the fun part: running through California Adventure and Disneyland!!!!! Here are the mile markers for the 10k. I didn't really want to always wait in line to take a picture, so I made do with quick stops and snapping selfies as best as I could. At this time I pretty much stopped following my intervals. There is something about running through the parks that is magical and I felt so alive and excited that I just ran from picture stop to picture stop. Not that I was super fast or anything, but the adrenaline really kept me going.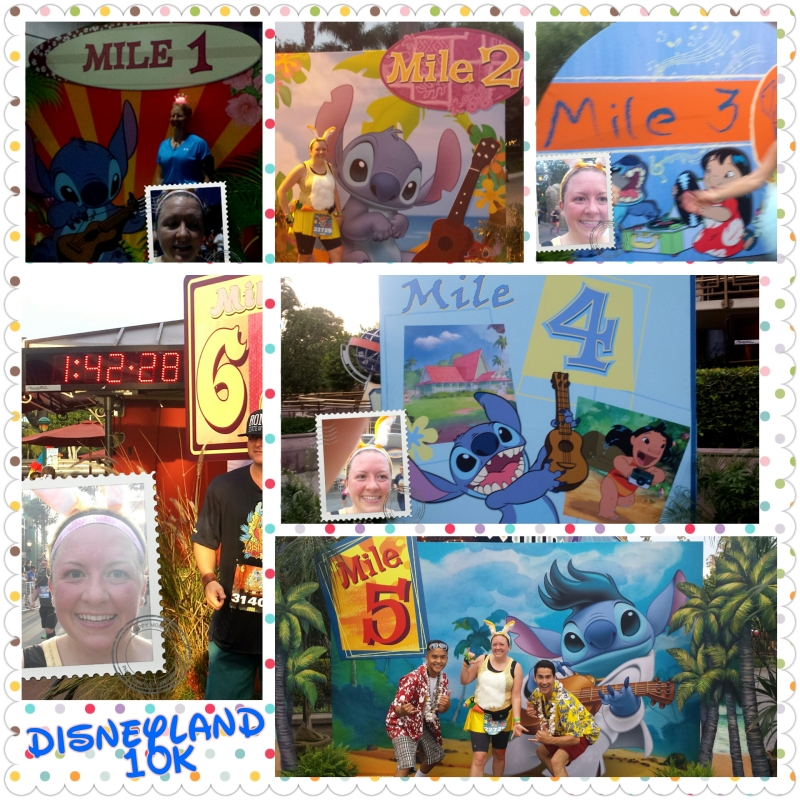 We got to run through Radiator Springs, which was pretty neat because there were a lot of good places to take pictures and it wasn't terribly crowded to do so.
On to Paradise Pier! It was getting much lighter at this point, but it was still awesome to see all the rides lit up in the dawn light. Running towards this area was awesome, and the excitement was still building.
I got to meet up with Elvis for a quick picture before heading around the pier. It was surprising how Not Long the character lines were! I just had to stop!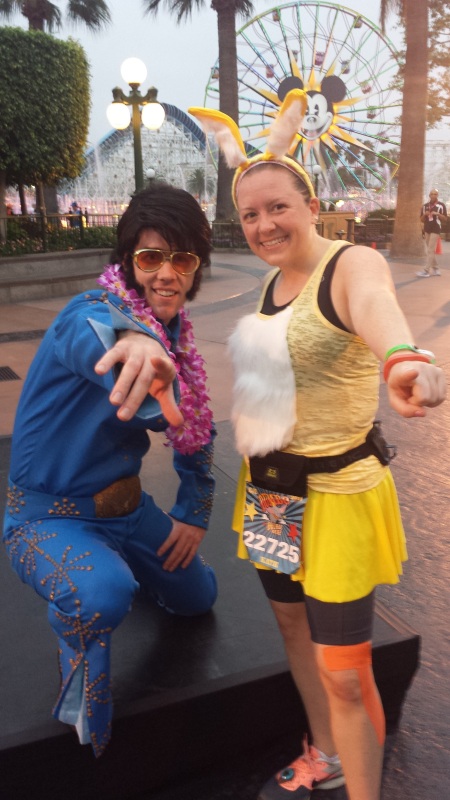 Next up was running through Disneyland, where we passed by the Matterhorn mountain. If you look closely you can see the black opening of the mountain. If you at the perfect angle you will see a hidden Mickey. Unfortunately, I did not snap the picture at the correct angle.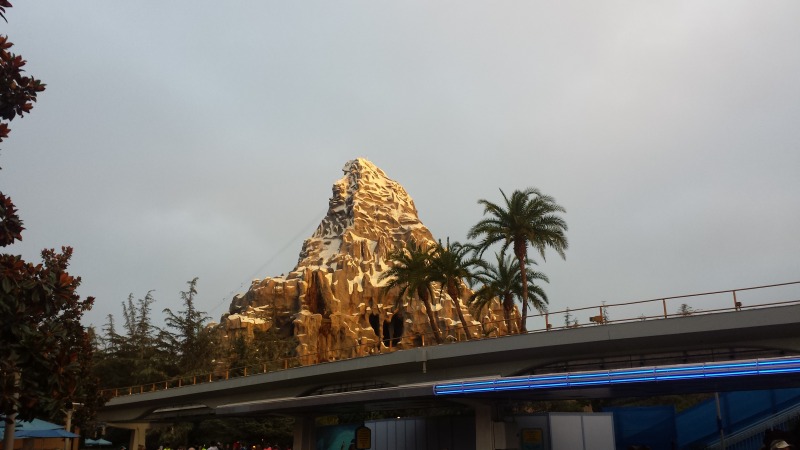 Moving on towards It's a Small World. Thinking about it now, I should have probably stopped for this character visit because I have never seen them in these outfits. Oh well, at least I got a run-by picture!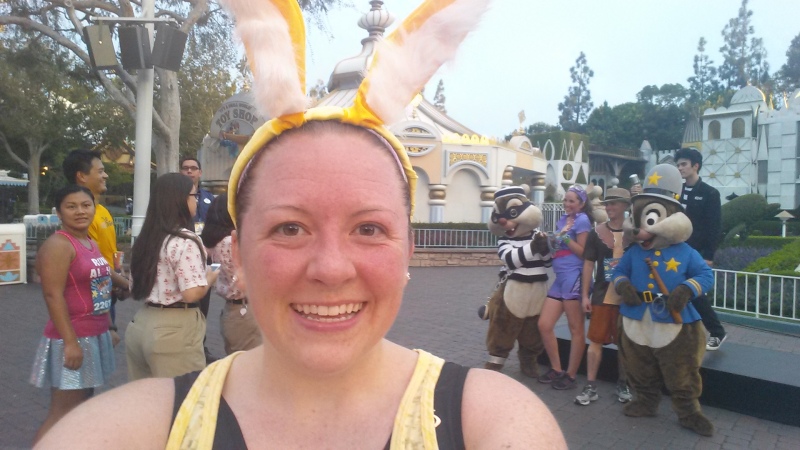 We ended up backstage and we passed the train staging area. It was neat seeing a bunch of the train cars in the warehouse building, but they had this engine out. I snuck a picture because I thought it was cool looking, not that it was really out for the runner's viewing pleasure.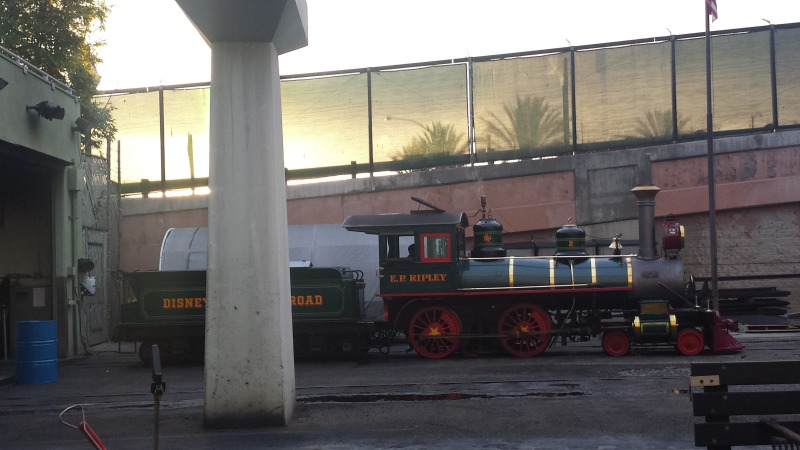 The next part of the course had some parade floats out for us to view. This part was awesome and I had a good time posing with the different themed floats. Here they had an Under the Sea float next to the Mickey Pumpkin which must have been just taken out of storage.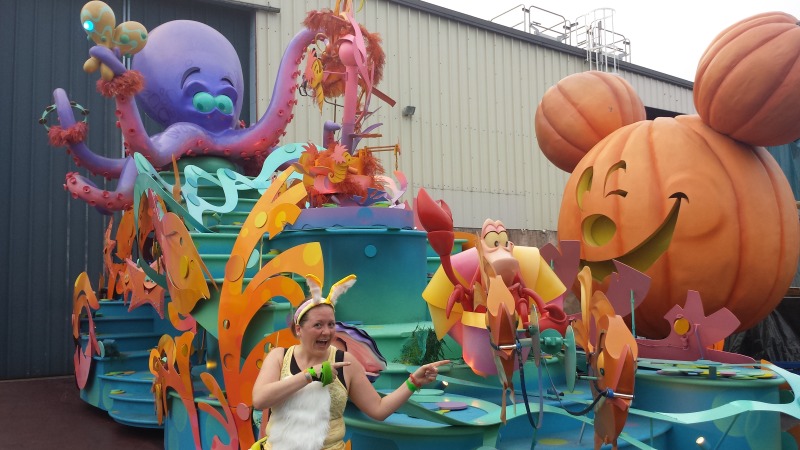 Around here is where I fell. I totally tripped off a curb. I didn't even know I was ON a curb. I'm pretty sure I was looking at my phone or something when I fell.  I ended up twisting my ankle pretty bad and had to sit down for a minute. It was funny that I fell right near the medical tent, but I didn't want any part of getting looked at. My ankle hurt for a minute, but then I got up and kept running and was fine. [NOTE: I ended up spraining my ankle pretty bad. It was super swollen and super sore later that day…]
And finally…Running through the castle. Now, it was not as magical as running through Cinderella's Castle at Disney World, but it was still pretty awesome. It's just. so. small! I think I am spoiled! AND you are able to walk through the castle normally, where as you can't really do that at Disney World. Regardless, still a great experience!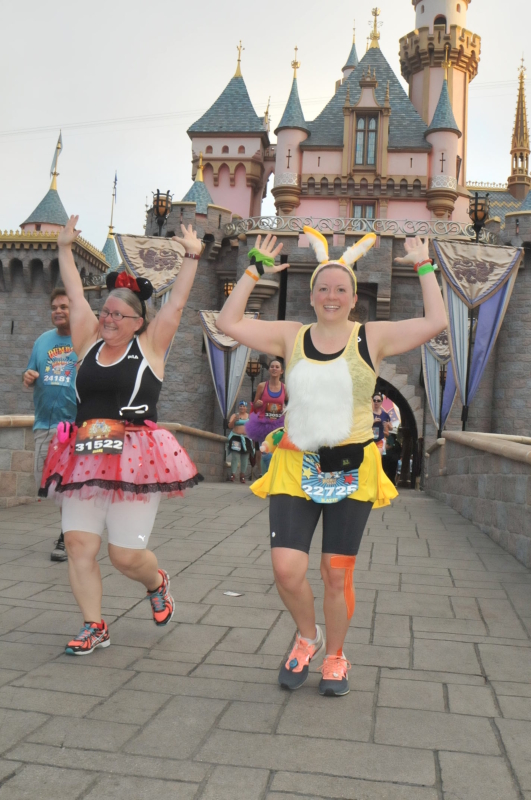 Ok! I think I am nearing the finish line now! I'm feeling good, despite a hurt ankle, but I'm ready to finish!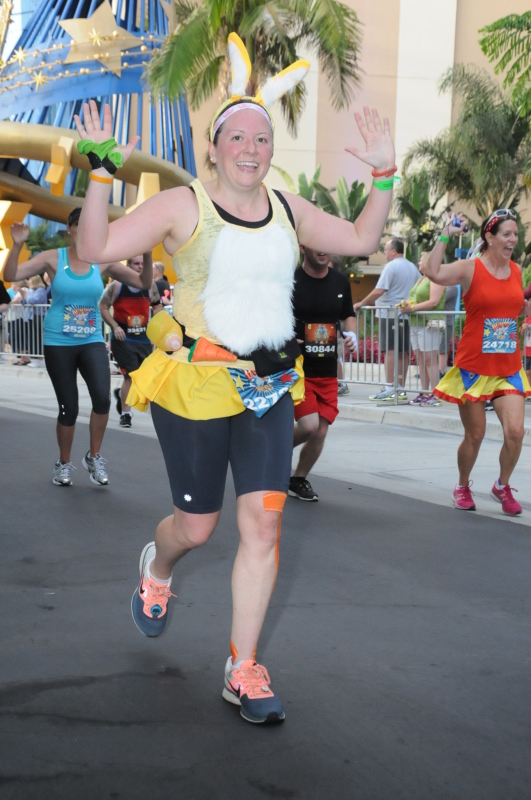 Woohoo! My official time is 1:29:59. Not terribly fast, but really not that slow for as many times as I stopped to take pictures and to shake out my hurt ankle. It was about a 14:25 pace.
Here I am with my awesome medal. I really like this medal. I like how Stitch is a tiki!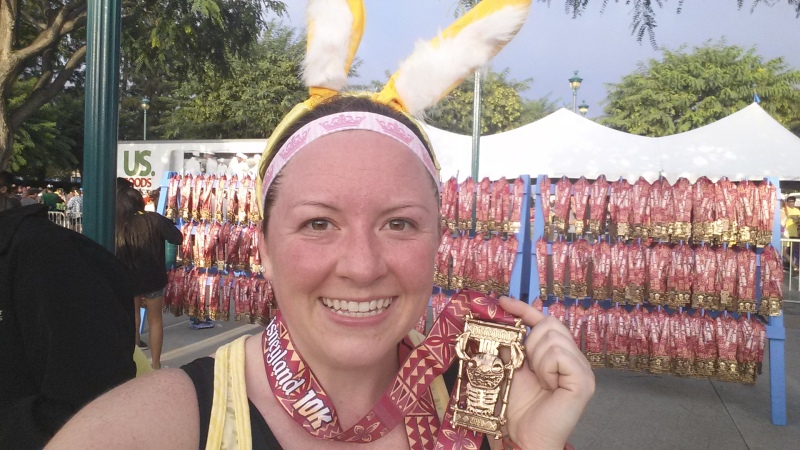 Yay! I had a great time running the Disneyland 10k!!! A lot of people were bummed that there weren't a lot of characters on course, but I certainly always find places to take pictures! And I certainly enjoyed looking at the parade floats! What an awesome race!
Disneyland Half Marathon
Here are some highlights from the 2014 Disneyland Half Marathon. For my full post, click here!
I was a bit nervous heading out for this half marathon because of spraining my ankle the day before at the Disneyland 10k. My foot was super swollen the night before and a pretty sore. Regardless, I wrapped it up pretty good with some KT tape, and hoped for the best.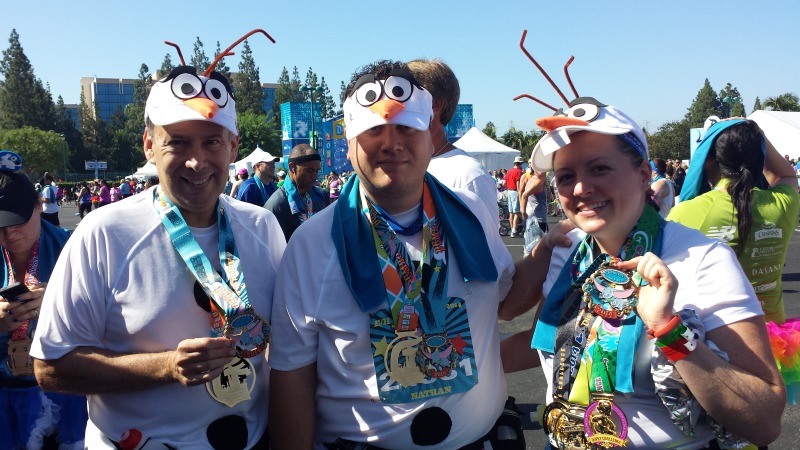 I got to the corrals and met up with some of my family. Marty, Nathan, and I all dressed up as Olaf. And let me tell you, this was an awesome choice because we got so many cheers while we were running! Everyone loves an identifiable character, and Olaf is so IN right now. Yay! GO Olaf!
My plan for this race was to survive. I started using the intervals run 15 : walk 45 because I really didn't want to hurt my foot any more. I hobbled along slowly through a bit of Anaheim before we entered California Adventure. Running through Cars Land was just as fun as the day before, and I decided that I would stop for as many pictures as I could.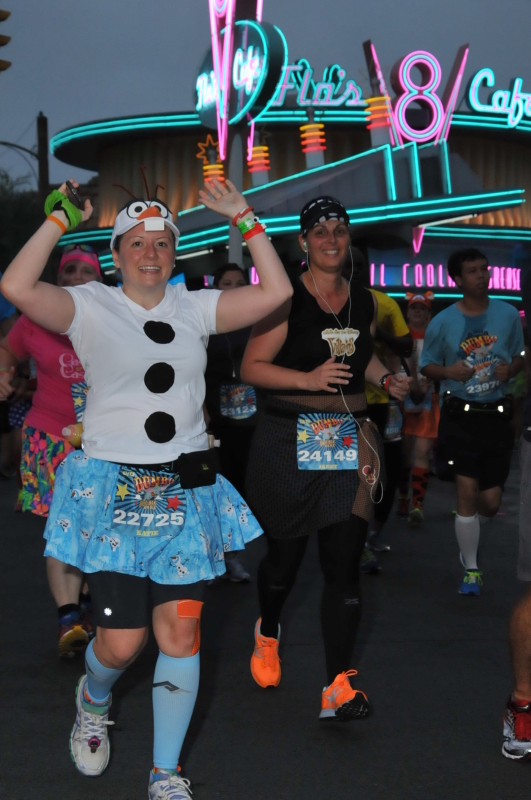 I think one of my favorite sections to run through at California Adventure is Paradise Pier. Even though it technically doesn't have a "Disney" feel, there is just something magical about the lights, water, fountains, and the wheel.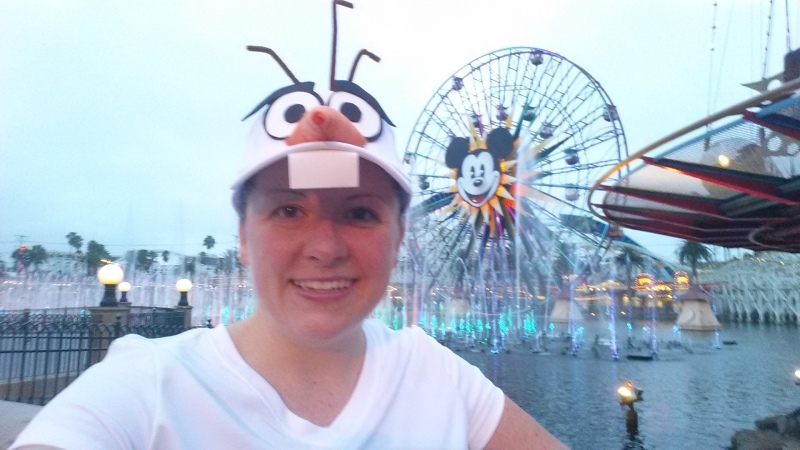 After California Adventure, we heading on to Disneyland where we got to run through the castle. It really is hard to stay on your intervals when you are running through the parks because of all the excitement. I think I walked as needed and then shuffled along for the rest of the time. By now, my ankle was numbish and didn't really cause me much trouble. Probably because it was in shock!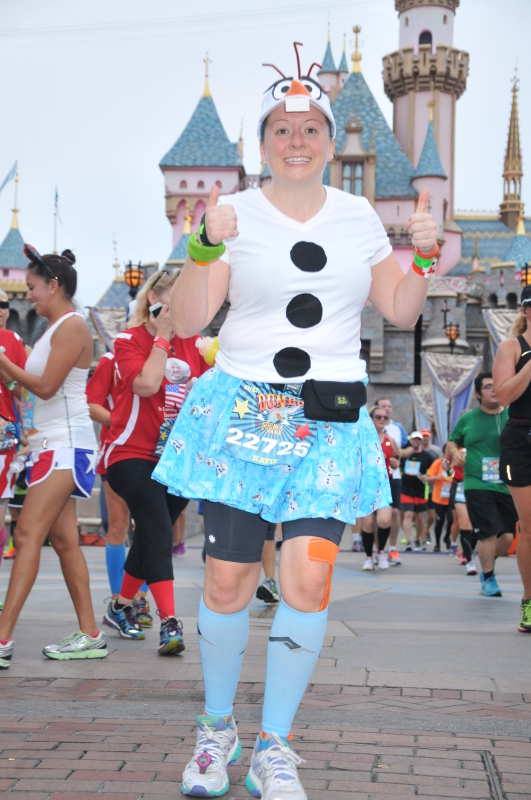 After we got out of Disneyland, we headed to the streets of Anaheim. I did not really enjoy this part because there was nothing exciting to look at! Around mile 6, the 3:00 pace group from a corral behind me started to pass me. I knew that I would finish in the allowed time, but did not want to keep falling slower and slower, so I decided to join them. They started off running 4:1, but switched it to 3:1 a couple of rounds after that. It was good to join this group because it kept me motivated to keep running and moving forward. Below is the pacer guy. I didn't get his name but he was good at motivating and keeping us occupied while running.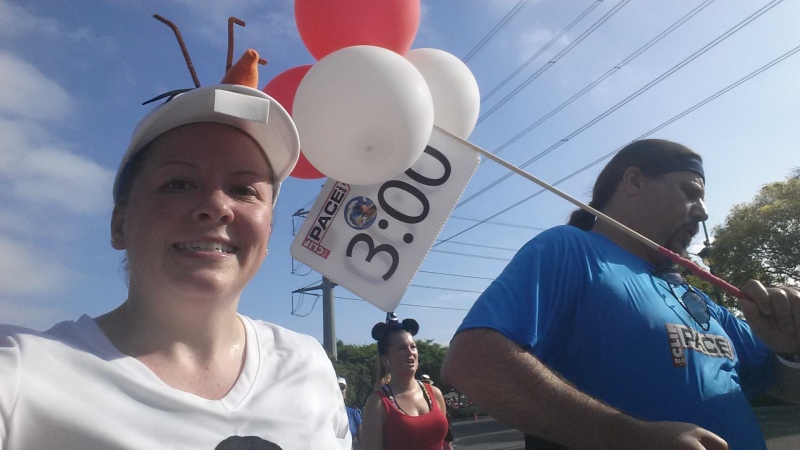 While there was not much to look at on the streets of Anaheim, there were some groups of performers. We passed hula dancers (aren't these girls so cute?), hispanic dancers, marching bands, and more. It certainly did help keep the momentum going for us runners to see people out cheering us along. There was also about a mile of old cars lining the streets (but I did not stop for pictures) with the owners cheering us along. It was neat and reminded me a bit of running around the driving track and seeing the cars during the Disney World Marathon.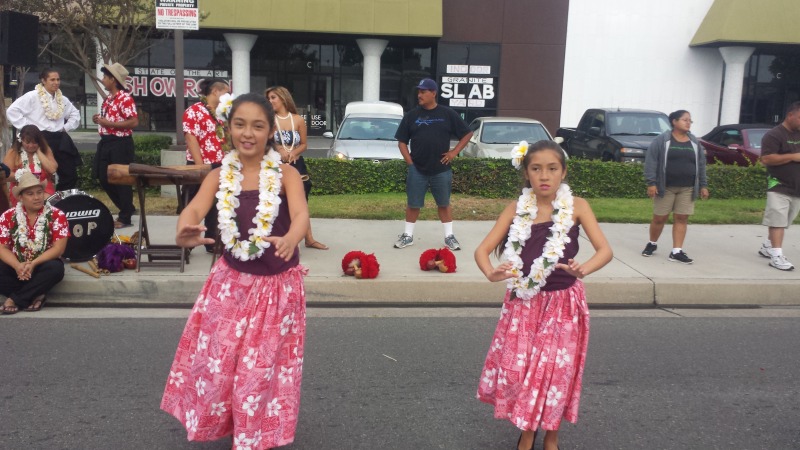 After running on a dirt path next to a dried up river, we finally got to Angel Stadium. We ran under the big A and then around the field with a bunch of girls scouts and others cheering us on!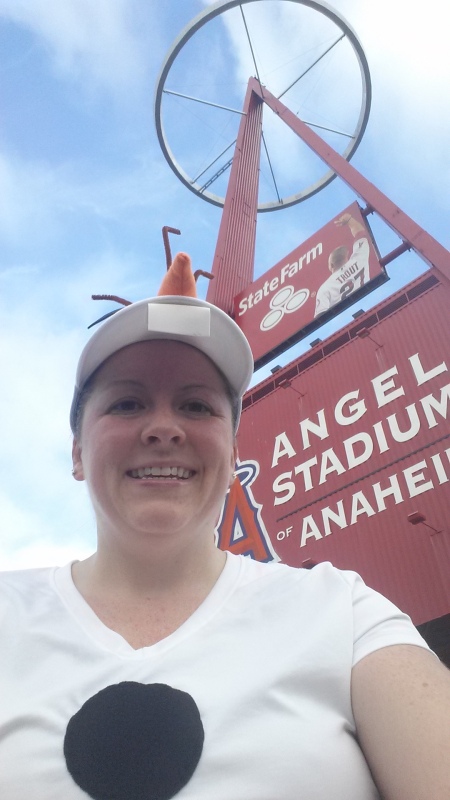 After the stadium, we just needed to head back towards Disney and finish! But at this point the sun started to come out. It had been overcast for the majority of the race, which was awesome, but as soon as that sun came out, my energy waned and I got so tired. Regardless, I kept up with the pace group until the last mile, when I sped up because I just wanted to finish.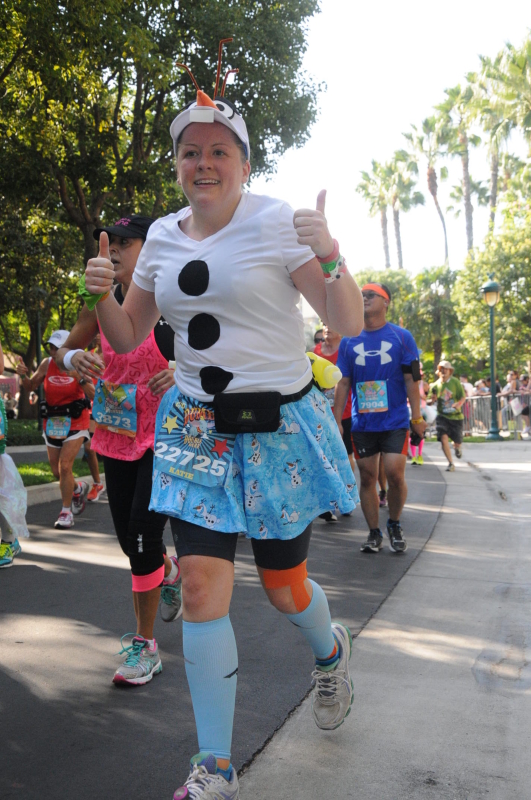 And I'm done! Yay! I survived running a half marathon with a sprained ankle. It was probably not the smartest thing, but I wasn't NOT going to run and miss out on 3 medals…
Showing off my half marathon medal: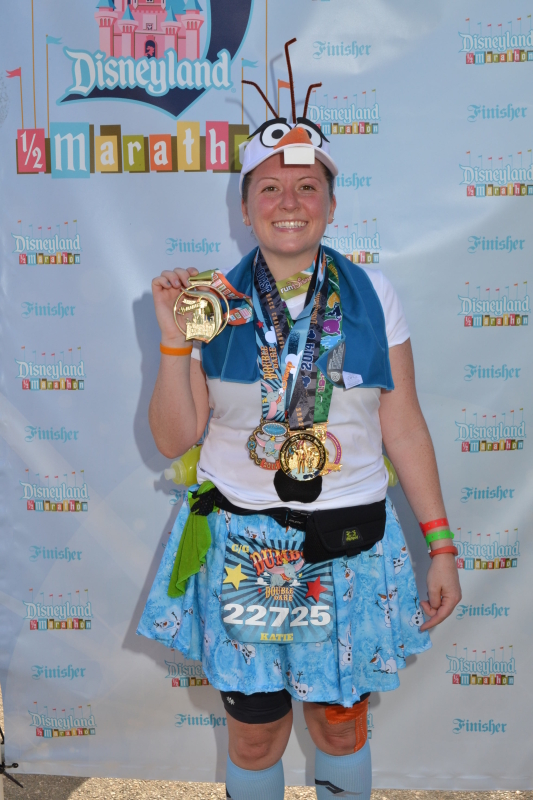 And I got my Dumbo Double Dare medal for running the 10k and half.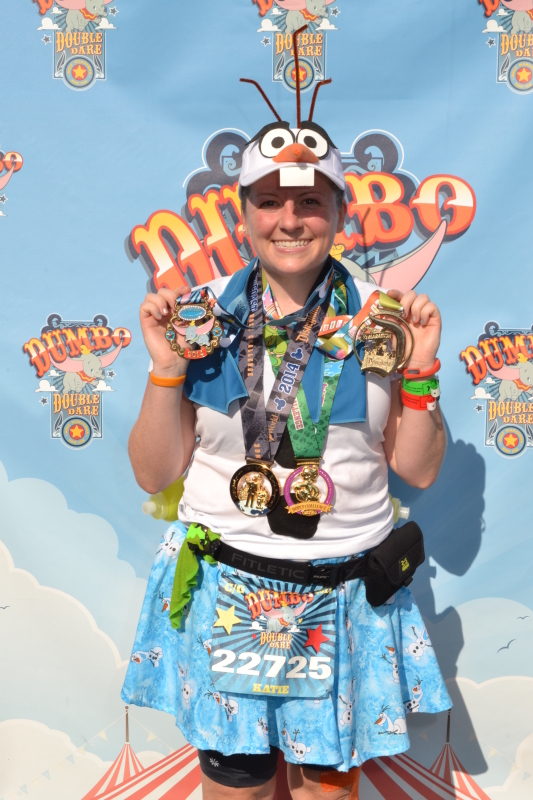 Yes, I did bring my Dopey medal. And yes it was in my pocket for the entire half marathon. I wanted to show it off when I got my Coast to Coast Medal. Dopey + Dumbo = Coast to Coast!
---
 Magical Mickey Link-up
Welcome to the Magical Mickey linkup: the linkup centering around a love for Disney, sharing that love and connecting with others. I hope you find this linkup as a great place to turn to for Disney content each week and help all the bloggers participating out by helping readers find that great mouse-eared content. I'm co-hosting with John from Run. Geek. Run (disney), so of course check out his blog

To see past Magical Mickey posts click here!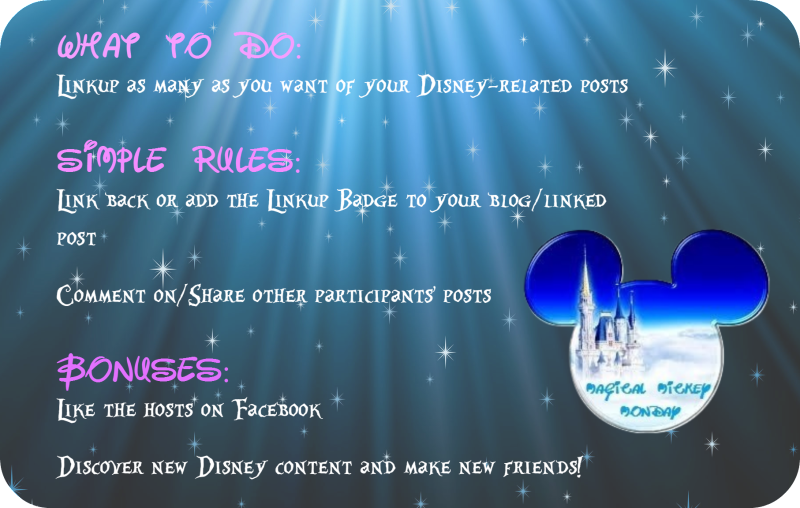 Grab the Magical Mickey Monday badge!