Dopey Challenge 2014
Dopey Challenge 2014
Well, Disney World's Marathon Weekend is coming up this  week, so I thought I would do a look back at my experience from 2014 from running the Dopey Challenge. Four days of running a total of 48.6 miles totally kicked my butt, but I had an awesome experience and am a little sad not to be participating this year. I love seeing everyone's costume choices and really hope everyone has a great time!! I plan on registering for 2017…need to save my pennies!
The Expo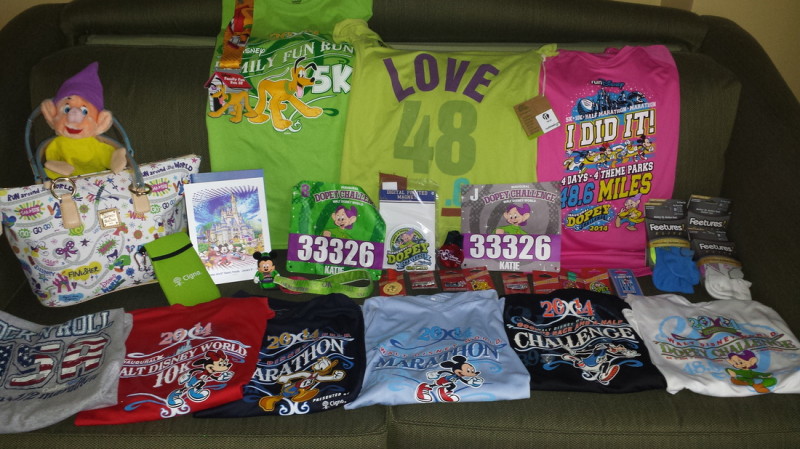 The expo is an event that you must train for, just like the races. It is multiple buildings at Wide World of Sports and it can be a bit much. There is so much to do! You need to pick up your bibs, shirts, and other ordered items; you need to check out all the official runDisney gear, as well as all the stuff from tons of vendors; you may need to get taped at the KT booth (always a long line); there are also lectures about running, nutrition, the courses; as well as picture spots! Plan on spending a good amount of time at the expo, as well as a good amount of money (if you plan on shopping!). Click here to read more in depth about the 2014 Marathon Weekend Expo.
Pluto's Family Fun Run 5k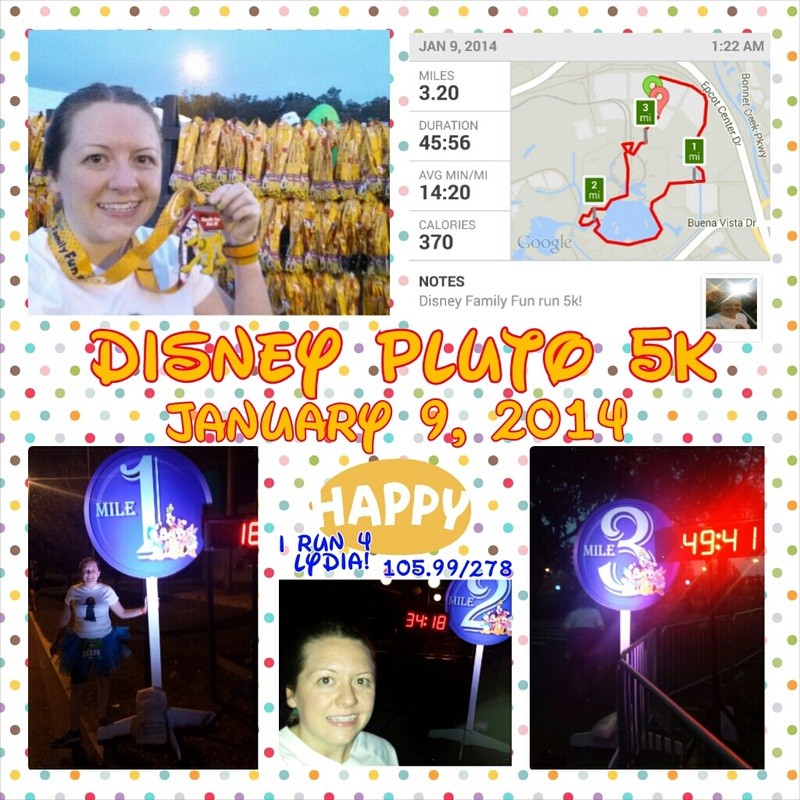 Day 1 of the Dopey Challenge is the 5k. It's the first day of waking up super early and you are pretty excited. I was also a bit nervous because I was concerned. Not necessarily about finishing under the required 16 minute pace, but I was concerned with making sure I didn't push myself too hard that I would get tired for the next three days of running. This is probably the hardest thing about training for Dopey.
Anyways, I didn't stop for many pictures because the lines were really long. But I did absolutely love running around the World Showcase in the dark. Everything was lit up and it was so pretty. Read more about the 5k here.
Minnie's 10k

Day 2 brought the 10k. This was the first 10k of marathon weekend, so it was pretty crowded.  I ran a little fast pace during this race than I did the 5k, so I had some time to stop for some pictures along the way. This race took place on the roads outside of Epcot, Epcot, and the Boardwalk. Again, it was awesome running around the countries, and it was really cool running on the Boardwalk. There were a lot of people awake and cheering us on, and it was funny to think how others could still be sleeping with all the noise that we were making. Read more about the 10k here 🙂
Donald's Half Marathon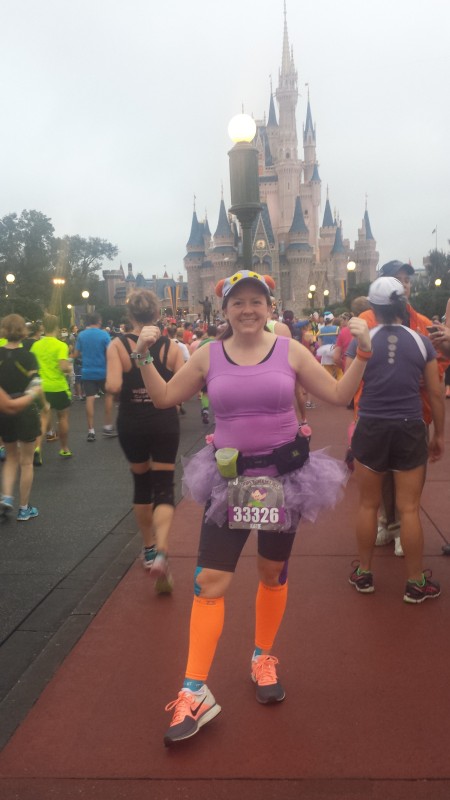 On the 3rd day of Dopey, my true love gave to me …. running through the Kingdom, dressing up in costume, another early wake up! The half marathon was the first race of the bunch that ran to Magic Kingdom. This was my first experience running through Magic Kingdom, and it was TRULY magical. Getting there was a bit hard because it was a lot of road running (though there was some good crowds…) but it was 100% worth it as you reach the Transportation Center, run past the Contemporary, and then make your way backstage into the Magic Kingdom. Running towards, around, and through the castle was such an awesome feeling and I loved every minute of it! Read more about my experience running the half marathon!
Mickey's Marathon

The 4th race of Dopey was my first Marathon. I was very nervous, as my longest training run was 19 miles, but I knew that I would finish it no matter what! I was completely exhausted by the time I reached Animal Kingdom (about 13 miles), but I kept trekking on. This race was cool because it hit all four parks, Wide World of Sports, lots of backstage parts of the World, and lots of roads in between. It was hard, painful, and so very worth it. I'm not sure if I would be mentally ready for a marathon that WASN'T Disney. All the characters, entertainment, and awesome crowd support really helped when I was having a hard time. Regardless, I finished the race in just under 7 hours – and met the goal time of under a 16 minute mile! Click here to read more about my first marathon experience!
Dopey Challenge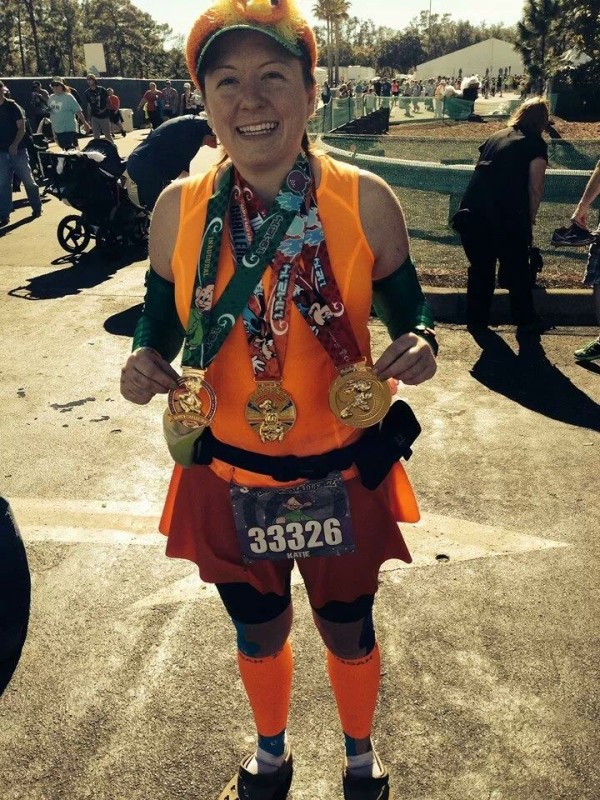 I DID IT! 4 races in 4 days for a total of 48.6 miles. It was an absolutely AWESOME experience and I am VERY glad that I committed and trained and finished the race.
Disney Races are awesome and I loved the Dopey Challenge. Even though it was one of the hardest things I have done, it was probably one of the most rewarding. I can do anything I put my mind to!!!