Thai Butternut Squash Soup
Last weekend I attended a party hosted by my parents and their neighbors. It was a pot luck, so I needed to decided what food to bring for myself to eat and to share with others. It was the morning of the party and I still didn't know what to make. Looking around my kitchen, I noticed I had a butternut squash laying around from my visit to Great Country Farms. So I decided to make up something with butternut squash and a crockpot. I was thinking of making a version of my African Bean Stew, but decided to make something different. So I came up with a Thai Butternut Squash Soup.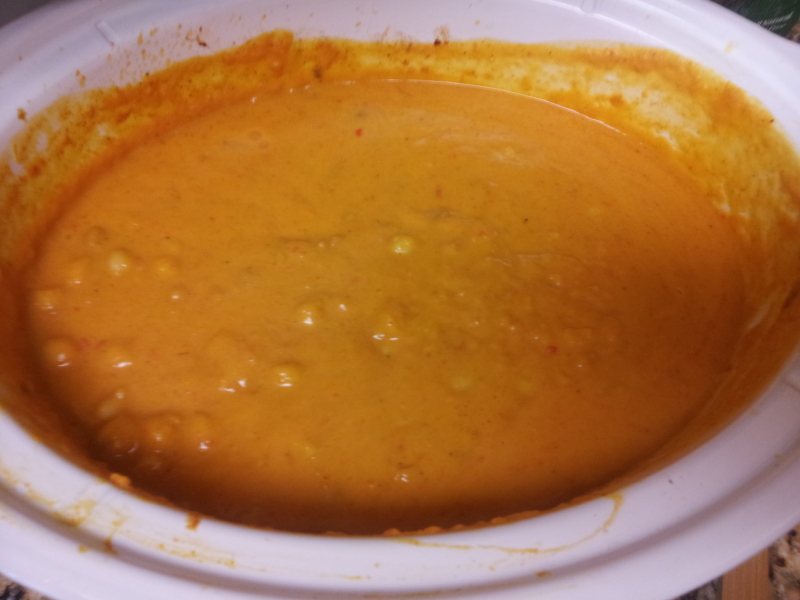 This soup is pretty easy to make, and I quickly got it cooking in the crockpot. Cooked on high for 2 hours and it was pretty much finished! I took it over to the party, where there was a lot of other food, and set it up on the table. Guess what?! Everyone loved it! By the time I left, my crockpot was empty and there was still a lot of other food hanging out. I even had a lot of people ask for the recipe 🙂 So, if you were one of them, here it is!
Thai Butternut Squash Soup
2 pounds butternut squash, peeled and cubed
1 cup vegetable stock/broth
1 jar (4oz) Thai Red Curry Paste
1 red bell pepper, seeds removed and  chopped
1 onion, chopped
2 tsp. minced garlic (minced garlic from a jar is fine)
1 Tablespoon ginger paste
1 Tablespoon sweetener of choice
2 tsp. soy sauce
salt and fresh ground black pepper to taste
1 can (14 oz.) coconut milk
1/2 cup natural peanut butter (I used chunky)
2 cans of garbanzo beans (chickpeas)
1/3 cup finely chopped cilantro
Sesame Seeds
 for garnish
1. Peel and cut the butternut squash into cubes. The smaller you cut the cubes, the faster they will cook. Don't forget to save the seeds for roasting and snacking later!
2. Add to the crockpot: squash, broth, red curry paste, red pepper, onion, garlic, ginger paste, sweetener, soy sauce, and salt/pepper.
3. Cook on high for a few hours or on low for a few hours more, depending on how much time you have.
4. With an immersion blender, blend everything up nice and smooth.
5. Add peanut butter, coconut milk, and cans of chickpeas, and stir together.
6. Continue cooking for a while longer. During this time I prepared the sesame seeds.
7. Garnish with chopped cilantro and sesame seeds, and ENJOY!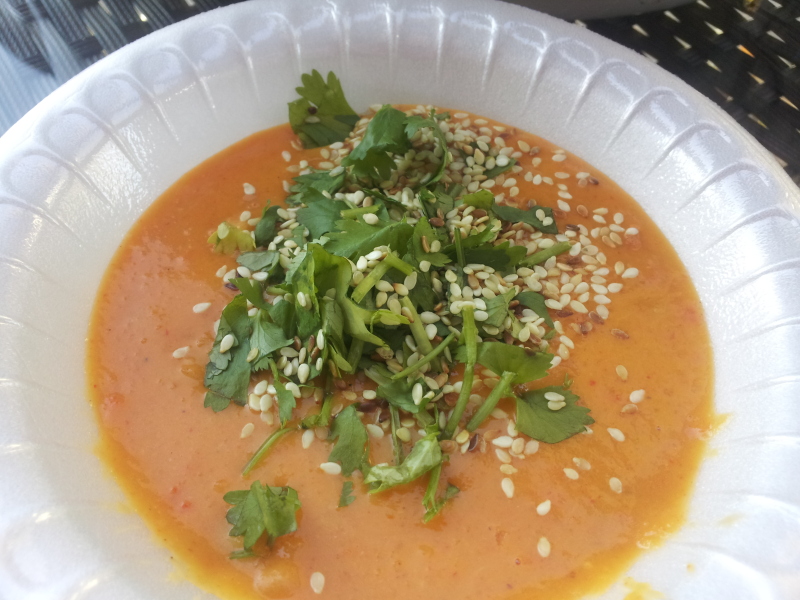 I used Jiva Organics White Sesame Seeds
 for my garnish. I put them in a skillet and roasted them on low heat (be careful not to burn them!). Mixed with chopped cilantro, this made a delicious garnish for the soup!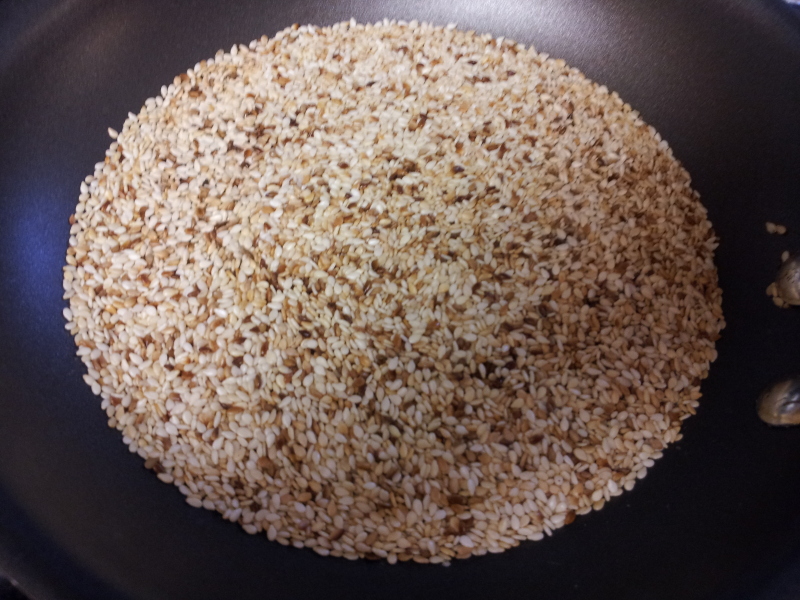 ---
I received one or more of the products mentioned above for free using Tomoson.com. Regardless, I only recommend products or services I use personally and believe will be good for my readers.