Disclaimer: I received a free entry into the Delaware Marathon Running Festival as part of being a BibRave Pro. Learn more about becoming a BibRave Pro (ambassador), and check out BibRave.com to review, find, and write race reviews!
The 2019 Delaware Running Festival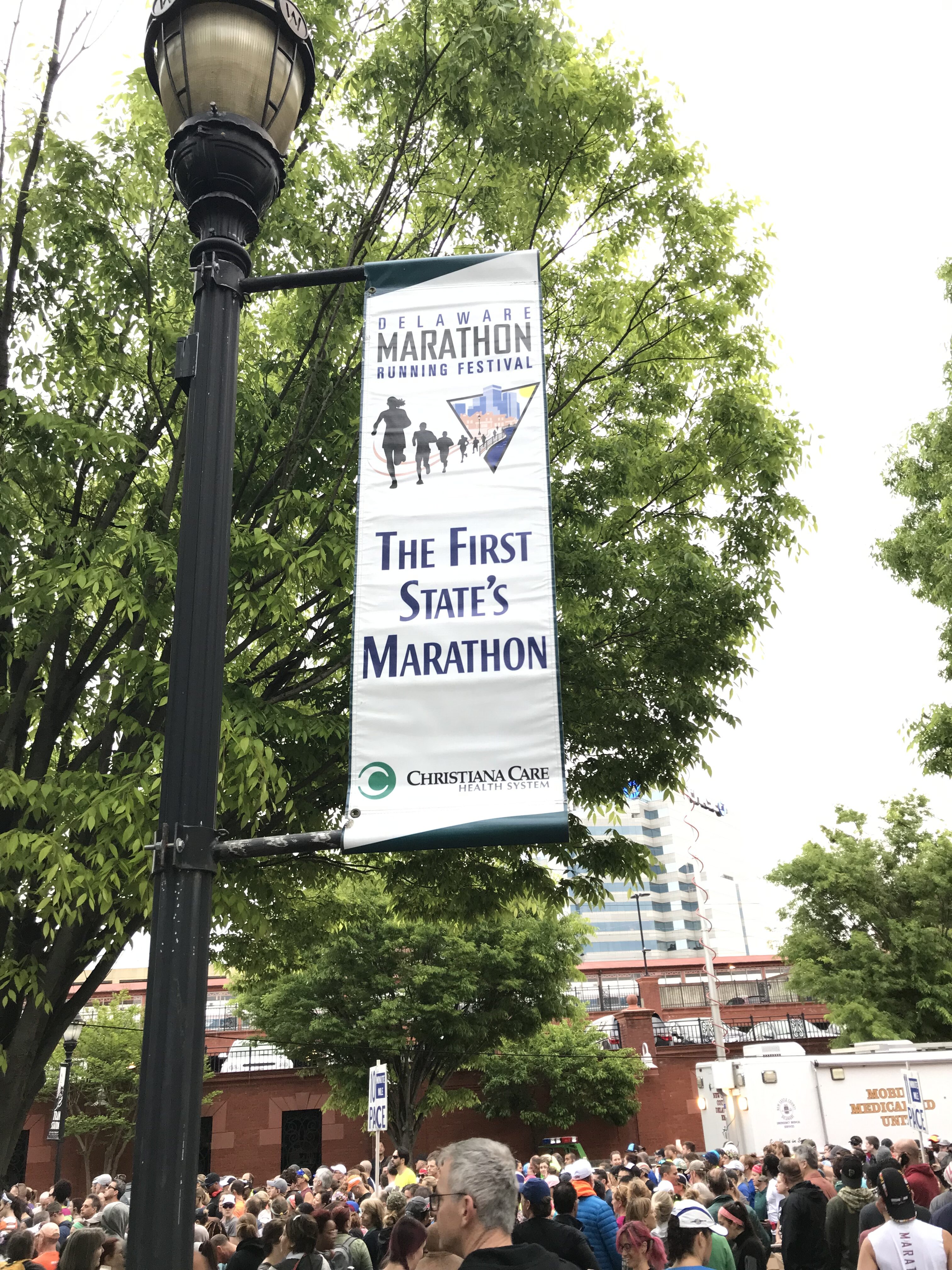 The Delaware Marathon Running Festival was held on Sunday, April 28, 2019 in Wilmington, DE. Offering the distances of the marathon, half marathon, 4-person relay, 5k, and kids run, there were options for the entire family!
This was going to be my 3rd Marathon!
My first two marathons were the Walt Disney World Marathon as part of the Dopey Challenge and the Blue Ridge Marathon that goes up and down 3 mountains! I had no expectations for this race, except to beat those previous two times!

Getting Ready
Here is my flat me for the race. All my Bibrave gear, as well as my chafe-free Runderwear, Orangemud hydration pack, and Aftershokz Airs: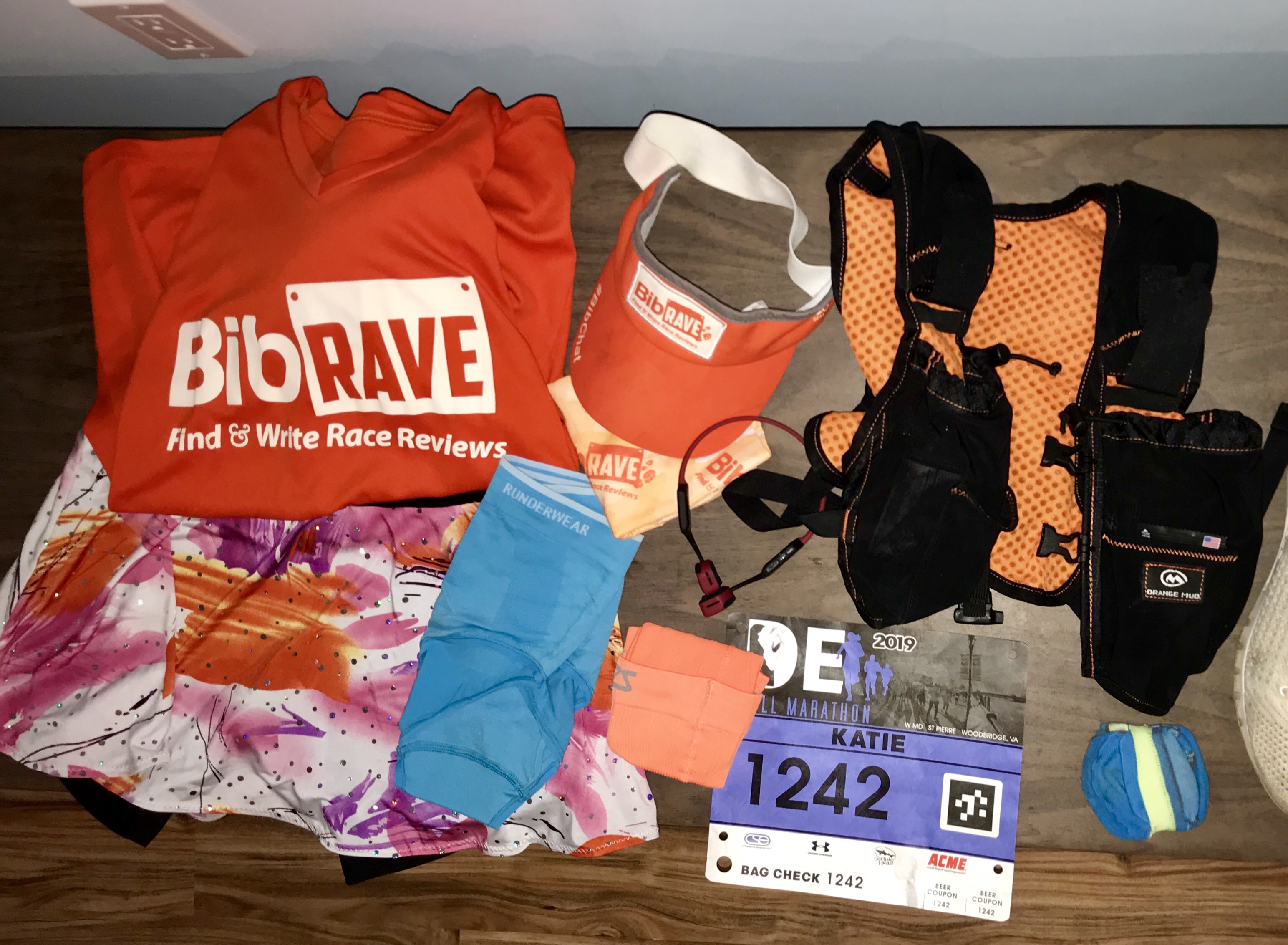 Before the Race: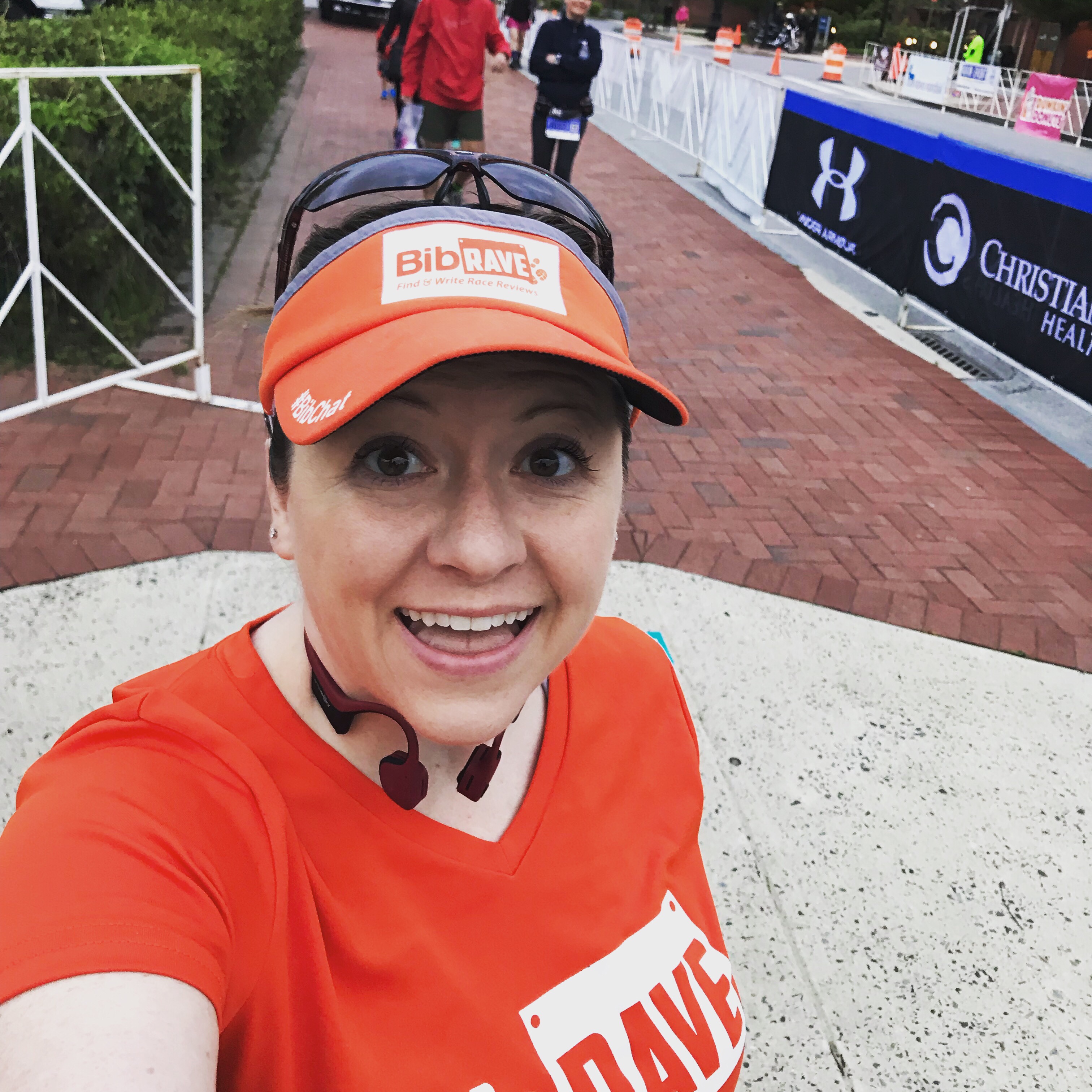 Before the race I was already tired! LOL. But I was excited and ready to run.
How did I do?
At the beginning of the race I quickly decided to link up with a 68-year-old man named David (man, he was FAST and finished in 5:30!) who was also going to be running Galloway intervals. We decided to run 20 / walk 20. This went great for the first 10 miles. Time was flying by and I felt great!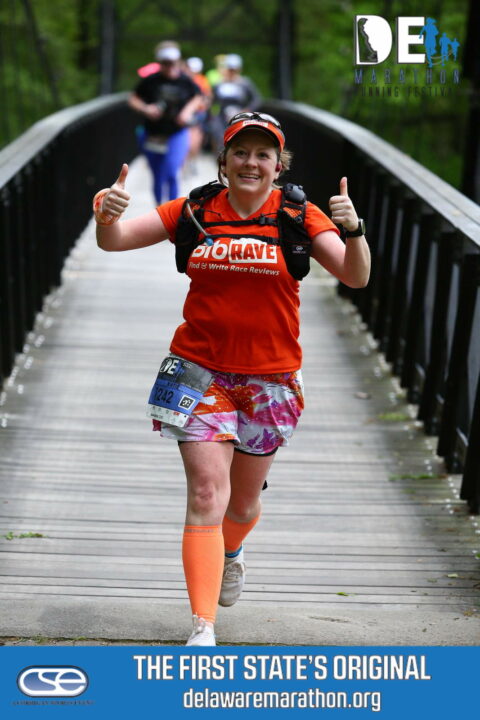 However, my knee and ankle were starting to give me some problems (I thought they might, they were a little sore the week or so going into the race from too much walking at Disney World.
Then, my stomach started to act up and I had to slow down and bail for a bathroom. Then there was no catching back up with him.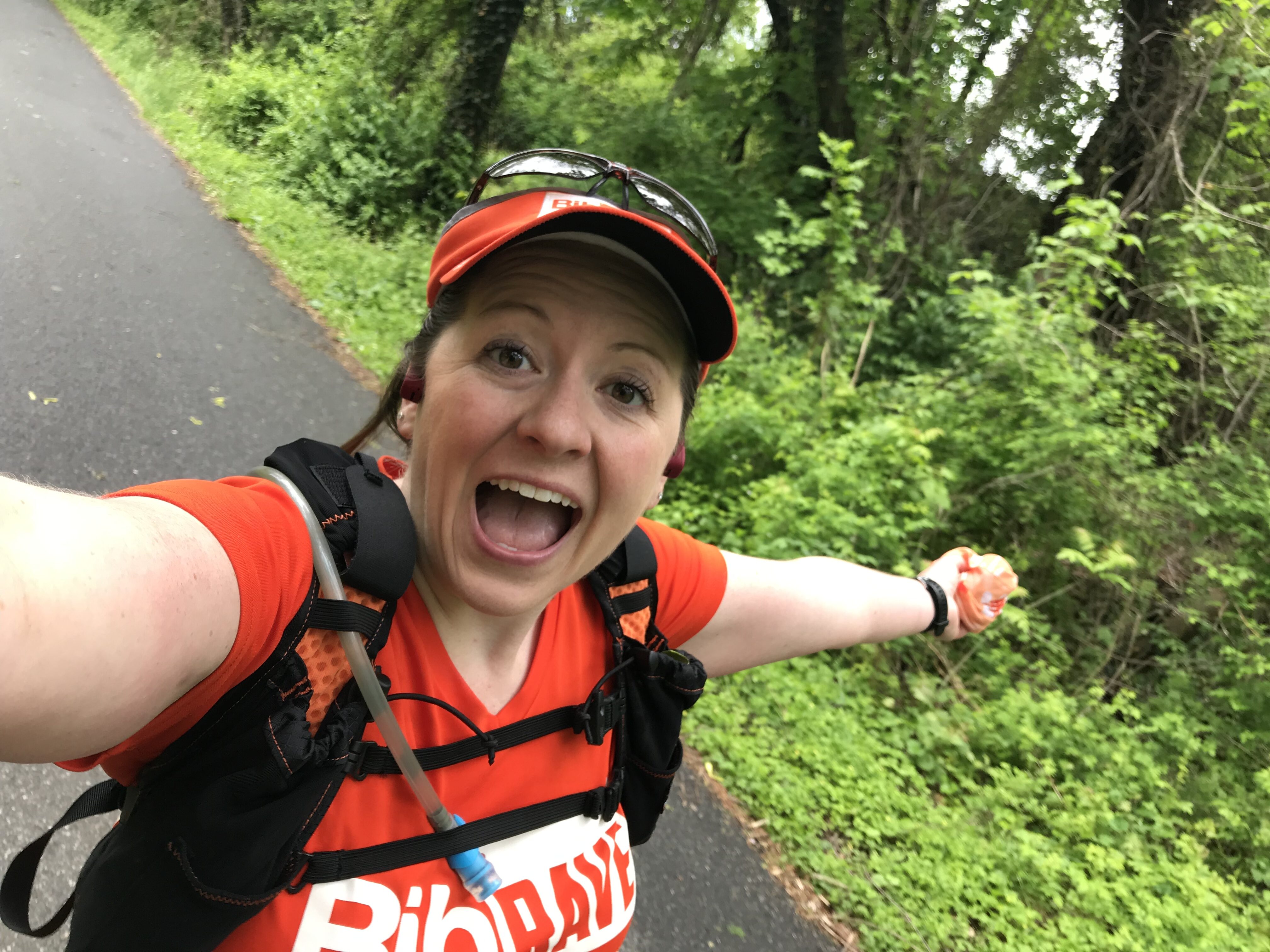 I was good for another 3 or 4 miles, but then my IT band on my opposite leg absolutely gave out. There was no way I could run, even in short bursts. I was still able to power walk, though, so I kept going. About mile 17 or 18, it was really bad. Putting pressure on my IT band slightly helped, so the next few miles I looked absolutely ridiculous holding my leg.
However, I kept smiling and moving forward!
My friend caught up with me a little after mile 24, and I tried to hustle a little faster. I was able to run some for the last mile, but it was pretty painful.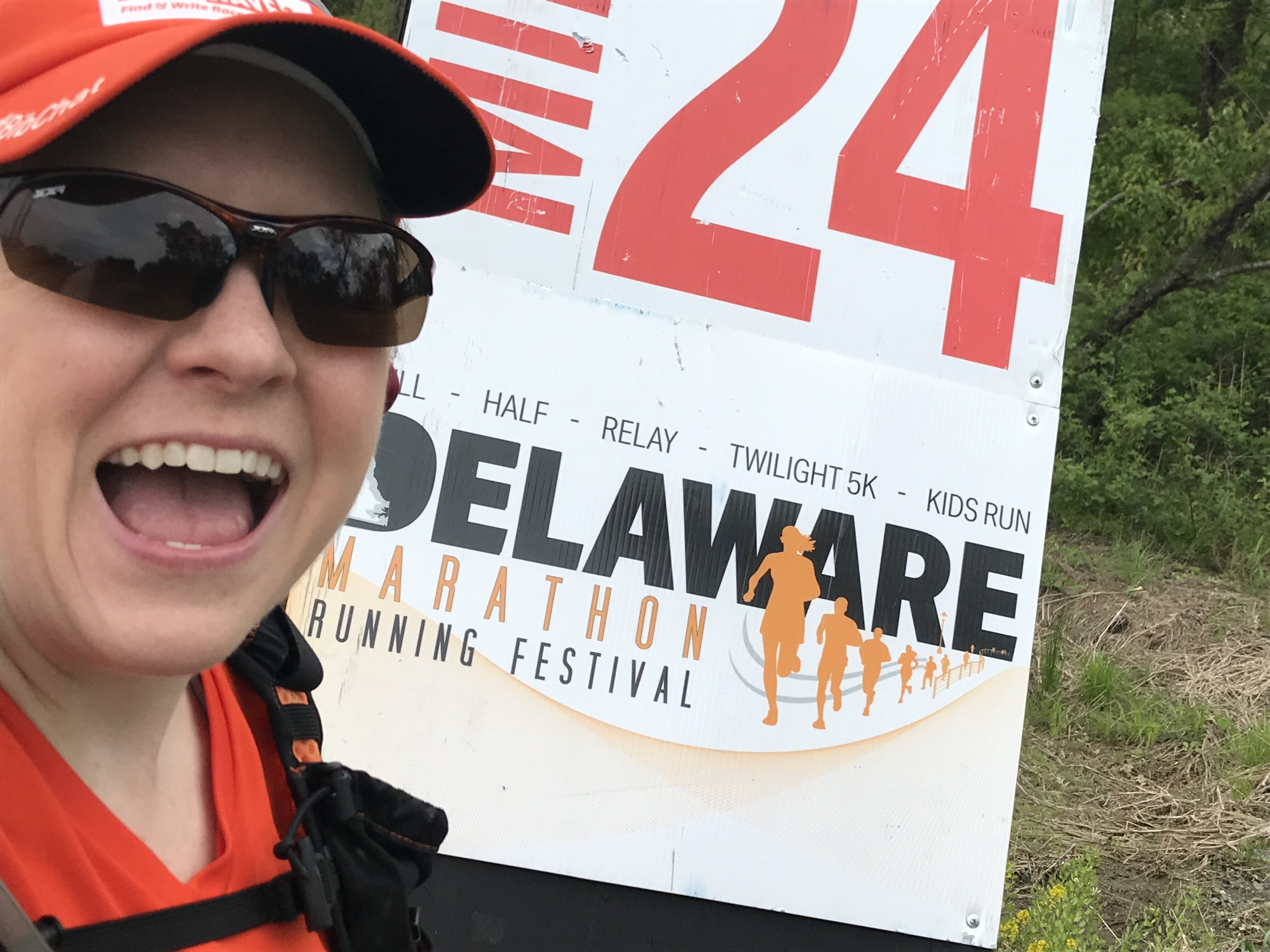 I DID finish, though! And not last! LOL. And, this being my actual first 'normal' marathon, I got a 38:37 personal record!
Total time: 6:15:25
Overall Pace: 14:20/M
6.3 time (pace):  1:17:17 (12:16/M)
13.1 time (pace): 1:28:19 (12:59/M)
19.6 time (pace): 1:43:11 (15.52/M)
26.2 time (pace): 1:46:37 (16.09/M)
To read my full review of the Delaware Marathon Running Festival, click here!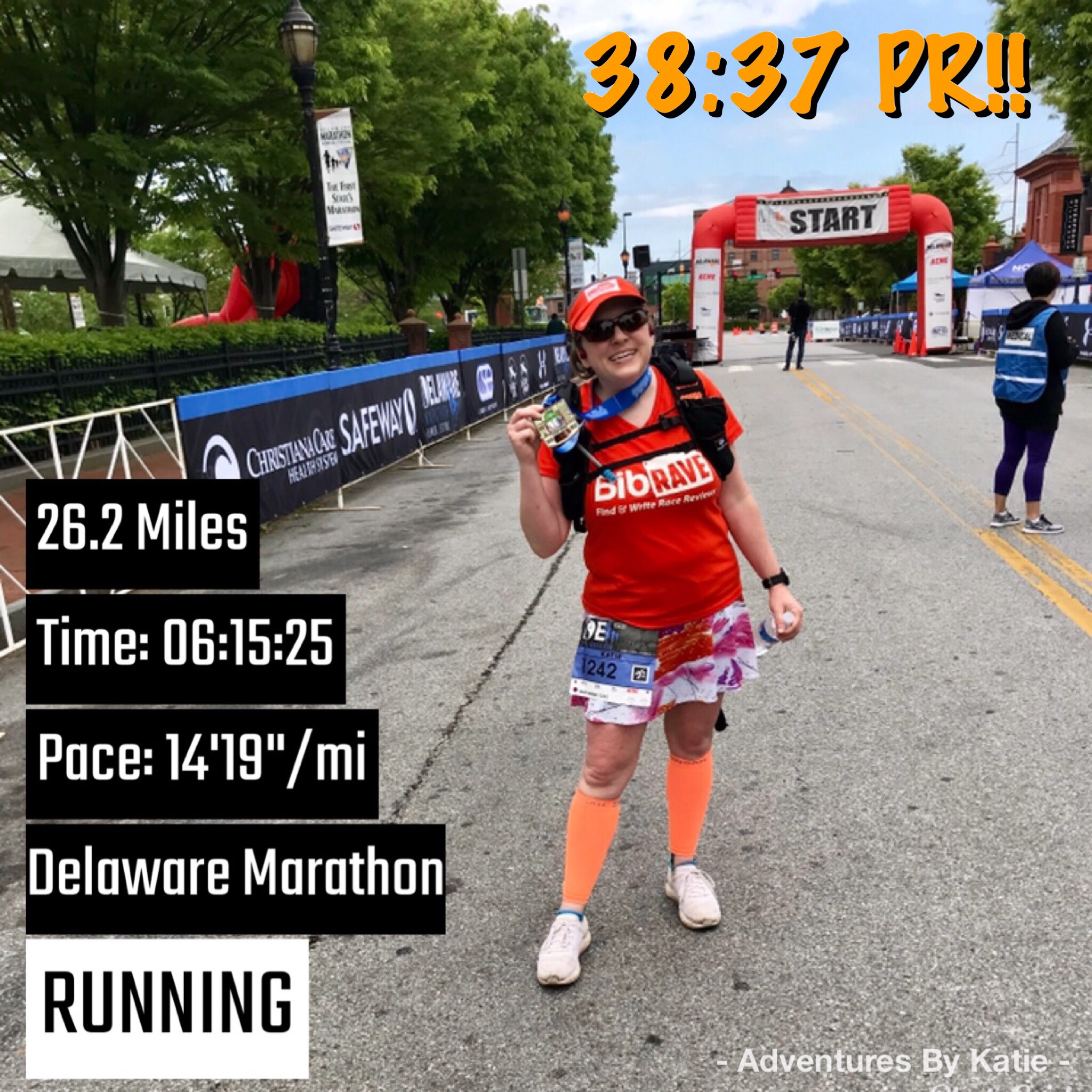 Here is me and my friend Tonya at the finish line: