Disclaimer: I received a free entry into the Delaware Marathon Running Festival as part of being a BibRave Pro. Learn more about becoming a BibRave Pro (ambassador), and check out BibRave.com to review, find, and write race reviews!
The 2019 Delaware Running Festival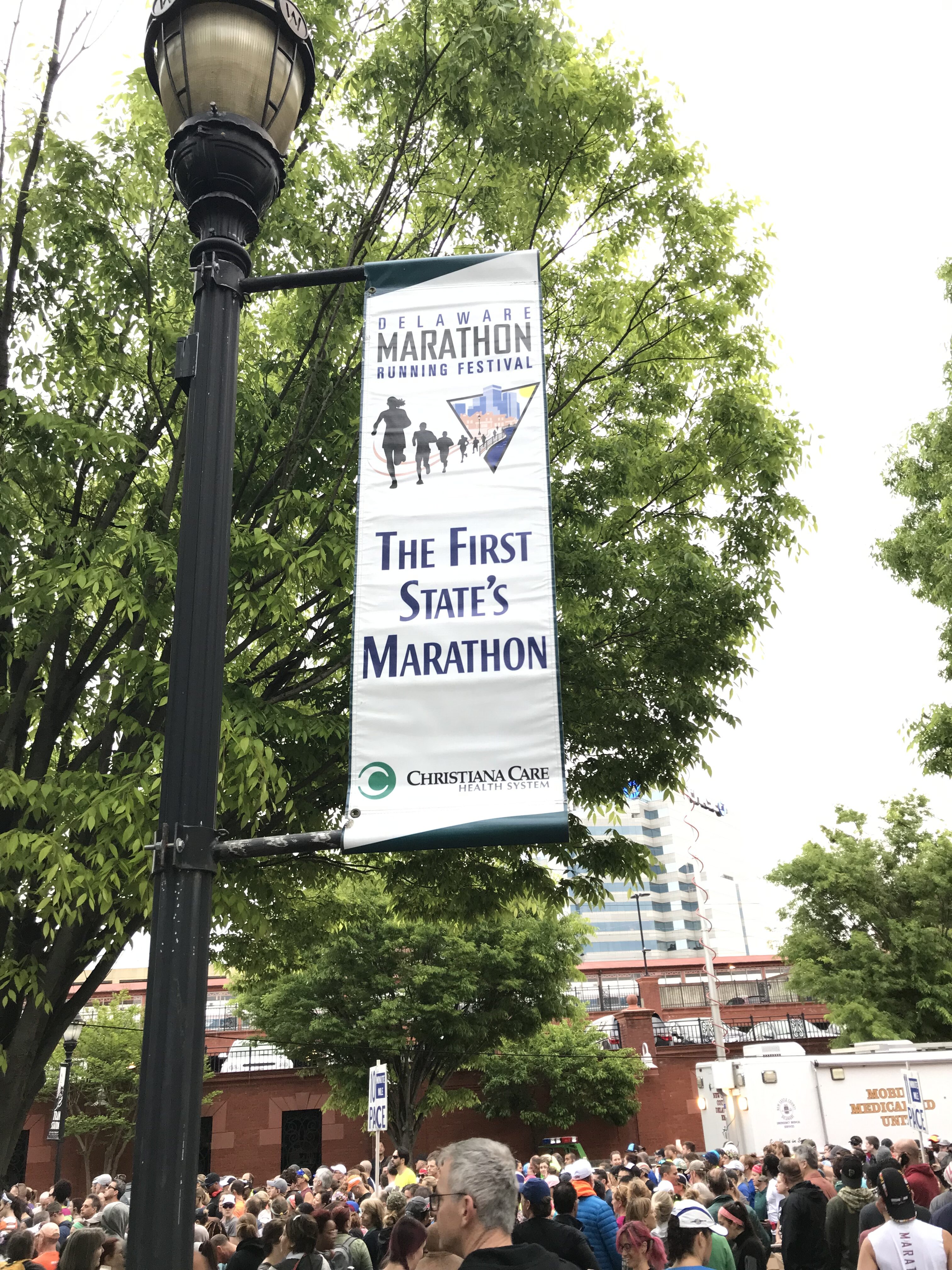 The Delaware Marathon Running Festival was held on Sunday, April 28, 2019 in Wilmington, DE. Offering the distances of the marathon, half marathon, 4-person relay, 5k, and kids run, there were options for the entire family!

The Expo
The expo and packet pickup took place at the DoubleTree by Hilton Hotel in Downtown Wilmington on the Saturday before the race from 10am-5pm. I found some street parking about 2 blocks away and walked to the hotel.
There was a spot for you take a picture before entering the expo. You could also sign up for your free race photos.
Bib and shirt pickup was super easy and it was not crowded at all. There were some race shirts and other clothing items for sale, and I ended up buying 3 shirts (2 short sleeve and 1 long sleeve) and a pint glass for only $10! Score!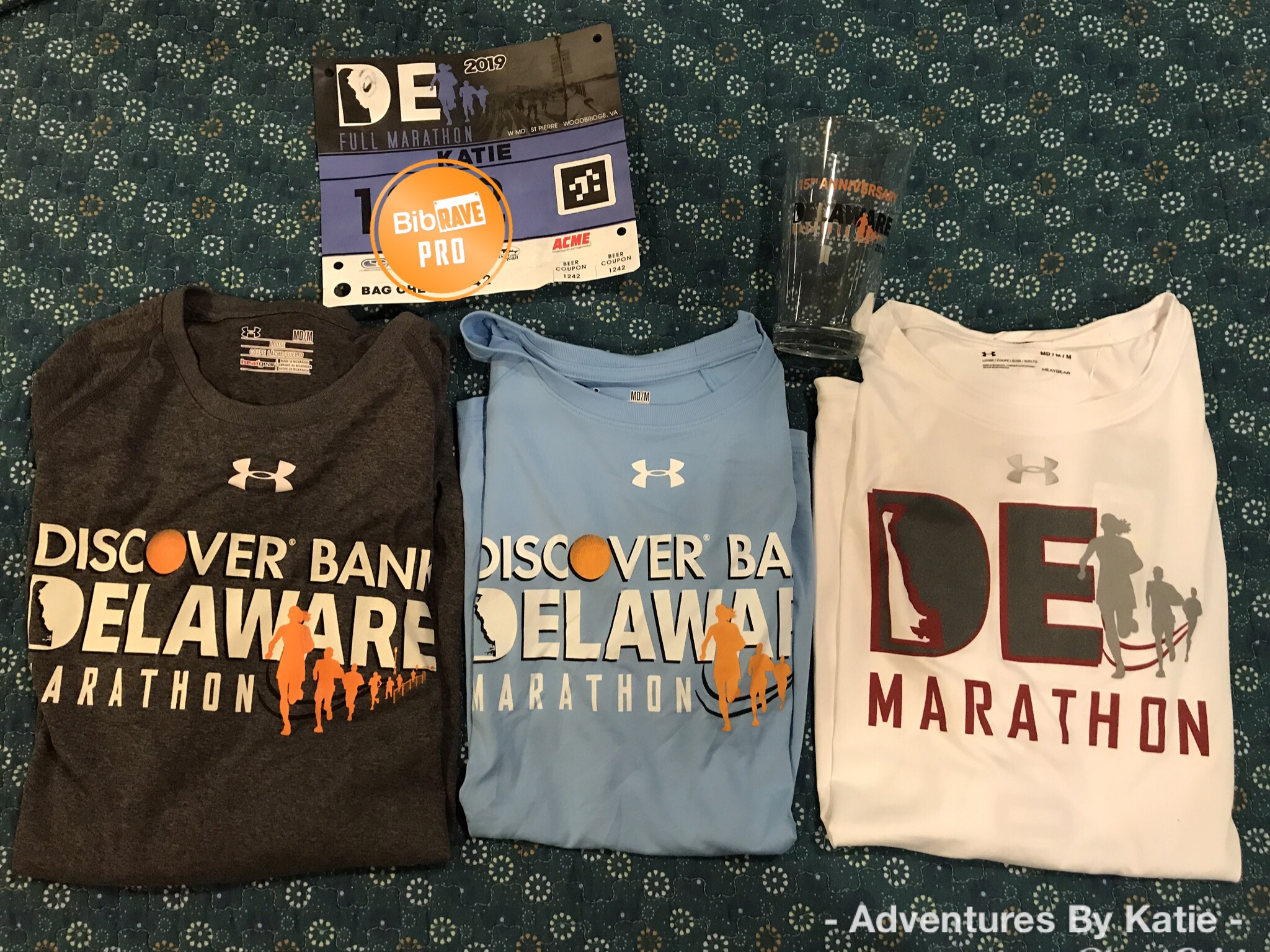 However, there were no other products available. I was really hoping to pick up some gels or gummies for the race (as I was not prepared). I had to Google the closest running store and headed to Delaware Running Company about 10 minutes away to get some fuel for the race.
Pre-Race
Here is my flat me for the race. All my Bibrave gear, as well as my chafe-free Runderwear, Orangemud hydration pack, and Aftershokz Airs: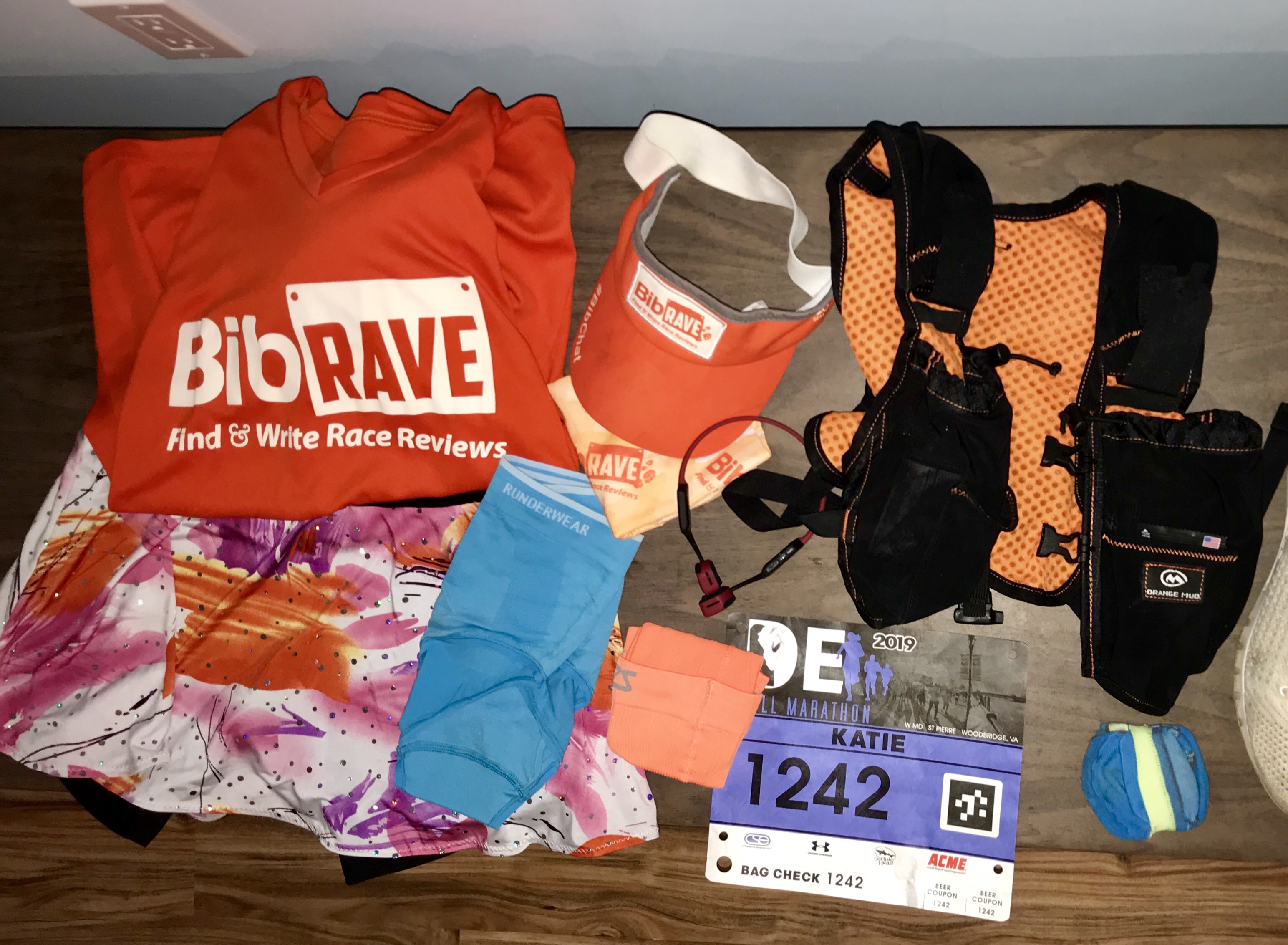 My friend and I stayed at her friend's house about 20 minutes away so we drove to the race in the morning. We found parking at an apartment building nearby (not sure we were supposed to park there, but…) and walked the two blocks to the start line. We had plenty of time to hit the port-o-potties and then head back to the car because we forgot to put on sunscreen.
The start line was self- seeded and very crowded since it was the half and full starting at the same time. We headed towards the back and got ready to run.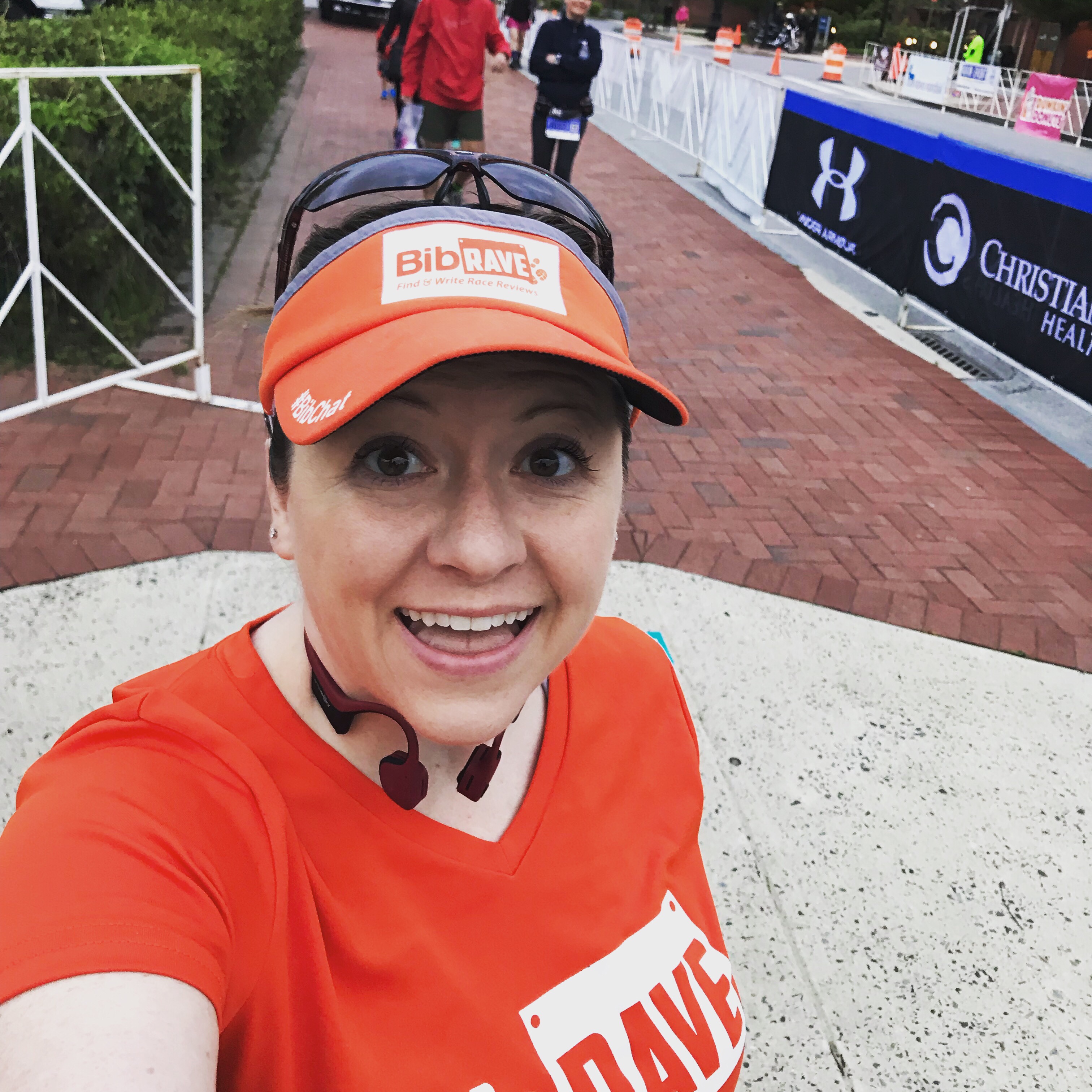 The course
The course takes you through a lot of Wilmington:
the boardwalk area,
the city,
the not so good part,
past the zoo,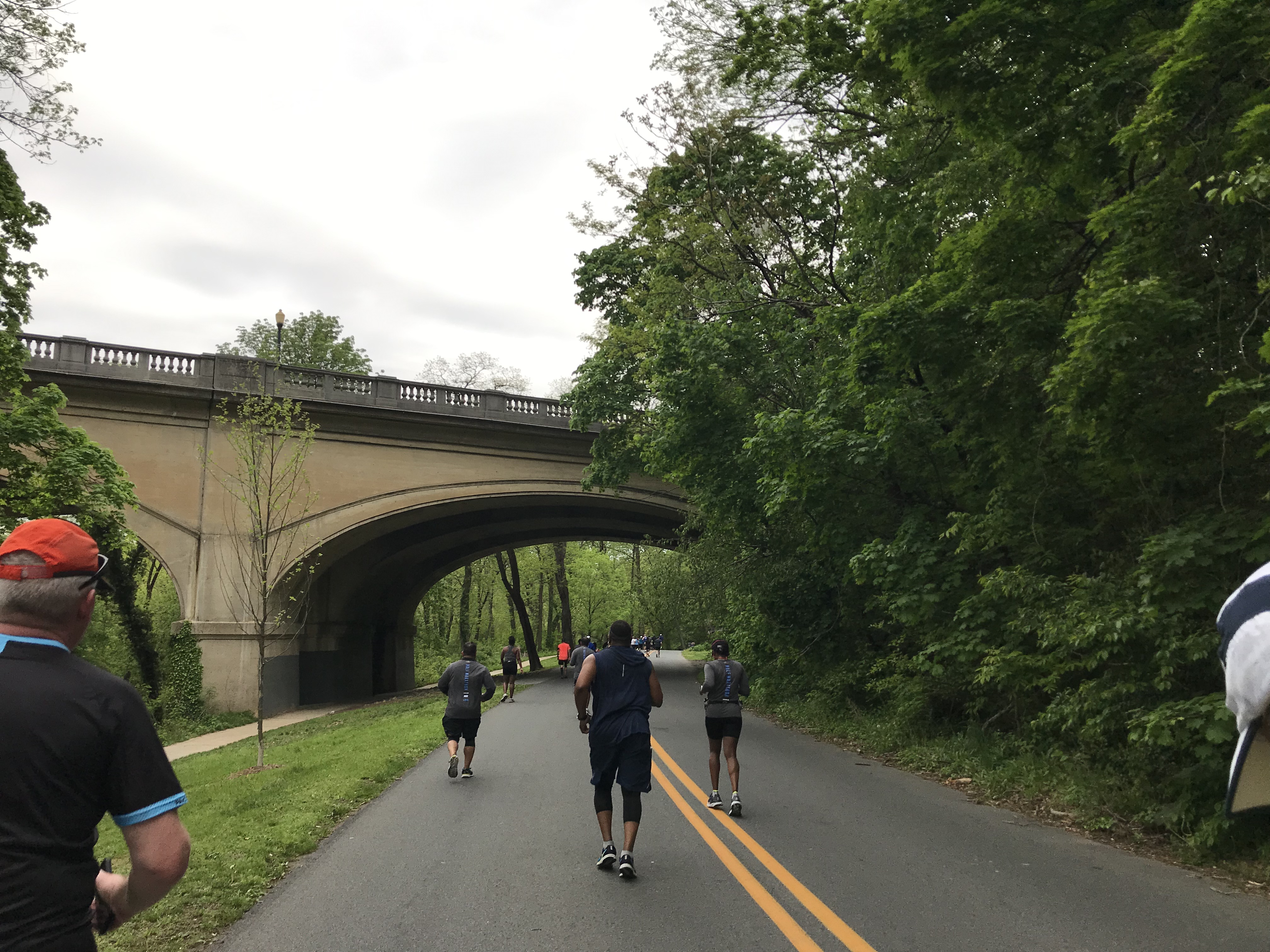 through a park,
and then through some hilly, but gorgeous neighborhoods.
We then headed back towards the finish line where the half runners finished and we continued on down the boardwalk area again towards the Wildlife Refuge.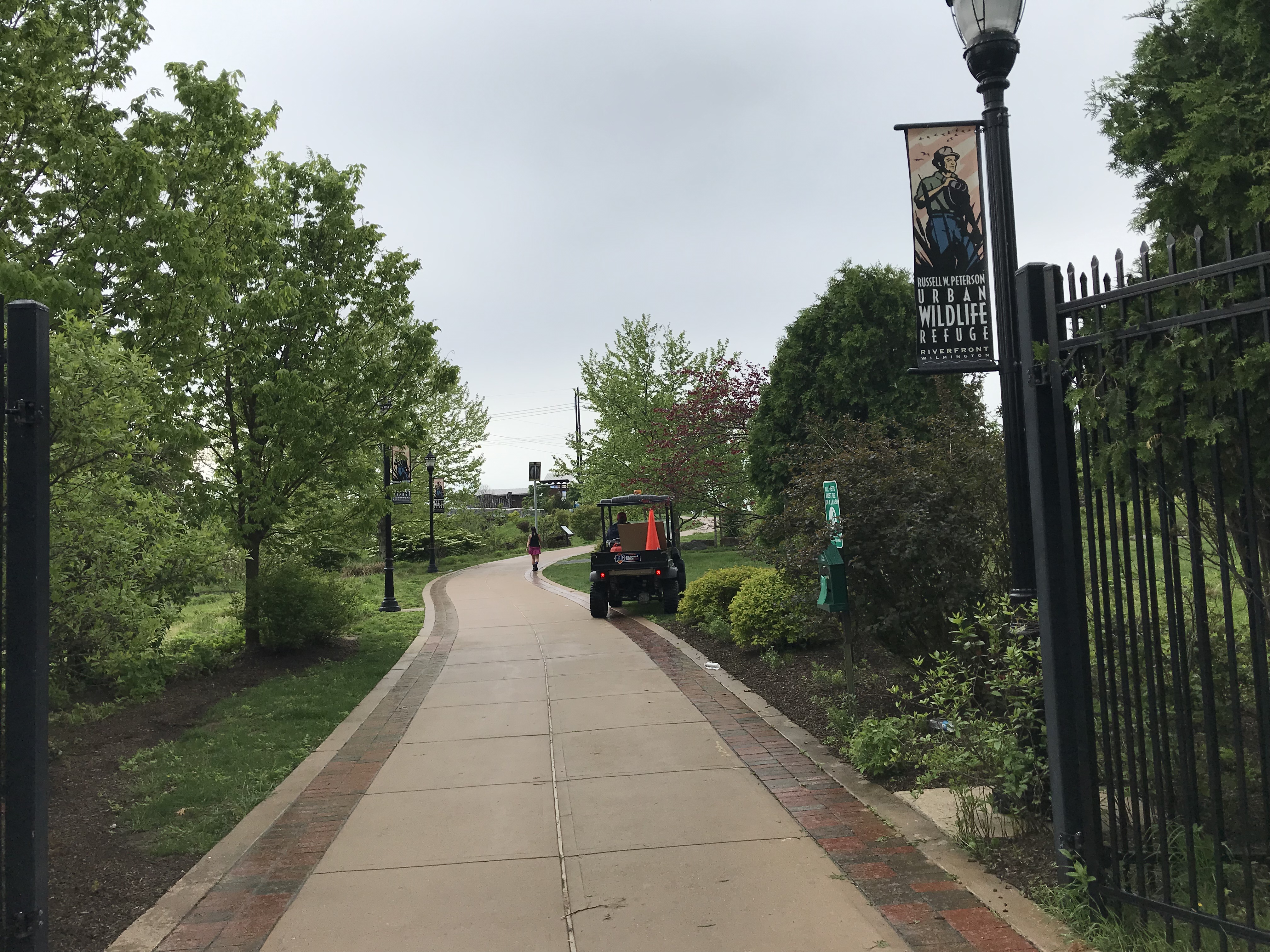 Next, it was a straight shot for about 6.5 miles over the marsh, past the mountain of a dump, by some horses, and along a tree-lined path. It did rain for a bit, but it was a nice, pleasant rain. And the trees did help with the sun from being too hot!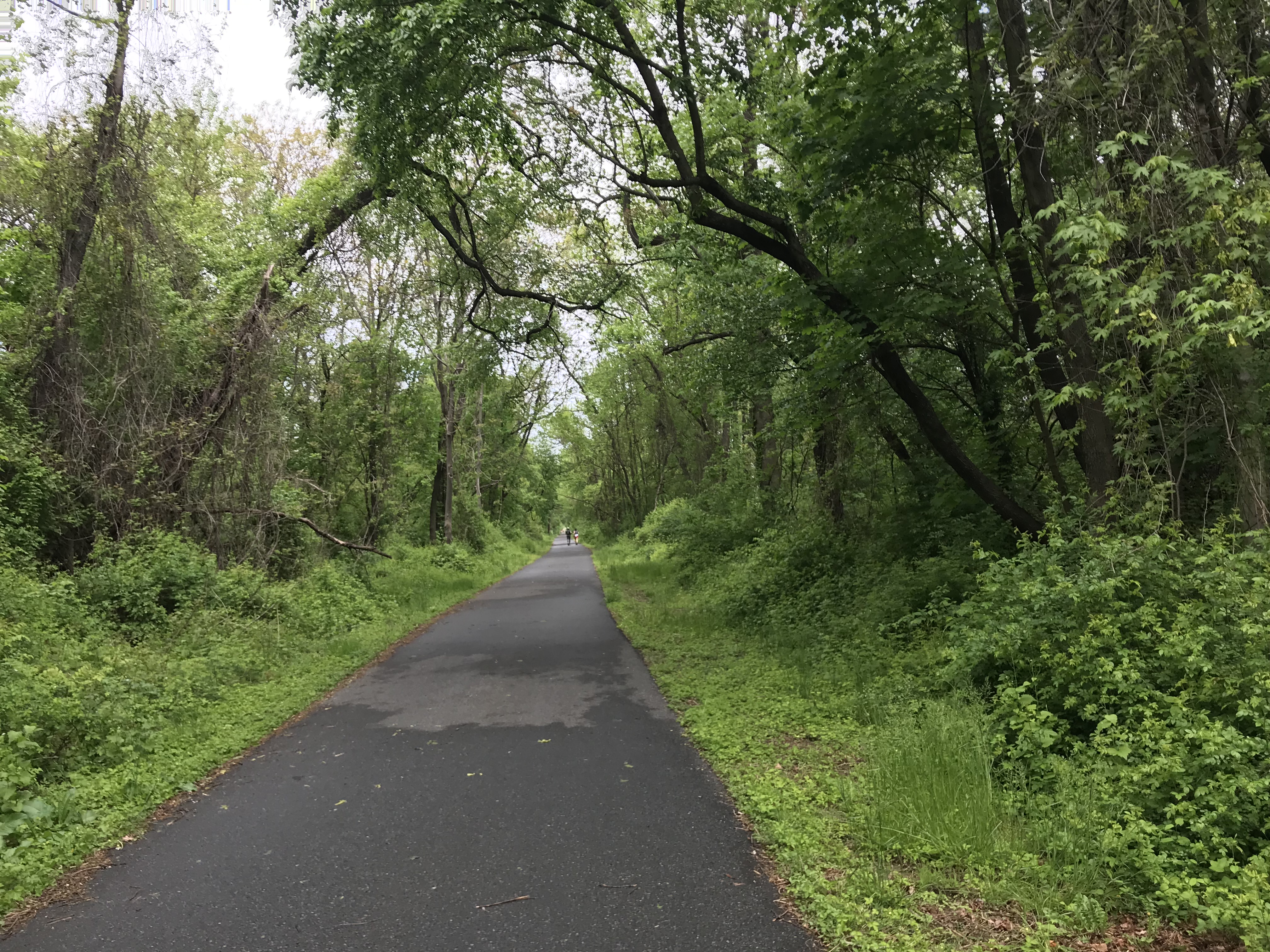 We then turned around and ran back!
I did get to see a couple of fellow BibravePros, including Becky from Run, Becky, Run!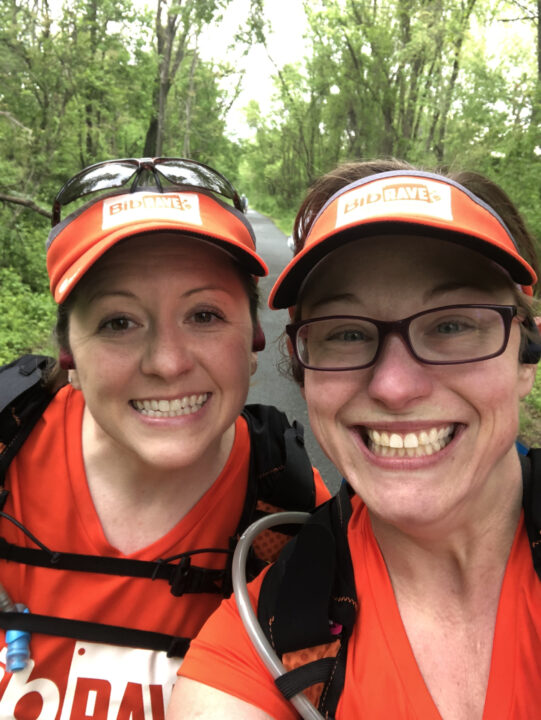 Celebration Village
We finished a little after 2pm. This was well within the time of finishing (it was 7 hours this year). However, most of the park and festivities were packed up. The only food left were some chips and orange slices. There was no more Seasons Pizza, Pretzel Boys Soft Pretzels, Hy-Point Dairy Farms ice cream sandwiches and ice cold chocolate milk and Michelob Ultra beer from NKS Distributors.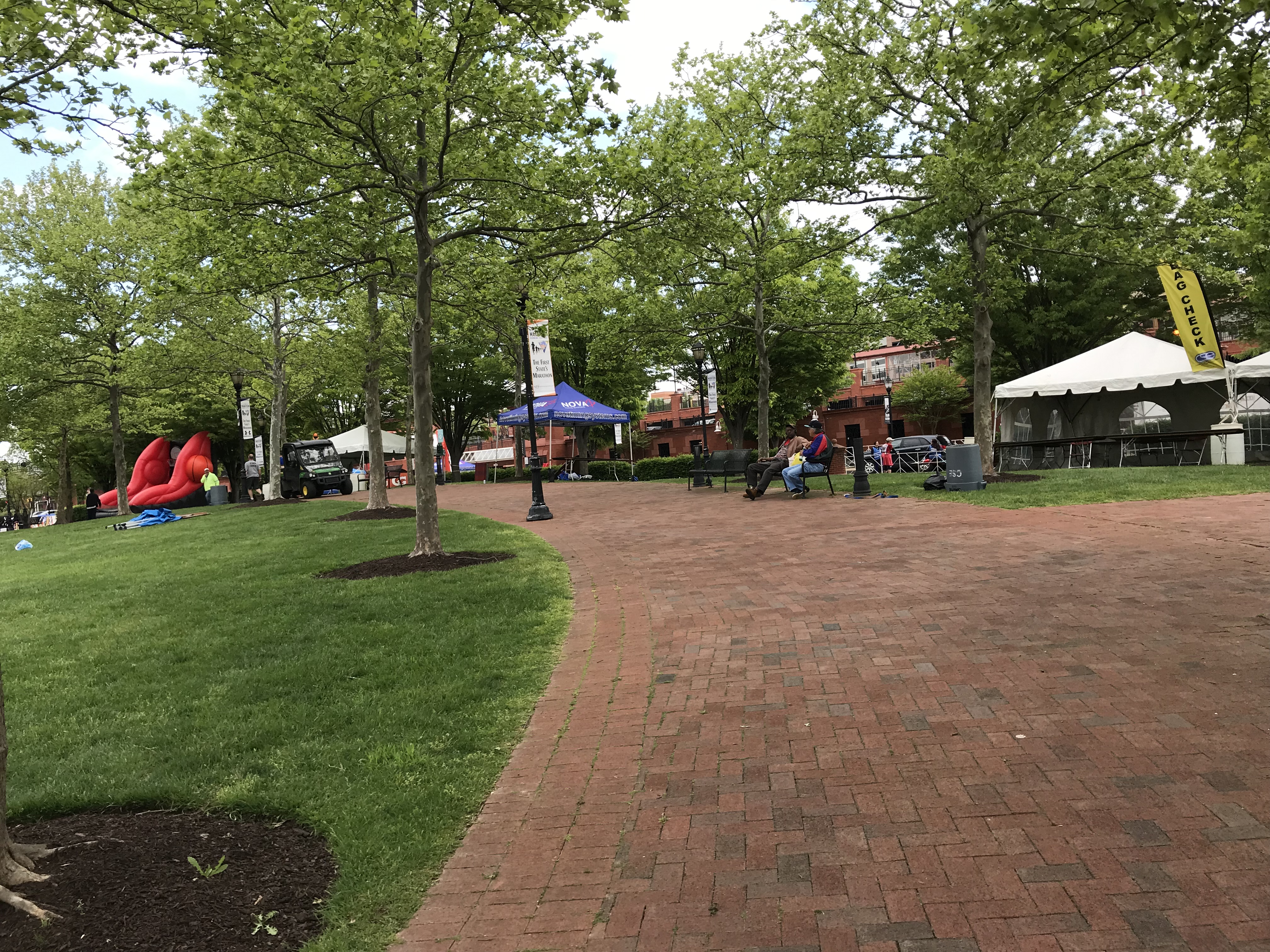 There was no music and the gift shop area was being packed up. No one was around. It was like a ghost town. I would have thought that the party would still have been going on. But nothing. It was pretty disappointing to have a big finish with no one there to celebrate with!
At least a photographer was there, so we got our official finish race picture.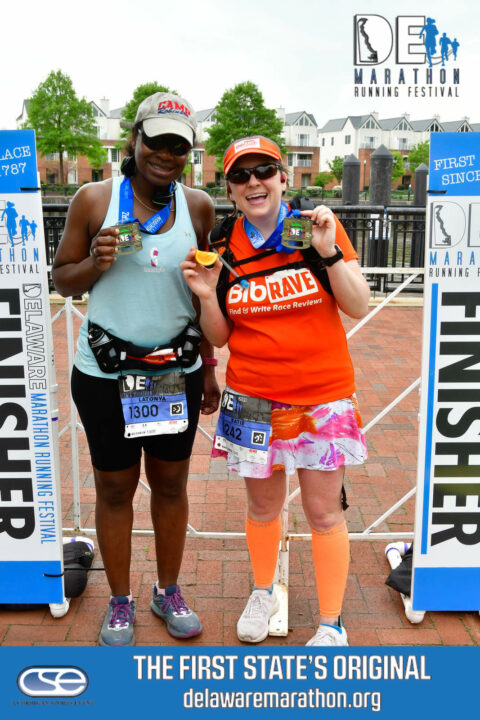 How did I do?
At the beginning of the race I quickly decided to link up with a 68-year-old man named David (man, he was FAST and finished in 5:30!) who was also going to be running Galloway intervals. We decided to run 20 / walk 20. This went great for the first 10 miles. Time was flying by and I felt great!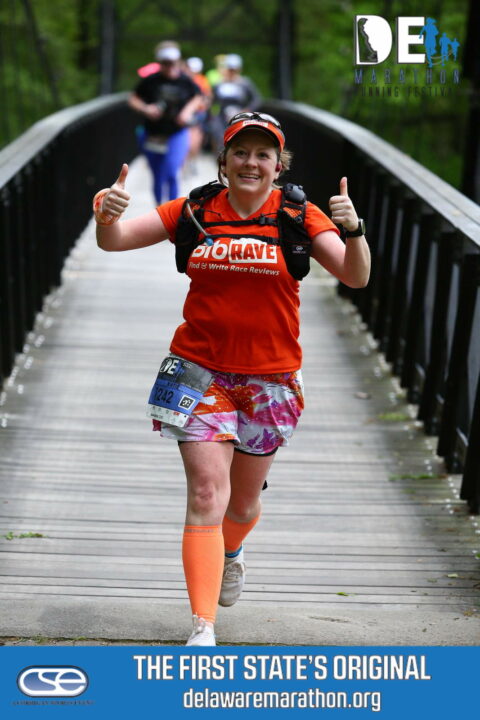 However, my knee and ankle were starting to give me some problems (I thought they might, they were a little sore the week or so going into the race from too much walking at Disney World.
Then, my stomach started to act up and I had to slow down and bail for a bathroom. Then there was no catching back up with him.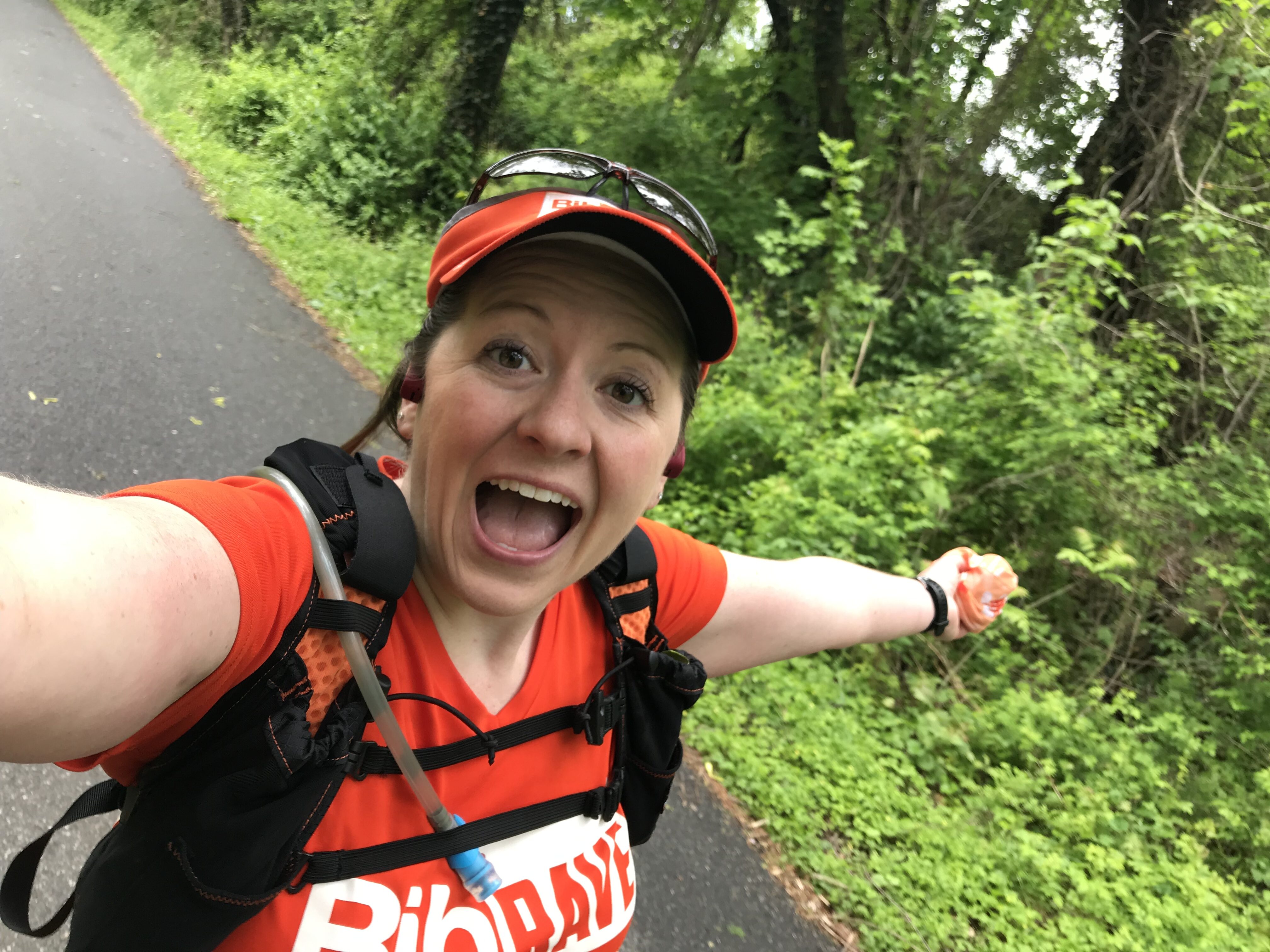 I was good for another 3 or 4 miles, but then my IT band on my opposite leg absolutely gave out. There was no way I could run, even in short bursts. I was still able to power walk, though, so I kept going. About mile 17 or 18, it was really bad. Putting pressure on my IT band slightly helped, so the next few miles I looked absolutely ridiculous holding my leg.
However, I kept smiling and moving forward!
My friend caught up with me a little after mile 24, and I tried to hustle a little faster. I was able to run some for the last mile, but it was pretty painful.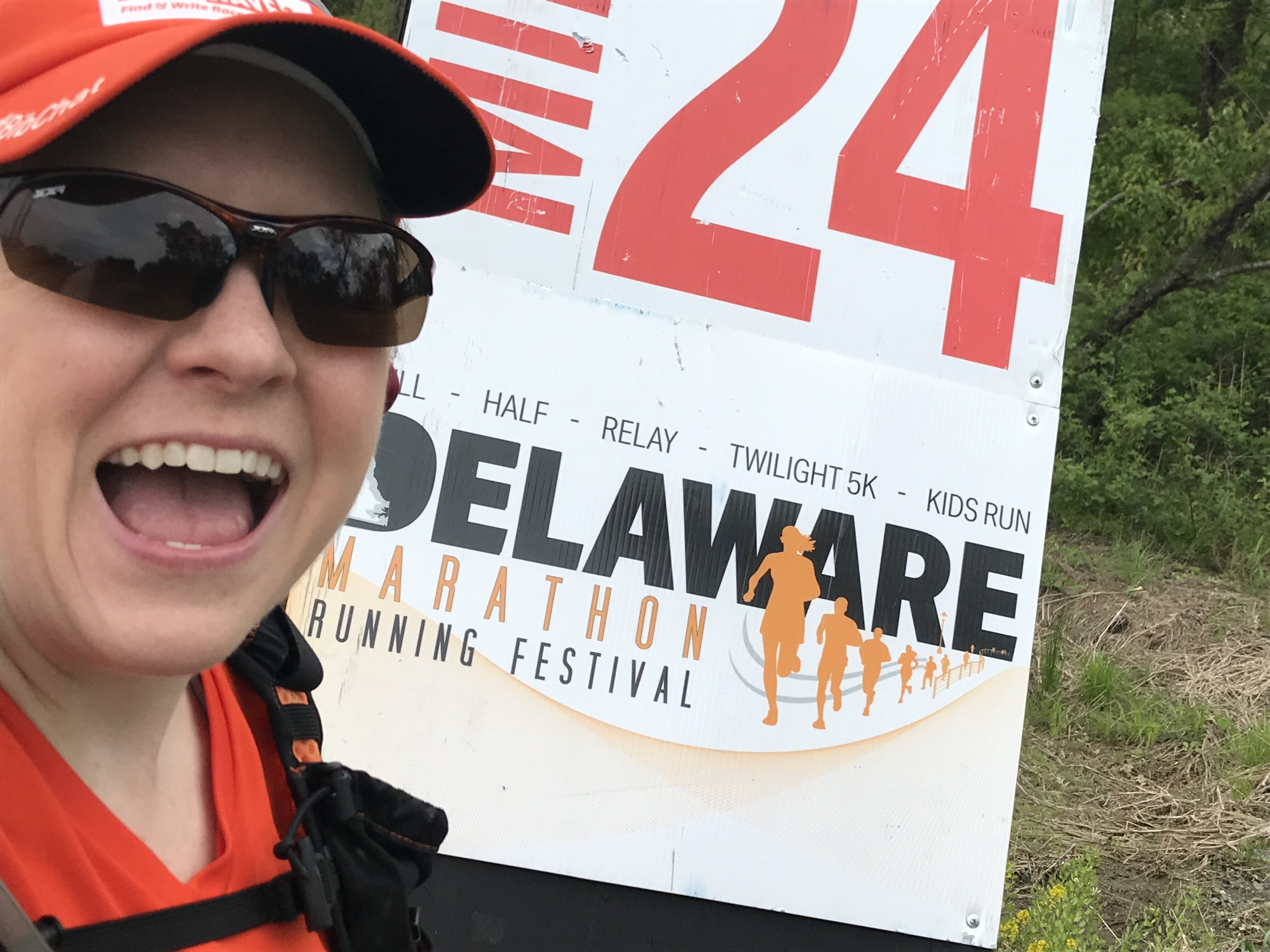 I DID finish, though! And not last! LOL. And, this being my actual first 'normal' marathon, I got a 38:37 personal record! (My other two marathons were the Walt Disney World Marathon as part of the Dopey Challenge and the Blue Ridge Marathon that goes up and down 3 mountains!)
Total time: 6:15:25
Overall Pace: 14:20/M
6.3 time (pace):  1:17:17 (12:16/M)
13.1 time (pace): 1:28:19 (12:59/M)
19.6 time (pace): 1:43:11 (15.52/M)
26.2 time (pace): 1:46:37 (16.09/M)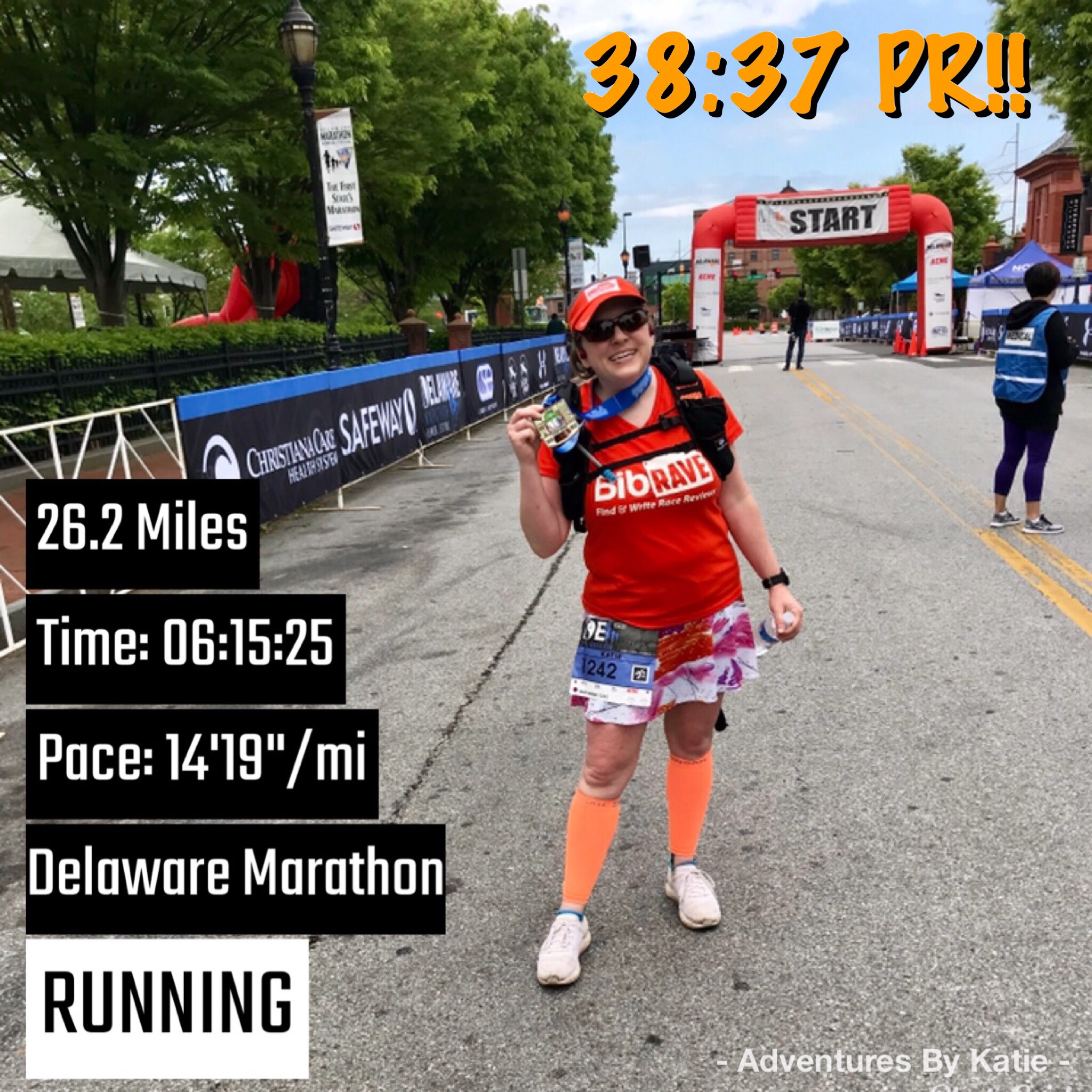 Here is me and my friend Tonya at the finish line: