5 Reasons to Run the Foot Levelers Blue Ridge Marathon
*Disclaimer: This post is sponsored as part of being a BibRave Pro. Learn more about becoming a BibRave Pro (ambassador), and check out BibRave.com to review, find, and write race reviews!*
---

The Foot Levelers Blue Ridge Marathon Weekend Races are awesome! I have run different distances of this race: The  half marathon in 2016, the 10k in 2017 and the full marathon in 2018. Official distances include The Foot Levelers Blue Ridge Double Marathon, Full Marathon, Half Marathon, 10k, and 1-miler. The 2020 race will take place on will be taking place on April 18, 2020 (note: this race is now a virtual run) in Roanoke, Virginia.
Want some more information? Read on for
5 Reasons to Run the Foot Levelers Blue Ridge Double Marathon, Full Marathon, Half Marathon, or 10k
1. It's for a good cause!
The Blue Ridge Marathon Series was created by a non-profit known as Roanoke Outside. Their mission is to connect people with the outdoors, engage them for a lifetime of recreation, as well as promoting an active and healthy lifestyle.
All proceeds of the Blue Ridge Marathon go toward our their beneficiaries: the Friends of the Blue Ridge Parkway or other local charitable organizations. In 2016 they instituted the inaugural year of the "Volunteer Incentive Program".  Ten regional charities were selected to help them host the Blue Ridge Races, and they were able to donate over $35,000! Since 2010, they have donated over $135,000 directly to charity and have had a regional economic impact of $3.2 million.
2. You are up for a challenge!
The full marathon course boasts over 7,430 feet of elevation change. There are three mountains to ascend, and then the tricky part…descend. Roanoke Mountain, Peakwood Mountain and Mill Mountain make for a grueling but breathtakingly beautiful course. The Blue Ridge Marathon has THE MOST elevation change of any road race in the United States. This is how it gets it's "toughest" road marathon status.
3. It's more than just a marathon!
If you are not ready for the challenge of a running a full marathon up and down three mountains, maybe you are ready to take on the challenge of the Foot Levelers Half Marathon (which climbs up two mountains) or the Anthem Star 10k (with 2000 feet of elevation change). Even better, there is a 7.5 hour cutoff time for the half marathon – so it is walk-able! And if you are feeling even MORE AMBITIOUS – join up and run the official Double Marathon!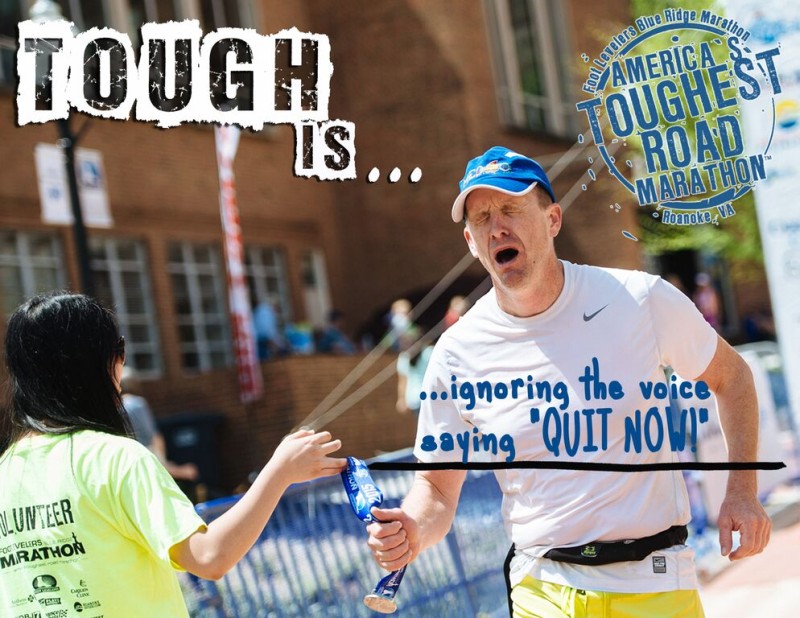 4. It's a HIGHLY rated event!
The Foot Levelers Blue Ridge Marathon has over 155 five-star comments on
Marathon Guide
and all five-star reviews on 
BibRave
. A third party survey of all runners brought a 100% satisfaction rating last year! They have a reputation as a well-organized, community supported and amazing finish festival, with live music at the finish line, along with a local craft beer garden, food trucks, free massages and more to make a festival-like atmosphere. I had a blast running this race, and that is why I want to return again!
5. SWAG!
Every runner now receives a FREE pair of Farm to Feet 100% American made socks named "The Roanoke", a unique finisher's medal, a performance shirt, and a free local craft beer at the end of the race, free live music, ice baths, chiropractic adjustments, free massages in the Fleet Feet Recovery Zone and more!
And guess what else…FREE photos!