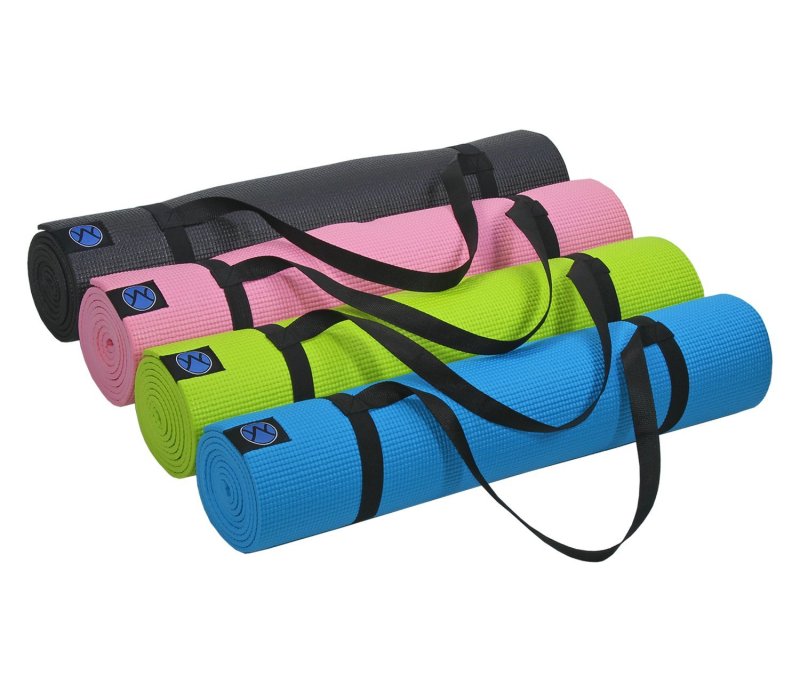 I love yoga and think it is a great way to cross-train and stretch myself out. I have never been very flexible, but always feel much better after practicing yoga. It helps me with my ITB pain as well as getting out any other kinks I have. I've been thinking about doing a training course at somewhere like Marianne Wells and my new yoga equipment would be great to take with me. I haven't booked anything yet but it's something I'm seriously considering. After all, I do LOVE yoga!
I had the chance to try out a few products, the first being the Youphoria Yoga Mat. The first thing that came to my mind as I was unrolling the mat was how soft it was. The Youphoria Mat uses a 1/4″ memory foam that is created for stability and comfort. This is especially good for me because I have weak wrists. When doing poses like downward dog, I need the extra softness and stability to be pain-free.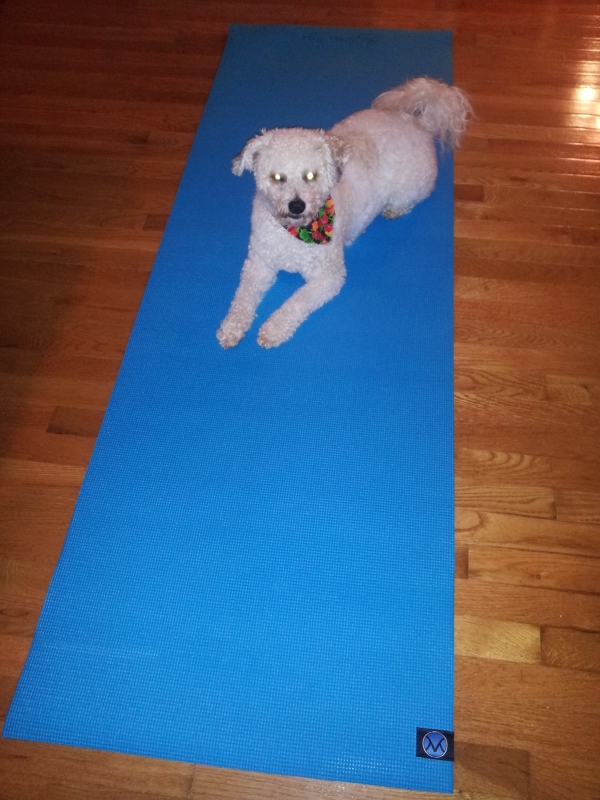 Maestro also "enjoyed" my yoga mat. It really is super soft and comfortable. Another plus is that it is and LONG mat! I have an older mat that I got from Target a few years ago. This mat is definitely longer. There are so many yoga mat options out there, depending on what style you prefer. Not just mats either, but other yoga accessories online are easy to find and really exciting to choose from. I'm especially happy to have found a longer mat, as this way half of my body is not laying on the floor! I also like that it comes with a carrying strap that makes it easy to transport and store.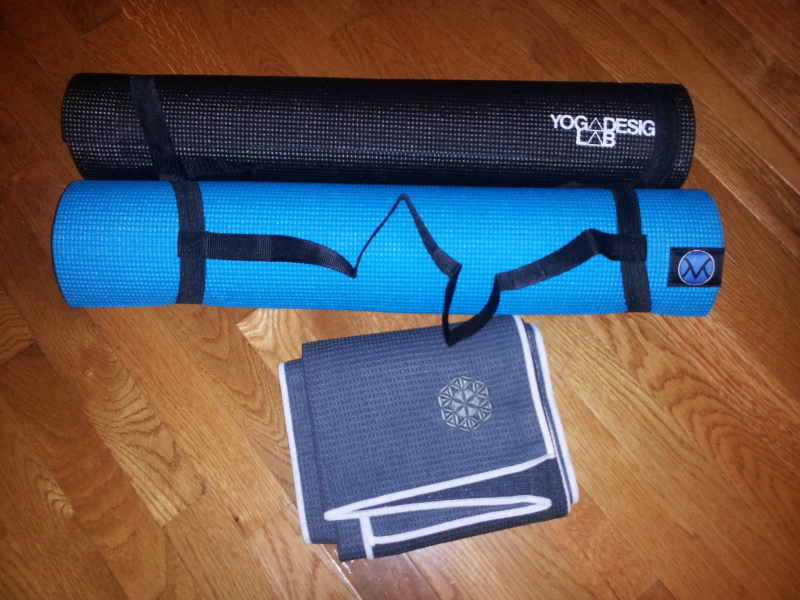 The next mat I tried out was the Yoga Design Lab Mat
. You can see from the picture above that is is a bit shorter width-wise and length-wise than the Youphoria, but it is still a good size. I tried it out at a yoga class at the Take Back Your Health Conference that I attended this past weekend (more about that later…).
Honestly, I learned so many useful lessons at that conference! For example, have you heard about the current rise in popularity of yoni eggs? Apparently, more women than ever before are using specially designed gemstones and crystals to tighten their pelvic floor muscles. There are even women who claim that using a yoni egg can help to focus your energy when meditating. I have to say, I am very tempted to purchase a yoni egg of my own to see what it can do for me.
Anyway, I like that the mat is cushy and a bit memory-foam, but I almost think that it was a bit TOO MUCH memory-foam. The mat was so cushy that when you were putting pressure on it with your hands, you pushed all of the cushion down. My wrists were a bit sore during yoga, but I'm not sure if it was the mat or or if my wrists were just being cranky.
I compared this mat to the one my friend had, and the Design Lab Mat was thicker than hers, which I like.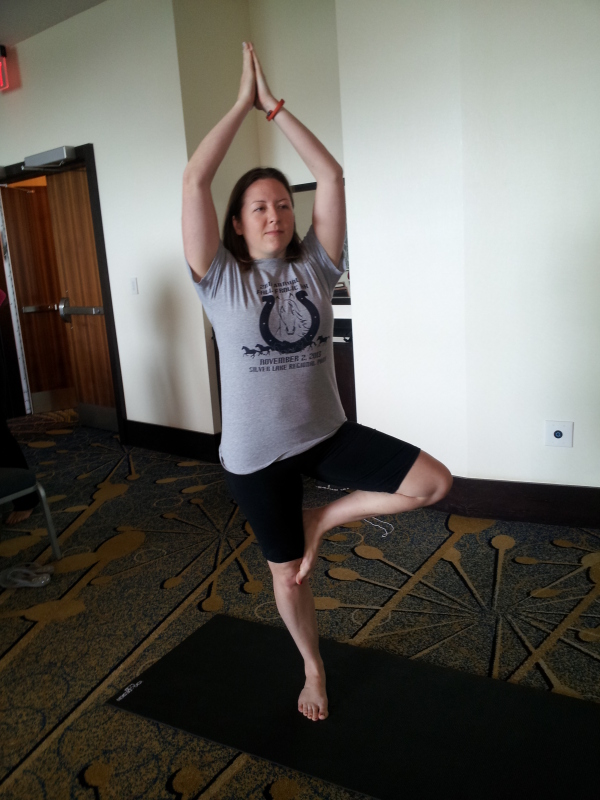 And, of course, it is important to stay hydrated when doing any sort of workout (or, really, all the time!). I am not a big fan of plain water so I tend not to drink a lot of it. But I know it is important to stay hydrated, so that is why I was excited to try a Infuser Water Bottle
. I have an infuser pitcher that I will sometimes use, but I like this because it is portable. The lid comes off and you can put any type of fruit (or vegetable, like cucumber) that you like in the infuser chamber. It is a great way to flavor your water naturally, without using any chemicals, sugars, or added calories.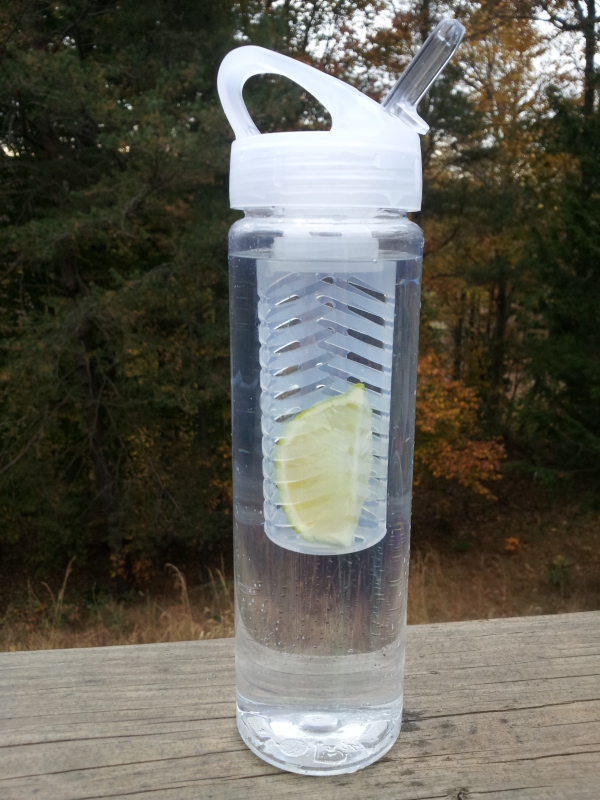 The bottle is easy to use: just flip and sip! My one suggestion is that the infuser chamber should extend more into the bottle because once half of the water is finished, it is no longer being infused with the fruit. BUT, you do get some quick infusion when tipping the bottle to drink.
***PROMO OFFER***
Get $2 off of your purchase of the Infuser Water Bottle
by using the coupon code 9WMNBVTM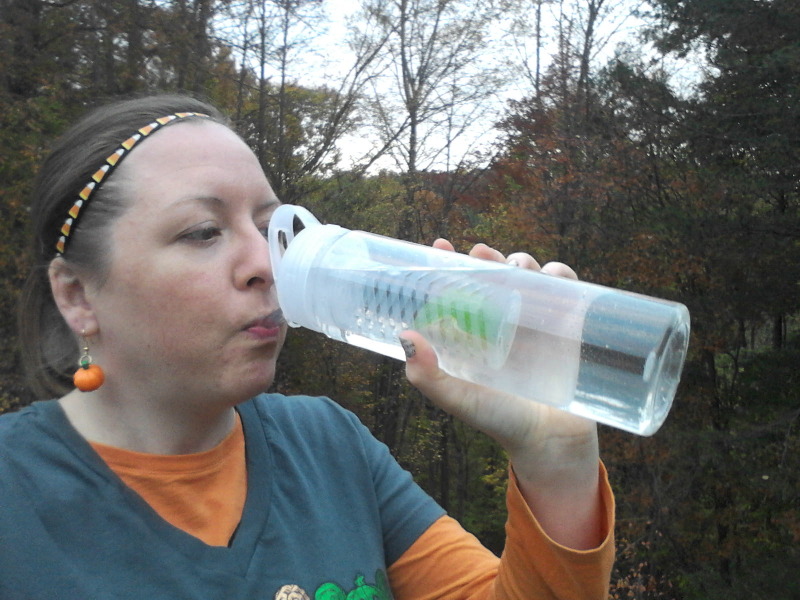 I am also looking forward to trying out the Shandali Stickyfiber Yoga Towel, so keep your eyes peeled for an update!
---
I received one or more of the products mentioned above for free using Tomoson.com. Regardless, I only recommend products or services I use personally and believe will be good for my readers.