PAWS OF FURY: THE LEGEND OF HANK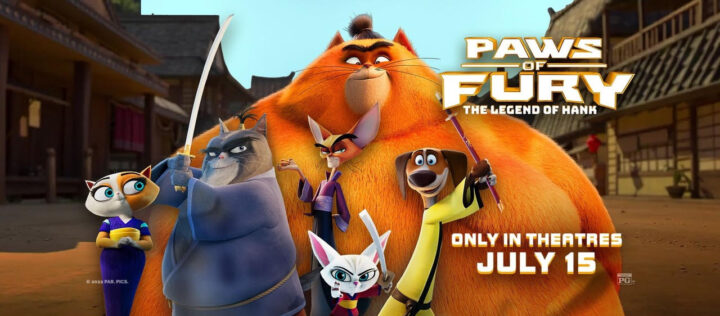 *Disclaimer: This is a sponsored post on behalf of Review Wire Media for Paramount Pictures and Nickelodeon Movies.*
Synopsis
PAWS OF FURY: THE LEGEND OF HANK – A hard-on-his-luck hound Hank (Michael Cera) finds himself in a town full of cats who need a hero to defend them from a ruthless villain's (Ricky Gervais) evil plot to wipe their village off the map. With help from a reluctant teacher (Samuel L. Jackson) to train him, our underdog must assume the role of town samurai and team up with the villagers to save the day. The only problem … cats hate dogs! Also starring Mel Brooks, George Takei, Aasif Mandvi, Gabriel Iglesias, Djimon Hounsou, Michelle Yeoh, Kylie Kuioka, and Cathy Shim. Rated PG.
Trailer
Review
I wasn't expecting much from PAWS OF FURY: THE LEGEND OF HANK, but I was very surprised! From the opening credits, you know you are going to laugh. The all-star ensemble cast makes what is pretty well-worn territory a hilarious farce that has age-appropriate jokes for all the audience members—even the grown ones. Mel Brooks proves that his unique flavor of parody can translate to any screen and any audience. This is a wonderful movie to help with community-building because it makes audiences laugh as they explore some social issues through the dynamic relationship between the town of cats and their new samurai. This movie was enjoyed by the adults and the 5-year-old alike!
In Theaters Now!
PAWS OF FURY: THE LEGEND OF HANK premiers on July 15, 2022!
Looking for More Movie Reviews?
Don't forget to visit Adventure By Katie's Entertainment!