Review: Dot&Dot Packing Cubes
I have a lot of trips coming up for the rest of this year. Right now I am in Nashville for a Music Teacher Conference, next week I will be in DC for a Take Back Your Health Conference, and then the week after that I will be in Disney World for the Wine & Dine Half Marathon weekend. Pair this up with a trip to New Hampshire for Christmas, and I would say I am pretty busy.
Over the summer I purchased my awesome Villain's mini suitcase just in time to travel to California for the Dumbo Double Dare Race Weekend. I needed a small sized suitcase in which I wouldn't have to check anything on the airplane (I don't want anything to be late or lost when I am going to run a race!) It was the perfect size for me to squeeze everything in, but it was not at all organized. The minute I opened the suitcase, everything fell out.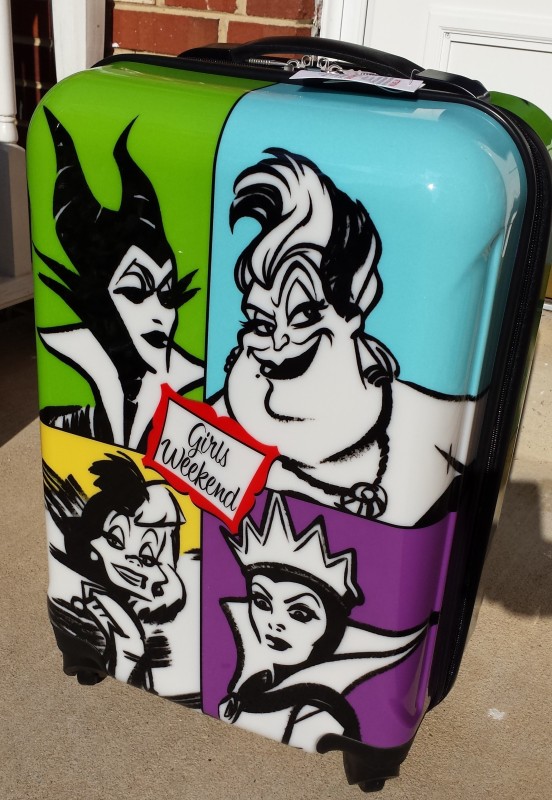 This is where the Dot & Dot Small Packing Cubes
 come in handy! Coming in a set of four cubes, each one perfectly holds one outfit. It is a great way to keep everything together: top, bottom, socks, and underwear. It has a mesh front so you can see the contents of each cube, and all four cubes fit perfectly into my suitcase, with room to spare. When I finally got to my location, I was so happy to open my suitcase and not have all my clothes go flying everywhere. I really like having each of my outfits separated because then I don't have to think about to wear in the morning! I am looking forward to using these cubes to help organize my race outfits for the Wine & Dine Half in two weeks 🙂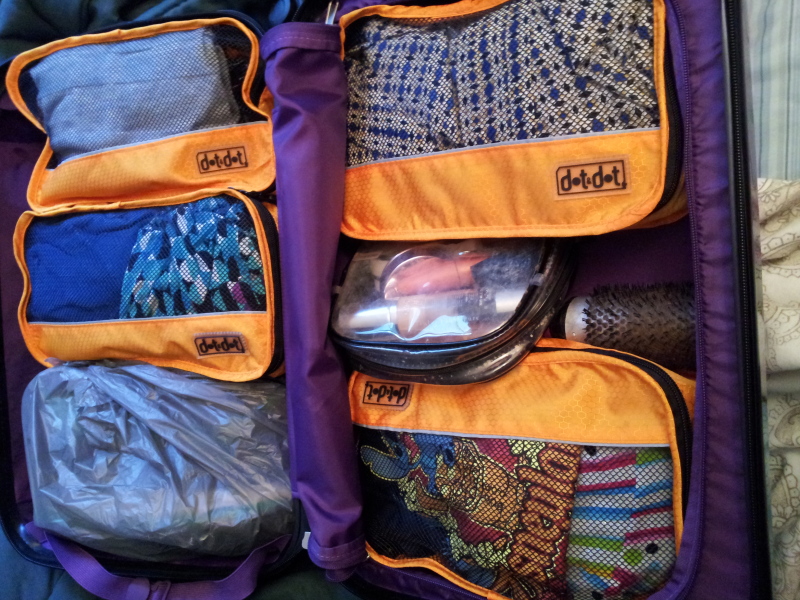 These cubes come in different sizes and colors according to your needs. I also had the chance to try the Shoe Cube
. This is such an awesome way to protect my running shoes while traveling (instead of just sticking them into a plastic bag…). There is a divider in the bag to keep them from messing up each other.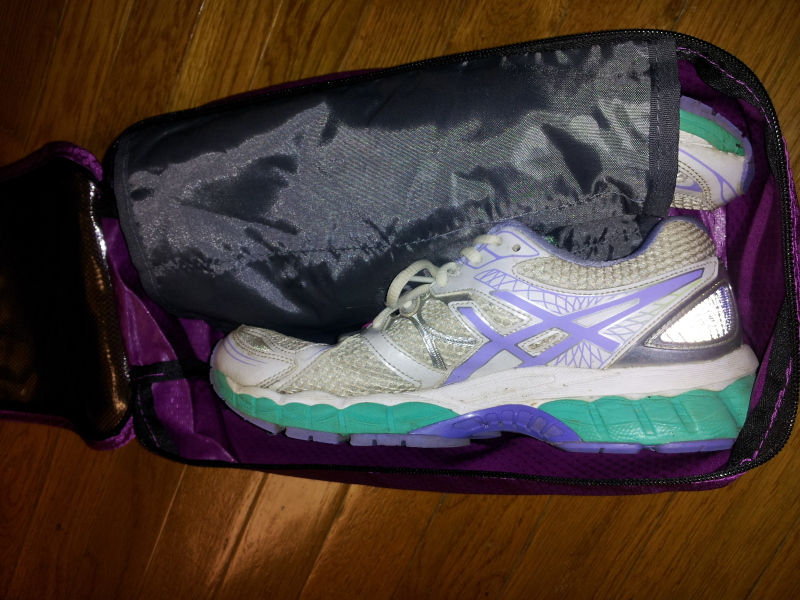 I also like that there is protection over the mesh so any dirt and gunk won't fall out into your suitcase and get everything else dirty. There is an air vent on the side to help keep it from smelling too bad.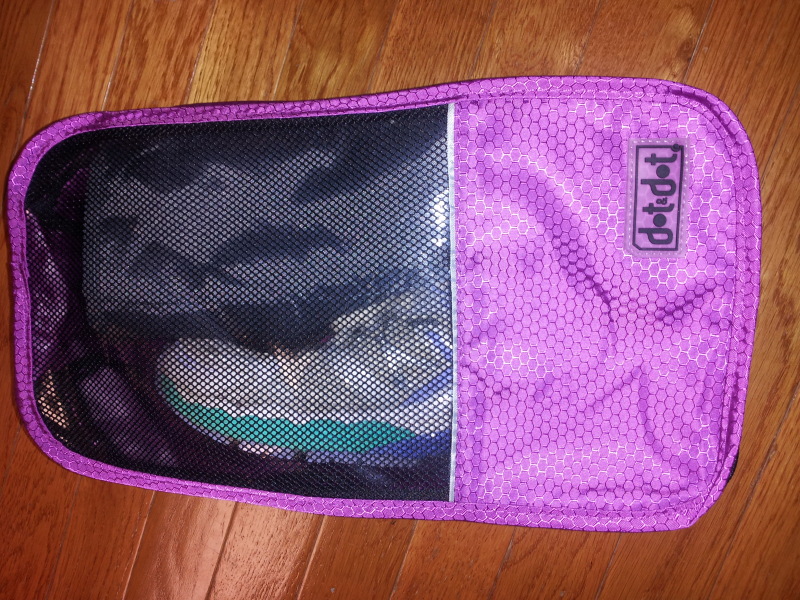 If you need a larger size packing cube, those are also available. The purple one below is the Medium Packing Cube
, compared to the orange small. Both fit into my suitcase nicely and help keep everything neat and organized. I definitely need to get some more of these for Nathan's suitcase – his is a mess!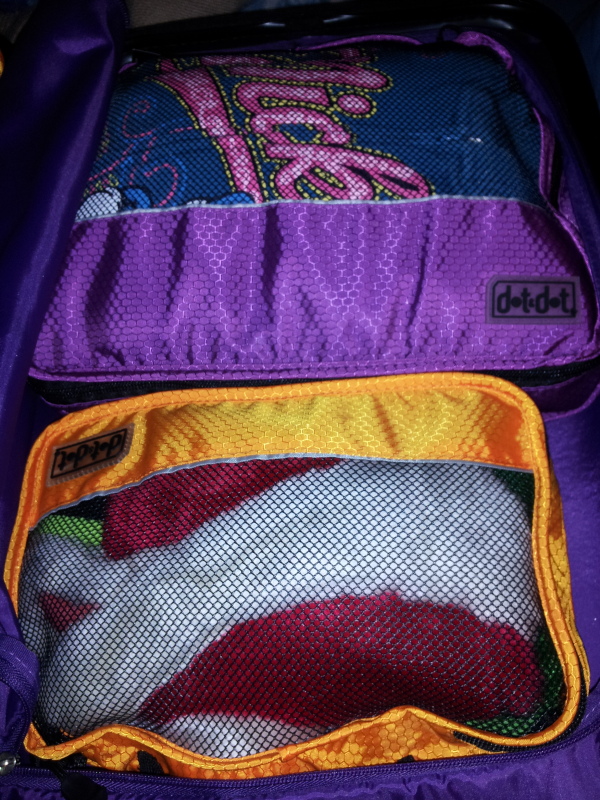 I really recommend the use of these packing tubes to help organize yourself when traveling. I like the ease of being able to grab an individual tube per day and not having to worry about everything else getting unfolded, wrinkled, and messed up.
MARCH 2015 UPDATE
I am still loving all of my Dot&Dot Packing products. They have held up well, and still keep me organized when I am packing and travelling. I ordered the 15″ Packing Sleeve
 to help keep some of my nicer clothes wrinkle-free. I like that it comes with a board in which to help you fold the clothes to the appropriate size to fit in this folder. In this bag I have 3 shirts and two skirts, but I probably could have fit another one of each. I like that it comes with a handle for easy carrying.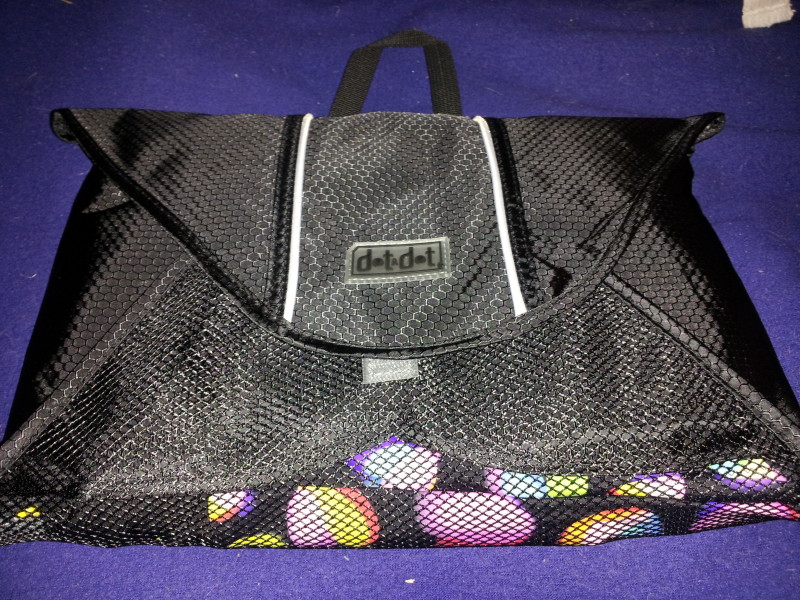 ---
Disclaimer: I received one or more of the products mentioned above for free, but all thoughts are my own.