Review: Pet Treats
My fur babies finally had the chance to do a review of their very own! So, here is their very first review: pet treat style 🙂
They were sent Stewart Pro-Treat Freeze Dried Dog Treats
.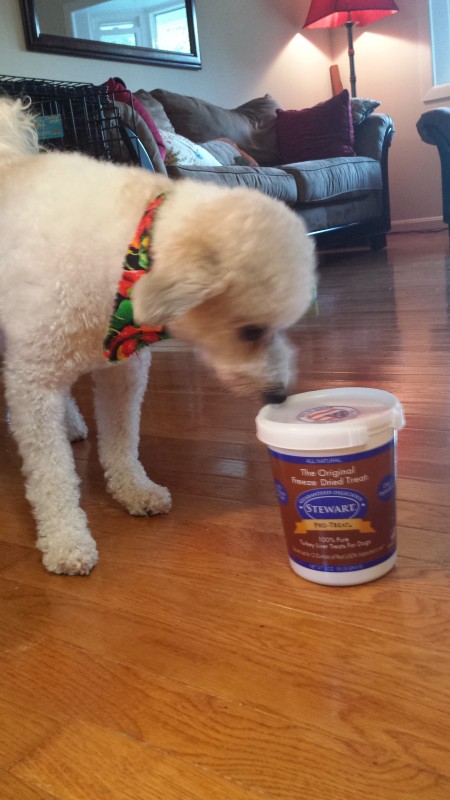 Maestro was very intrigued about this container of treats. He had to inspect every aspect of it. He was secretly trying to figure out how to open it up so he could eat all the treats!
Reasons why I like the Pro-Treats:
Made in the USA
Made with Wholesome Ingredients

No Artificial Preservatives

Essential Vitamins and Nutrients
No fillers or by-products
These treats are only one ingredient!
These freeze-dried treats were meant for dogs, but that doesn't stop my Lily. She LOVES treats! I think she enjoyed them.
Talkee, on the other hand, is a very picky eater. She does not like treats, wet food, or anything you would think that a cat likes. I offered her a treat, but as you can see, it was stolen from her. I don't think she minded too much…
So, what is the verdict? How do my animals like these freeze-dried liver treats?
I left this canister of treats on the counter and Maestro would jump up as high as he could to try to reach them. When this didn't work out for him, he would sit and stare longingly at the counter with a bunch of puppy whimpers until I would give in and give him a treat.
I went into the kitchen one morning and noticed the lid off of the treats. I looked in the canister and noticed that there were just a few crumbs left at the very bottom. Now, I was not the one eating these treats, Maestro can't reach the counter, so my only suspicion was that Lily jumped on the counter during the night and attacked the treats until the lid came off and then ate them all. Silly cat!
Stewart Pro-Treat Freeze Dried Treats for the win!
---
I received one or more of the products mentioned above for free using Tomoson.com. Regardless, I only recommend products or services I use personally and believe will be good for my readers.