Vegan & Gluten-free at Disney's Trail's End Restaurant – Fort Wilderness
Welcome back to the Mickey Monday linkup: the linkup centering around a love for Disney, sharing that love and connecting with others. I hope this linkup will become a great place to turn to for Disney content each week by helping readers find that great mouse-eared content. I'm co-hosting with John from Run. Geek. Run (disney), so of course check him out. 
---
Trail's End Restaurant at Fort Wilderness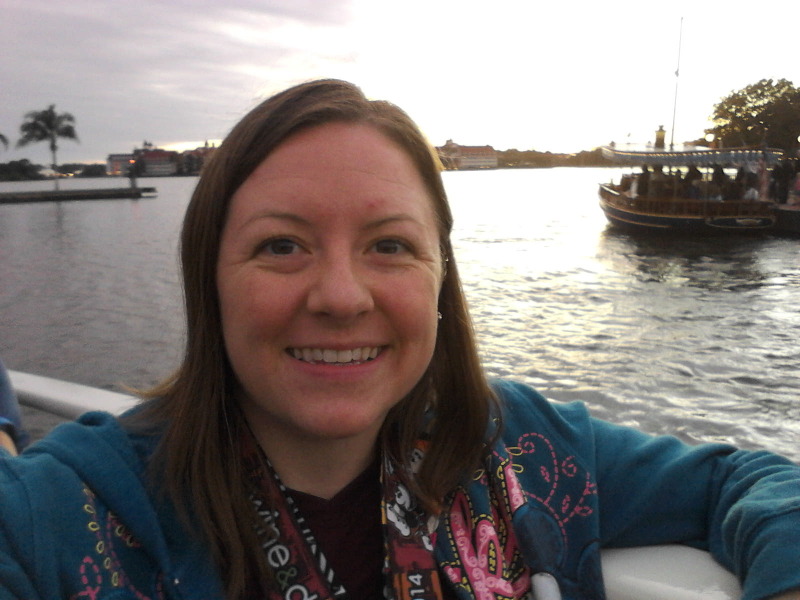 In the Disney World allergy/food preference world, there is one chef that really outshines the others. I met this chef for the first time during a Christmas meal at 1900 Park Fare back in 2012. When we took our trip last summer, we booked a meal at 1900 Park Fare in hopes to see him again. We were very sad to hear that he transferred to a different restaurant (but of course we didn't know that when we booked). Luckily, we tracked him down and headed over to Trail's End to see the famous Chef TJ, where we had an awesome meal. So, after the Wine & Dine Half Marathon Weekend, we wanted to enjoy a great meal with a great chef.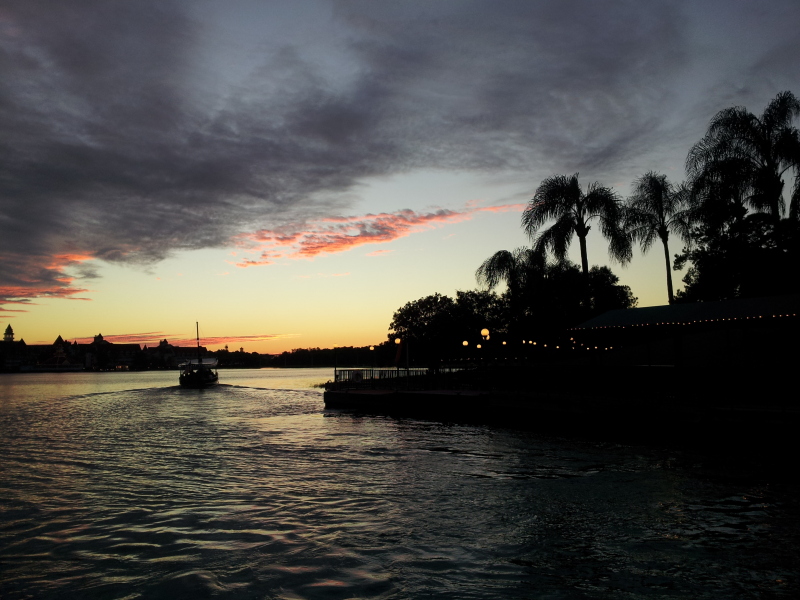 We spent the day at Magic Kingdom and then hopped the ferry over to Fort Wilderness where the restaurant is located. It is a very nice, relaxing boat ride, and we had a great view of the sunset.
Upon arrival, we walked to short distance from the beach area to the restaurant (If you are going to the Hoop-de-doo Review, this is the same location). We checked in and got seated and waited for Chef TJ to come out.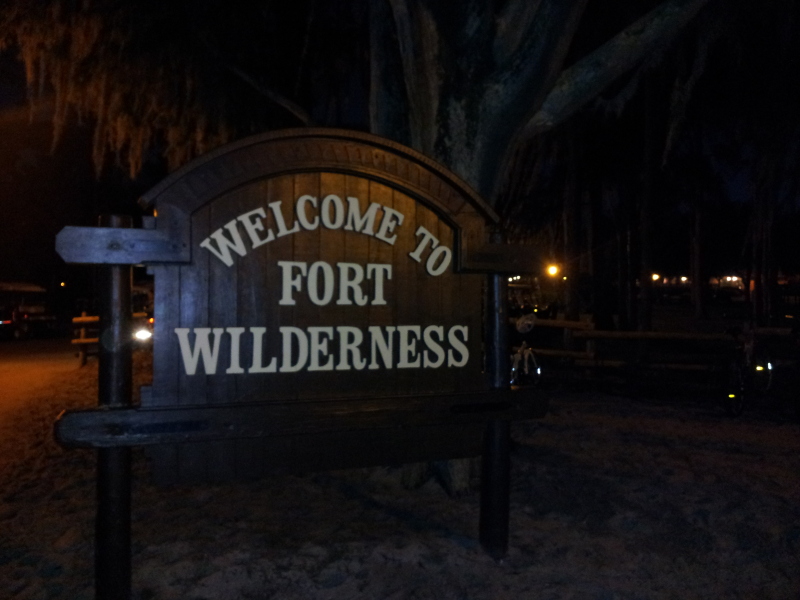 It was very good to see Chef TJ. He is a super nice and friendly guy who makes the best vegan and gluten-free food at Disney! His food is a work of art and always tastes delicious.
The one downside to visiting Chef TJ at Trail's End is that the kitchen is shared with Hoop-de-doo, so he stays very busy and it can take a while for him to have a chance to come out and see us. Our dinner this evening took over two hours to complete, which was a long time because we were so tired from the day. But, really, it was totally worth the wait!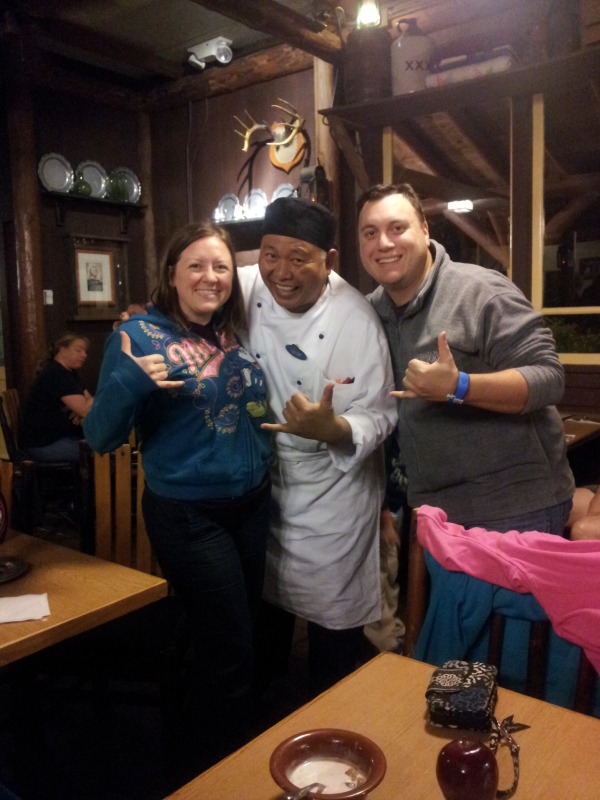 Now, on to our feast! I was very excited to see what Chef TJ had in store for us. So far, his dishes have all been different on every visit, so we really had no idea what to expect!
Out came our first dish and I was surprised to see fried pickles and mushrooms. I graciously gave all of the mushrooms to Nathan. (Mushrooms=yuck!)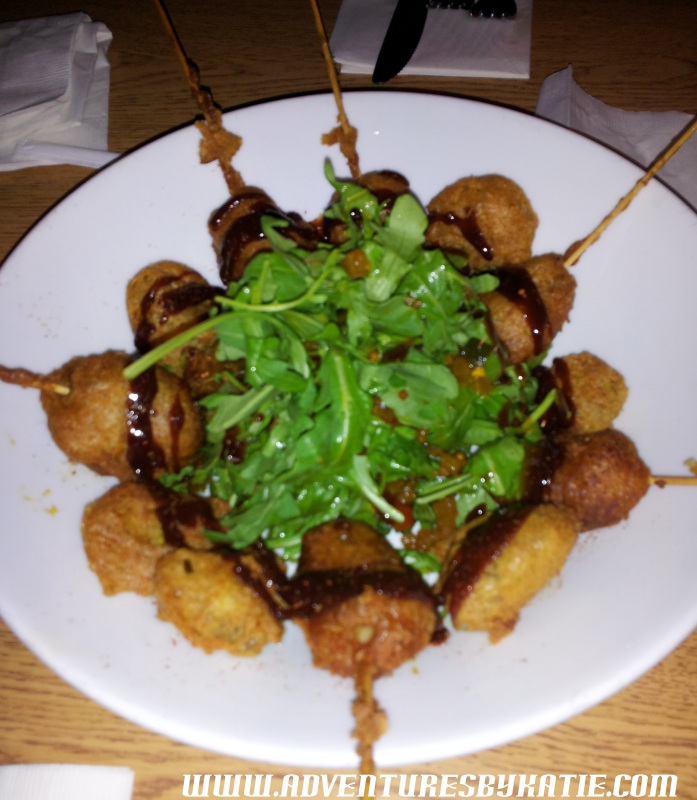 But I enjoyed the pickles (I don't think I had ever eaten fried pickles before…) and was excited for what Chef TJ would bring out next!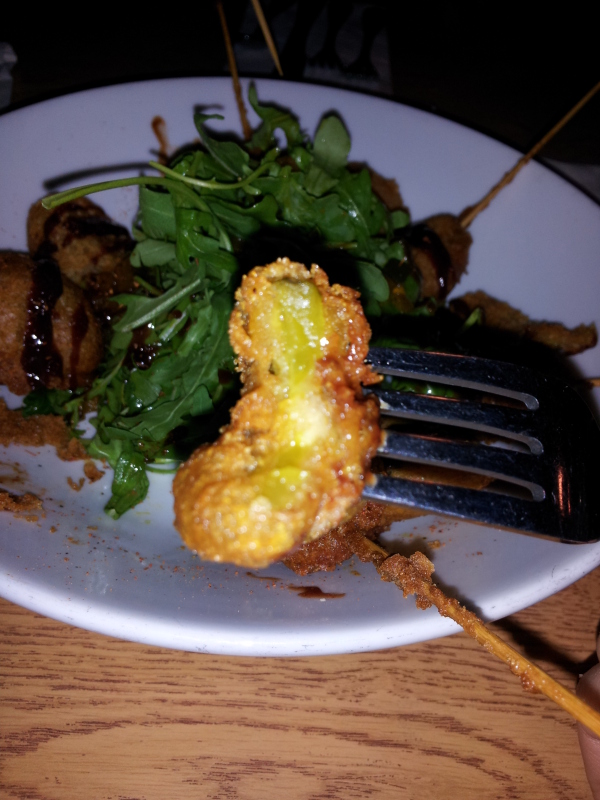 Dish 2 consisted of a delicious Corn Chowder (Chef TJ, can I PLEASE have the recipe?) and a Spicy bun. The bun had some sort of relish on top and was then covered with cheese. It was ok, but I was really just loving the chowder so much. I could have eaten multiple bowls of that stuff.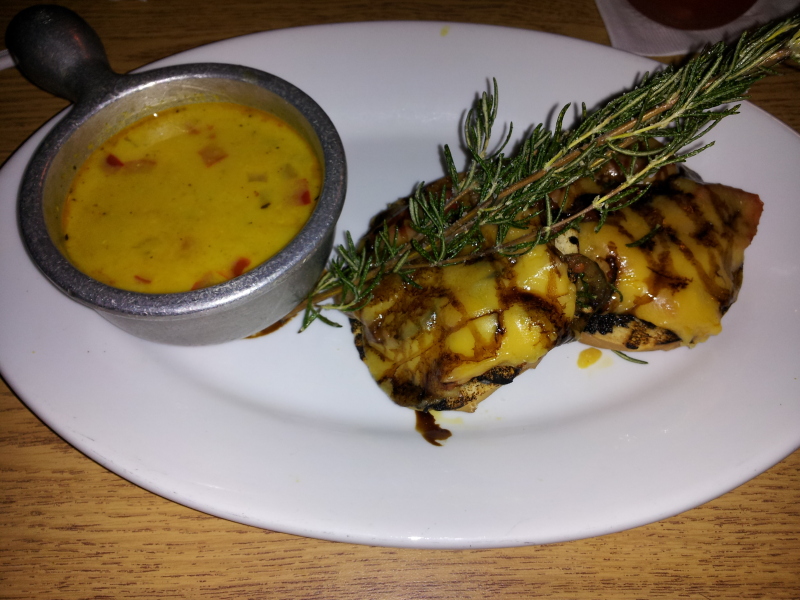 Dish 3 was a Hoppin' John Pepper stuffed with rice and black eyed peas. I enjoyed this flavor very much and quickly devoured the rice and beans before passing the pepper over to Nathan.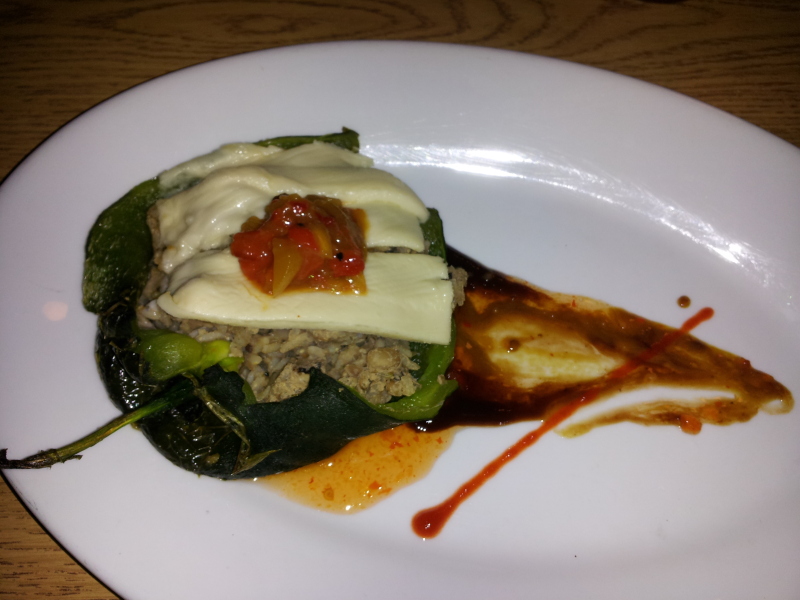 Next, the main dish was brought out. It was Crispy Tofu with rice noodles and veggies. I always enjoy Chef TJ's tofu because the flavoring and texture is so good. I was already pretty stuffed, but still managed to eat most of this dish. Yum!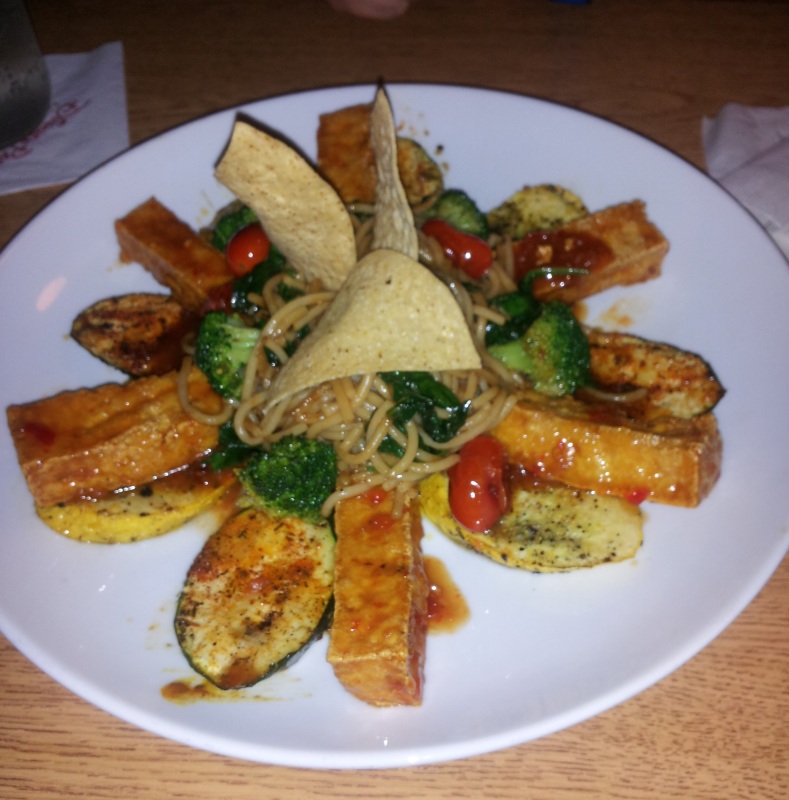 And, of course, no Chef TJ meal is complete without a dessert tower! This one had an apple as its base, and was then covered with a strawberry compote. On the tower was some vegan ice cream, cookies, and brownies, and then topped with a chocolate sauce! The people at the next table over were definitely secretly eyeing our delicious dessert!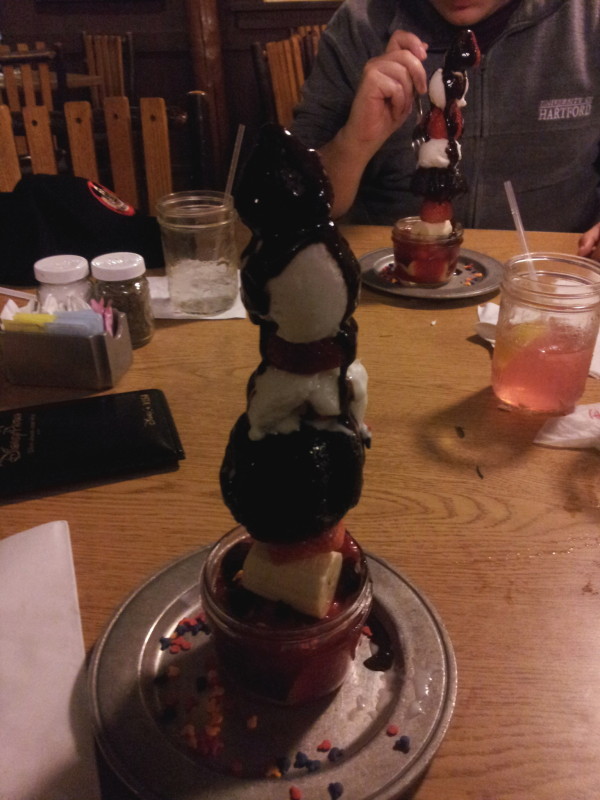 Even though it took a while, this trip to Trail's End and our time with Chef TJ was worth it. He really is a great chef and I love visiting him. We'll see you next year, Chef TJ (though we may try out the Hoop-de-doo!)
---
It's Mickey Monday!!!
To read past Mickey Monday Submissions, please click here!
Mickey Monday link-up guidelines:
*The post just needs to be about anything Disney related. There have been posts on runDisney, on the parks and even on the Moms Panel, so just give it some Disney and count it.
*New posts are fantastic, but for now, if you have a great old post you want to share, drop it on in.
*Try to visit as many of the posts that you can as time allows. The point of this is to share and support each other.
*If you're going to be a regular, please link back to the host posts. It's just good etiquette and frankly, that's how others will get to your fellow Disney lovers content. Without that link back, they can't find the linkup and therefore the other blogs. Help me help you.
*You also have the option to add the linkup code to your post if you'd like. It is not required, just another option. If not, please follow the above link back guideline.
Get the InLinkz Code