Indian Butter Chickpeas
To me, Indian food is comfort food. I'm not sure why I love it so much, but I do. I could eat Indian food every day and not get tired of it.
One of my go-to recipes is some sort of Chickpea Curry because it is easy to make, is inexpensive, tastes delicious, and fills me up. This dish is super easy to make and does not require a lot of ingredients.
One of my favorite dishes at my favorite Indian Restaurant is the Butter Chickpeas. They use the same sauce that is used for the Butter Chicken, but without the meat and dairy. Instead, they add coconut cream. Yum!
Here is one version of Butter Chickpeas that I make. I seem to make it a little different each time, but here is a general idea, and it definitely hit the spot 🙂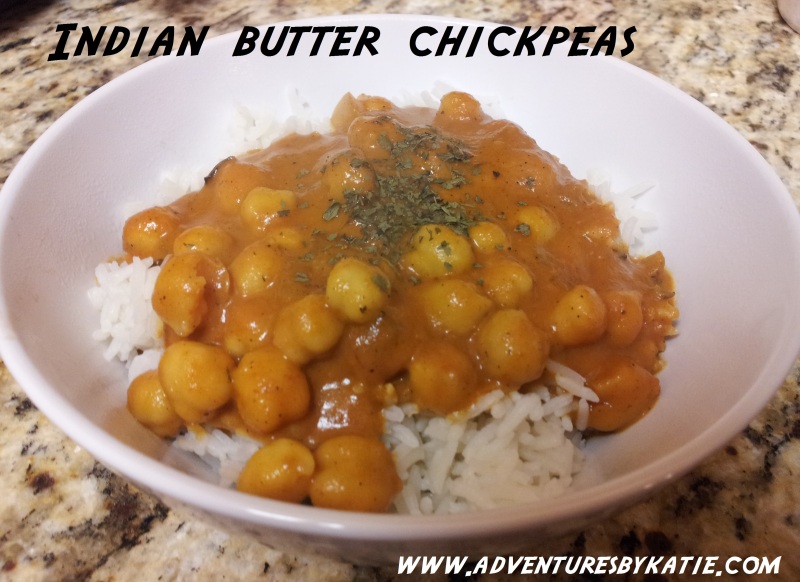 Butter Chickpeas
1 onion, chopped in small pieces
2 cans chickpeas, drained and rinsed
1 can coconut milk
1 can diced tomatoes
1 (6 oz) can tomato paste
2 Tablespoons oil
1 teaspoon lemon juice
1/2 teaspoon minced garlic (1 clove)
1 Tablespoon ginger paste
1 Tablespoon garam masala
1/2 teaspoon chili powder/cayenne pepper (to taste)
1/2 teaspoon cumin
1/2 teaspoon tumeric
1. Sautée the chopped onion and oil until the onions get soft and translucent.
2. Add the lemon juice, garlic, ginger paste, garam masala, chili powder, cumin, and tumeric
3. Purée the diced tomatoes and the tomato paste and then add to the onion mixture.
4. Add the chickpeas  and simmer until the sauce gets a bit thick and the chickpeas get soft
5. Stir in the coconut milk and simmer a bit longer.
6. Serve over rice