Review: Stewart® Treats
Maestro and Lily always enjoy getting products to review! They have enjoyed the Stewart Freeze-dried liver treats and bully sticks. There's a huge varity of 6 inch bully sticks that are worth having a look at as they provide a tasty, healthy treat for your dog! It can be difficult to find the right thing for you dog, but I'd recommend shopping around and testing as many products as you can until you know they're happy.
This time though, they got sent some Pro-Treat Blends Freeze Dried Dog Treats. Since both Lily and Maestro both loved the previous Stewart treats, I had high expectations for these treats.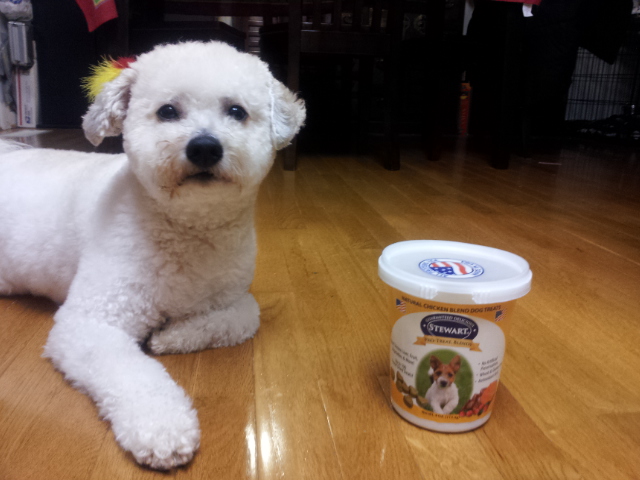 I let Maestro try the treats first:

He is sometimes really funny with treats. If it is something new, he doesn't always know what to think. Half the time he will take the treat and carry it away somewhere and not even eat it. He will just carry it around and whine. In this case, he wasn't too interested in the treat at first. This isn't a problem we've ever encountered when giving him Hemp Dog Treats; we're glad he enjoys these as CBD can have therapeutic properties making them great to soothe him during car journeys or when fireworks are going off.
Though these treats have been tested and received FDA approval, some dogs, unfortunately, can still get an allergic reaction owing to a myriad of reasons. It is always wise to check and see if your dog is immune to these treats. There are tons of information on the net regarding the subject of dog allergies; jackspets advice is one such place where pet parents could learn about allergy testing kits and more.
Since I got these dogs, people have been asking me about their whereabouts and how to get their hands on one of these Cockapoos. Some of my friends were even more excited when they heard there are various Cockapoo colours out there. Later, I went down and gave one of the Stewart treats to Lily:
As you can see, Lily loved it. And of course, if Lily loves a treat, Maestro will too. The next time I offered him one, he ate it right away.
Technically, these are dog treats, but Lily just loves them. Nothing in the ingredients is terrible, so I don't feel bad about her eating them. The ingredients include Chicken liver, sweet potato, chickpeas, cranberries, oatmeal, and inulin (preservative).
These treats:
Are Wheat and Gluten Free (sort of – they contain oats which can be cross contaminated with wheat)

Are Completely raised and produced in USA

Made in a USDA inspected facility

Include all ingredients are human grade, carefully selected, blended and freeze dried to perfection

Include up to 100 pieces per container

*Disclaimer: I received product in exchange for an honest review. Regardless, all thoughts and opinions are my own. And Maestro and Lily don't lie.*