Raw Taco Salad
Since the new year started I knew I wanted to change my eating habits. I don't want to go crazy or anything, but I need to stop eating out as much as I do and eat less processed foods. I also needed to add more fruits and vegetables to my diet. I decided to incorporate more raw food into my meals, and so far everything is working out pretty well.
I ordered a week's worth of produce from Peapod (less temptation than actually going to the store AND it's easier to see where you are regarding budget). I made my meal plan for the week and got ready to go!
Monday I decided to go the Mexican route (since we usually went to get Moe's Monday). You could really put anything you want on this salad. I went with some seeds and bean sprouts, along with the other Mexican ingredients such as salsa and avocado.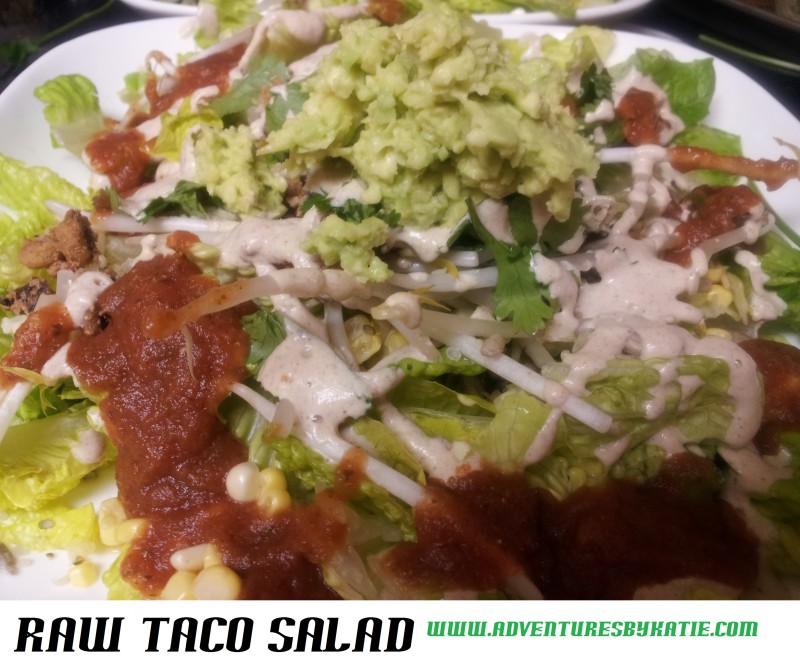 Raw Taco Salad
Taco "Meat"
1 cup soaked walnuts
2 Tablespoons sun dried tomatoes
1 Tablespoon tamari (soy sauce)
Chili powder/cayenne powder to taste
In a food processor or blender, pulse until it breaks up and takes on a "meaty" texture.
Creamy Chipotle Dressing

1/4 cup soaked almonds
2 Teaspoon Hemp Seeds

1/3 cup water
1/4 teaspoon Chipotle Chile Pepper

pinch of salt
Juice of one lime
Blend until smooth
Salad Ingredients
Romaine Lettuce
Sunflower Seeds
Bean Sprouts
Hemp Seeds
Corn
Salsa
Avocado
Fresh cilantro
The verdict:
I am not a salad eater. Not at all. But this salad was super delicious. The dressing was awesome. I ate my entire huge plate and was completely satisfied. Luckily, I made extra so I had it for lunch today. Even the leftovers were awesome. At the end of lunch, I thought:
"I could eat more of this salad!" Seriously though, this was so good!
Here are the hemp seeds that I used. I have never used hemp before but it added some nice extra flavor in the dressing and salad. I also like that like it is raw, high in protein, and has some omega 3 and omega 6.
*BONUS* Get 50% of your purchase of the Super Hemp Seeds by entering BUY4HALF at checkout!

*Disclaimer: I received the hemp seeds free of charge for the purpose of review, but all thoughts and opinions are my own*