Vegan Fried Rice
I ate healthy all week by making my Raw Taco Salad, Pumpkin Chili, Raw Mango Zucchini, and Raw Pad Thai. Then comes Friday. I still wanted something healthy, but needed something carb- and protein-full for my big workout scheduled the next day. Usually an easy go-to would be pasta, but that doesn't really interest me so much now that I have discovered spiralized zucchini noodles. So I decided on Fried Rice, but I would make a more healthy version of it as to not ruin my healthy week.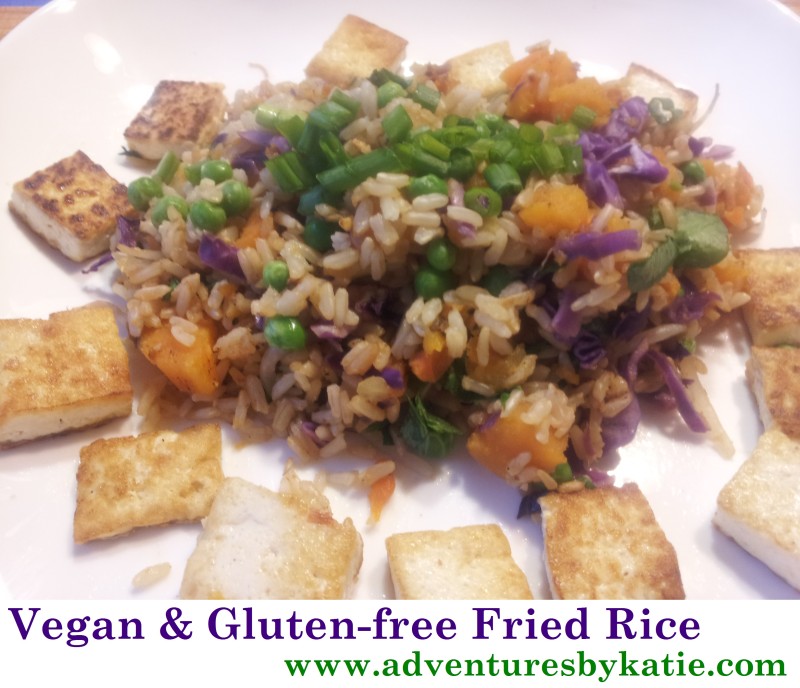 I think a lot of what makes this healthy is the abundance of vegetables and the little amount of oil used. I used Wok Oil
and Hot Pepper Sesame Oil
, which are "specialty" oils (I did buy them at the grocery store) with a lot of flavor packed in just a little bit of oil. You could substitute regular oil, but you may have to use more.
There are a lot of steps to this recipe, but it really did not take that long to make and was not hard at all. If you are really good, cook the veggies and tofu at the same time (I did). If not, it's ok if something gets cold, because it will heat up again when you put everything together.
Vegan Fried Rice
4 cups brown rice (preferably a day old)
1 package extra-firm tofu (drained, pressed, and cubed)
1 sweet potato, peeled and cubed in small pieces
1 onion, chopped
1 large carrot (or a handful of baby carrots) , chopped or shredded
1 cup purple cabbage, shredded
1/2 cup watercress or other bitter green
1/2 cup sliced green onions
1/2 cup frozen peas, thawed
1 cup bean sprouts
1/4 teaspoon Chinese Five Spice Powder

1-2 cloves garlic, minced
2 Tablespoons Tamari
(soy sauce)
1 Tablespoon Rice Vinegar
2 Tablespoons Sriracha (to taste)
2 teaspoons of oil (I used Wok Oil
and Hot Pepper Sesame Oil
)
Step 1: Cook the rice (preferably the day before) because you want it to be old and "stale". I threw mine in the rice cooker the night before and stuck it in the fridge. Easy Peasy.
Step 2: Peel and cut the sweet potato. I used the Select Culinary Julienne & Vegetable Peeler
 to peel my potato. I really liked that it peeled in thick strands, so I didn't have to waste a lot of time and could get on with the rest of my prep work.
Step 3: Drain and press the tofu before cutting into chunks. I stuck mine on a towel (and in between a nut bag) and used the cutting board to press it for about 10 minutes.
Step 4: In a large skillet, heat 1 teaspoon of the Hot Pepper Sesame Oil
 over medium heat. Add the sweet potato and 1/4 cup water and stir-fry the potatos (stir often). Add extra water as needed so the potatoes don't stick to the pan. Cook until the potato is tender.
Step 5: Add the onions, garlic, bean sprouts, purple cabbage, and carrots to the sweet potato and cook for a few more minutes. Then, add the Chinese Five Spice Powder
 and mix well. Remove the pan from heat and set the vegetables aside.
Step 6: Meanwhile, add 1 teaspoon Wok Oil to a smaller frying pan. When hot, carefully add the tofu and cook, turning as each side gets brown (I was impatient and only cooked on two sides, and it turned out ok). I also cooked this in two batches.
Step 7: In a small bowl, mix together the Tamari, Rice Vinegar, and Sriracha.
Step 8: In a large frying pan (you can use the same one from the vegetables), add your rice and stir-fry until warm. Add the Tamari sauce mixture and mix well. Then, add all the vegetables and stir-fry until everything is mixed well and heated through. Fold in the Watercress, peas, and green onions.
Step 9: Scoop onto a bowl, top with the tofu and EAT!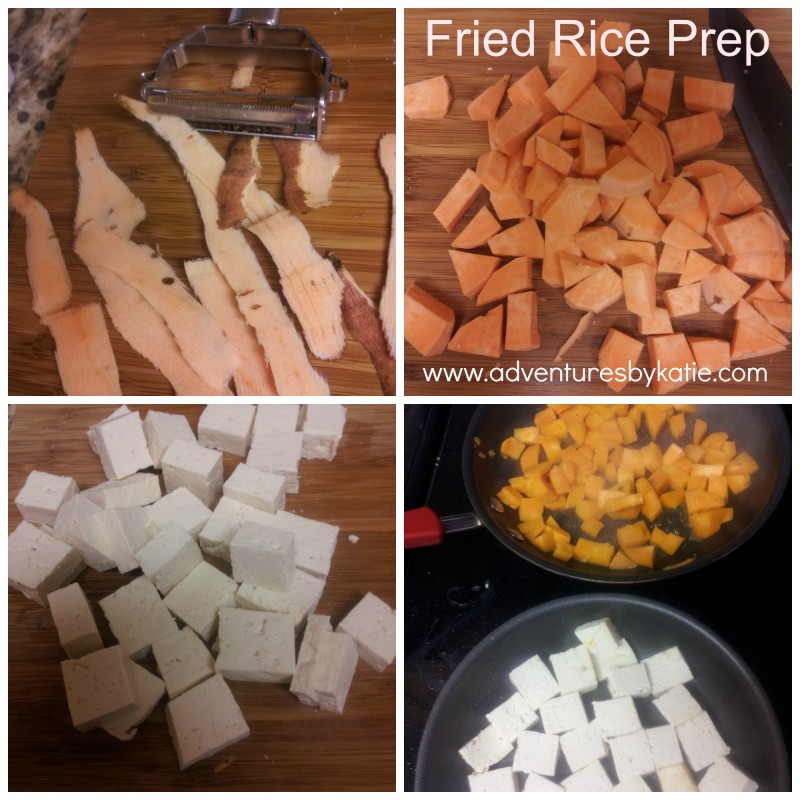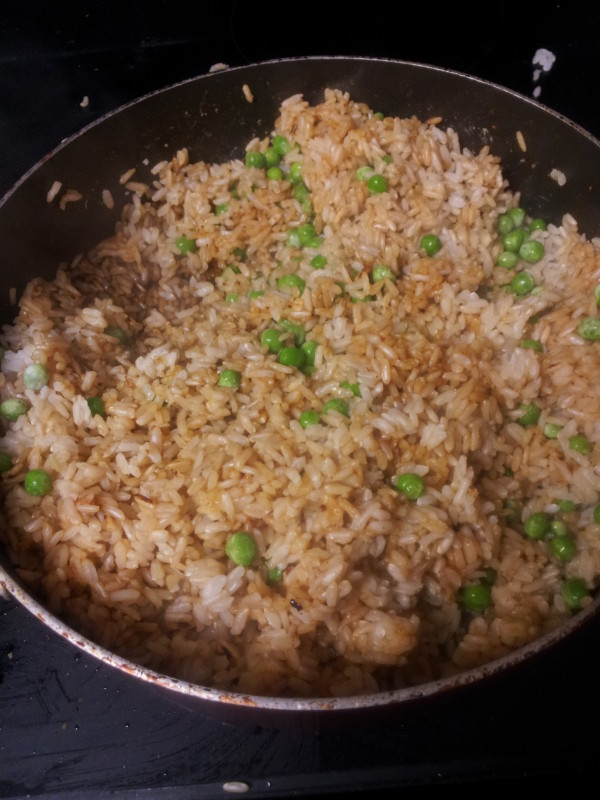 Tasty, vegan & gluten-free fried rice with minimal oil. What could be better?