I'm continuing with my goal to eat more raw fruit and vegetables, instead of pre-packed, processed junk. So far I have made a Raw Taco Salad which I really enjoyed. Now I am turning my attention to a different part of the world. I love Thai food but needed to come up with a raw twist.  This Raw Pad Thai uses spiralized zucchini (which I had never had before!). It is pretty cool how a Spiralizer
 can turn vegetables into noodles! It really does make a light, fresh dinner, but completely fills you up. There is no reason to feel bad for eating tons of this Pad Thai or for going back for seconds (or thirds!). Everything is raw, vegetable goodness!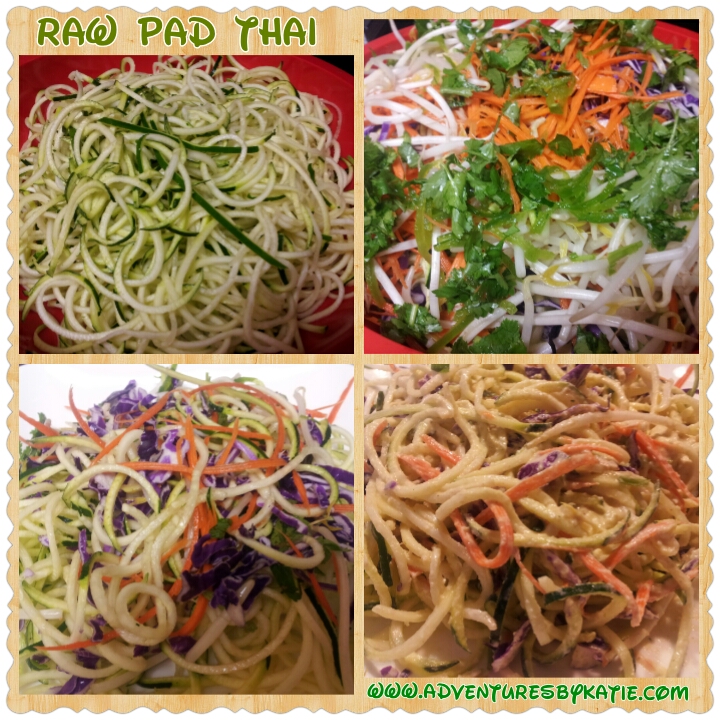 Raw Pad Thai
Ingredients:
spiralized/shredded zucchini
shredded carrots
shredded red cabbage
sliced bell pepper
bean sprouts
chopped cilantro
juice of one lime
hemp

whatever else your tummy desires!
Pad Thai Dressing:
1/3 cup sesame seeds

2 chopped apples
1-2 peeled oranges
4 Tablespoons hemp seeds

2 Tablespoons tamari (soy sauce)
1 inch fresh ginger
Juice of 1 lime
This is pretty easy to make, it just took a little bit of time to get everything prepped. I had to wash all the vegetables and either spiralize or chop them. After that, though, you just dump everything in a bowl.
For the dressing, add everything to a blender and blend away. Then, mix everything together and enjoy!
Before this I would never eat raw zucchini (and have to really like the way they are cooked…), but these zucchini noodles are pretty neat and taste really good. I was really surprised. They make a great alternative to pasta, and I am looking forward to some other creations that I have planned!
Note: Even with the dressing mixed in and sitting for a day, the vegetables were super crunchy the next day when I brought my leftovers to work! So, this dish is good to make in advance 🙂
Here is my first "cooking" demonstration on using a spiralizer. Very fancy, right? LOL

Have you used zucchini noodles before? Do you have any good recipes that you would like to share?