My First Duathlon
Du It for the Leukemia & Lymphoma Society Race #2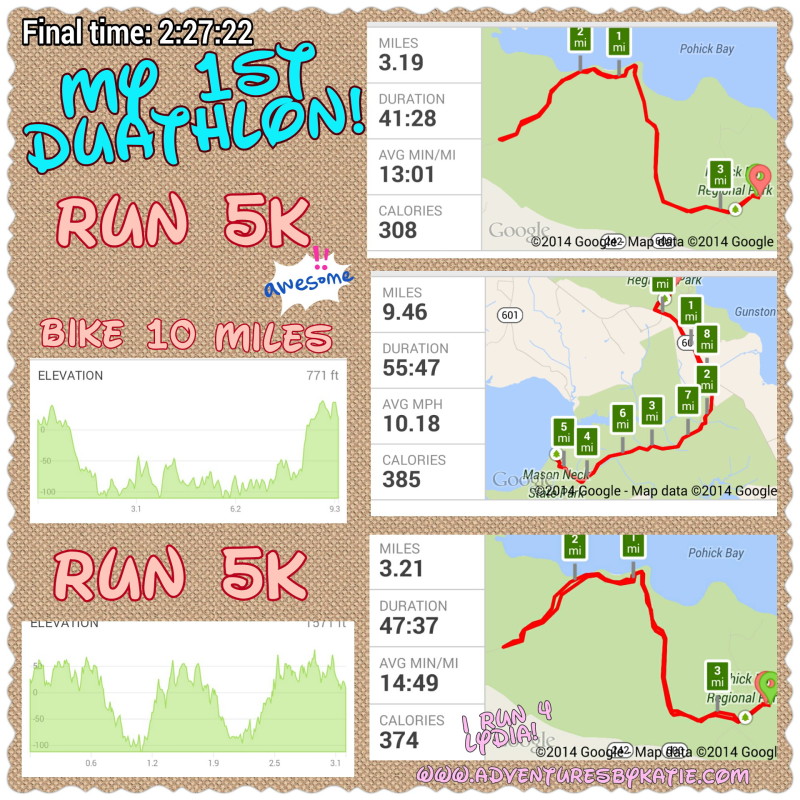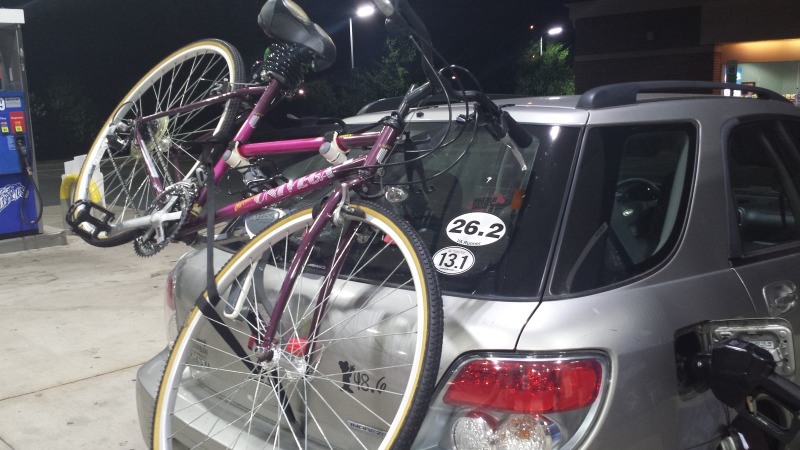 This was my first Duathlon! I had a great time! And I even finished!
But let me tell you, I was in no way trained for this. Not even a little. I can only imagine how much better I could have done if I was trained. But, it happens. I had taken my bike out of hibernation earlier in the summer and took it to get cleaned up and repaired. And then it sat on my porch. All. Summer. I was planning to do a Triathlon in August, but it got cancelled, so I never trained. The night before this race I took out my bike, attached the rack to my car, and then went on a test drive and a short, slow, and easy 3 mile bike ride. And that was my training.

I got the the park where the race was taking place and set up my bike. I had my helmet, water, and gels all laid out. I was pretty much the only one with a regular ride-around-the-neighborhood bike, but it worked and it was my first race!

I decided to dress festively for my first du. I wanted to stand out! And I wanted something long enough to help prevent chafing while being on the bike. Thus, here I am. I definitely was very noticeable since most other people where dressed in black.

The race consisted of three segments: Run 5k, Bike 10 miles, and Run 5k. The 5k was a trail run full of hills (and hills and hills and hills). I ended up having to walk up all of the hills because they were so steep. There was no way I could run up them! I tried to take it pretty easy because I was a bit worried about the bike part. It was a pretty run, though, through trees and by the water.

Next was the 10-mile bike ride. This was the same course that I had previously run back in April.  It wasn't as bad on the bike as I envisioned. I loved coasting down the huge hill at the beginning with the wind in my face.  That was the absolute best part. The rest of the ride went pretty well. It was relatively flat and I kept a pretty steady pace the entire time. But then, I was back at the bottom of the hill that I had previously loved. I no longer loved it. I jumped off my bike and hobbled up the hill as fast as I could before jumping back on and riding to the finish line.

Time to run the last 5k. I parked my bike and, with jelly legs, hobbled toward the trail. I had such a weird feeling after being on my bike that long. My legs were disconnected and my tailbone area hurt! Regardless, I did my best and hurried as fast as I possibly could.
Finally! I got to the finish line and was done! Yay! But, no…The second I crossed the finish line the muscles on the insides of my legs (right above the knee) froze. I could not bend or flex my knees. Luckily there was a chair nearby that I could sit on. This was the strangest thing because those muscles had never bothered me before. And they just froze up! I drank a bottle of water and slowly tried to flex my knees. And then they were ok. I'm not sure what happened. But at least it waited until the finish line.

First 5k 41:23
Time as I finished the bike 1:38:29
Final finish time: 2:27:22