Road ID Wrist ID Elite Review | BibRavePro
Disclaimer: I received the Road ID Wrist ID Elite to review as part of being a BibRave Pro. Learn more about becoming a BibRave Pro (ambassador, tell them I sent you), and check out BibRave.com to review find and write race reviews!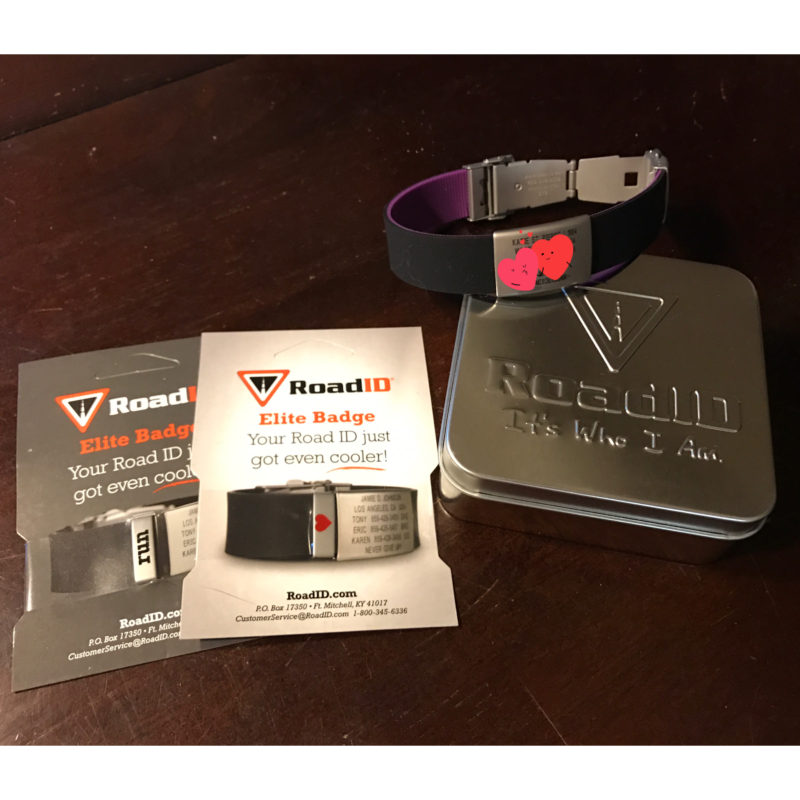 Road ID
Have you heard of Road ID? It is an awesome company that provides a way to carry ID with you while you are out and about and may not be carrying your wallet or other identification.
ID should be as common and important as putting on a seat belt when getting into a car, or strapping on a bike helmet to go for a ride. Identification is important for people of all ages. If you are a runner, cyclist, jogger, walker, hiker, climber, skater, skier, boarder, or someone who doesn't spend all of their time on the couch, then we encourage you to wear ID. Kids need ID too as they rarely have ID when they go out for a bike ride or walk to school.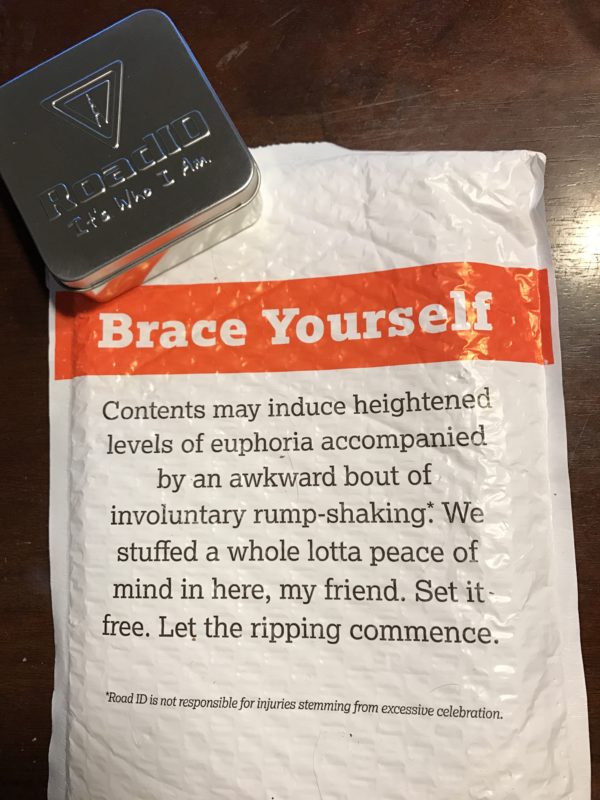 I've been using Road ID for a few years now. I started out with the basic Slim ID, with a silicone band. I had gotten a smaller sized band because I hate wearing things that dangle on my wrist. This worked great for me for a while, but then I realized that I was annoyed with having to stretch it to take it on and off.
Wrist ID Elite
I was excited to try out the Road ID Elite for to help fix my "problem". The Elite ID  comes with a choice of a silicone or leather band and a watch-style buckle. The buckle allows you to custom fit it to your wrist size and allows an easy on/off! Perfection!
I wear my Road ID every time I go out without my purse: while running, hiking, swimming, etc. It provides peace of mind that in case something happens to me, police will know who I am and who to call.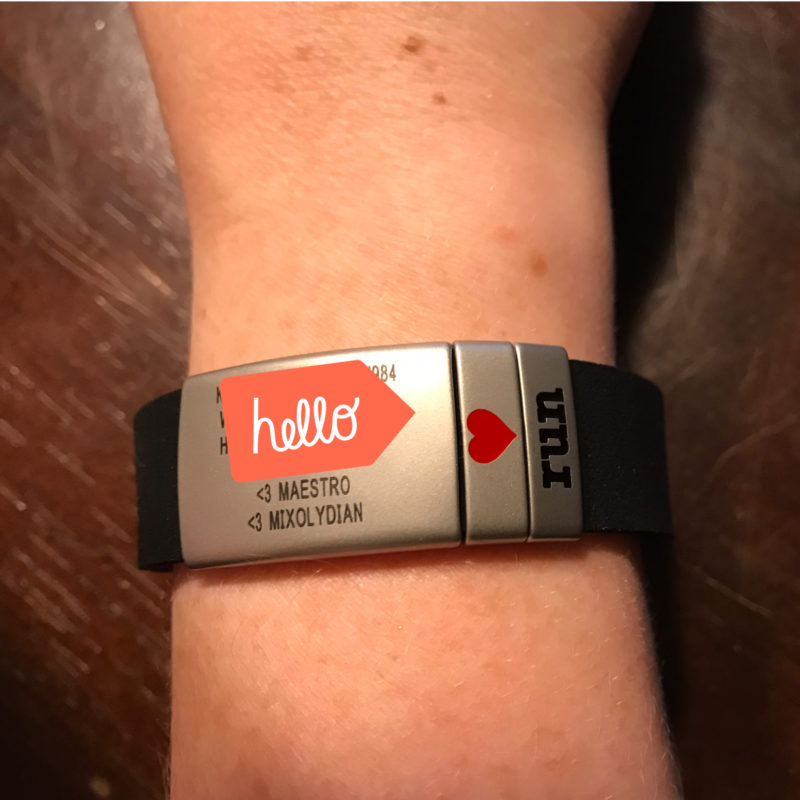 Road ID is also great while traveling! I have seen families at Disney World all wearing bracelets, listing their names and contact phone numbers, just in case the child became separated from the parents. I thought this was such a great idea and will certainly be doing this as soon as Mixolydian becomes mobile 🙂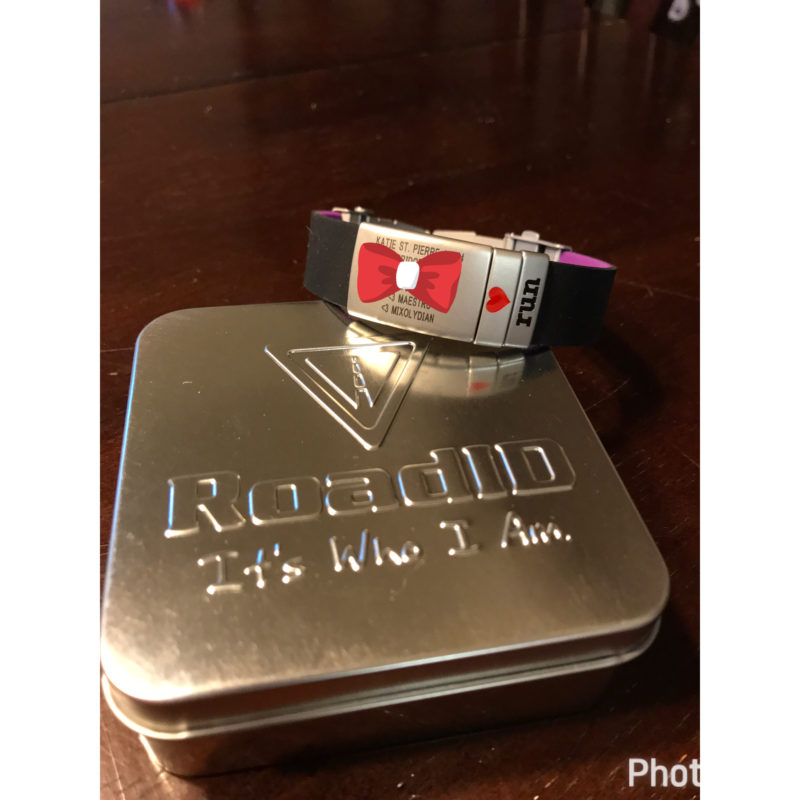 Road IDs are very inexpensive for comfort they provide. And they are stylish, too! The bracelet styles come in different widths and colors, and you can even add a badge to decorate it. I love that you can personalize the face plate with whatever information you need, as well as purchase various badges!
Want a Road ID of your own? Go to bit.ly/2ocFWMl, and you'll get a $5 gift card to use at Road ID. The gift card will be valid for 2 weeks.
#bibchat
This week's #bibchat will be featuring Road ID. Join us Tuesday, April 18, 2017 at 9pm EST to join in 🙂  Interact with the team, with other BibRavePros, and other like-minded runners!
Do you have a Road ID? If not, you should! Please visit Road ID today and protect yourself!