Review: iPhone holder SiliGuy
A while back, Nathan got a bendable man to hold his iPhone while driving. I had been wanting one for MY car, so I was super excited to try out the SiliGuy Flexible Cell Phone Universal Car Mount. It is super easy to use the SiliGuy anywhere you want. It has the flexibility to secure any smartphone, including my Galaxy S4! Using the universal fitting, SiliGuy can grip your mobile device while hanging from your rear-view mirror, slid into the air vent, suspended from the steering wheel, or where ever you want. Any hand-sized device can be safely and comfortably secured in your car, providing safe visibility to use GPS and easy access to speaker phone.
I have used mine on my review mirror in my car. It is very handy to have my phone at eye level when I am using the GPS. I no longer have to hold my phone in one hand and glance down to see the directions and map. Now everything is safely in my line of sight, and I feel much safer.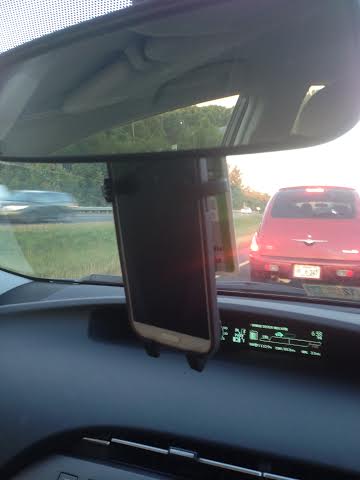 I have also used the Siliguy while riding my bike. I secured it to the bar below my handle bars and it was convenient to hang there while I was riding. I was tracking my ride, as well as playing music. I could clearly hear the music while riding, which wouldn't have happened if the phone was left in my pocket. I felt like my phone was secure and it didn't move around too much, even when I was riding over a lot of bumps.
How do you secure your phone while driving or using it as a gps?
---
I received one or more of the products mentioned above for free using Tomoson.com. Regardless, I only recommend products or services I use personally and believe will be good for my readers.