Vegan & Gluten-free in Nashville – The Wild Cow Vegetarian Restaurant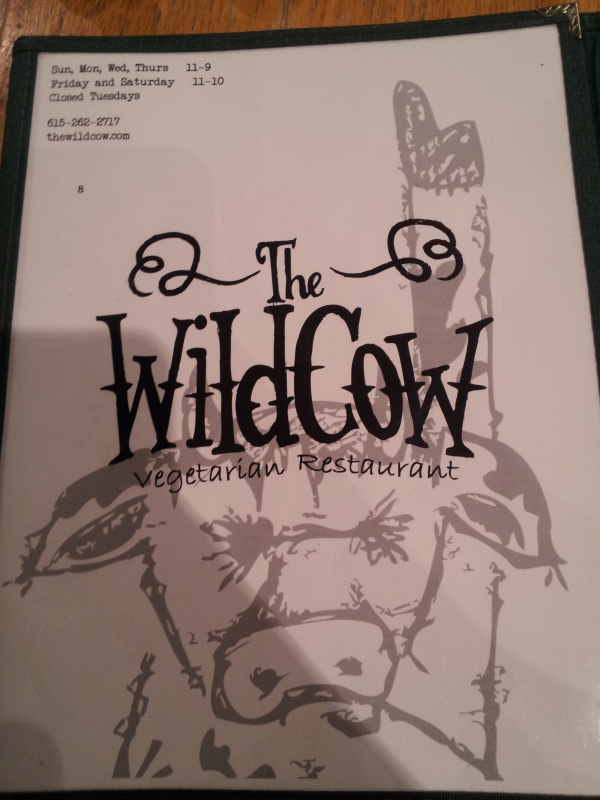 A few weeks ago I was in Nashville at a Music Teacher Conference. We were staying at the Gaylord and were running out of places to eat (not to mention that it is pretty expensive to eat there). So I checked out Google to see if there were any vegan restaurants in the area and found The Wild Cow Vegetarian Restaurant.
The Wild Cow serves vegetarian and vegan food (with tons of gluten-free options) in a fun, casual environment in East Nashville. The Wild Cow was opened to provide delicious, cruelty-free, healthy food.  Nearly all of their food is purchased in it's whole form. They make almost all of their own sauces, dressings, soup stocks. This means that you can name every ingredient in the food they serve! Most of their produce is grown locally and much of it is organic.  They do not have a microwave or freezer. The goal of the Wild Cow is to bring people together for the love of good food in a fun and relaxed environment, while supporting their community and organizations that promote their philosophies. They have a rotating Charity of the Month where they donate 10% of their sales from the first Thursday of each month to that Charity.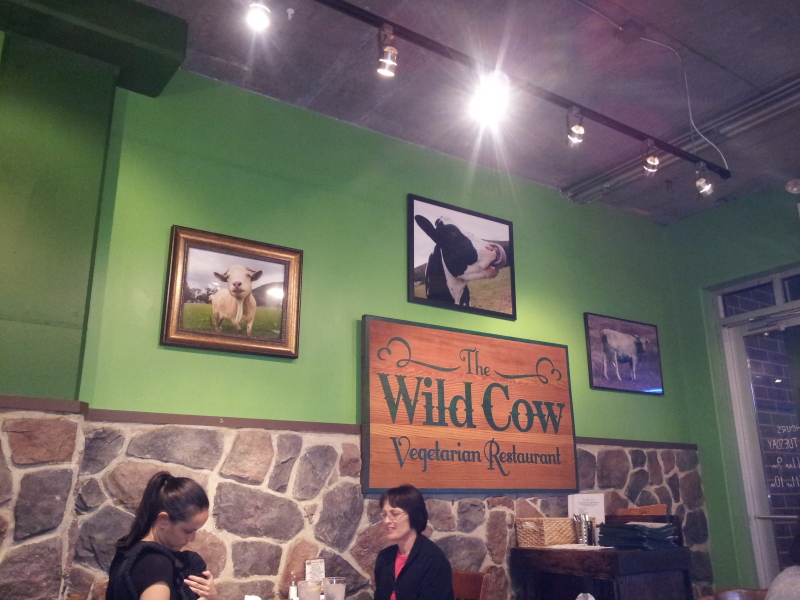 Nathan and I drove the 20 minutes to East Nashville and were ready for dinner. When we got there, the restaurant was packed! There was a short line out the door, but we quickly got a table. I looked at the menu and almost had a heart attack – there was so much food that I wanted to try!
We decided to start with the nachos, which included non-GMO tortilla chips topped with their own fresh seasoned pinto & black beans, brown rice, vegan queso, homemade vegan sour cream, tomato, onion & homemade salsa verda, with avocado. I really enjoyed the queso and the sour cream. We quickly polished off these nachos while waiting for our main dish to arrive.
Nathan decided to order a burger. He chose the homemade soy-free black bean patty with lettuce, tomato, pickle & onion, served on a sourdough bun, served Animal Style with grilled onions, homemade 1000 island & spicy mustard. He got a side of garlic kale, which I ended up trading him for.
I ordered the Sweet Potato & Black Bean Tacos with lime slaw, homemade jerk sauce, and toasted pumpkin seeds on corn tortillas. I also got a side of Mustard Greens that I didn't care for (and traded for Nathan's kale) because of the vinegar. Too much vinegar for me, but Nathan gladly ate them. The tacos were delicious and flavorful! I loved the sweetness of the sweet potato and the lime slaw and pumpkin seeds gave it a nice crunch. At this point I was completely stuffed, so I wrapped up one taco to take home for lunch the next day.
But of course we had to get dessert. Nathan ordered a Grasshopper Cake and promptly announced that it was the best cake he has ever eaten EVER. Looking at it, it looked super moist and delicious and I wished there was a gluten-free version for me to try.
I had ordered a gluten-free chocolate cake which I thought did NOT taste gluten-free (but it was). It was that good. The cake was super moist and was so delicious. The slices were huge so I ended up taking about half of this piece home with me. SOOOOOO good!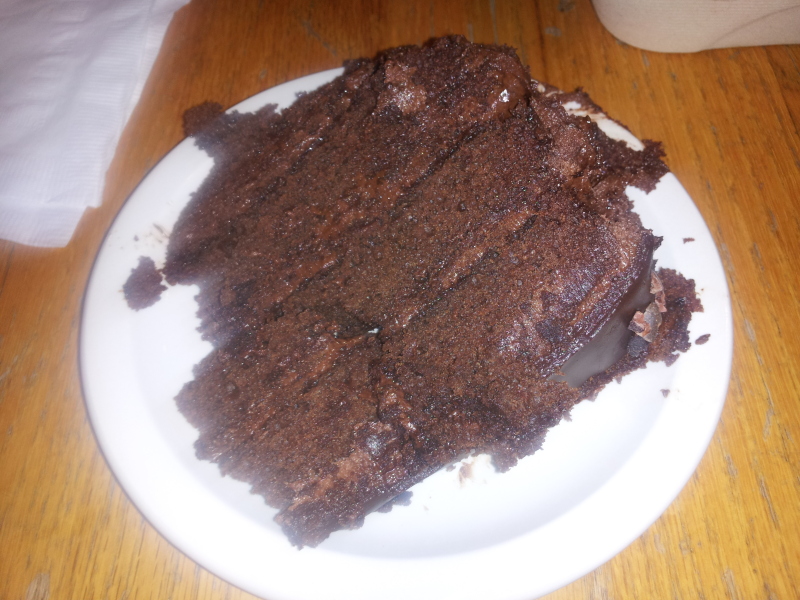 I also ordered a slice of blueberry cheesecake to go. This was made by Khans Desserts, a Nashville bakery that also sells its food in other establishments. It was very good and was a good substitute for regular cheesecake.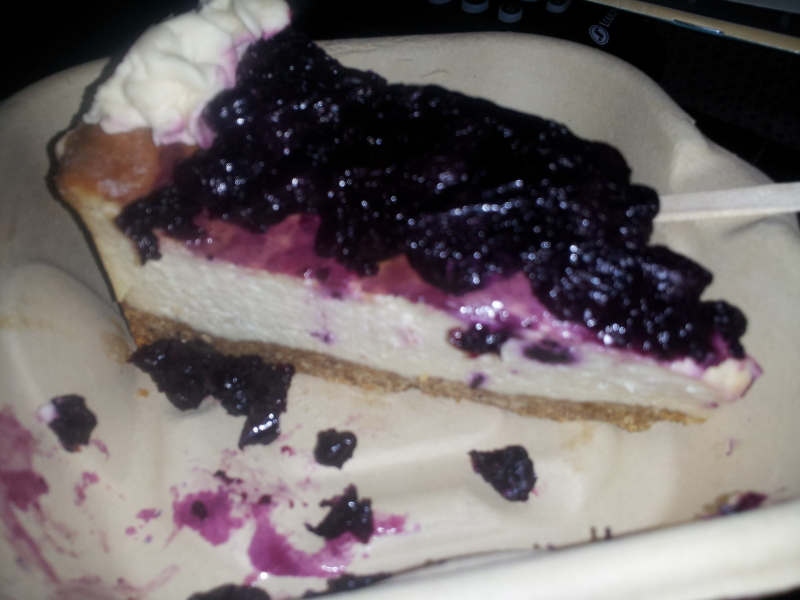 If you are ever in Nashville, I HIGHLY recommend taking a trip out to The Wild Cow. The food is delicious!