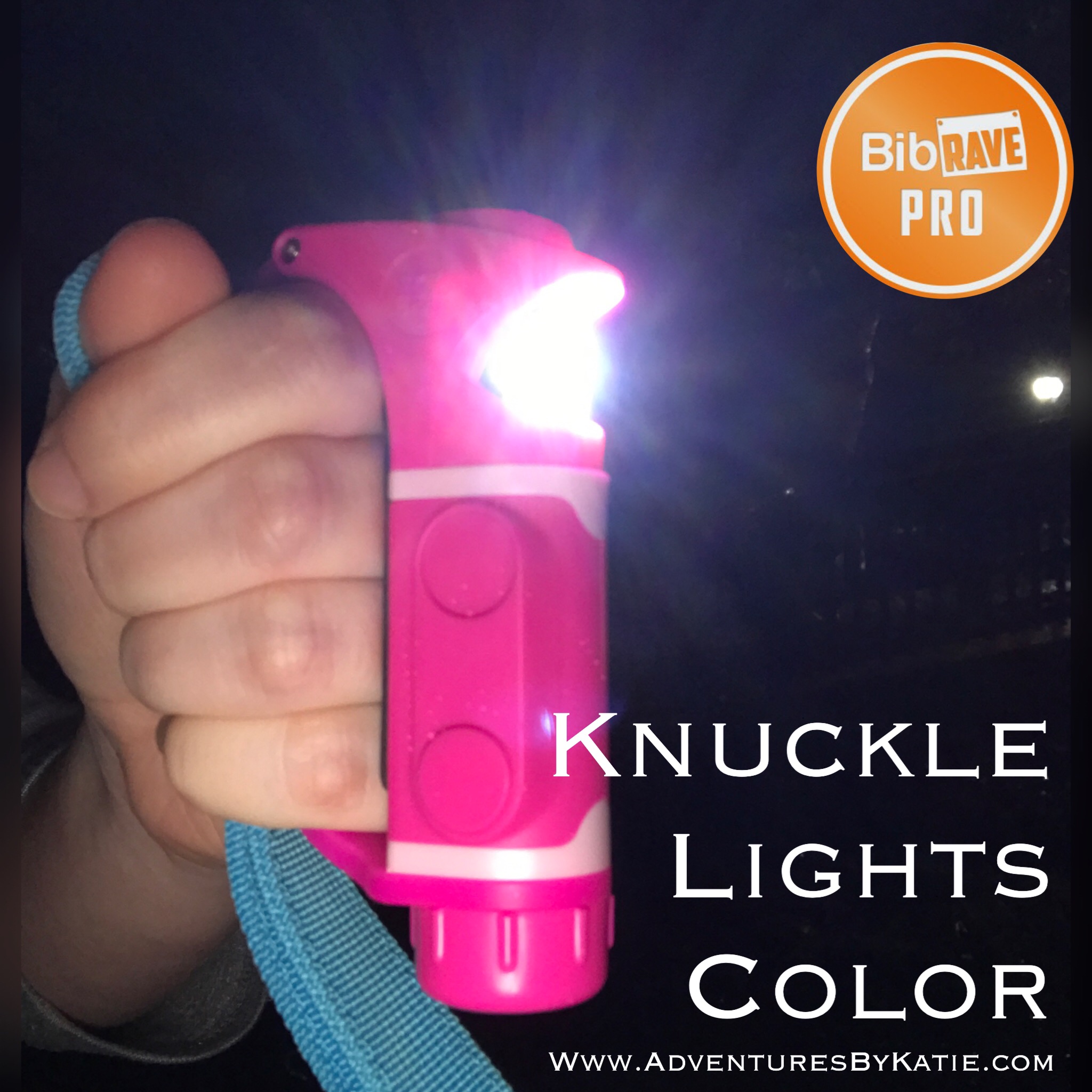 Disclaimer: I received a set of Knuckle Lights Color to review as part of being a BibRave Pro. Learn more about becoming a BibRave Pro, and check out BibRave.com to review find and write race reviews! Also, this post may contain affiliate links.
What Are Knuckle Lights?
Knuckle Lights are handheld flashlights designed to be worn on the front of your hands. They are in the perfect position to light your path and be seen when it is dark out. Knuckle Lights are designed with wide flood beam, which puts out a bright, even light in all directions. Since they are worn on your knuckles, you get enough light to see and be seen!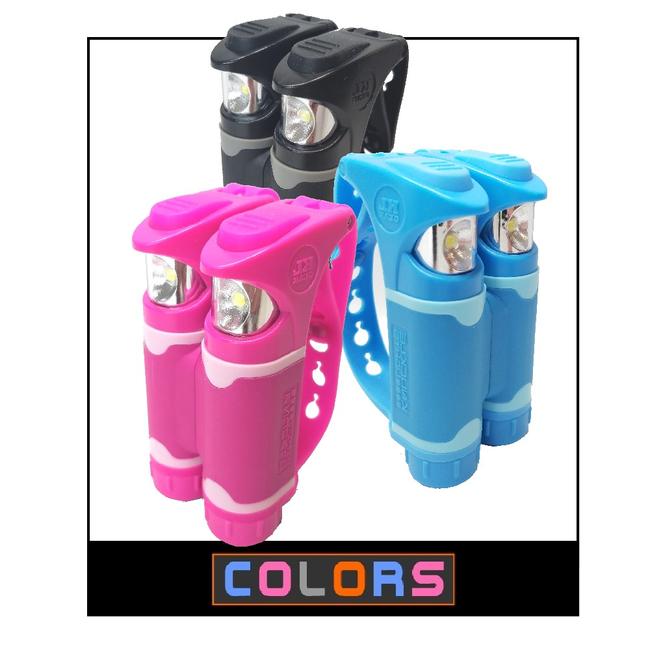 Tech Specs
Knuckle Lights come in pairs of two. E
ach unit is 60 Lumens on high power, so you get a super bright 120 Lumens combined. There are three power settings: high, low, and blinking. Each unit operates on one AA Battery, and batteries are included. The 
Knuckle Lights are fully waterproof and can be used in any type of weather, including monsoon and below freezing. There is no longer any excuse not to go out for a run in the dark! The strap is made of silicone and is adjustable to fit all hand sizes.
The units also connect together magnetically
 so they can easily be stored when not in use. The units are super lightweight at less than 3 ounces each.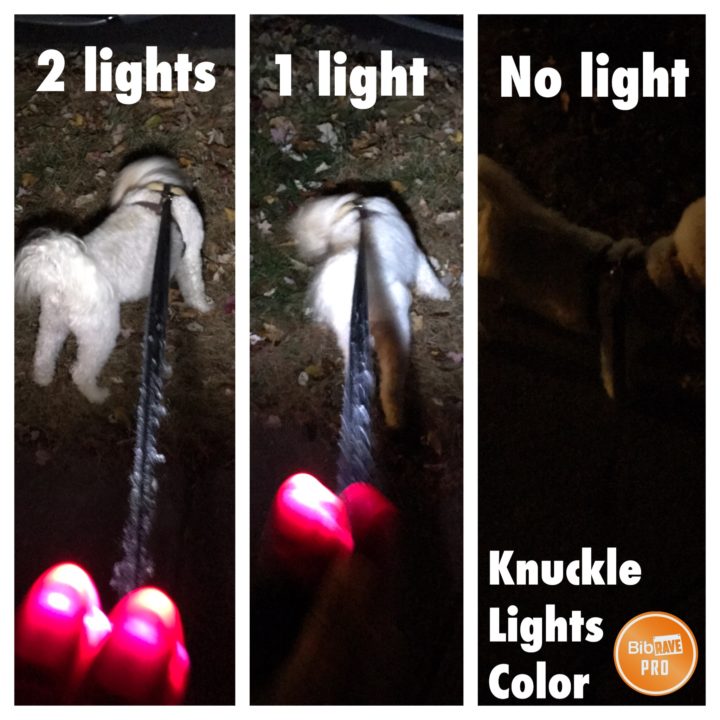 So, How Are They Really?
I've tried the Knuckle Lights Colors a few times now. I really like the amount of light that they project because it keeps me from tripping over branches, sticks, and other things during my night runs. I also feel safer because I know that cars can better see me when I am on the street. They are comfortable to hold and allow you to sweep the area in front of and beside of you with light. Holding them does not distract you from your run, but they can get a bit sweaty on your knuckles. I have had no problem with the strap coming loose, so you know they are secure! The Knuckle Lights are great for running and walking your dog!
Knuckle Lights make a great Holiday Gift! They have been featured in the post 101 Stocking Stuffers for Women! If you would like to order a pair, use code "BIBRAVEPRO" to save 15% on your purchase at https://knucklelights.com/.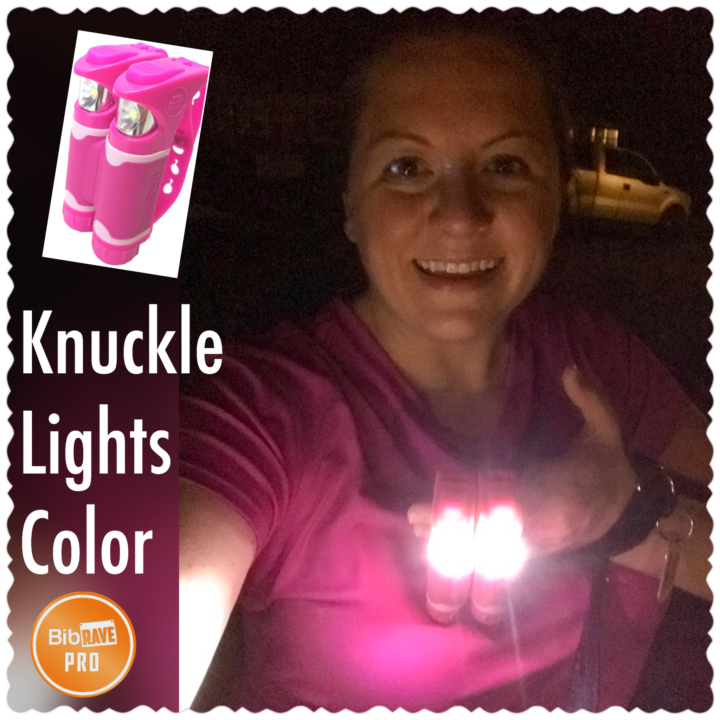 I am not the only BibRave Pro who tested these Knuckle Lights Colors, check out what others thought (Casey, Frank, Heather, Vanessa).
#BibChat
This week's #bibchat will be featuring Knuckle Lights. Stop by Twitter on Tuesday, December 5, 2017 at 9pm EST to join in! Interact with the Knuckle Light team, other BibRavePros, and all the other like-minded runners that participate each week!