Vegan & Gluten-Free in Williamsburg – Food for Thought Restaurant
A little while ago I wrote about my dining experience at Food for Thought in Williamsburg, VA. Surprisingly enough, I passed through Williamsburg on my way to a work conference and decided to stop for lunch!
Food for Thought

Even though it was lunch time on a Thursday, the restaurant was crowded. Luckily, since it was just me, I was quickly seated and handed the large gluten-free menu. I knew what I wanted before I even sat down, though, because the Pad Thai On is just that good!

Food for Thought has both gluten-free and vegan bread options, but since I am both of those things, I was unable to participate in the bread service. Lucky for me, though, my server Pavlin was on the ball and offered to bring me a fruit cup to munch on while waiting for my lunch! And a bonus – it was good fruit: pineapple, blueberries, and strawberries (and not melons like a lot of fruit cups – I'm not a fan of melon).

My dish came out and I promptly devoured it. The Pad Thai was as good as I remembered! I ate the entire dish and was stuffed, but…..this happened:

Gluten-free/vegan brownie. I wasn't originally going to get dessert, but I am glad I did. This thing was so good! Though, I find it a bit funny that they advertise this as a VEGAN brownie, but then want to serve it with ice cream…that seems a little backwards to me, but they gladly subbed a fruit cup for the ice cream.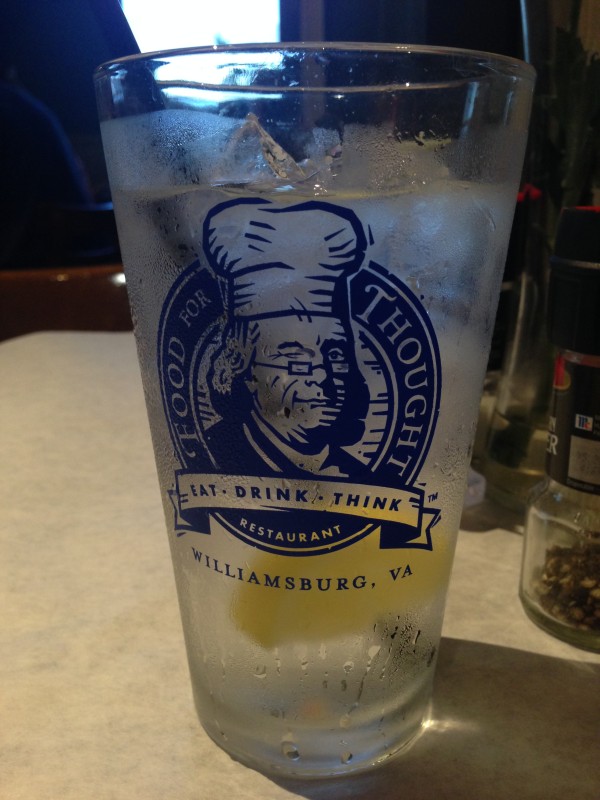 Food for Thought is a great option for those who need to eat vegan or gluten-free, or for those who just like good food! This is a place that I will be visiting each time I stop in Williamsburg!