Nathan and I were traveling to Ohio for a wedding. Pittsburgh was located about an hour away from our hotel, and in the direction of home, so we decided to stop for Sunday brunch on our way home.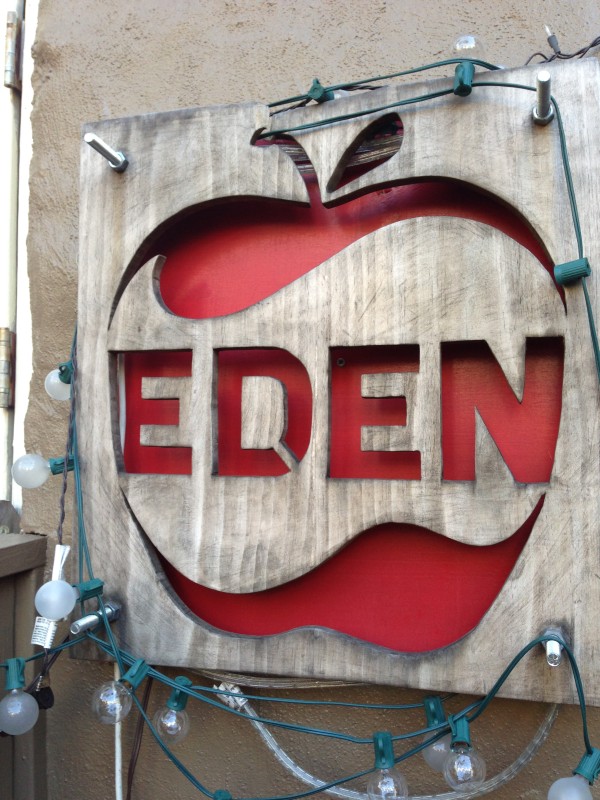 Eden Pittsburgh
Eden is a healthy restaurant located in Pittsburgh's Shadyside neighborhood. Eden is an allergy conscious, vegan, raw, and 100% gluten free. They are open for brunch on the weekends, and dinner every day of the week, except for Tuesdays.
There was a large menu of items, and everything looked really good. There was a mixture of sweet, savory, and raw items. Between Nathan and me, we ordered three entrees because we just couldn't decide what to get!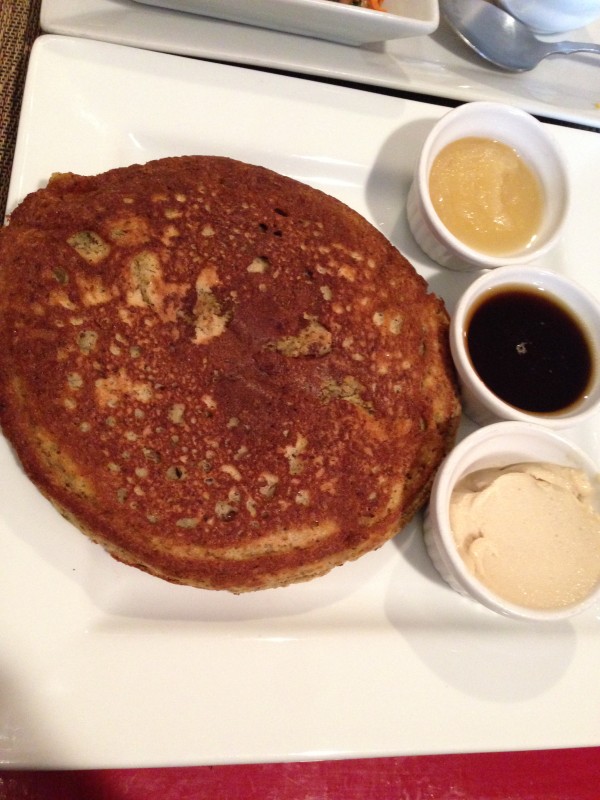 The first thing I ordered was the Apple Stuffed Chick Pea Pancake ($10). This dish is seasoned with cinnamon and ginger, and served with cashew butter, applesauce, and maple syrup. I REALLY enjoyed this pancake! It did NOT taste like chickpeas (sometimes I find bean flours really taste gross), and was a very sweet, apple-filled deliciousness. The cashew butter was AMAZING. It tasted like cinnamon roll filling. YUM!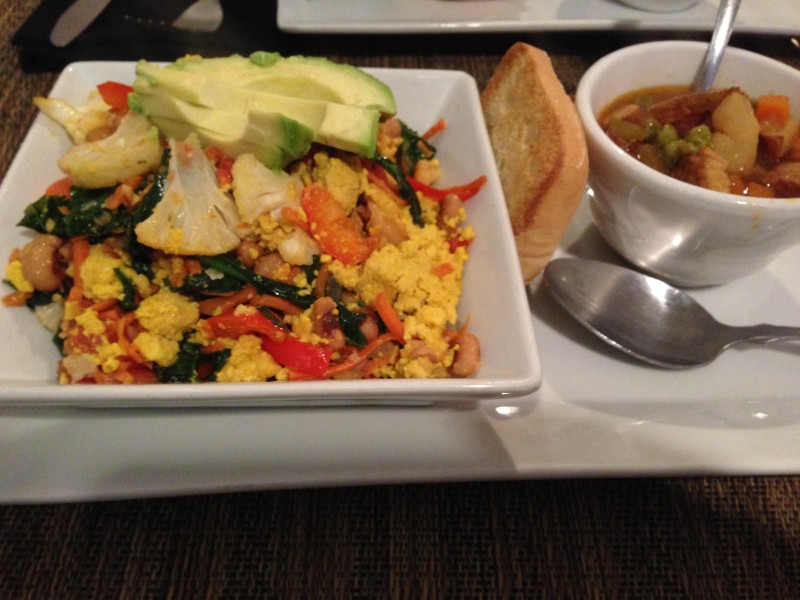 The second entree we ordered was the Vegetable Scramble with Eden's tofu eggs ($10). This came with an assortment of vegetables, black eyed peas, avocado, and gluten-free/vegan toast. This dish also comes with a side of soup, salad, or fruit. I ordered the soup of the day, a quinoa/tempeh soup.
The soup was pretty good, but I don't know how much a fan I am of tempeh…It could be that I am not used to it since I never really had it before…Here is a close-up of the soup: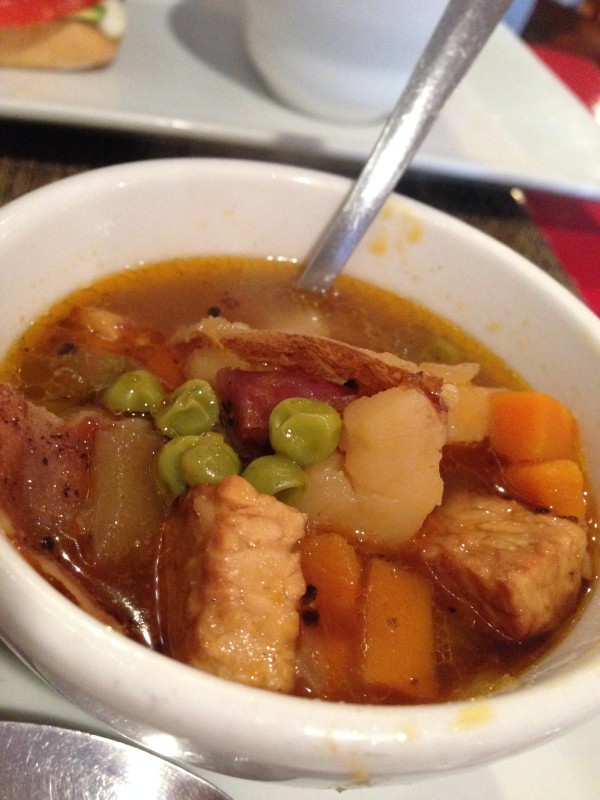 Nathan ordered the Mushroom and Butterbean Burger ($12). This dish is served on a gluten-free bun and comes with cashew cheese or goat cheese, cashew mayo, spinach, avocado and tomato. It also comes with a side of soup, salad, or fruit. Nathan thought the burger was ok, though it did fall apart a bit, like gluten-free vegan burgers tend to do. He thought I would really like the burger, but I wouldn't try it because of the mushrooms!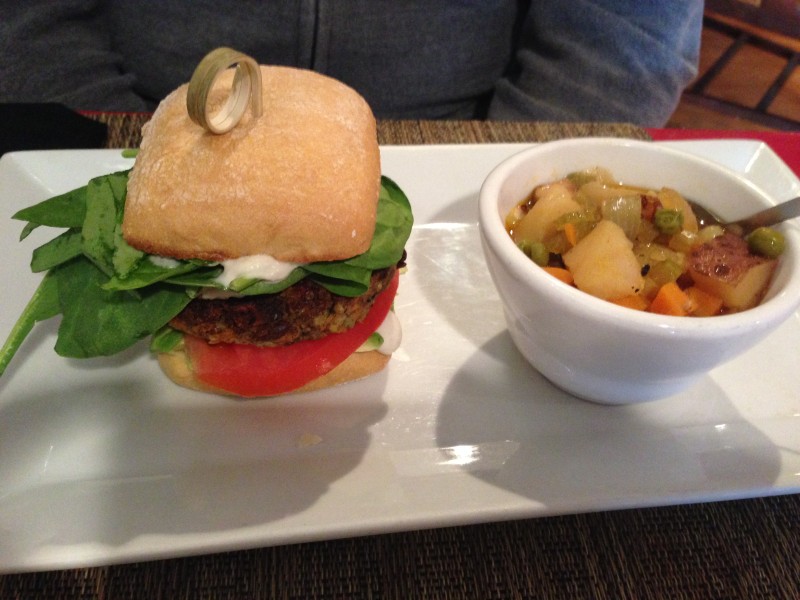 Nathan also ordered a side of Tempeh "Bacon". Neither of us really knew what to expect with this, and what came out certainly surprised us. I was not a fan of this tempeh, so Nathan ate them all.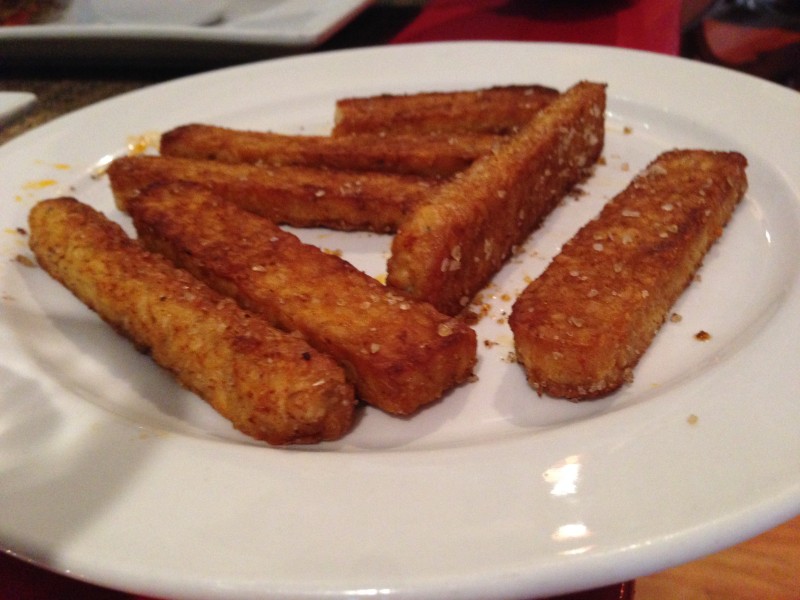 This was a cool restaurant, and I would like to eat here again. The dinner menu looks delicious, and hopefully I will be able to make it back up to Pittsburgh. The menu changes seasonally, so the dishes are freshly inspired!
There are only 12 tables in the restaurant, so it might be wise to make reservations. We were at Eden right as it opened, so we got in (and I did have a reservation), but it was full when we left.
And just for fun, on the tables are some conversation cards 🙂
Bonus: Surprisingly enough, 3 entrees and a side dish at Eden was the same price as lunch at Real Juice Bar, AND it came with more food!