Vegan & Gluten-Free in Williamsburg – Food for Thought
Nathan and I took a day-trip to Busch Gardens in Williamsburg, Virginia. We wanted to grab something to eat before we go to the park because we didn't know what options would be available to us in the park. Luckily, Food for Thought Restaurant is just a few miles away from the park, so we decided to stop by.
Food for Thought
Symbolically, Food For Thought is built on this same success model and common values such as goal setting, belief in self, hard work, personal responsibility, honesty, strength of character and perseverance in the face of adversity and failure. Their food is prepared with love and served with pride. The foundation of their menu is built upon Classic American dishes such as Fork Tender Pot Roast, Grandma's Meatloaf, and "fall off the bones" ribs.  To complement these American favorites they added some newer, more contemporary flavors and ideas like Pad Thai, Jamaican jerk chicken, flavored butters, and original vegetarian dishes.
We arrived just as breakfast was ending, and it was pretty crowded. I guess everyone was out and about for brunch. Regardless, we didn't wait too long before we were seated. And guess what? They have a dedicated gluten-free menu, and it was actually a few pages long!!!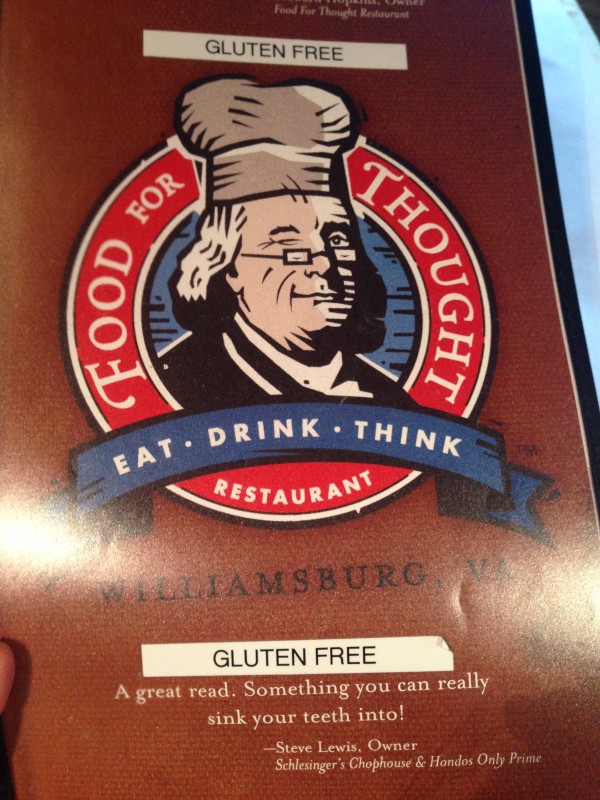 Our server was helpful and ran back to ask the chef about some questions that I had. Unfortunately, they did not have any vegan/gluten-free bread for me, but they had some vegan flat bread for Nathan, along with some tomatoes for a "bruschetta".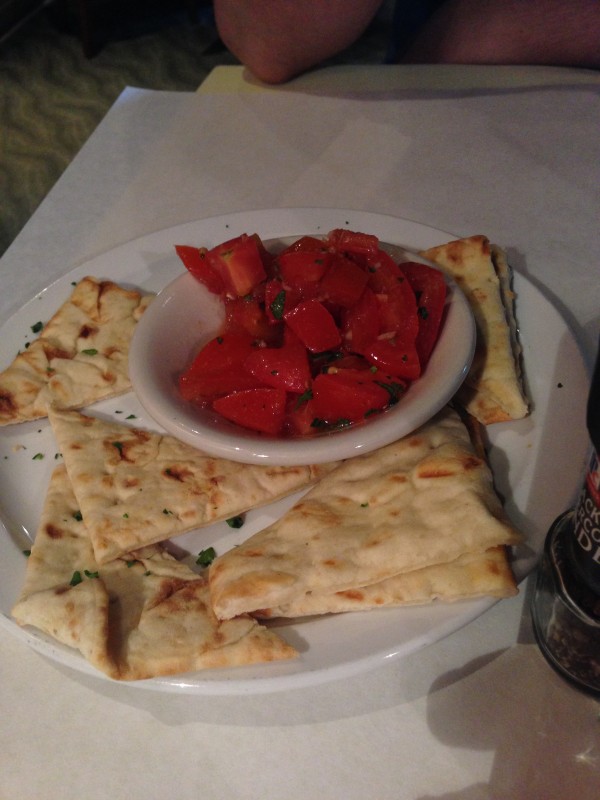 For my appetizer, I had the some soup.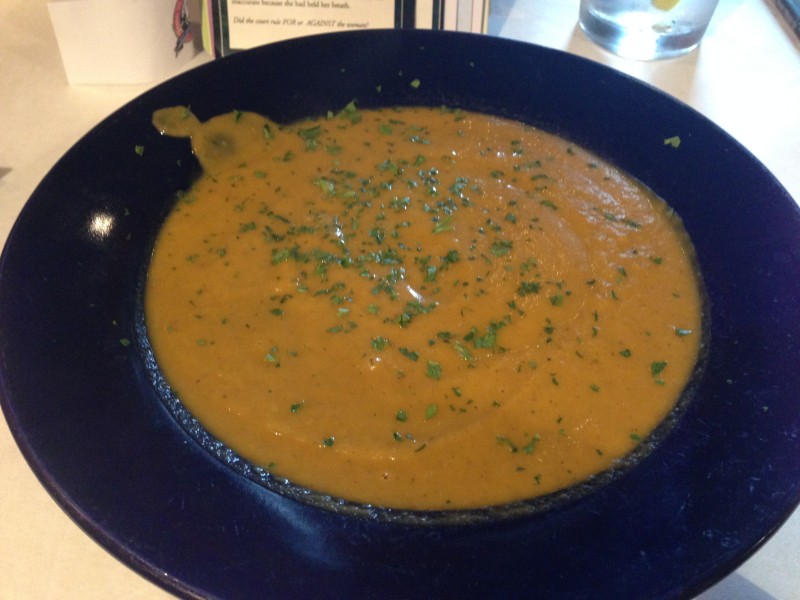 Nathan's entree was the Portabella Stack, which had grilled portabellas, layered with grilled eggplant rounds, smoked gouda cheese and topped with sun-dried tomato sauce on a bed of jasmine mushroom rice with a sprinkle of bruschetta tomatoes. If you get it without the cheese, it is vegan!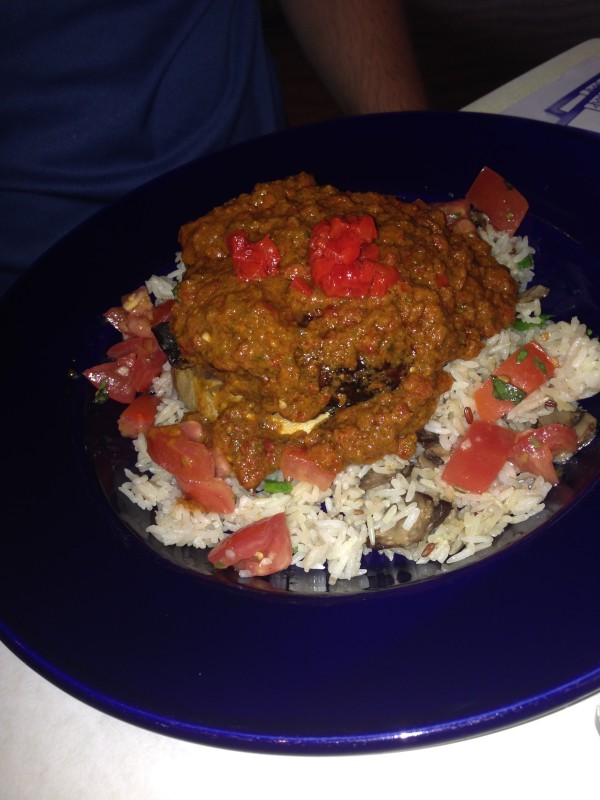 For my entree, I chose the Thai One On – Their version of Pad Thai. A spicy peanut sauce is sauteed with rice noodles, broccoli, cabbage, carrots, bell peppers, peanuts, mushrooms, drizzled with fresh lime juice & a fragrant sprinkle of fresh cilantro. You can get it topped off with your choice of Cilantro Lime Chicken, sautéed shrimp, tofu, or vegan chicken.
I chose the tofu. And it was delicious. This dish was delicious. The taste was flavorful and filling, and I want some more right now!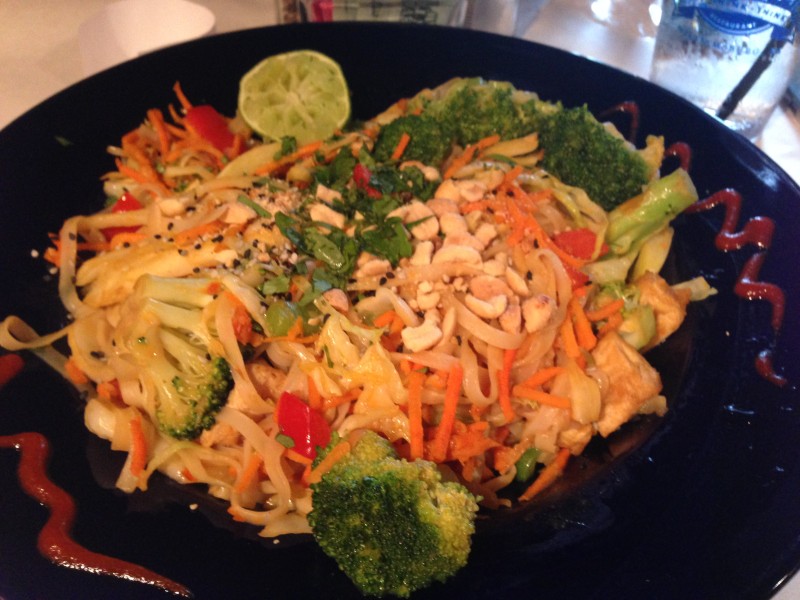 Food for Thought was a really neat restaurant. They had some really great options for vegans, gluten-free eaters, and everyone else. They had some activity cards at each table that promoted interaction and conversation between the those at the table, so you just don't sit together, all on your phones.
If you are in the Williamsburg area, check out Food for Thought!