Ant-Man and The Wasp Movie Review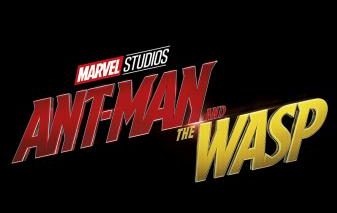 Usually, I leave movie reviews of big-budget action and Marvel films like this to DMG, as they really know their stuff, but I enjoyed this one so much that I couldn't resist writing my own too. So, here goes! If solely judging on the basis of the first Ant-Man movie from a few years back, the latest Marvel / Disney Franchise movie, Ant-Man and The Wasp, may seem disposable when compared to the two recent mega-hits that precede it, Black Panther and Avengers: Infinity War, both of which made over a billion dollars at the box office, both in 2018. It would be understandable if you're experiencing a bit of fatigue with this franchise and may be wondering whether or not you can wait for Ant Man & The Wasp to arrive, as it inevitably will, on Netflix before the year's over. I get it and I hear you. Couldn't they have spaced this out a little better? Maybe pushed it to late July or early November? I mean the next iteration, Captain Marvel, is coming out in March 2019, with just a scant amount of lead time before Avengers 4 (still untitled) comes roaring into theaters. What are we supposed to do with ourselves for eight whole months?
That being said, let me present a few arguments as to why you might want to head to the theater on July 6 and take in sights both insect-sized and T-Rex-sized.
DO YOU MISS HAVING MOVIES LIKE 'HONEY I SHRUNK THE KIDS' IN YOUR LIFE?
As in the first Ant Man, ants are delightfully employed at various sizes to complete tasks both mundane or heroic, all generally to humorous or at worst a merely whimsical effect. Additionally, both Ant-Man and Wasp take turns shrinking to Lilliputian (but mightily powerful) dimensions or exploding to Brobdingnagian proportions of scale. To fulfill the story's old-fashioned arc of rescuing the damsel in distress, one character has to shrink down to the quantum level, allowing us the viewers to take in some rather mystifying and head-spinning molecular mise-en-scene, likely justifying the equally dizzying costs of seeing the film on the big screen. One prediction: you're going to be a lot more upset about the cruel and opportunistic motivations of seagulls after watching this movie.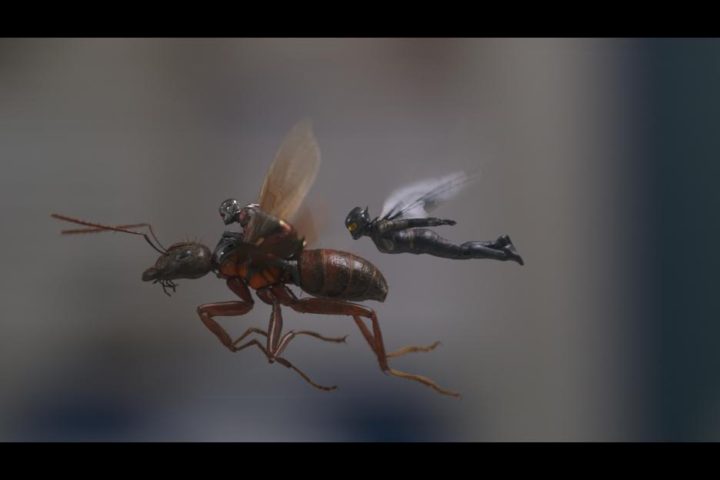 DO YOU REMEMBER THAT TIME MATT DAMON SOLVED REALLY HARD EQUATIONS IN GOOD WILL HUNTING?
How do you like science represented in movies? Do you want it to accurately reflect current scientific thinking as if written by someone on the level of Stephen Hawking (too soon?), or do you just prefer that the writers jump down the Wikipedia / Google Search Engine rabbit hole, cherry-picking the strangest and most far-flung of terminology? If the former, just make a popcorn run whenever Laurence Fishburne opens his mouth. If the latter, you're in for a treat! This movie takes the science about as seriously as a high school junior who's been pounding Red Bulls until 3:00AM cramming for the AP Physics exam on Saturday morning; that is to say, not at all. No matter. You didn't pay $12 for a lecture on pneumonoultramicroscopicsilicovolcanoconiosis. DO YOU REMEMBER WHEN YOU SAW A YOUNGER DIGITAL VERSION OF AN OLDER CHARACTER IN [PICK ONE: TERMINATOR SALVATION, TRON LEGACY, CAPTAIN AMERICA CIVIL WAR, ROGUE ONE, ETC.] AND KIND OF FREAKED OUT A LITTLE?
At the end of Rogue One: A Star Wars Story (spoiler alert if you just crawled out from under a Twitter SJW Timeline and haven't seen the movie yet), they digitally recreated Princess Leia as she sorta, kinda looked like Carrie Fisher did in 1977. I remember saying afterwards to my friend, Eric, "Man, they are close. They are getting really close. Just not quite 100%" To be honest, I would have put it closer to 80%. And that was just 18 months ago. Well, wait until you see what they've cooked up in this movie! Michelle Pfeiffer, Michael Douglas, and Laurence Fishburne all get to mocap themselves something like 30 years younger. It's getting closer to 95% for me. They really save their best work for Pfeiffer, though. It's stunning. I can't wait until this becomes an Instagram App and I can pretend to all my friends that I am 18 years old all over again making video clips of younger me in real-time. Are we ever going to trust archival footage ever again?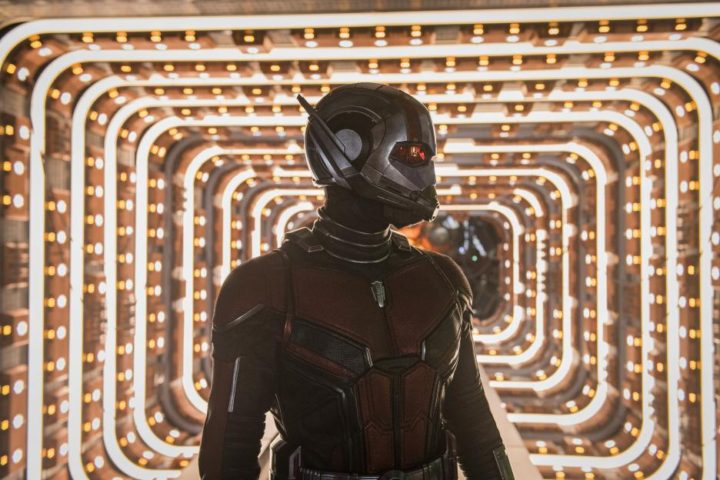 DO YOU TAKE PAUL RUDD SERIOUSLY AS A LEADING MAN? HOW ABOUT EVANGELINE LILLY?
A lot of attention, arguably rightly so, goes to the Four Chrises of the Marvel Apocalypse: Hemsworth, Evans, Pratt, and Cumberbatch (Okay, I made that last one up). But what about Paul Rudd? Doesn't he deserve a little love? If you are generally a fan of Paul Rudd, he is at his most winning here. There is an alternate cut / missed opportunity of a version of this movie directed by Ingmar Bergman that deals with the inertia of Paul Rudd's Scott Lang character wandering about his home waiting for his term of HIS Federal House Arrest to end. I was moved.
On the flip side, you have Evangeline Lilly, who really hasn't done anything major since the TV show Lost. (I was always Team Sawyer, for the record.) While her chemistry with Paul Rudd can feel a bit forced at times, (yet her chemistry with Michael Douglas is off the charts, and I say that knowing full well she's playing his daughter. I will now rinse my mouth with soap) she makes the most of her action bona fides, and further sustains a compelling case to get her own spin-off movie.
While we're talking about actors, the real scene stealer here is Michael Pena, who gets to perform another of his extended riffs where the actors recreate scenes performing in sync with Pena's vocal tics and actorly posturing in voice-over, just as in the first Ant-Man film. It works. Everybody laughed in the screening I attended. Even Arch Campbell. (And now that I have named-dropped Arch Campbell in a movie review, I can die a happy man, mic dropped. He's a very pleasant fellow, by the way.)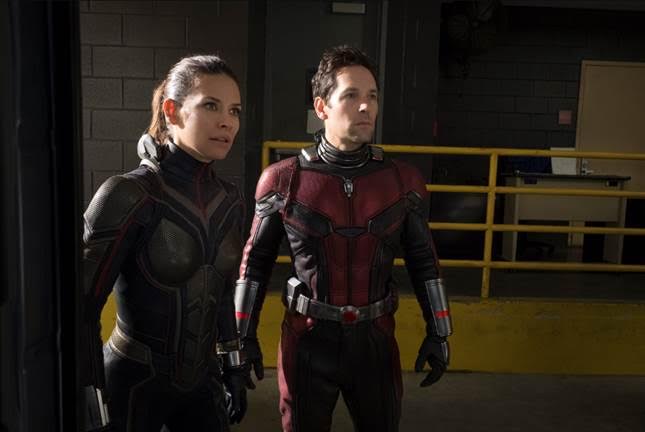 DO YOU REMEMBER HOW YOU FELT WHEN ALL THE CHARACTERS [WORD REDACTED FOR SPOILERS, BUT C'MON, YOU KNOW, RIGHT?] AT THE END OF 'AVENGERS INFINITY WAR?'
Some may wonder how or if this ties into Avengers: Infinity War. Though the entirety of the movie itself is set prior to the events of Infinity War, stick around for the two end credits sequences. I didn't realize 'Marvel' was in fact the Norwegian word for 'Troll.'
DO YOU CARE IF I TAKE A MOMENT TO RANK ALL OF THE MARVEL MOVIES SO YOU CAN GAUGE HOW IMPORTANT IT IS, ONE LAST TIME, TO SEE THIS FILM?
If you don't wish to see the rankings then, in summary, I think the movie is a delight. Your younger kids will like it, your superhero obsessed teens will like it, your spouse will like it, and sure even your grandparents will like it (Assuming they saw Romancing the Stone or Jewel of the Nile back in the day). It has that highly cherished four-quadrant appeal.
Otherwise, here are my updated rankings (Note: Only Disney/Marvel movies for this list.)
1. Guardians of the Galaxy Vol. 1
2. Black Panther
3. Thor: Ragnarok
4. Marvel's The Avengers
6. Captain America: Civil War
7. Spiderman: Homecoming
8. Iron Man
9. Ant-Man & The Wasp
10. Thor
11. Guardians of the Galaxy Vol. 2
12. Captain America: Winter Soldier
13. Ant-Man
14. Captain America: The First Avenger
15. Doctor Strange
16. Iron Man 3
17. The Incredible Hulk
18. Avengers: Age of Ultron
19. Thor: The Dark World
20. Iron Man 2
For more Movie Reviews by Tim, please visit here!