The Cherry Blossom 10-miler is an annual race that takes place in Washington, D.C. in early April. If you are lucky, it coincides with the peak bloom of the beautiful Cherry Blossoms that line the water basin and other areas around town.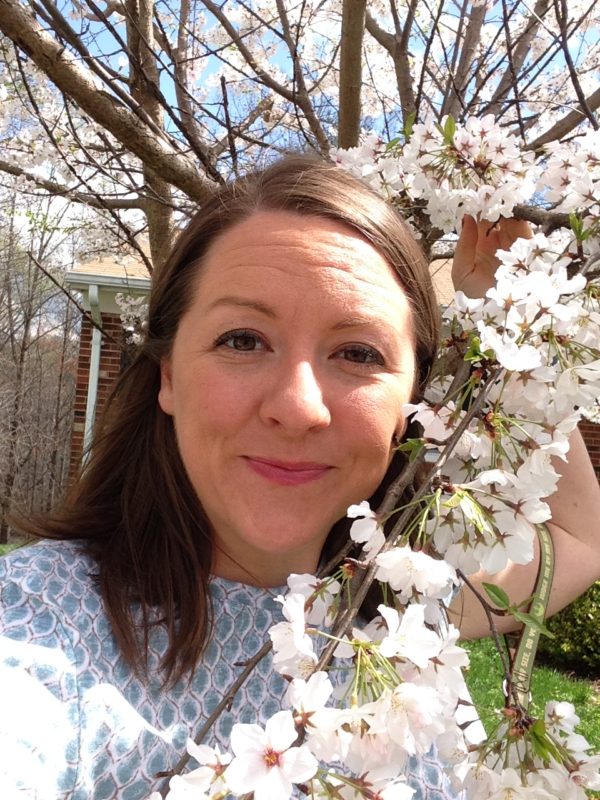 Unfortunately, we had strange weather this year and peak bloom was about a week or so earlier than the race. That week was also windy and rainy, so most of the beautiful blossoms fell off before we could enjoy them.
One of the reasons I signed up for this race is because how I loved running through the Cherry Blossom trees during last year's Cherry Blossom 10-miler. If you want to see the pictures, make sure to check out my previous post!
It's funny how things can change year-to-year depending on the weather. Anyways, here is my recap on this year's 2016 race!
The Expo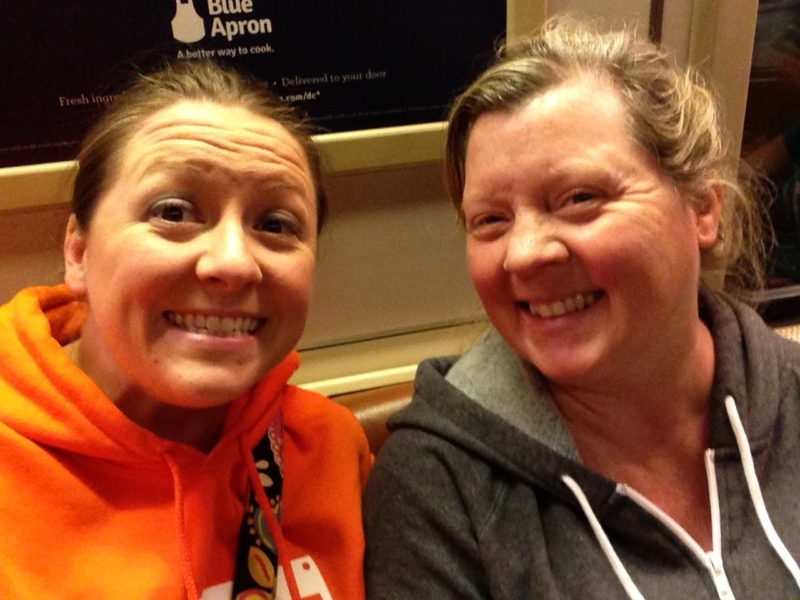 The expo is located at the National Building Museum in downtown D.C. It takes place on both Friday afternoon/evening and Saturday morning/afternoon. My mom and I were available to head to D.C. on Saturday afternoon. It took us a while to drive from our house (30 miles away) because the highway had major traffic. We parked at Pentagon City Mall and then took the metro into the city, which included a transfer.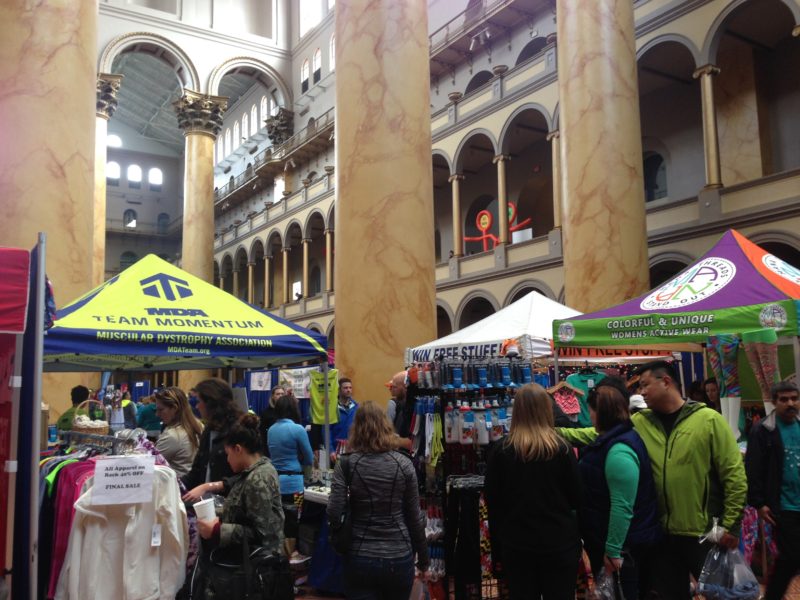 The expo was crowded and it was hard to get around. Picking up our bibs and t-shirts, though, was quick and easy. After that, we browsed around the vendors. My mom ended up buying a new hydration belt.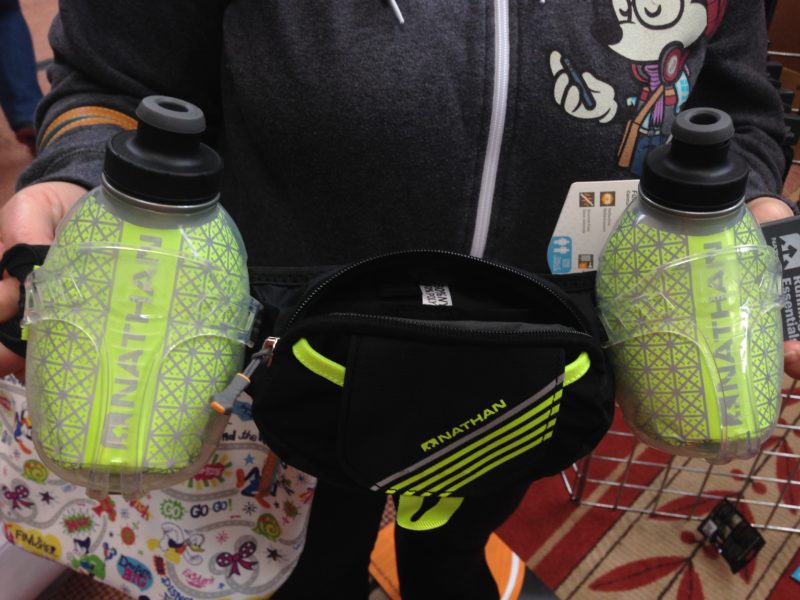 I was surprised to see a booth for the Wine Country Half Marathon in June! This race takes place in Loudoun County, VA and looks to have a beautiful course. I will be running this race along with my dad. Feel free to join us for the race: use promo code 'BIBRAVE10' for $10 off your registration!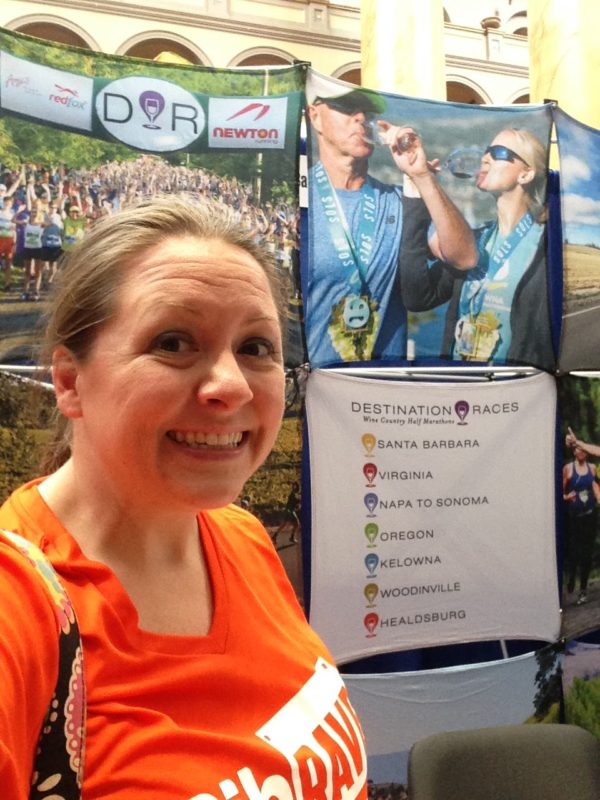 Race Day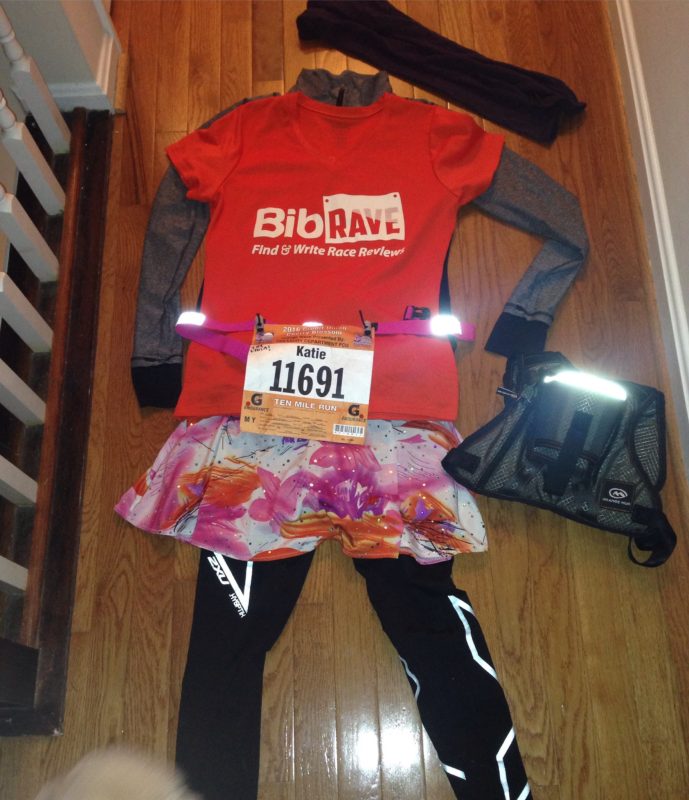 Race day was Sunday morning and the weather was cold and windy. There were wind guts up to 50 mph and the wind chill was ridiculously cold. I pulled out my 2xu Hyoptik tights and my wool Buff in hopes to stay warm.
My friend Toni met up at my house and we drove to Springfield to catch the metro downtown. I was super thankful that she brought an extra throwaway sweatshirt because I would not have survived the time before the race without it. The wind was brutal.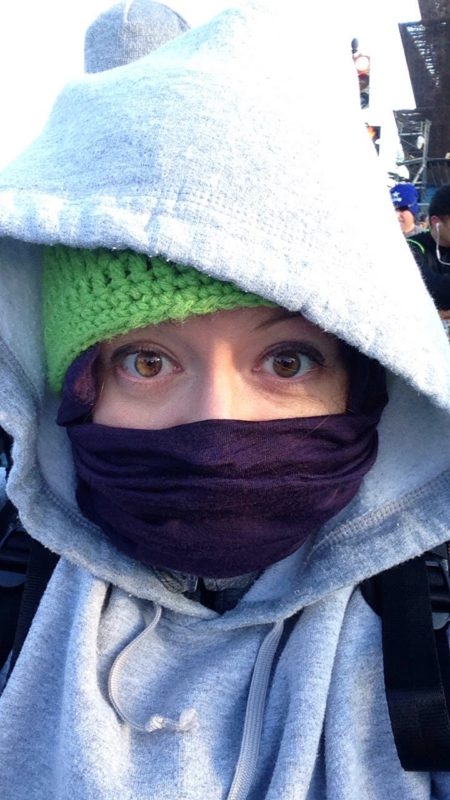 We were seeded into different corrals and we began to run. I don't remember much about the running of this race because it was too cold and windy.

All I know was that I kept running, and I was pretty fast. It was too cold to walk or move slowly.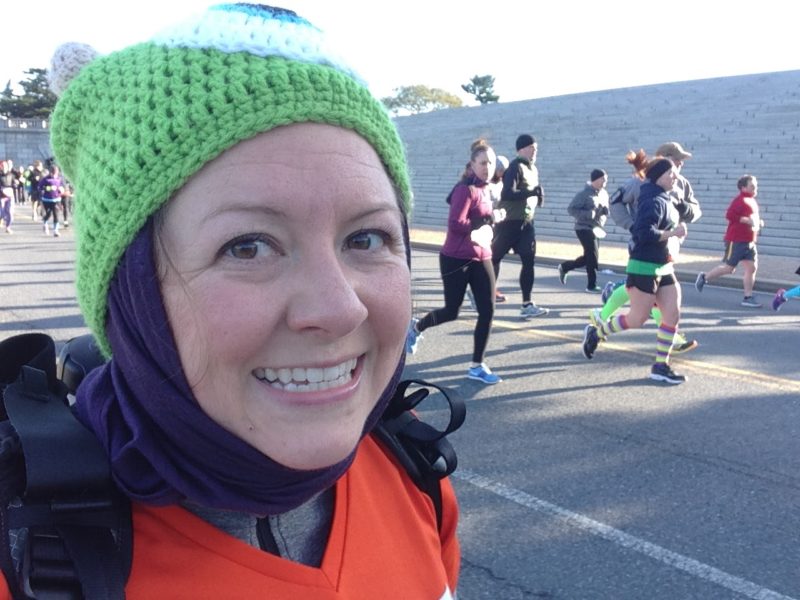 The course goes down Independence Avenue, over the Memorial Bridge, down Rock Creek Parkway, back down Independence Ave and around the Tidal Basin, and then around East Potomac Park (where most of the Cherry Trees are located, but there were barely any blossoms left).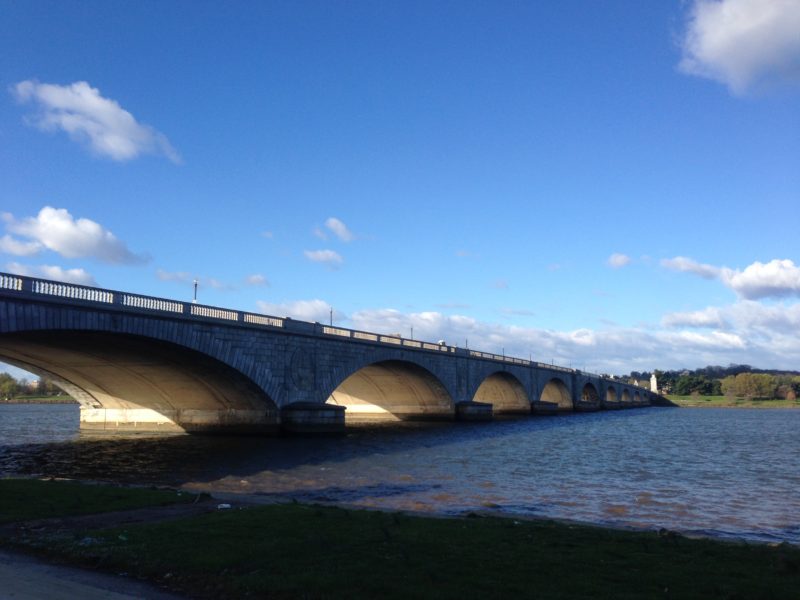 I ended up finishing the race in 1:48:39, with an average pace of 10:51. This was a big PR for me! My previous best time for this distance was back in April 2014 with a time of 1:56:01.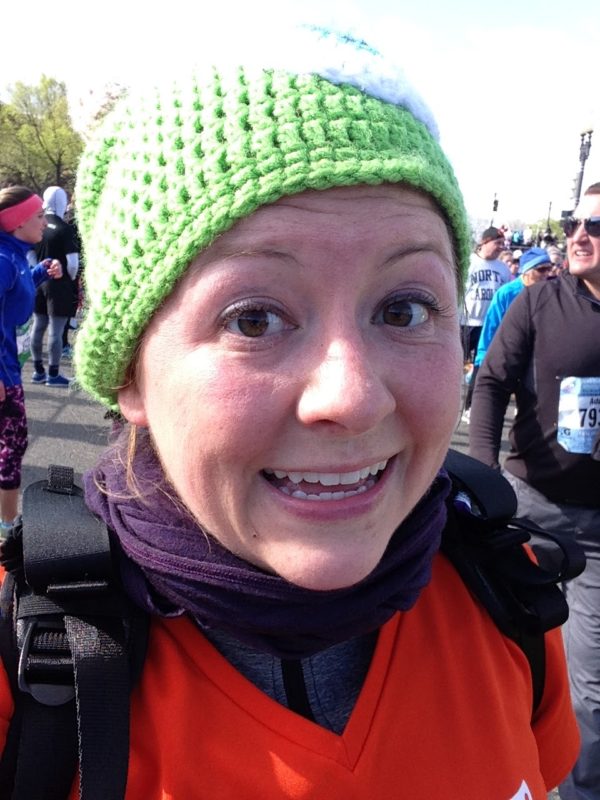 At the finish line they were passing out mylar blankets. I was not anywhere near the end of the pack, but they were already running out. There was a huge mosh-pit of people around the volunteer passing them out and there was a lot of yelling and shoving. Maybe because they didn't order enough blankets or maybe because people took more than one, not everyone was going to get one. Luckily, I (calmly and nicely) secured one (even though I almost got trampled).  I then went to get my medal and banana and waited for my friend to finish.
Because of the weather, there was no "after party" and they encouraged everyone to go directly home. I left as soon as I could.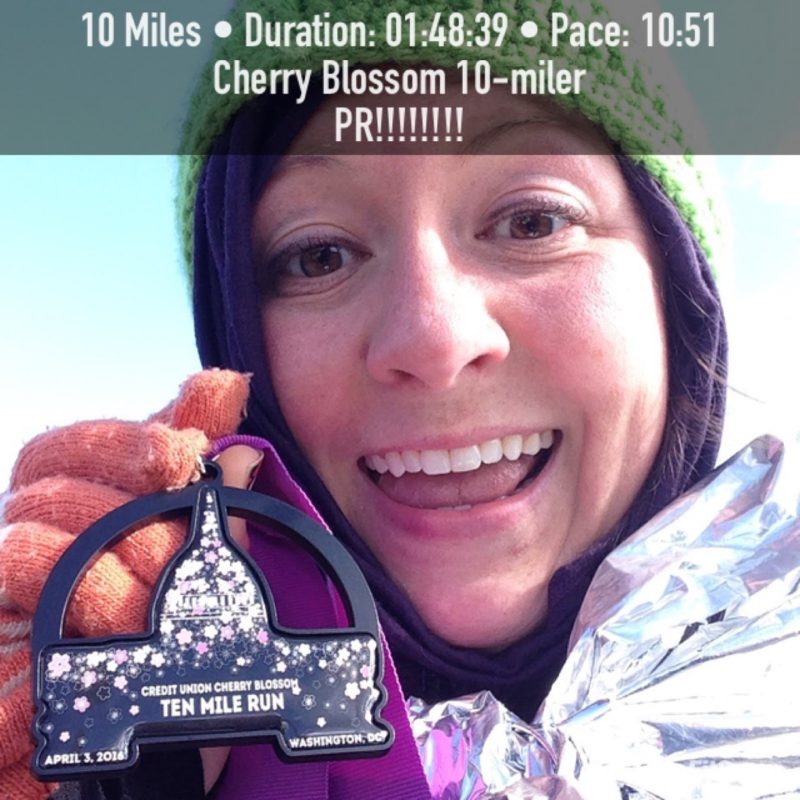 This race has the possibility of being a fun race with a beautiful course, IF the weather cooperates. This year it was a lot of fun, but pure agony in how bitterly cold and how strong the wind was. The lottery for next year's race will open in early December.