Splitsville Orlando | DVC Member Night

Splitsville at Disney Springs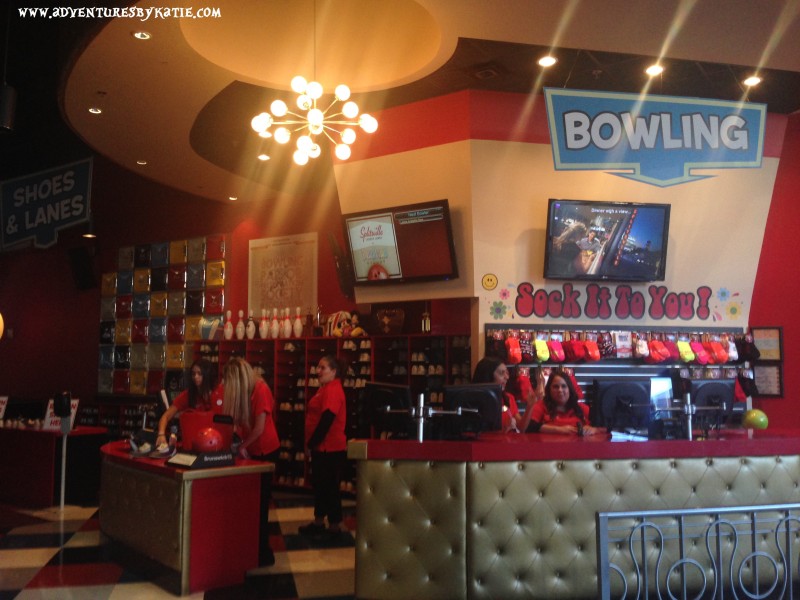 Nathan and I arrived at Disney World mid-day, checked in to Old Key West, and really did not want to head to the park quite yet. We were hungry so we decided to head over to Disney Springs to see what we could catch for dinner without having a reservation.
We walked into Splitsville and were seated immediately. We looked at the menu and I was pleased to see that all the gluten-free dishes were marked accordingly.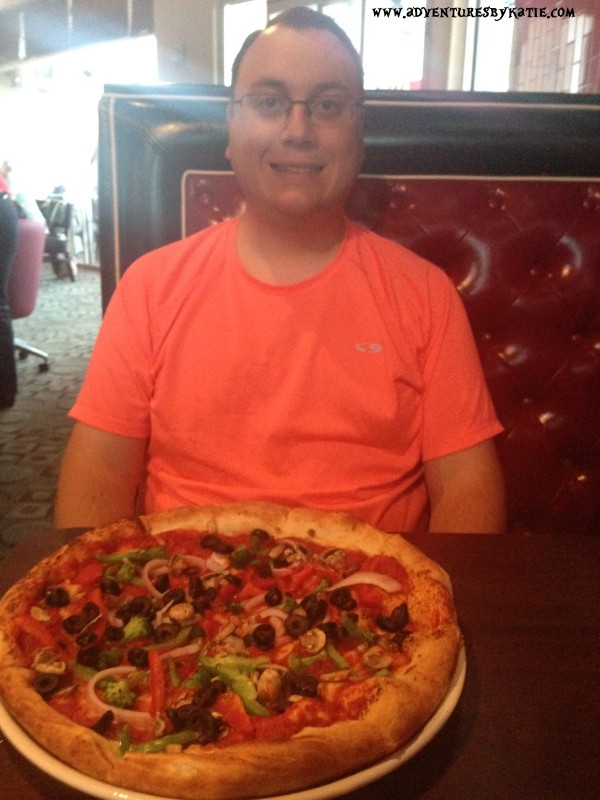 Nathan decided to order a veggie pizza (sans cheese) ($15), while I decided on the  Spicy Veggie Rice Bowl (broccoli, kale and crisp mixed veggies that are stir-fried in a spicy minchee tataki sauce and topped with avocado and green onions) ($14).
My initial thoughts as my dish came out was "where is the rest of it?" The portion was (probably) a normal size, but it seemed so small! The dish was good (albeit a few too many onions and peppers and not enough other veggies), but I was certainly left wanting more!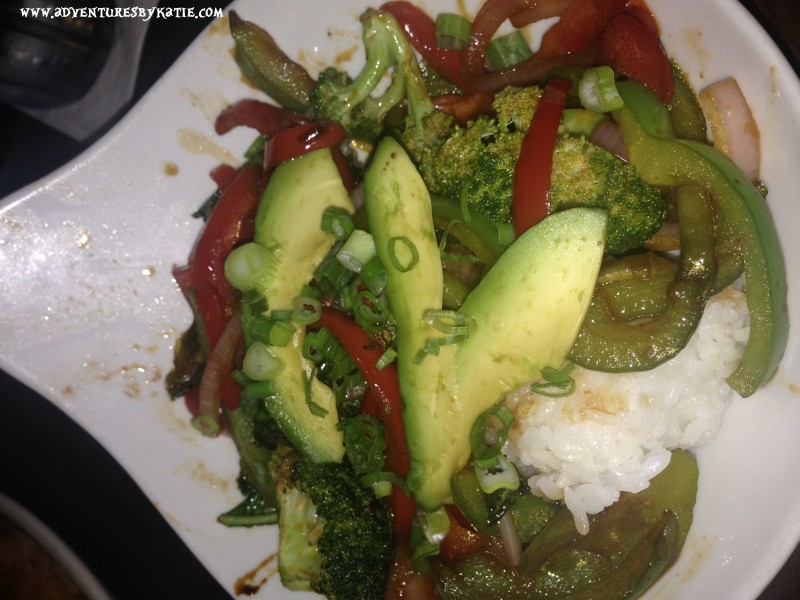 Nathan and I thought about going bowling after dinner, but we thought $20/person was a bit much for an hour, so we decided to take a walk to visit Erin McKenna's Bakery for dessert.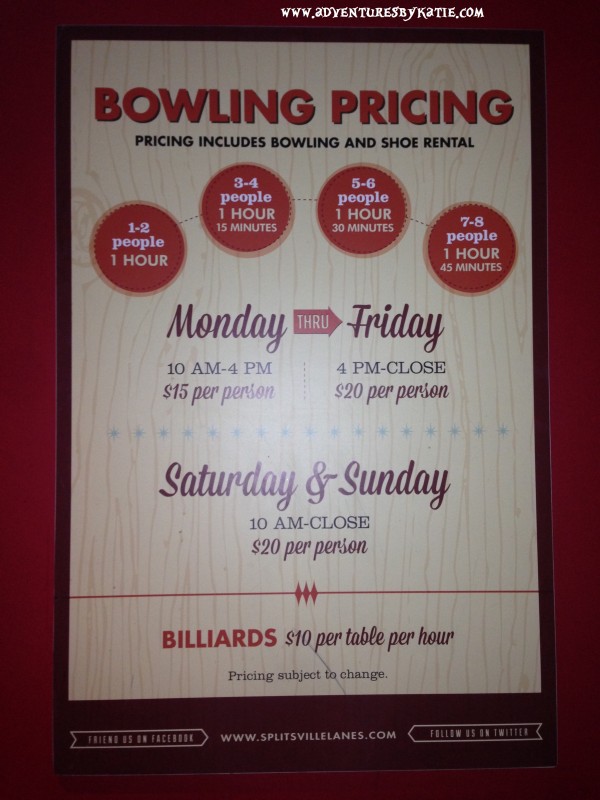 DVC Member Night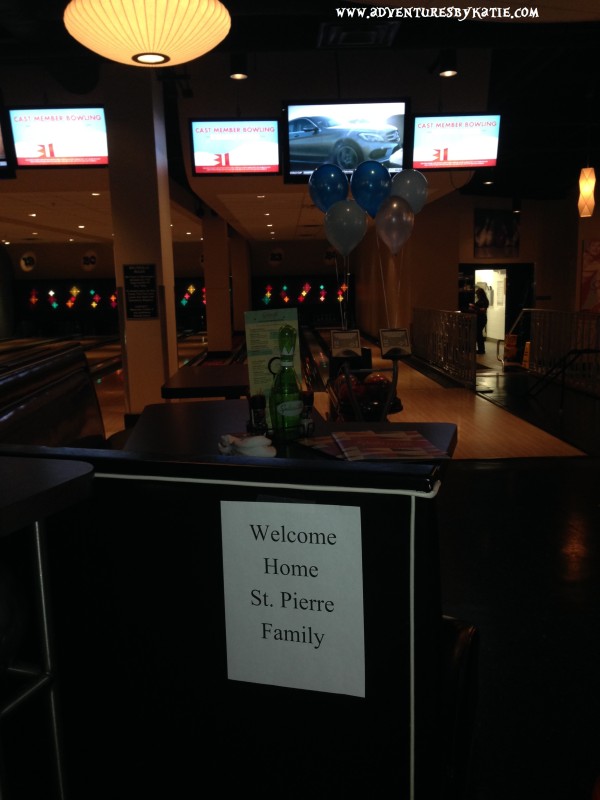 Nathan and I finally decided that we wanted to go bowling, so we signed up for the DVC Member Night at Splitsville. This event, exclusive to Disney Vacation Club Members and their guests, is held most Wednesday nights from 6-8 p.m.
For $47 for adults (plus tax)/$38 for children 9 and under (plus tax), you get:
Member exclusive check-in (bypass general entrance queue!)
1 hour and 45 minutes of bowling time
Shoe rental
Shared appetizer (per 2 people)
Select entrée (or kid's meal)
Signature beverage
Special gift (we got special DVC bowling socks)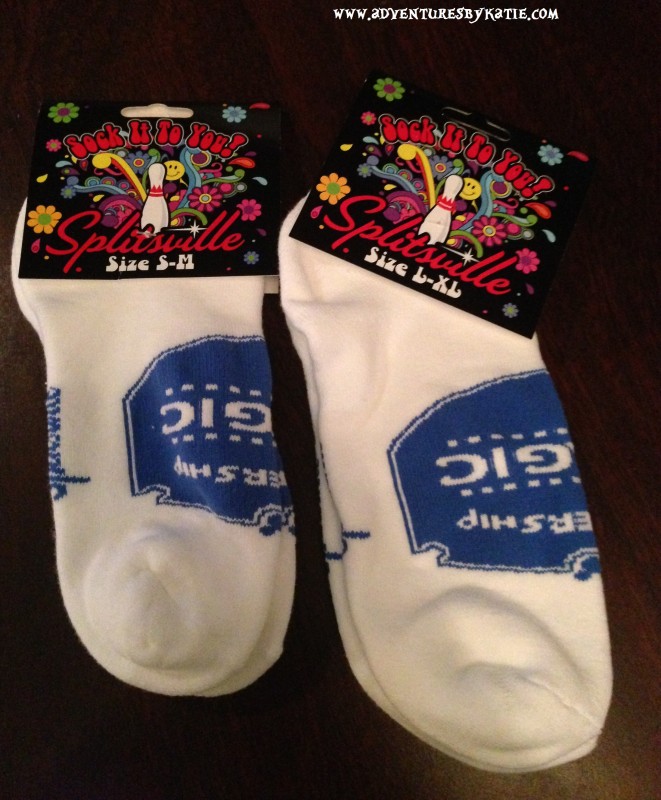 We had a lane to ourselves (not many people were at the event), and so we got to bowling with our Mickey balls!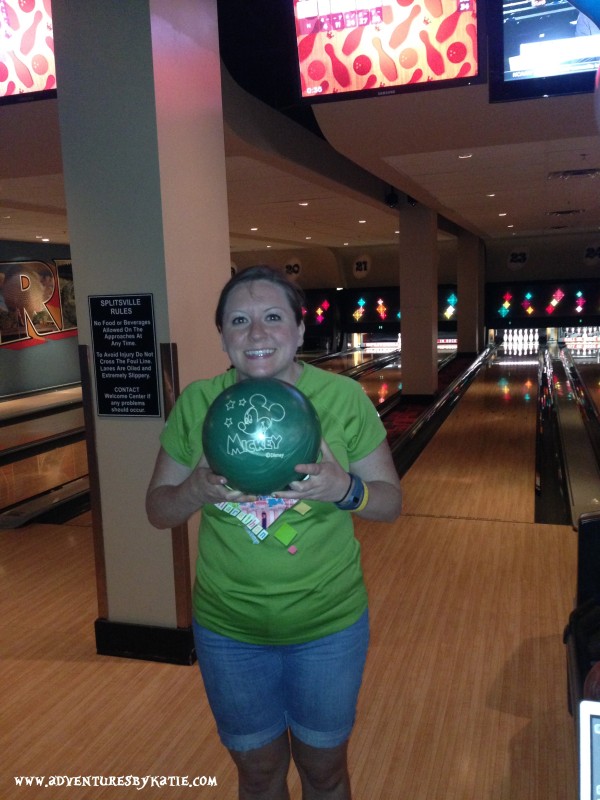 We had the choice of one appetizer for us to share. Unfortunately, the ONLY gluten-free, vegan appetizer I could eat was the Edamame ($6). Of course, this was the cheapest option available, and I wanted to get my money's worth, so we ordered some veggie nachos ($14) for Nathan.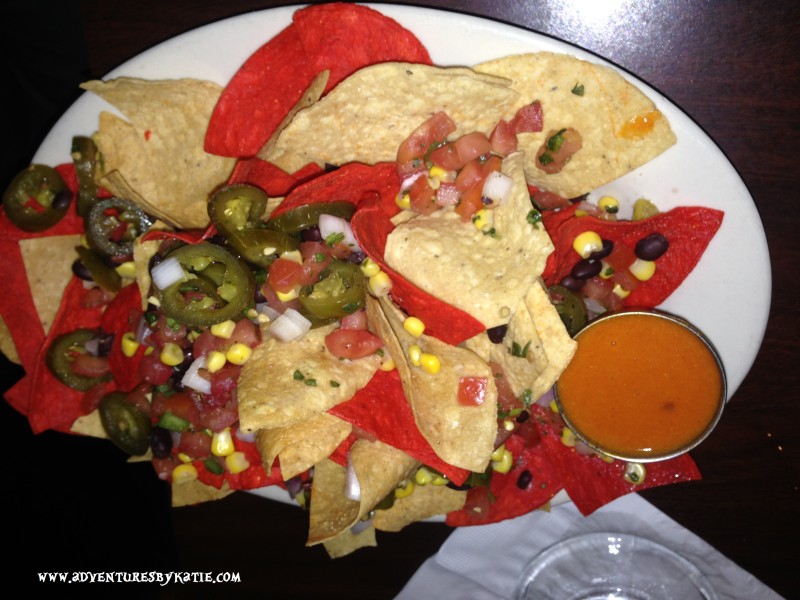 But of course, I wanted something, too, so I ended up ordering the edamame a la carte.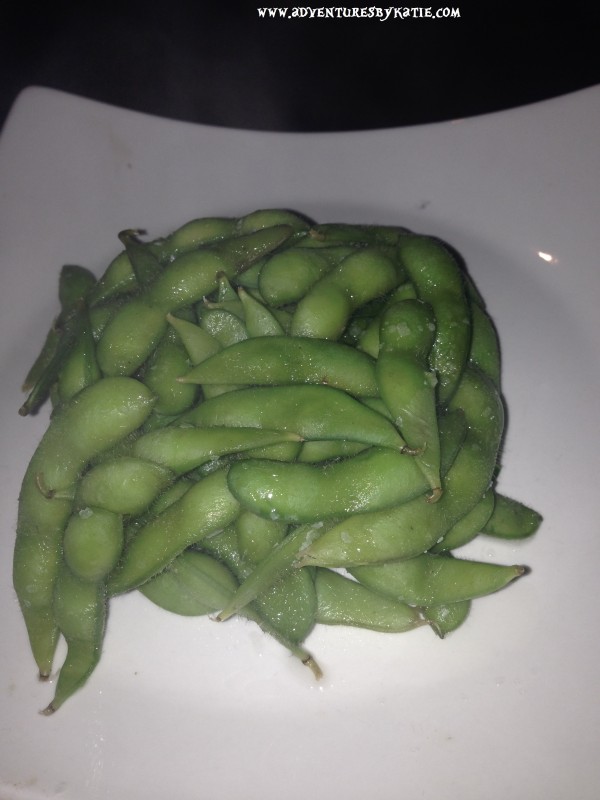 Two people can get a lot of bowling done in two hours! I think we must have played 4 or 5 complete games! The four people at the lane next to us were very busy just chatting, and I think they only finished one and a half games.

As you can see, I dominated Nathan at the beginning of the night, but he came back once he got warmed up!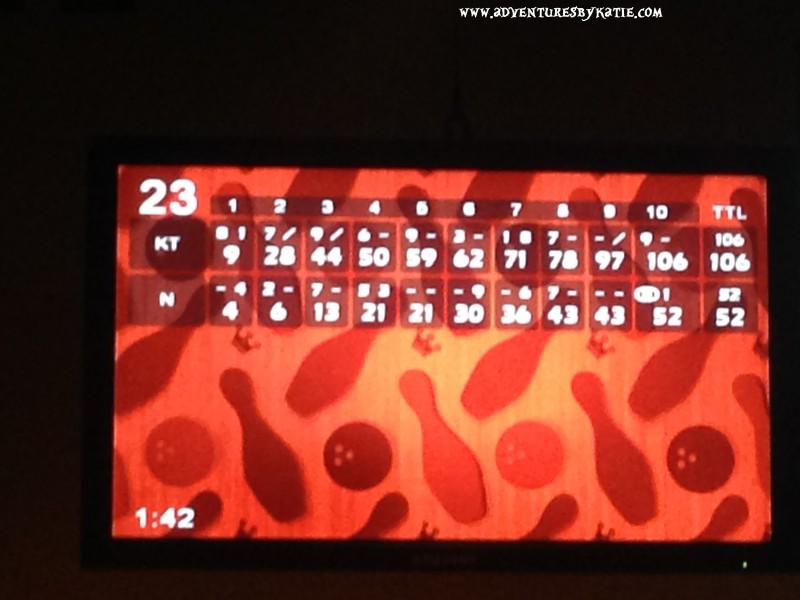 Our entrees came out! Because of my experience with the rice bowl a few nights before, I decided to get a gluten-free pizza ($21). I had to be creative with toppings, and got spinach, broccoli, and avocado! Nathan also got a pizza ($15) (the same one he had the other day).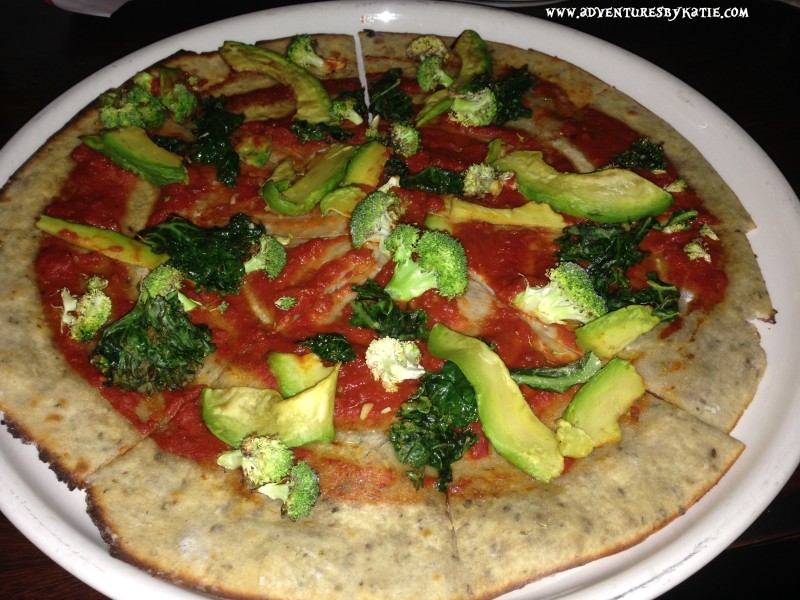 So, let's add up the cost of the evening:
Appetizer $14
Two drinks $17
Pizza $21
Pizza $15
Bowling for two for 2 hours $80
Socks $?
The total is about $150. We ended up paying just a bit over $100 after tax, so it the event seemed to be more cost effective than buying everything separately.
Regardless, we had a fun night out at Splitsville. We hadn't been bowling in a long time, so it was a nice change from our usual activities.
Have you checked out Splitsville in Downtown Disney?
---
 Magical Mickey Link-up
Welcome to the Magical Mickey linkup: the linkup centering around a love for Disney, sharing that love and connecting with others. I hope you find this linkup as a great place to turn to for Disney content each week and help all the bloggers participating out by helping readers find that great mouse-eared content. I'm co-hosting with John from Run. Geek. Run (disney), so of course check out his blog

To see past Magical Mickey posts click here!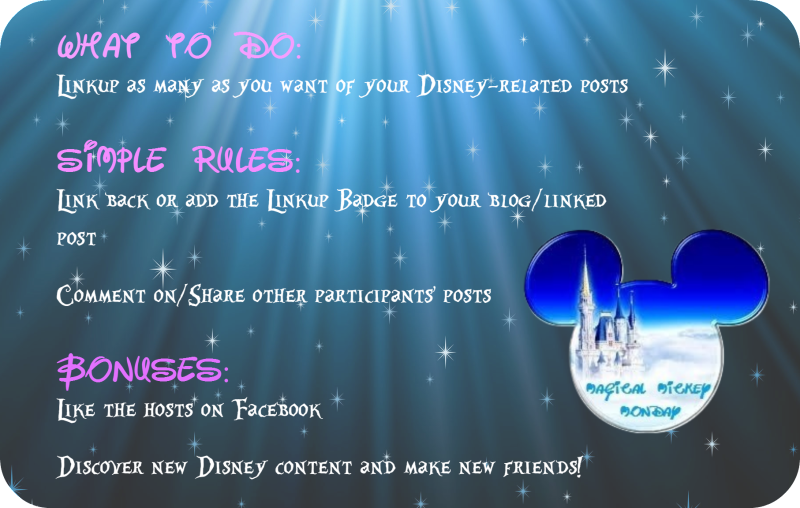 Grab the Magical Mickey Monday badge!