Quinoa Avocado Stuffed Acorn Squash
I finally went to the Sunday Farmers Market this past week! I haven't been in a while because of other things going on, so I was super excited to go check out what was available and to pick up some freshly-picked, farm-fresh veggies!
It was hard to choose what to get, but the Acorn Squash looked really good! I have only used acorn squash a few times, including two years ago at Thanksgiving when I made Cashew Cheese & Pomegranate Acorn Squash. Surprisingly, I didn't ever post the recipe…so maybe I will make it again and do so soon 🙂 Here is what that dish looked like: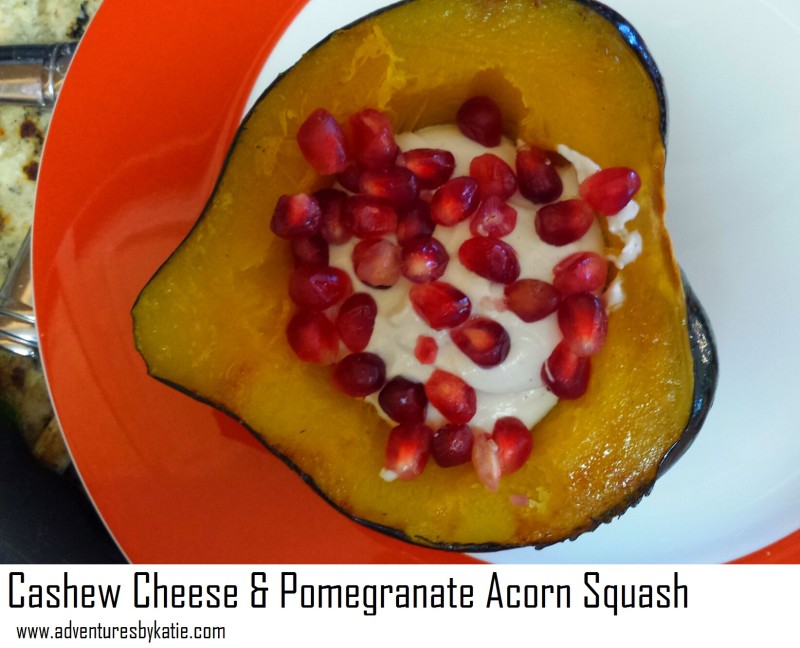 Anyway, back to the Farmer's Market, I picked up two acorn squash and tried to figure out what to make. I wanted something easy, quick, and accessible with ingredients that I had at home. I came up with a Quinoa Avocado filling to scoop inside the roasted squash. It reminded me of a burrito in a squash bowl. It really was super easy to make, and really didn't take that long! Both Nathan and I really enjoyed this meal and I would make it again.
Quinoa Avocado Stuffed Acorn Squash

Ingredients
2 small acorn squash, sliced in half
2 tablespoons oil
1 medium onion, chopped
1 clove of minced garlic
1 teaspoon cumin
1 teaspoon coriander
1.5 cups cooked quinoa
1 can black beans, drained and rinsed
¼ cup chopped green onions
¼ cup toasted acorn squash seeds
2 avocados, diced
dash of lime juice
salt & pepper, to taste
Directions
Preheat oven to 400 degrees
Cut acorn squash in half and scoop out the insides. Save the seeds for roasting! Drizzle the squash with a little oil and sprinkle with salt and pepper. Roast cut side up for for about 45 minutes or until your squash is tender in the middle.
In a skillet, add the onion. Cook until translucent, then add the rest of the ingredients except the avocado.
Remove skillet from the heat, and let it cool. Then, stir in the diced avocado. Taste and adjust seasonings.
Scoop the filling into the acorn squashes halves.
Notes
Make ahead tip: make the quinoa/black bean filling up to two days in advance and store it in the fridge. Wait to add the avocado until ready to stuff & serve. Extra filling tastes delicious as a burrito!