Predictions & Resolutions 5k
The new year is here and I knew I just had to start it off with some sort of race. Last year I ran a 10k, but this year I found a 5k. I have been really slacking lately, so my last run was over two weeks ago when I ran the Santa's Workshop 5k. Luckily, I felt pretty good running on New Years Day (especially since the race didn't start until noon – *yes!*).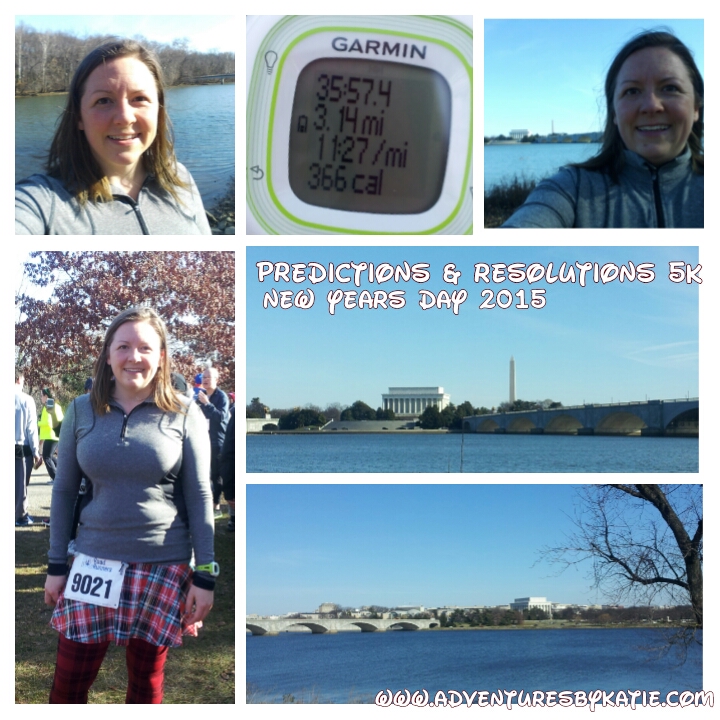 The race was put on by DC Road Runners. I decided to join this running club because they have a ton of races and they are really inexpensive.
A.) I like to run a lot races
B.) I don't like to pay a lot to run a lot of races
so
C.) This is a good idea!
This race took place on part of the Mt. Vernon Trail in Rosslyn (Arlington), VA. I have never run on this trail before, so I was pretty excited. Luckily my GPS took me to the correct place and I found a coveted parking spot.
There were no bathrooms around (not even a port-o-pottie), so I had to quickly go find someplace. I found a Cosi two blocks away and made it back in time for the race to start. Being hydrated and drinking Nuun before a race is important to me, but it did almost get me in trouble…
We self-selected our start spot based on our projected pace. The first "wave" started with a 4 minute mile…yikes!!! I went towards the back because I knew I would be around a 12 minute mile. I set my garmin to run 1, walk :30 and I was off. The first mile and a half were pretty crowded because the path was narrow and there were a lot of people. It was pretty hard to pass anyone until everyone fell in their own and more room was made.
Like I said, I was feeling pretty good. I was going to do my intervals, but decided to do some longer running intervals. I didn't time exactly what I did, but I ran a lot and then took some sporadic 30 second walk breaks as needed. It worked out perfectly. I was pushing myself a bit, but it felt really good. I'm really excited about my races this year, and hope that I can keep my motivation up to actually train (as opposed to just racing all the time).
The course was on the bike path, but it had awesome views of the river and of Washington, D.C. Of course I stopped to take a few pictures… 🙂
My final time was 36:01, which would put me at an 11:37 pace. Not too bad!
The race was pretty organized. There was plenty of volunteers to help direct traffic, cheer, and give us water (it was around mile 1.25, so you hit it twice). The finish line had water and bagels for those who wanted it.
I'm looking forward to my next DC Road Runner races! Will I see you there?