Bunnyville Now Open at Fair Oaks Mall
I attended the opening of Bunnyville at Fair Oaks Mall in Fairfax, VA as a special press event with my mom (Allison) and daughter (Mixolydian).
This post is written by Allison.
It was really exciting to go on this adventure with my daughter and newborn granddaughter. I don't get to go out often with my daughter as she is a schoolteacher and is normally working at this time of year. My other grandchildren are older, and I haven't had the opportunity to go on an adventure with little ones in a while.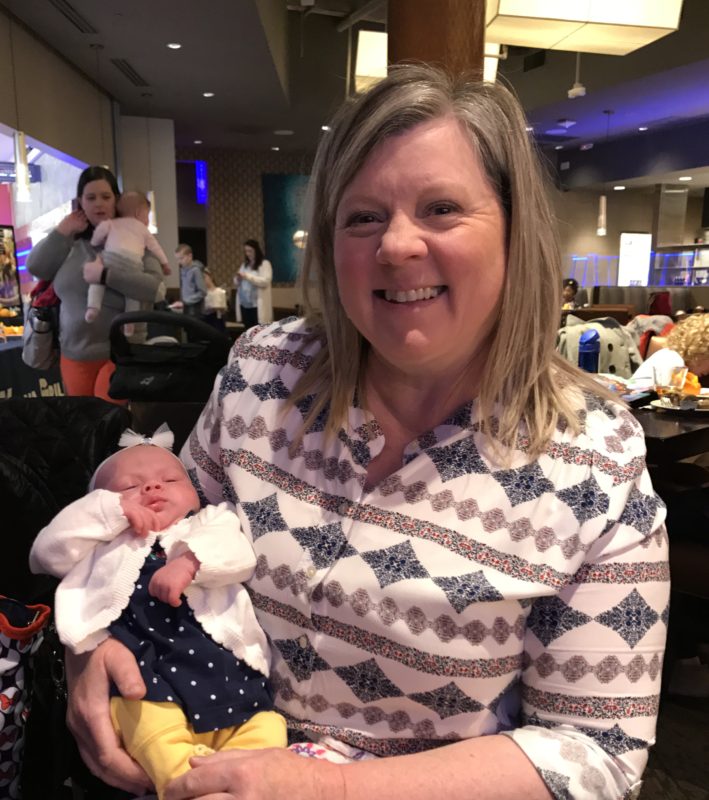 Meet the Bunny Brunch
We started with a special "Meet the Easter Bunny" Brunch at Kona Grill, a fairly new restaurant that opened in the past 6 months. The staff was wonderful and were very helpful as we arrived with my granddaughter in her big jogging stroller.

The spread was amazing with a wide variety of choices. Fresh fruit, parfaits, veggie mini omelets, breads (the bread was delicious) and bagels, bacon, potatoes, juices coffee and teas.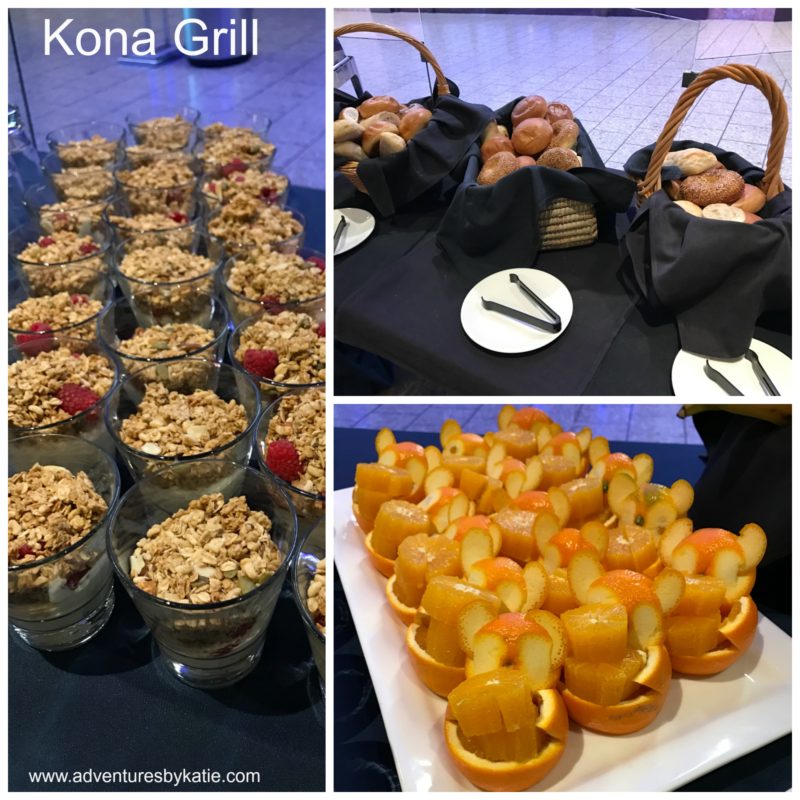 It was impressive at how quickly the staff catered to my daughter (who is vegan) in answering all her questions. They even brought over a menu for her to keep for a later date. The owner even took the time to visit with each person at the tables; it wasn't just a quick hi, but a full conversation. We felt very welcome. They had fun coloring books and Wikki Stix for the kids to help keep them occupied. Of course the highlight was the visit by the Easter Bunny.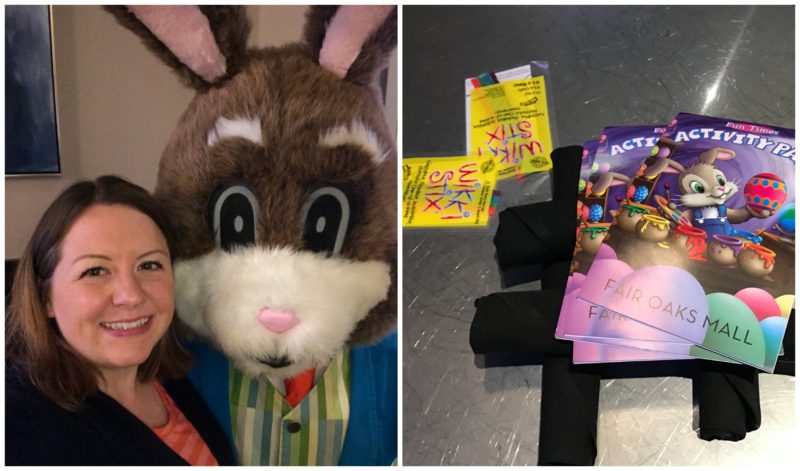 Visiting Bunnyville
After brunch we went to the opening of Bunnyville, which is set up as a small quaint town with shops and gardens, all beautifully done with lots of spring color and flowers.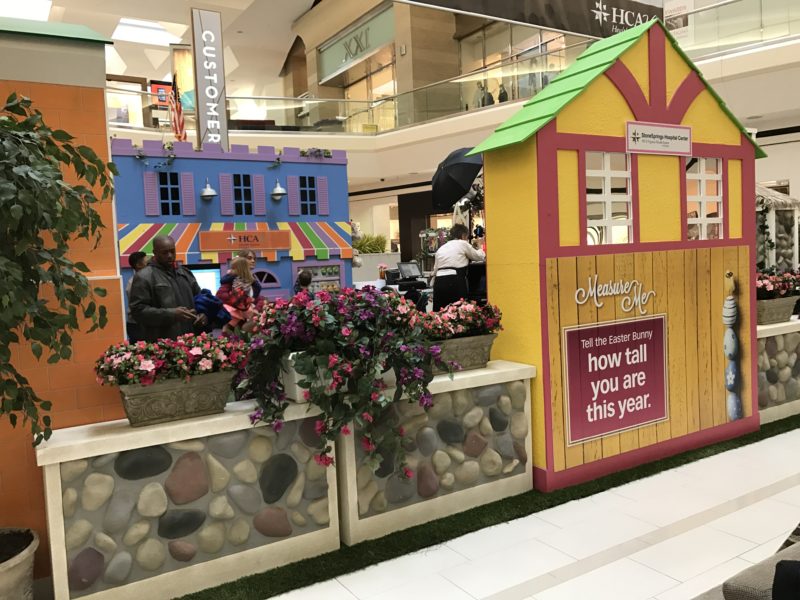 It was definitely a sight to behold after 4 months of winter. It's truly amazing how spring colors can lift your spirits. The town was decorated on the outside as well as the inside. It would draw anyone shopping at the mall to come over and take a look. As we were waiting in line there was an activity board with different activities on each side for the children to keep busy while waiting in line. They also had one inside Bunnyville.

Meeting the Easter Bunny
As for the "The Easter Bunny" experience, he was sitting on a bench waiting for each child to come up and greet him. He spent some time with each child, and for those who were a bit frightened, he had their parents sit next to him with the child on a parent's lap. The kids were much comfortable that way, and I saw some who were even brave enough to touch his fur.
All the children left with huge smiles on their faces, with the exception of my granddaughter – she slept through the whole thing! But her mother and I enjoyed it for her. I can't wait for next year when she is a bit older. We will definitely be going back.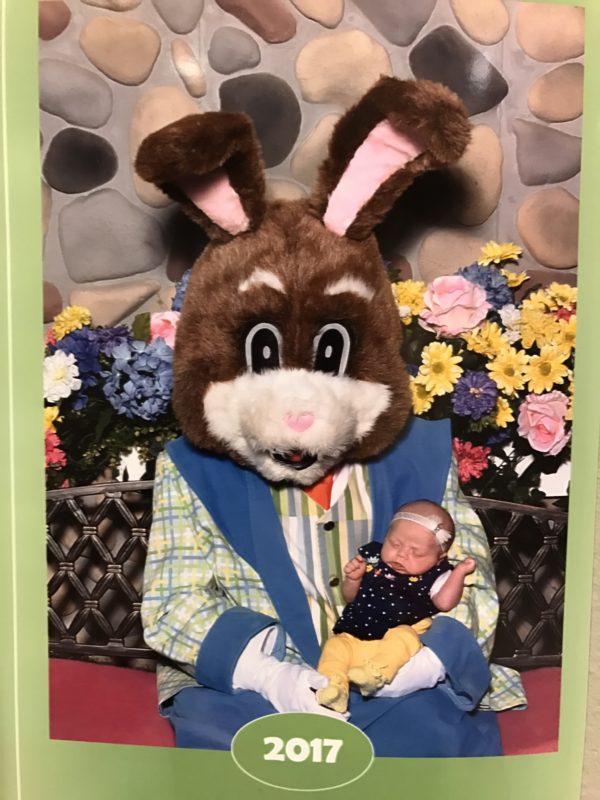 The Fair Oaks Mall was a great location for this adventure, and we finished with a bit of shopping to top off our enjoyable spring day!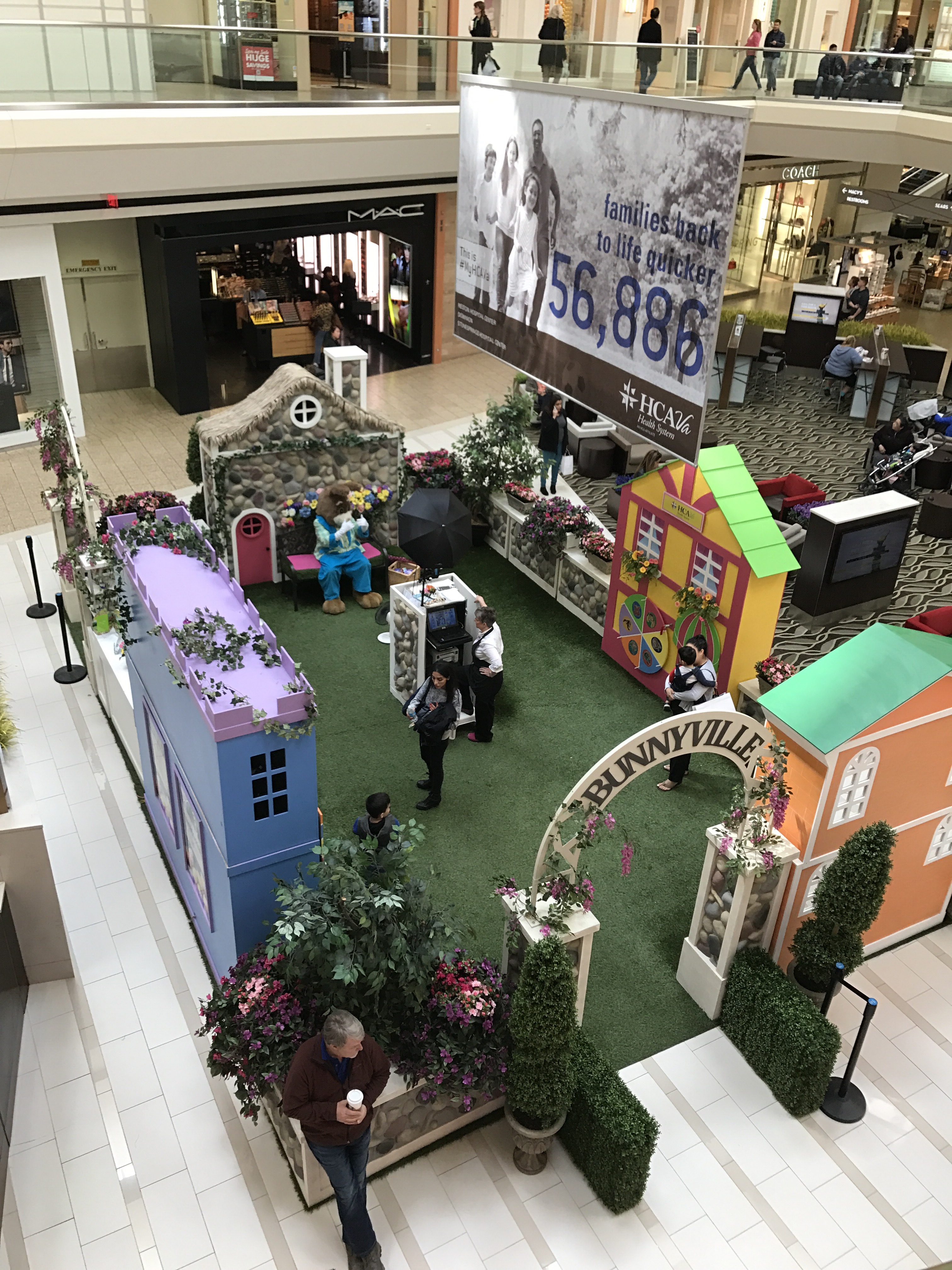 Important Info
The Easter Bunny is available March 24 through April 15 in Grand Court West.
Different photo packages are available for purchase:
A. Four 5 x 7s, Four 4 x 6s, Four 3 x 5s, Eight Wallets, FREE Digital Download $46
B. Two 5 x 7s, Two 4 x 6s, Two 3 x 5s, Eight Wallets, FREE Digital Download $40
C. One 5 x 7, Two 4 x 6s, Two 3 x 5s, Six Wallets, Two Photos in Two Keychains $35
D. One 5 x 7, Two 4 x 6s, Four Wallets $28
E. Two 4 x 6s $23
Digital Download Add-On*
Add to any photo package and receive 4 FREE Wallets!
Digital Download $10
*Photo package purchase required
Bonus: Receive one complimentary Lovepop card at Lovepop.com
Looking for more Easter fun??? Check out my comprehensive list of Virginia Easter Egg Hunts!