Review: Body Care Products
I am always looking for good body products to use. I am quite self-conscious about my looks, and one day I would like to invest in some plastic surgery to target the areas that can't be tackled by over the counter products. For example, my nose is an awkward shape and I'd love a tummy tuck, but until I've saved enough for those I rely on products that can at least keep my skin looking great. One of the main things that I am looking for is that the products are not full of chemicals and unknown ingredients. Products like CBD oil, which come from a natural source, get the thumbs up from me. For my UK readers, where CBD oil is less frequently used, search Google for 'CBD oil UK' to find the best brands out there. Because I like to use more natural products so much, I was excited to give the following a try! So, here are my reviews of some body care products:
Keomi Skincare Organic Handmade Soap

I hate buying the regular soap that you can buy at any grocery or convenience store. I know they are filled with chemicals and all sorts of things that I shouldn't want to have all over my body, so I was excited to try some Keomi Skincare Organic Soap
. I like that these soaps are vegan and made in the USA. I chose my two scents: Sea Breeze and Crown. I took these soaps to the shower and tried them out. They seem to hydrate my skin and do not leave any filmy residue. The scents are very strong, so it is a great "perfume" for both my body and my bathroom. I don't mind the strong smell, but be aware if that sort of thing bothers you.
Adeline Organic Eye Serum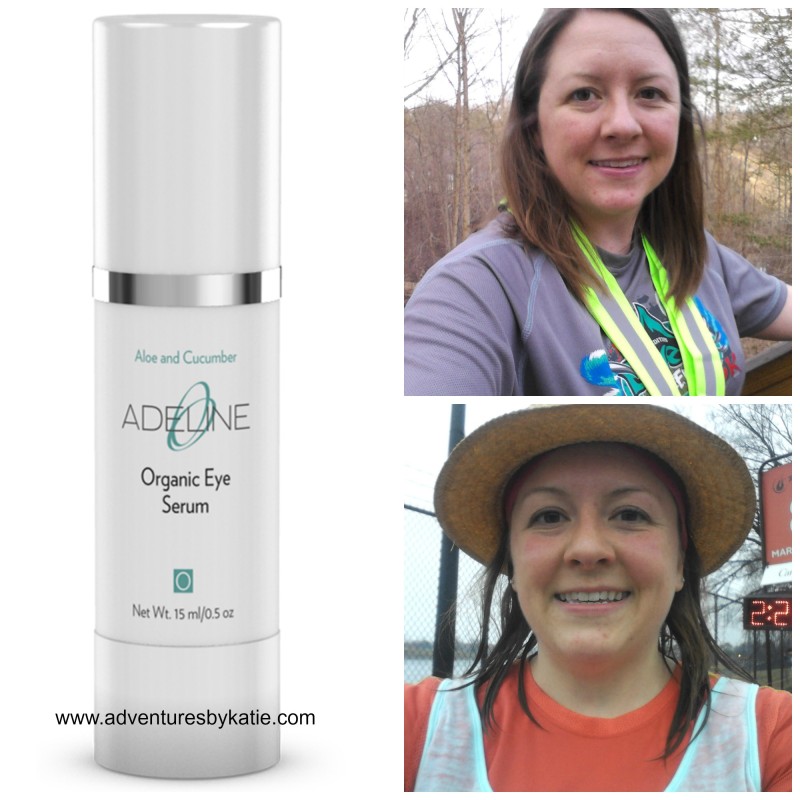 I've noticed that I am getting some wrinkles on my forehead and around my eyes! BOOOO!!!! I need to find a product that can help reduce all my lines and keep me looking youthful (or at least not scary in pictures…) I tried the Adeline Organic Eye Serum
. It is a gel-like substance that you are supposed to put around your eyes to help with the wrinkles. It says that there may be a slight tingling when you put this on, but I have only felt it once. I have been using this serum for a few weeks now, and while I don't think it has hurt me, I don't see any change in my crow's feet or wrinkles under my eyes. I will keep using it though, until gone, and hopefully it will help fill in my lines.
Foxbrim Anti-Aging Moisturizer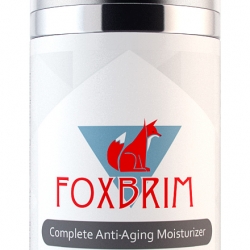 I have problems with having a greasy t-zone, but dry cheeks. I am always looking for products that will help alleviate the problem and not cause any more. I tried out the Foxbrim Anti-Aging Moisturizer
and have been pleasantly surprised with the way it works. My skin is not greasy, and I really like that one pump of the bottle is enough to cover my whole face. I no longer have to guess about the amount to dispense! If you're a lot like me and you don't have greasy skin you might also wanting to look for similar products that can be oil-free, such as this bee naturals oil free moisturizer or something similar you could experiment with! I can't say anything about the anti-aging claim, but it has made my skin nice and smooth. The Moisturizer uses Retinol and vitamin A, which help to reduce redness and reduce pore size. Speaking of reducing pore size, are you looking for more ways to improve the appearance of your skin? A friend of mine recently treated herself to a microneedling procedure and noticed a big difference in the size of her pores. A lot of medical spas offer microneedling procedures so I am tempted to give it a go.
Agelss Derma Purifying Facial Cleanser Gel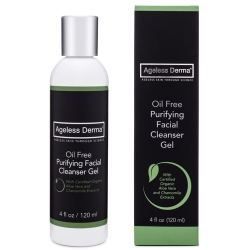 I had previously purchased a new face wash from Target, and I really don't like how it makes my face feel greasy right after using it. I had the chance to try the Ageless Derma Purifying Facial Cleanser Gel
and really enjoy the fresh clean feel after I wash my face. I like that it has aloe which helps keeps my face smooth and I have noticed a slight decrease in my acne. Only a little of the gel is needed to clean my entire face.
Ageless Derma Gel:
100% Naturally-derived With Certified Organic Ingredients

Organic ingredients certified by either Ecocert or the Natural Product Association (NPA).

The ingredients placed within Ageless Derma's Super Green Natural Gentle Facial Cleansing Gel consist of shea butter for luxurious and natural moisturization.

Organic Chamomile Extract is in Super Green Natural Gentle Facial Cleansing Gel for its natural flavonoids and essential oils, both of which aid the skin in various ways, especially extremely sensitive skin.
Adovia Sulfur Soap
I had the opportunity to review Adovia Sulfur Soap for Acne, Blackheads and Oily Skin with Dead Sea Salt. I had never tried a sulfur based soap before, so I didn't know what to expect. This soap has been very hydrating for my skin. I have used it both on my face and body. I haven't experienced any dryness and it has has a light and airy scent. The bar is large and will last a while.
Facts about Adovia Sulfur Soap:
Adovia sulfur soap, is highly enriched with minerals and sulfur from the Dead Sea.

Your skin's natural moisture levels are balanced and optimized with Olive Oil, Dead Sea minerals and Aloe Vera extract.

Sulfur has Antiseptic, Anti-Fungal and Antibacterial properties

This soap thoroughly cleanses your face and body and leaves your skin gentle and smooth.

Our sulfur soap has a 3% sulfur content.
Argan Oil Hair Mask & Age-Defying Moisturizer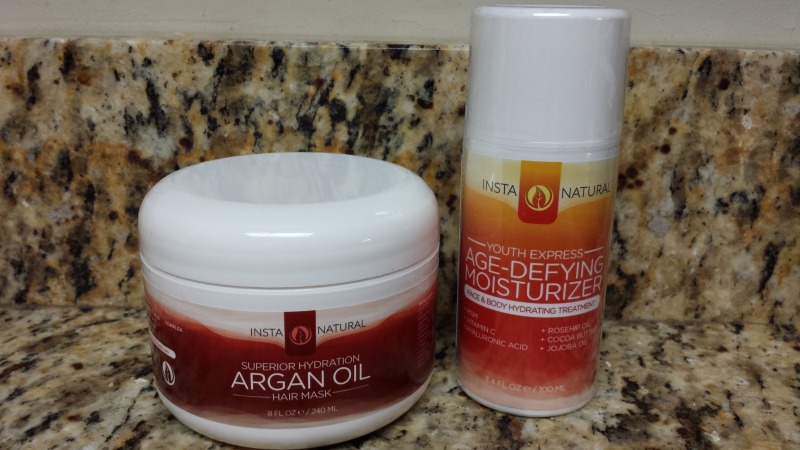 I also had the chance to try the Argan Oil Hair Mask
and Anti-Aging Facial Moisturizer Cream. The Argan Oil can be used as a conditioner every day or once every few days. It smells so good! It makes my hair silky smooth and it seems to be a bit fuller. When I use it, my hair is completely tangle free and can be quickly combed through. This is a good product for me to use because my hair stylist said my hair was a little dry the last time I went to see her.
The Argan Oil Hair Mask:
— USES PREMIUM INGREDIENTS: Our Argan Oil Hair Mask contains a superior collection of high-quality natural and organic ingredients – such as Argan Oil, Amino Acid Complex, Coconut Oil, Shea Butter, Vitamin B5, Jojoba Oil, Avocado Oil and more – that work together to moisturize and nurture hair.

REPAIRS DAMAGED HAIR: This deep conditioning treatment permeates the follicles to deliver ultimate nourishment and hydration. Limp and lifeless hair can be transformed in as little as 15 minutes.

GET SOFT & SHINY STRANDS: Our complex formula is designed to restore health to damaged strands to enhance texture and shine. The result? Softer, shinier, more manageable hair.

STRENGTHENS & PROTECTS HAIR: This nourishing blend of ingredients creates stronger hair that protects it from excessive heat and styling. Obtain healthy, youthful hair, even with blow drying, straightening and curling.
I use the moisturizer before I put on my make-up. It smells like cucumbers, but is not overpowering (I'm not a big fan of cucumbers.) It has not caused me to break-out, which is a plus! As for age-defying properties, that is to be seen!
The Moisturizer:
— USES ADVANCED INGREDIENTS – Each bottle contains a powerful fusion of nutrients such as Vitamin C, Hyaluronic Acid, Vitamin B5, MSM, Cocoa Butter, Green Tea, and Cucumber. Our formula is 98% natural and contains NO parabens, sulfates or alcohol.

BANISH WRINKLES & FINE LINES – Our complex formula of ingredients reduces the appearance of wrinkles and fine lines so you can attain firmer, more youthful looking skin. This facial moisturizer also evens out your skin tone by diminishing the presence of age spots, sunspots, scars, and other discoloration.

PROVIDES ULTIMATE HYDRATION – Many elements found in the moisturizer, such as Hyaluronic Acid, Aloe Vera, and Rosehip Oil, provide your skin with vital nourishment and hydration in order to moisturize skin so you can achieve a bright, radiant complexion.

NOT JUST FOR FACE – Can be used as an all over face moisturizer and even on any other dry areas that need hydration, such as elbows, feet and hands. Both men and women can benefit from this multi-purpose moisturizer.
---
*This post may contain affiliate links*
I received one or more of the products mentioned above for free, however all thoughts are my own.