Disclaimer: I have received a pair of Adidas Ultraboost X shoes as part of being a BibRave Pro. Learn more about becoming a BibRave Pro Ambassador (tell them I sent you!), and check out BibRave.com to review, find, and write race reviews!
Adidas Ultraboost X Running Shoes!
I'm always excited to try new shoes, even though I am SUPER picky with what I wear. My feet hurt a lot (I really need to get it checked out….why do the top of my feet hurt all the time?)
I haven't run in Adidas in a long time, but was ready to try out the Adidas Ultraboost X shoe. This shoe is their most responsive cushioning ever, with primeknit wrapping your foot for a light, breathable second-skin experience. The new adaptive arch hugs your foot and adapts to your foot strike. What's not to love?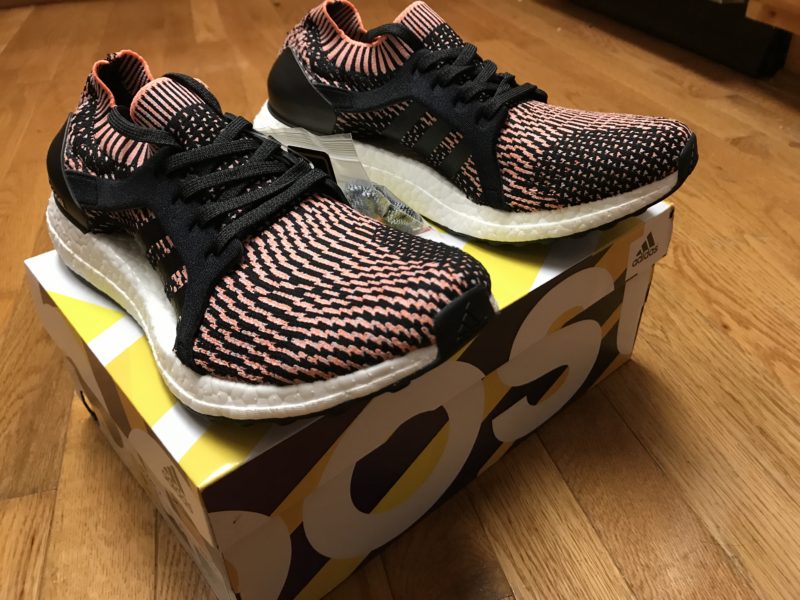 The Specs
Runner type: neutral m
boost™ is our most responsive cushioning ever: The more energy you give, the more you get
STRETCHWEB rubber outsole flexes underfoot for an energized ride
adidas Primeknit upper wraps the foot in adaptive support and ultralight comfort; Adaptive arch molds to the shape of your foot as you move for a supportive feel
TORSION® SYSTEM between the heel and forefoot for a stable ride; Dual-density 3D heel counter designed for women's feet helps increase stability around the heel and allows for optimal movement of the Achilles
Continental™ Rubber outsole for extraordinary traction in wet and dry conditions
Weight: 8.5 ounces (size 7)
Midsole drop: 9.5 mm (heel: 27.7 mm / forefoot: 18.2 mm)
Women's-specific design and fit
Textile upper / Textile lining / Rubber outsole
First Thoughts
My first thoughts of the Adidas Ultraboost X were: wow, that's tight! The shoe fits like a sock. My first time putting on the shoes was a little difficult because I had to maneuver how to put on the shoe. Once on, though, it was SUPER comfortable! It really does feel like a sock! I initially tried the shoe with out socks, but I felt like there would be too much rubbing. Then, I put on some thing socks and wedged my foot back in. The fit was tight, but comfortable!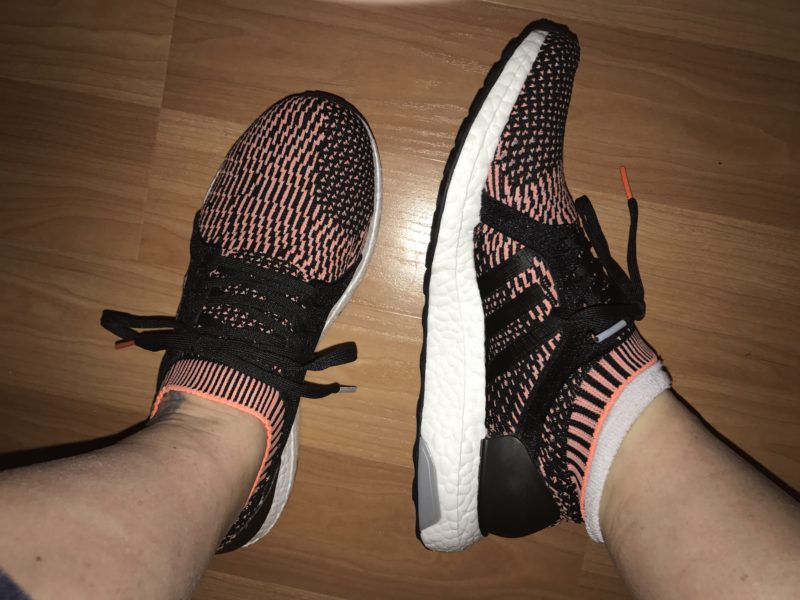 My First Run
I decided to try out the Adidas Ultraboost X shoes on a 5k race. I knew I wouldn't be going super fast, so I thought I would be ok only wearing the shoes around the house first. Man, was I wrong! My feet were KILLING me! It was really difficult to run, and I ended up walking a lot of the distance.
I'm not sure if it was the lack of breaking in the shoes prior to running, or that my feet are just super grumpy and I need to go see a specialist, but I did not feel good at all. The bottoms of my feet were in a lot of pain. Walking seemed to help, though.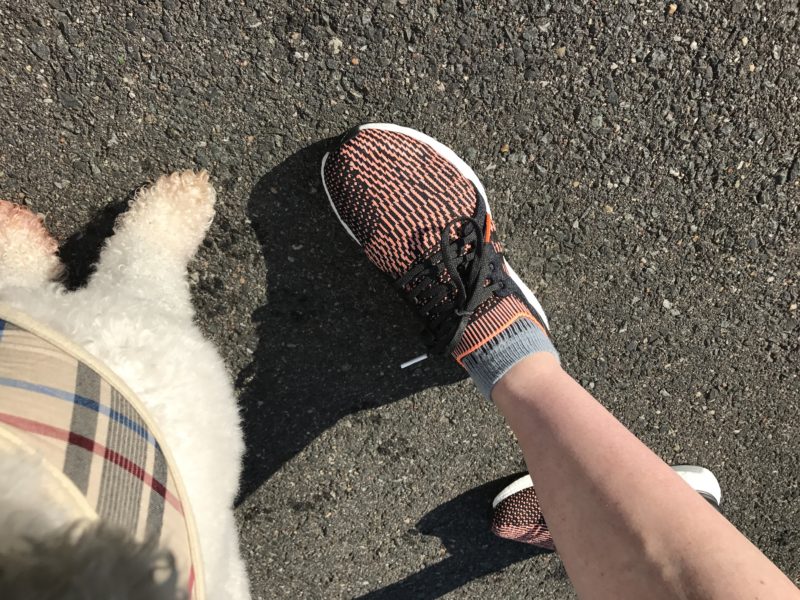 Final Thoughts
I really enjoy how the Adidas Ultraboost X has a sock-feel to it. I love that it hugs the foot and gives me extra wiggle room for my toes. The shoes are very lightweight and conform to your feet. I will be continuing to wear these shoes, and hopefully my feet will feel better!