Vegan Dinner Options at The Omni Homestead Resort – Hot Springs, VA
It's time for my annual Virginia Music Educators Conference at The Omni Homestead Resort in Hot Springs, Virginia. I am super excited to be here because I am so ready for a nice break from work! And attending some sessions will hopefully also invigorate me to get me through until Winter Break. This is the last year this conference will be held at The Homestead, which is very sad because the food gets better every year!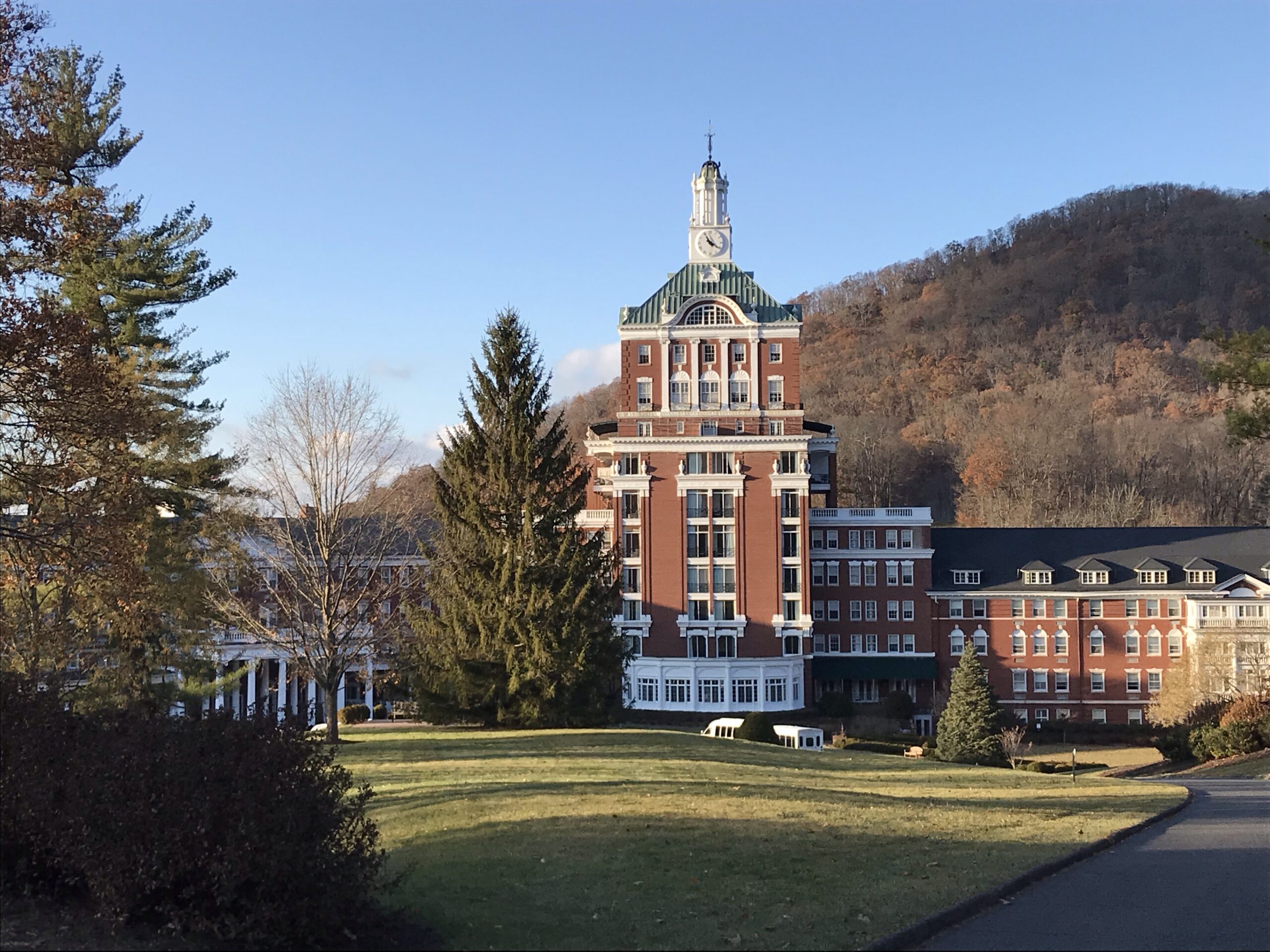 Back in 2013, the food options were very limited. In 2016, they did a better job with offerings, but each meal was very similar. Now, each restaurant has its own separate vegan menu! I can't wait to eat like a queen for the next few days!
Vegan Dinner Offerings – Main Dining Room, Fall 2019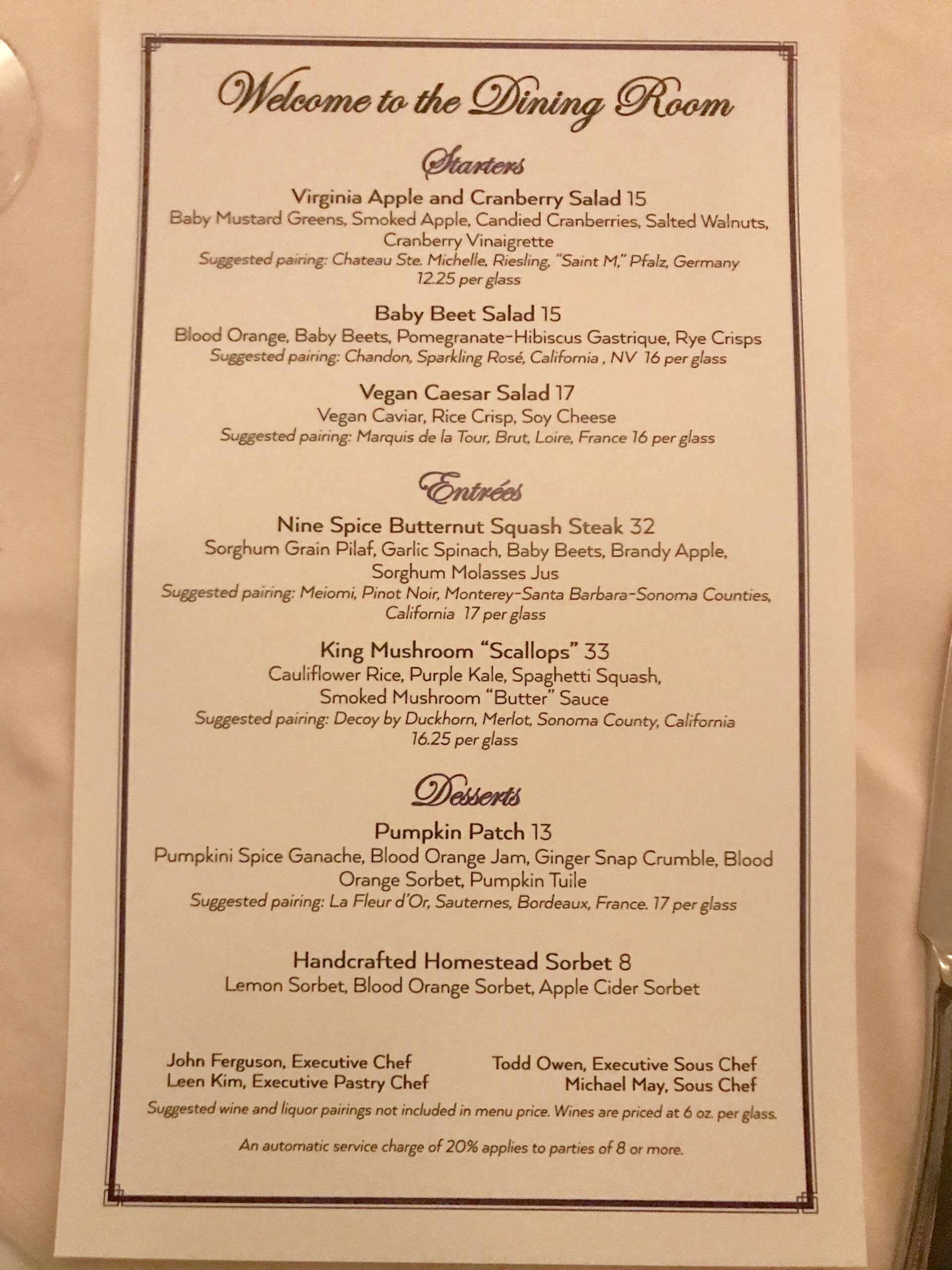 While the next two nights will be a buffet, tonight's offering in The Homestead's Main Dining Room was an ordered meal. The vegan options included three salads, two entrees, and two desserts. Everything that I ordered was also gluten-free!
Starters
Virginia Apple and Cranberry Salad $15 – Baby Mustard Greens, Smoked Apple, Candied Cranberries, Salted Walnuts, Cranberry Vinaigrette
Baby Beet Salad $15 –  Blood Orange, Baby Beets, Pomegranate-Hibiscus Gastrique, Rye Crisps
Vegan Caesar Salad $17 – Vegan Caviar, Rice Crisp, Soy Cheese
Entrees
Nine Spice Butternut Squash Steak $32 – Sorghum Grain pilaf, Garlic Spinach, Baby Beets, Brandy Apple, Sorghum Molasses Jus
King Mushroom "Scallops" $33 – Cauliflower Rice, Purple Kale, Spaghetti Squash, Smoked Mushroom "Butter" Sauce
Desserts
Pumpkin Patch $13 – Pumpkini Spice Ganache, Blood Orange jam, Ginger Snap Crumble, Blood Orange Sorbet, Pumpkin Tuile
Handcrafted Homestead Sorbet $8 – Lemon Sorbet, Blood Orange Sorbet, Apple Cider Sorbet
Taste Test!
The Dinner Rolls they brought out were warmed up but dry. They really needed to have some vegan butter to go with them, but they did not have any available. We got some Olive Oil to use as a dip.
The Vegan Caesar Salad was pretty good. I inquired beforehand what the 'caviar' was made from and I was told soy. They were round and salty, so I guess it did the trick. The vegan cheese did not really taste like cheese, but added a little creaminess to the dish.
The Baby Beet Salad tasted like beets! LOL! But they were a mild beet flavor, so not too bad if you like that type of taste.
The Butternut Steak was tasty. The squash was seared well and was a good 'steak'. I felt like it could have had a little more flavor, but I did enjoy this dish, beets and all.
The Mushroom Scallops tasted like mushrooms and scallops, which was cool and you know what to expect.
The Pumpkin Patch was the winner of the night! Yes, dessert!! Despite being vegan and gluten- and nut-free, it had all the flavors. I think my favorite part was the Ginger Snap Crumble. Yum!
It's only night #1 of my stay at The Omni Homestead Resort, and I am looking forward to what food tomorrow brings!