Vegan & Gluten-free at The Omni Homestead
I recently attended a conference at the Omni Homestead Resort in Hot Springs, Virginia. I had previously visited The Homestead back in 2013, and I was interested to see how the food situation had changed.
Vegan & Gluten-free at The Omni Homestead
My package included breakfast and dinner each day of my stay. If you eat at a non-buffet, you get an appetizer, entree, and dessert.
I arrived on the first day about lunch time and was starving because I skipped breakfast. I headed towards the Jefferson Restaurant.
Jefferson Restaurant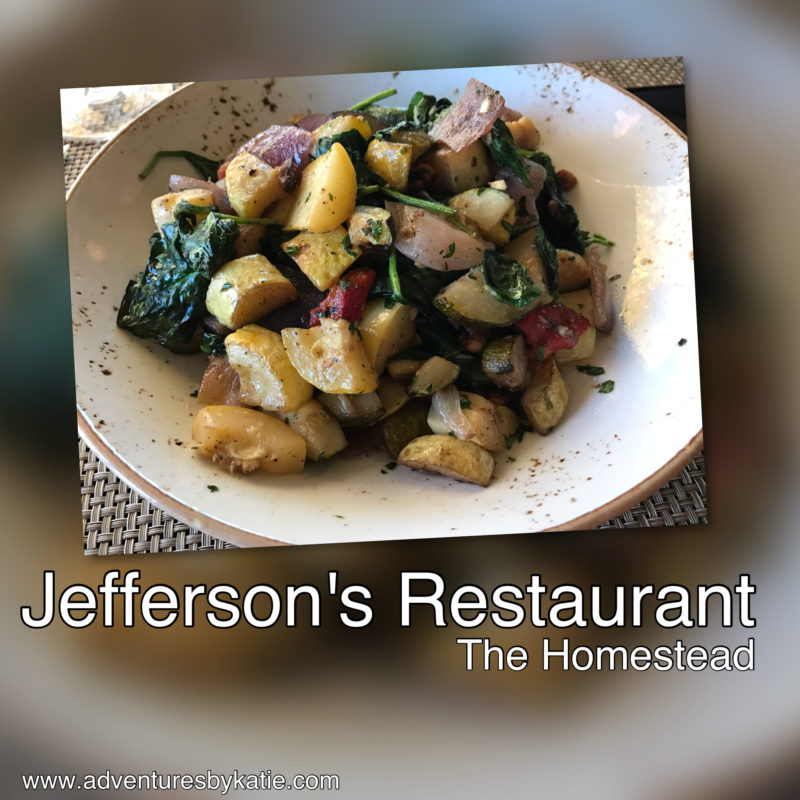 Speaking with my server, she was pretty knowledgeable about both gluten-free and vegan lifestyles. I ordered the hummus place with no pita (not pictured) to start out my meal. The veggies included celery and carrots. For my entree, I was brought a plate of veggetables (squash, zucchini, mushrooms, onions, peppers, and spinach). Unfortunately, the mushrooms were pre-mixed in with the other veggies, so I had to pick them out. There was plenty of food, and I even had some left over.
Martha's Market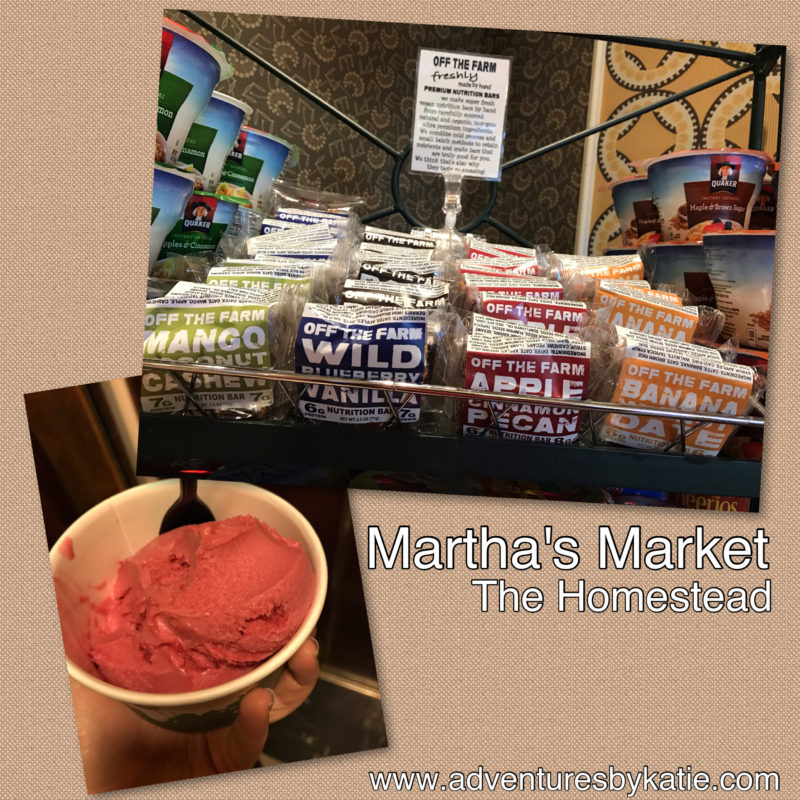 Martha's Market is a little shop with coffee, drinks, ice cream, sandwiches, and snacks. Lucky for me, they had some Raspberry Sorbet. I got a huge cupful for only $3! They also have a selection of protein bars. They are vegan and wheat-free, but do contain oats.
The Casino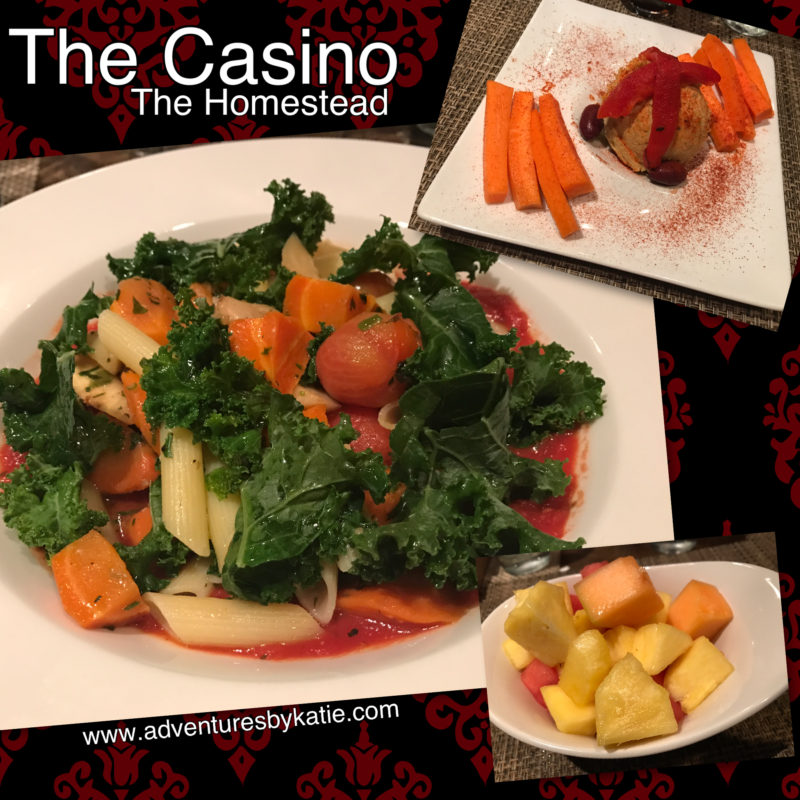 The Casino is the Italian-themed restaurant. There is an entire gluten-free menu (pretty much everything can be made gluten-free). For my starter, I ordered the hummus plate with carrots. My entree consisted of gluten-free pasta and some winter vegetables – kale, parsnip (I think), and carrots. I could have done with more pasta (and less vegetables), but that is just me. There was no GF/Vegan dessert, so they brought me a huge bowl of fresh fruit.
One thing to note is that my meal took WAY longer to come out than everyone else's meal (for all three courses!). Everyone else was served and then felt awkward for wanting to eat, but not wanting to be rude. Just an FYI!
Main Dining Room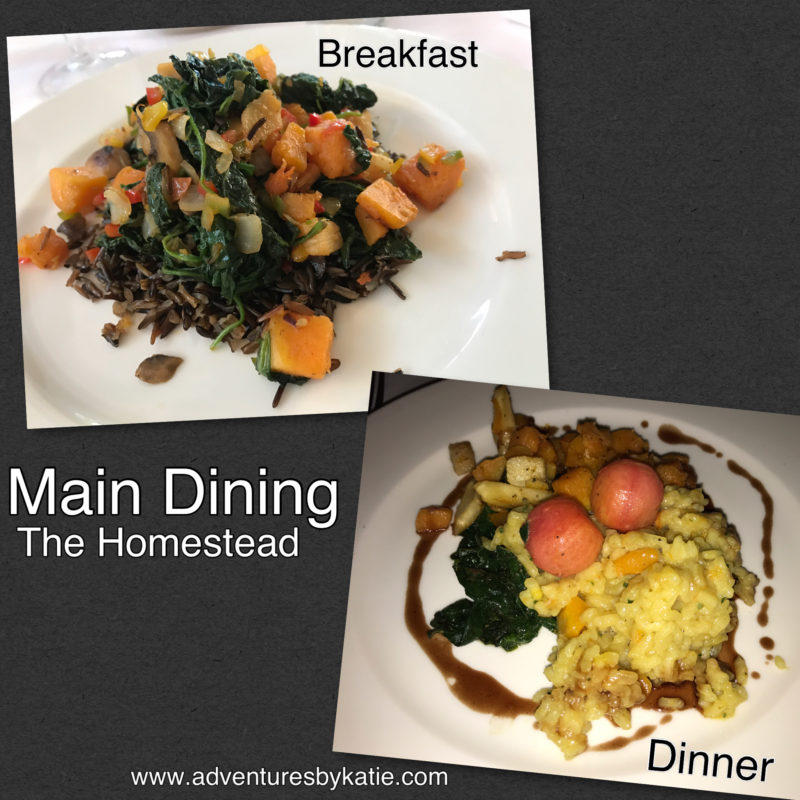 I ate both breakfast and lunch in Main Dining Room. For breakfast, there is a station of gluten-free breads, muffins, and cereal (Rice Chex), along with soy milk and rice milk.  I didn't inquire if the pastries were also vegan (I assumed they were not). Other than fresh fruit, there were no other vegan options, so I asked the chef if he could make something for me. I wasn't told what he would be making, but ended up with a plate of wild rice and winter vegetables (including mushrooms). It was a good, hearty breakfast, but unfortunately, I prefer sweet breakfast over savory. The next morning, the breakfast potatoes were made with oil instead of butter, so I just ate a HUGE plate of that, along with some cereal and fruit (no picture taken).
For dinner, there was nothing on the buffet I could eat. There was a salad mix, but all of the dressings were cream-based. I ended up putting some cranberry sauce on my lettuce while waiting for the chef to bring me something. That evening they made a vegan risotto with vegetables, which was really good. I devoured the plate quickly and asked for another (they gave me a strange look, but it was tasty, and I was still hungry!).
Conclusion
There are certainly more vegan & gluten-free options at the Omni Homestead than a few years ago, but I was starting to feel like I needed a little more variety by the end of my stay. I appreciated that they had options that included winter vegetables, but I was eating it at every meal! Don't be afraid to ask the waiter/chef to help you out with any allergies!