Ready for a New Game for Game Night? The Mansky Caper Is An Offer You Can't De-Fuse!
*Disclaimer: This post may contain affiliate links.*
I am always looking for new games to play on game night! Some of our favorites are Citadels, Atlantic Storm, Munchkin, and Tsuro (among others!). From the same company that brought me Tsuro, comes a new game: The Mansky Caper!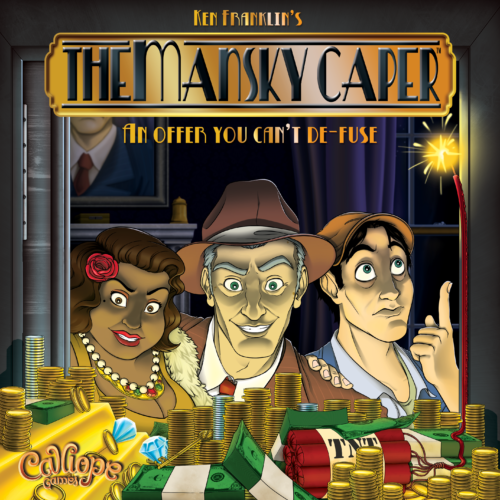 The Mansky Caper
This Prohibition-era heist game is designed by Ken Franklin and offers a thrilling, press-your-luck adventure. The Manksy Caper is for 2-6 players ages 8+, plays under an hour, and looks easy to teach.
What's the Game?
"Big Al" Mansky, the most ruthless and illustrious mob boss ever, is away on vacation. Players take on the roles of colorful "Associates" robbing lavish rooms in Big Al's mansion, all while dodging explosive booby traps! During your turn you will navigate through Big Al Mansky's mansion, cracking safes to reveal valuables, explosives, and thrilling plot twists. You can share your loot with others in the same room, call in favors to perform skillful actions, and above all, decide when to stash your share at the getaway car before you hear a BOOM!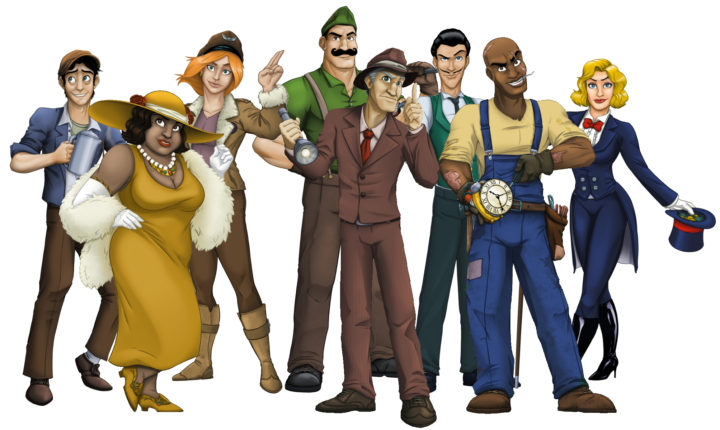 What's Included?
The Manksy Caper features captivating artwork by Matt Franklin. It also includes five pre-assembled 3D cardboard safes from which to draw loot tokens, shiny plastic gems, drawstring cloth stash bags, a fully illustrated comic book which doubles as the rulebook, and hundreds of colorful tokens and markers.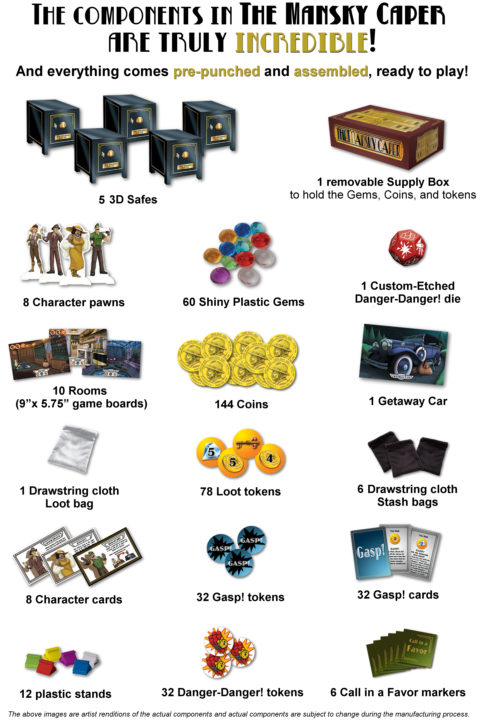 Order Your Copy Now!
Even with components of the highest quality, The Manksy Caper remains incredibly affordable, with the Kickstarter pledge costing only $32 – domestic shipping included. The Kickstarter campaign for The Manksy Caper runs from January 11, 2018 until February 9, 2018. With less than $600 remaining to be raised (with 23 days still to go!), this game is sure to be a go!
For more information, be sure to check out The Manksy Caper Kickstarter campaign page: https://www.kickstarter.com/projects/781219801/the-mansky-caper-0/
About Calliope Games
Calliope Games publishes family-friendly tabletop games, including Tsuro and Roll For It! All Calliope titles are carefully crafted so kids and adults can play on equal footing. Most are playable in 60 minutes or less, designed for 2-8 players, and affordable – usually $30 or less. Most importantly, Calliope Games are fun for all players!