Spaghetti Squash Curry
Spaghetti Squash Curry is an easy, low-ingredient, and delicious crockpot meal. It is gluten-free, vegan, and can be made as tame or as spicy as you choose!
Ingredients:
Large spaghetti squash
2 cans of coconut milk
1 jar of
Thai Kitchen Red Curry Paste
1 teaspoon Ginger
2 teaspoons Coriander
Ground red pepper (to taste)
Dried Thai peppers (optional) (I stick mine in a
Stainless Steel Mesh Cooking Infuser
) so they are easy to take out)Cilantro to garnish
Instructions:
1. Wash the spaghetti squash and cut around the middle (short ways).
2. Scoop out seeds (and save to roast!)
3. In crockpot, add 2 cans of coconut milk, curry paste, and spices. Stir to mix together.
4. Place spaghetti squash cut side down into crockpot.
5. Cover and cook on low 8 hours.
6. Before eating, scoop out flesh from squash (I use tongs and a spoon) and mix back in with the sauce.
7. Garnish with cilantro and serve with rice or quinoa.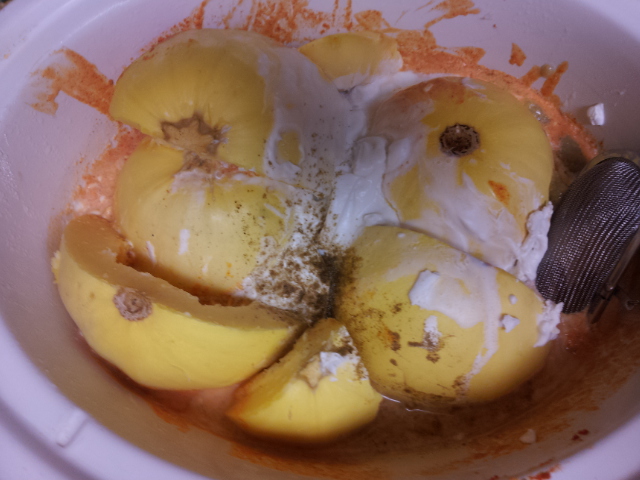 Also check out this recipe for African Bean Stew!