National Museum of African American History and Culture
The National Museum of African American History and Culture is a museum that seeks to understand American history through the lens of the African American experience. It is the newest Smithsonian museum in Washington, D.C., as it just opened in September 2016.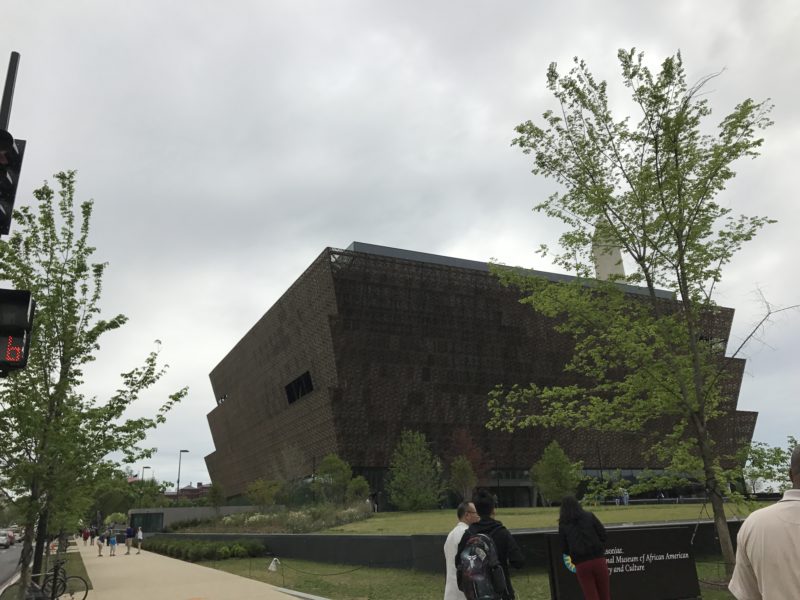 How to Get Tickets
The museum is free to the public but timed entry tickets are required. Advance timed entry passes for individuals are released monthly; the next release for August 2017 passes is on Wednesday, May 3rd at 9 a.m. EST. Passes go very quickly when released, so you need to be ready at your computer!
Which Metro Stop Should You Take?
When I saw when passes opened for April, and I was able to snag six tickets for my last day of Spring Break. The museum is easily accessible by Metro. We arrived via the Federal Triangle stop, and it was just a short walk to the museum. The museum is also accessible via the Smithsonian Metro stop.
My Thoughts
The museum is huge and crowded. I was there for a few hours and still did not get to visit every floor. The bottom three floors require a separate elevator to access, and there was a long line just to get to the elevator. Once down there it was hard to maneuver, especially with a stroller. I would recommend to not bring a stroller, if at all possible as there were just too many people and the walkways in the exhibit aren't that large.
I hope to snag some more tickets for later in the year so I can explore the rest of the museum that I did not have a chance to see.
Exhibits
The National Museum of African American History and Culture exhibits include:
A Century in the Making
A Changing America
Cultural Expressions
Defending Freedom, Defining Freedom
Double Victory
Everyday Beauty
Making A Way Out Of No Way
Musical Crossroads
Power of Place
Slavery and Freedom
Sports
Taking the Stage
Through the African American Lens
Visual Art and the American Experience
Photo Highlights from My Visit: