Indian-Spiced Broccoli with Quinoa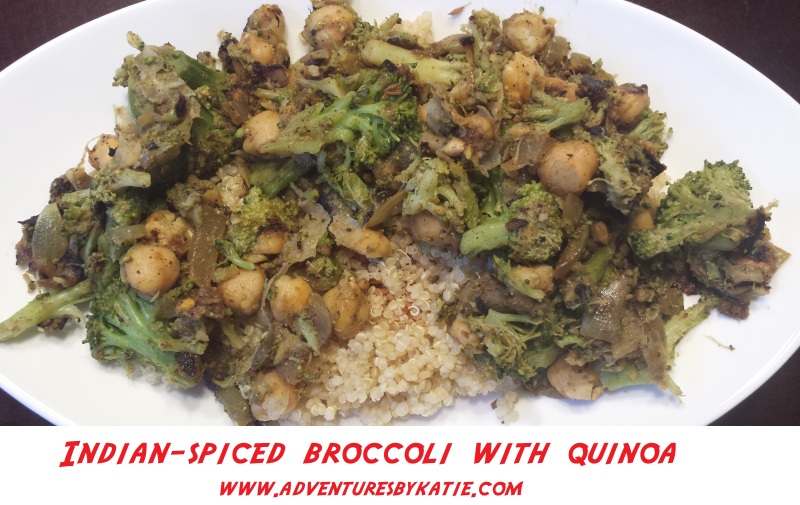 I need to go grocery shopping in the worst way! I got home from work the other day and really did not want to get take-out. I have absolutely NO food in my house so I was having a hard time trying to decide what I wanted to make. I looked in my freezer hoping for some cauliflower or something, but all I found was a bag of frozen broccoli.
Broccoli is good as a side dish, but how do you make it more of an entree that will fill you up? That is what I set out to do.
I came up with an Indian-Spiced Broccoli dish and paired it up with some quinoa. The broccoli was flavorful, and the quinoa helped to fill me up! Dinner crisis adverted!
Indian-Spiced Broccoli with Quinoa
1 bag (16oz) frozen broccoli
1 can chickpeas
1 onion, chopped
1 Tablespoon oil (I used House Of Tsang Wok Oil
)
1 teaspoon minced garlic (1 clove)
1/2 teaspoon mustard seed
1/2 teaspoon cumin seed
1 teaspoon curry powder
1/4 teaspoon ground ginger
1/4 teaspoon chili pepper
1 Tablespoon garam masala
1/4 cup almond milk
Directions:
1. Cook quinoa according to package directions
2. Heat oil in a pan and add mustard seeds and cumin seeds
3. Chop onion and then add to pan. Fry until translucent.
4. Add the rest of the spices and broccoli and mix together.
5. Stir and fry until the broccoli is cooked through and starts to get browned
6. Add the almond milk and mix together
7. Serve with quinoa!