Born in China Movie Review
Disneynature's newest film "Born in China" comes out this weekend! This film takes place in the wilds of China and follows the stories of three animal families – a doting panda bear mother guiding her growing baby as she begins to explore and seek independence, a two-year-old golden monkey who feels displaced by his new baby sister, and a mother snow leopard raising her two cubs in one of the harshest and most unforgiving environments on the planet. You also get to meet some of China's other animals, such as cranes.
John Krasinski (from The Office) narrates "Born in China". He does a great job explaining what you see the animals doing, as well as adding some comedic commentary. There were multiple times in the film where the audience laughed at Krasinski's description of what was happening.
Disneynature
The Disneynature films are designed to make you feel connected to the animals that you meet; they become a cast of characters that you are rooting for. The film is a mostly feel-good film (there are some slight sad parts – circle of life stuff), and the animals are just adorable.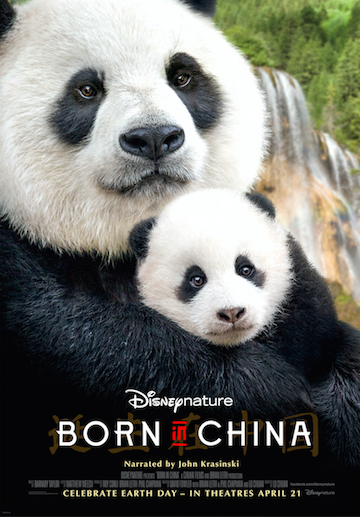 "Born in China" comes out on Earth Day, but it is a great Mother's Day film as many of the stories focus on the mother and her baby. I certainly felt the connection of love between mom and baby as a new mother myself.
During the credits you have the chance to see some of the "behind the scenes", and I love it! It is always interesting seeing how much hard work is put into documenting a film of this nature. One of the photographers talks about how the weather changes every 30 minutes, from sleet to rain, to wind, to sunshine and heat.
"Born in China" is a great Disneynature film for children and families or anyone interested in nature. The stories of the animals kept you entertained as you saw a glimpse into their lives in China.
"Born in China" is rated G and opens in theaters everywhere April 21st!
Looking for Born in China Activity Sheets to accompany the film? CHECK THEM OUT HERE!