The Old Dominion Racing ArcticHalf, 10k, 5k, and 1k takes place on Saturday, February 24, 2018 in Sterling, VA. I am signed up for the half marathon because it looks like an awesome race, and it falls perfectly with my Blue Ridge Marathon training! Want to come join me? Read ahead for 5 Reasons to Run the ArcticHalf!
5 Reasons to Run the ArcticHalf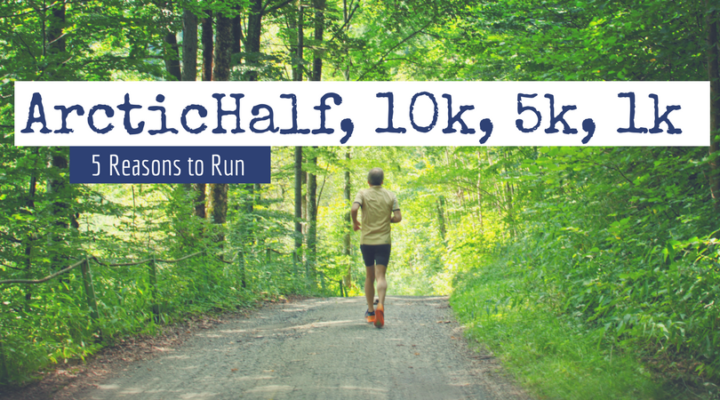 Multiple Race Distances
Whatever your racing needs are at the end of February, Old Dominion Racing has you covered. There are four different race distances offered during this event: half marathon, 10k, 5k, and 1k. Come out with the entire family for an afternoon of exercise and running!
Afternoon Start Times
The great thing about this race is the afternoon start times! This is a winter race, so there is the potential for freezing cold. The races will start at noon, so hopefully it will be a little sunny and warm up a little bit.
Race Start times:
ArcitcHalf – 12:00pm
10k – 12:45pm
5k – 1:00pm
1k – 1:15pm
The Course
The ArcticHalf is the perfect trail running race. The Potomac River provides scenic views as you run along the course. After starting from the main pavilion at Algonkian Regional Park, you will run along the Potomac Heritage Trail and back. The trail is completely tree-lined with some exposed roots and a good mix of dirt and paved paths.
Support your favorite PTA/PTSA/PTO or Charity!
A portion of proceeds will be donated to your school or a local charity. Choices of charities include a local food bank, a veterans charity/program, a child/student support program, or an animal foundation. Additional sponsorships can be purchased in your behalf (earning you extra raffle tickets!)
SWAG
Hand warmers will be provided and they are hoping to have a roaring fire! T-shirts, Half Marathon Finisher Medals and raffle prizes will be provided. There will be prizes for first places winners in both the male and female categories.
Also,  a Samsung 50″ 4K (2160P) Smart LED TV will be raffled off! You will be entered with the following number of raffle tickets per race registration type:
ArcticHalf – 5 tickets
10k – 3 tickets
5k – 2 ticket
1k – 1 ticket
If you want to have a better chance at winning a prize take a look at our Participant Sponsorship page. Get your friends and family to sponsor your cause and you could take home the Grand Prize!
 
Sign Up Now!
Sign up for the ArcticHalf, 10k, 5k, or 1k today! If you use this link, there are no processing fees (yay!)!