2017 Crystal City Twilighter | A BibRavePro Review
Disclaimer: I have received a free entry into the Crystal City Twilighter as part of being a BibRave Pro. Learn more about becoming a BibRave Pro Ambassador (tell them I sent you!), and check out BibRave.com to review, find, and write race reviews!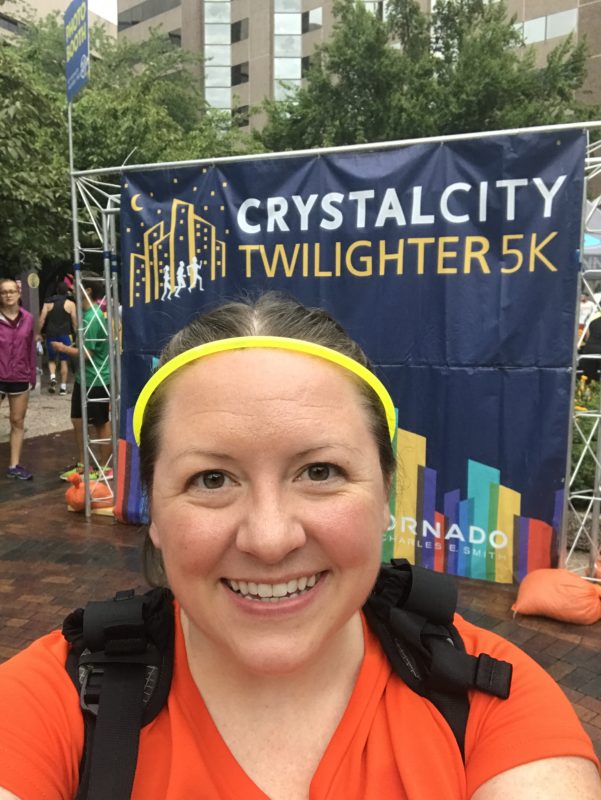 Crystal City Twilighter
I am always a fan of night races. I'm not sure why I love them so much, but I think they are a lot of fun! Arlington, VA is right near where I live, so getting to Crystal City for the race was super easy. I've run Pacers Running events before: Run with Santa and the Let Freedom Run 5k, so I knew what a great race the Crystal City Twilighter would be. I was excited to run this race for all of these reasons: 5 Reasons to Run the Crystal City Twilighter 🙂
So, without further ado, here is my race recap!
The Weather
Here is what I had driving up I-95N/I-395N into Arlington: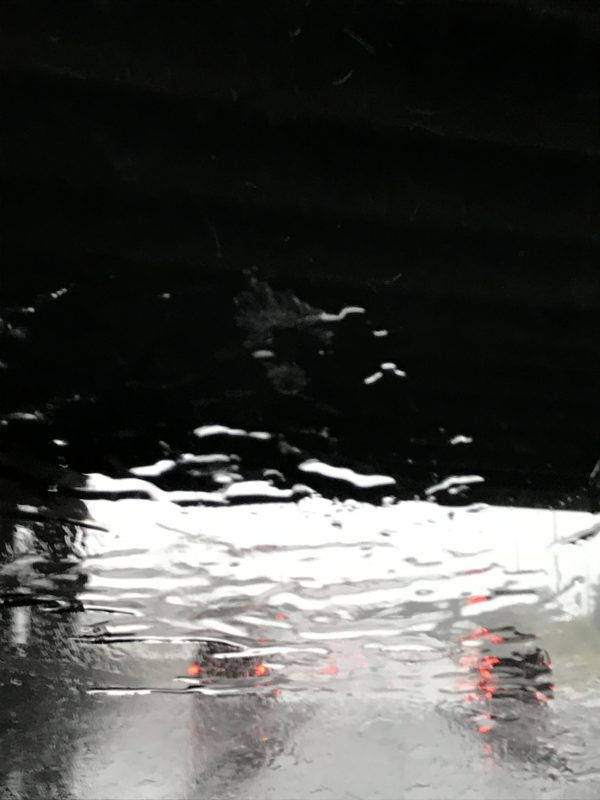 Torrential Summer downpour. It was terrible. But, the race was supposed to go on, rain or shine, so I kept driving. It had been really hot earlier in the day (90s), so I was hoping it would stop raining and cool down.
Pacers was really helpful with letting people know that the day-of bib pick-up was moved inside the Crystal City Mall due to the rain.
Luckily, it stopped raining about 30 minutes before the race and stayed dry for the duration. It had cooled down, but I was still soaked with sweat at the finish line. And even though I never do, I chafed on part of my leg from being so wet. 🙁
About 15 minutes after I finished running, it started to rain again, but I was already in my car driving (slowly) home.
Parking
Parking for the Crystal City Twilighter was super easy. There were many garages available right at the start line. These garages had free parking during the evening. I parked in the garage adjacent to the packet pick-up location, and it was right across the street from the start/finish line.
Packet Pick-up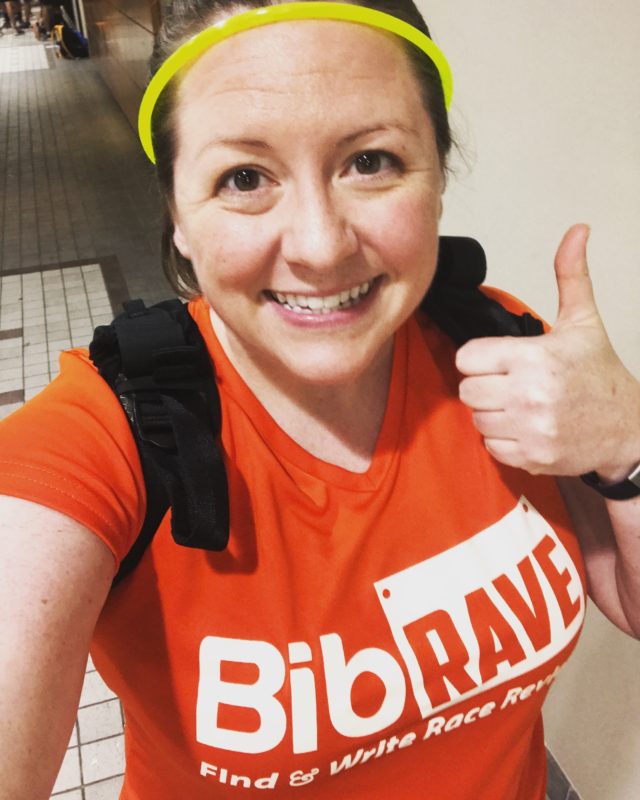 Packet Pick-up was available the week of the race at the Pacers stores. I was not able to get up to Arlington to get my bib, so I opted for day-of pick-up. Packet pick-up was relocated inside the Crystal City Mall due to the rain, but it was super easy to get to and took no time at all.
Swag
With your race registration, you received a technical tank and a glow stick. Unfortunately (as with most Pacers 5ks), there was no medal for this race.
Pre-Race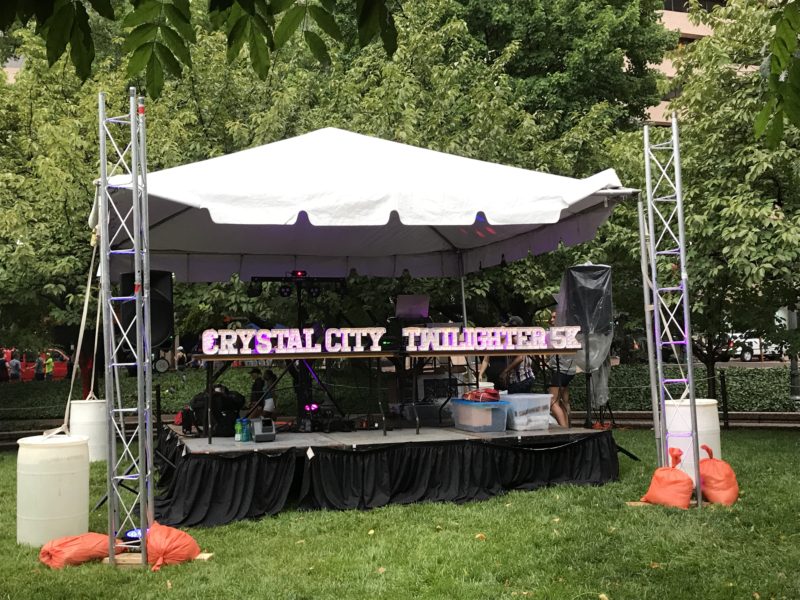 There was a big, pretty area by the start line with music, water filling stations, tables, and a photo booth. I got my picture taken, and met up with fellow BibRavePro, Vanessa from She Runs by the Seashore. We chatted a bit before the race before getting in the corral.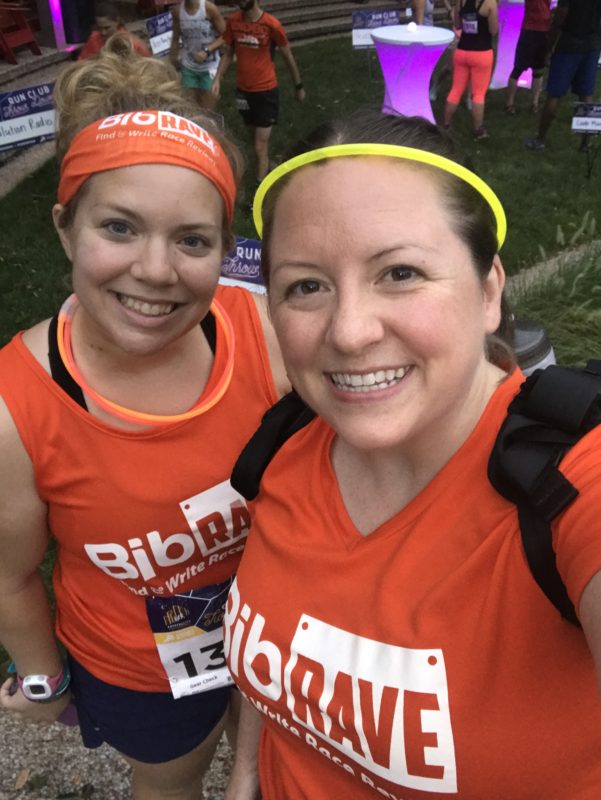 There was no official corral placement. I headed to the back because I am slow. I was super lucky to run into a few fellow MRTT runners! Yay! I was glad to have someone to run with 🙂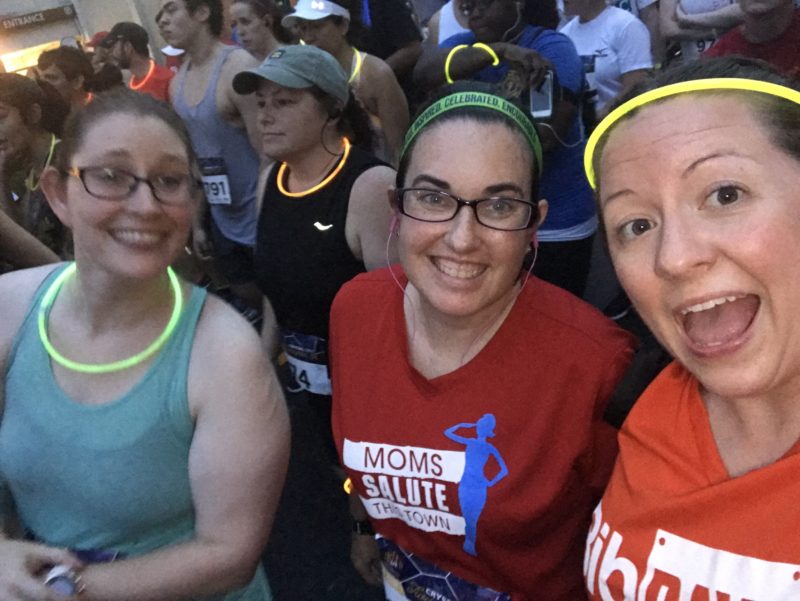 The Run – How Did I Do?
The course takes your around Crystal City. You go behind a bunch of buildings, around near a park, and then back. It wasn't anything special to write home about, but the city at night did look pretty neat, coupled with all of the glow sticks. The terrain was all road and it was very flat.
That being said, I kicked butt! I was running with my friend. We had said we were about a 13:30 minute mile, but we ended up running at a 12:15 pace! We both were just trying to follow each other, but in turn ended up running a lot faster than expected. At the end, I felt like death, but it was great! My final time was 38:06 – which is a post-baby 5k PR for me! I'm no where near where I was or where I want to be, but it is a good start.
Post-Race
Since I was completely soaked with sweat, exhausted, and chaffed, I went directly home. However, the party was just starting at the finish line! There was food and drinks, as well as music and festivities. Everything looked awesome all light up!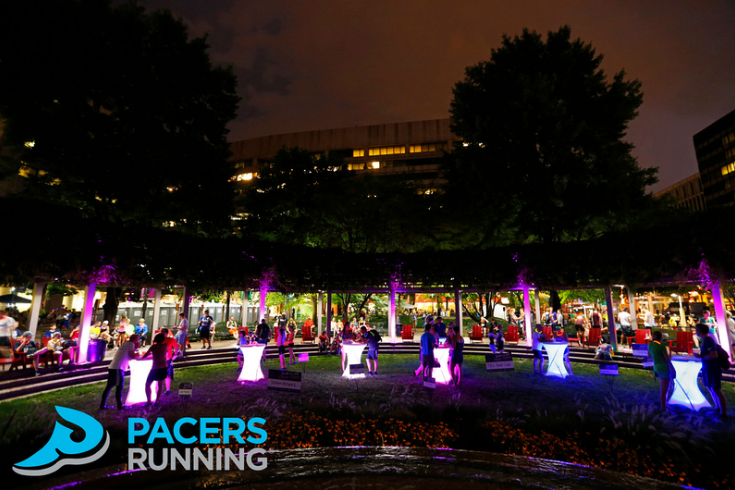 Would I Run this Race Again?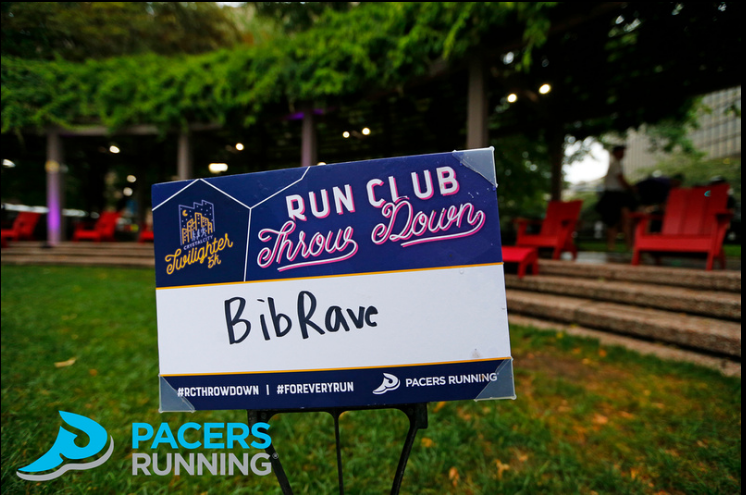 Probably. I do love a night race, and Crystal City/Arlington is easy to get to. While the scenery wasn't anything to get excited about, I did enjoy all of the lights, and it was a nice change of view from where I usually run!
Next up: The Clarendon Day Double: Two races back-to-back, also in Arlington, VA!
Are you ready to run the 2018 Crystal City Twilighter?