The Purple Carrot | Vegan Meal Delivery Service
Have you ever had a really busy week and don't have time to come up with a meal plan and go grocery shopping. I seem to have those quite often. I usually don't mind cooking, but I can be really indecisive about what to have for dinner, and I hate going grocery shopping as well. The only reason I go to a physical grocery store is so I can use my AMEX Blue Cash Preferred card. I can earn rewards by simply shopping which is neat but I always find the grocery store too hectic!
The Purple Carrot is one way to help alleviate the stress and worry of planning and shopping for a meal. They deliver all the raw, pre-measured ingredients and recipes you need to cook two healthy, delicious vegan meals and one snack at home!
Each week, The Purple Carrot offers four dinner options, with new choices all the time. You pick the two that you love most, and they take care of the rest! Even better, at least two of their meals are gluten-free! Each order also includes the ingredients to make a healthy snack or dessert.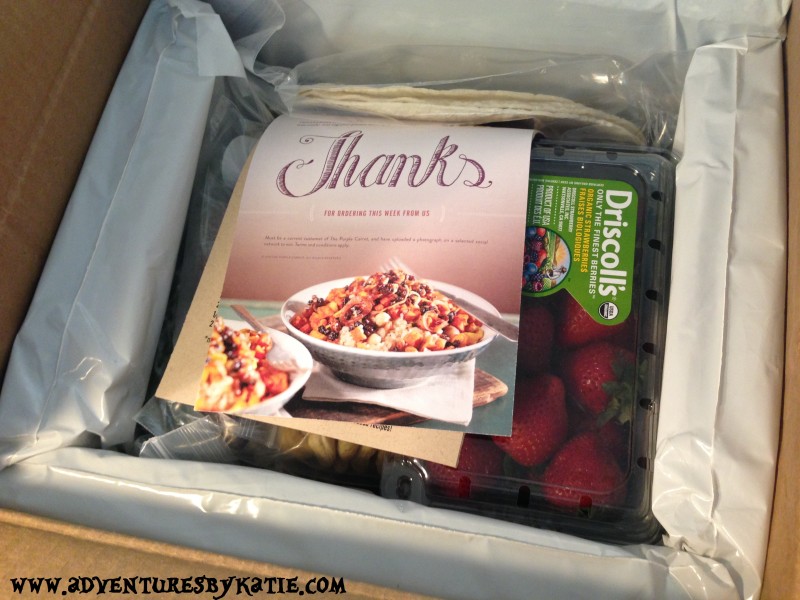 My box was waiting for me when I got home with work. It is lined with ice packs and was definitely still cold when I opened it. Inside were ingredients for my two meals:
Kale Salad with Quinoa, Butter Beans & Strawberry Vinaigrette &
Cinco De Mayo Burritos with Cilantro-Lime Rice and Nola's Salsa.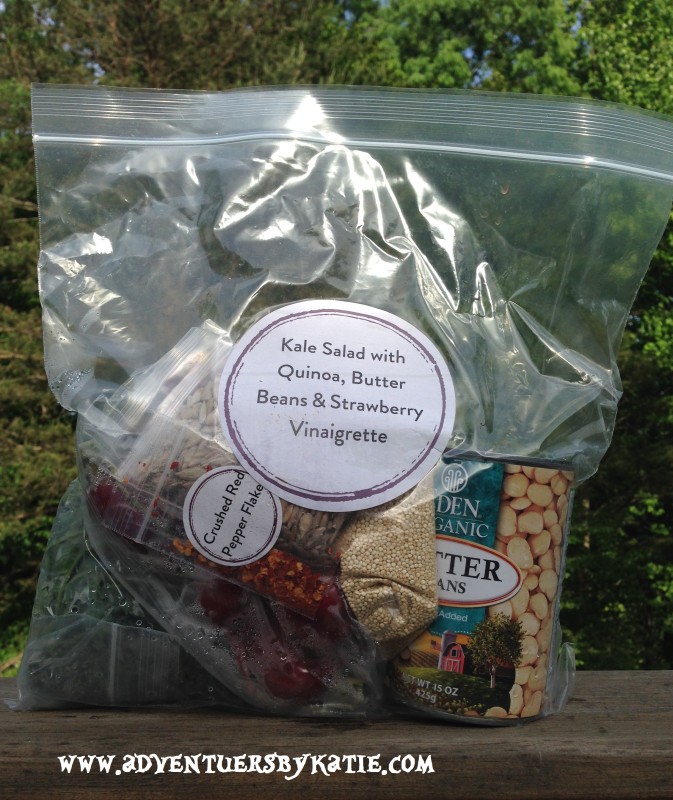 That night I was excited to try the burritos. I didn't have to worry about not having a certain ingredient or spice because everything was included. A recipe card was included with easy to follow instructions, so even very beginner cooks are able to make these meals! No fancy tools are needed.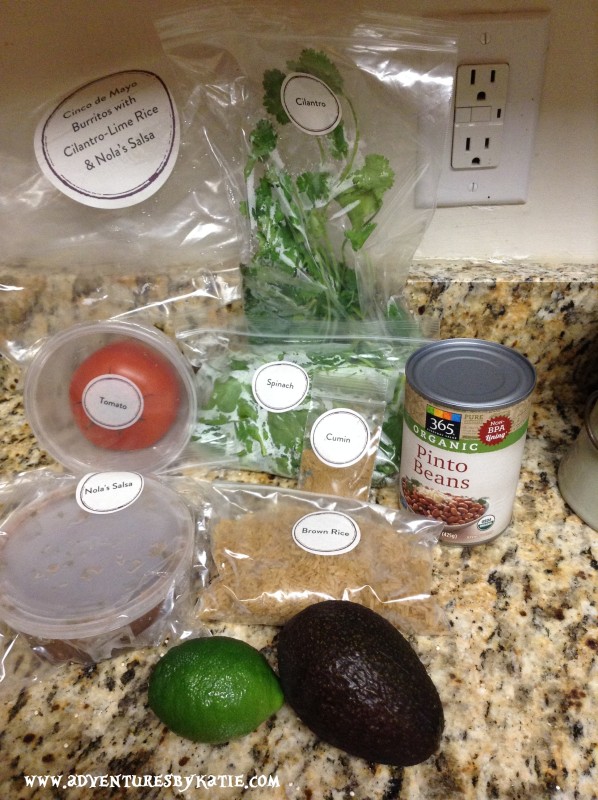 Prep was simple: wash and cut the veggies, make the rice, and warm up the beans. This was a very simple meal to make and didn't take too long.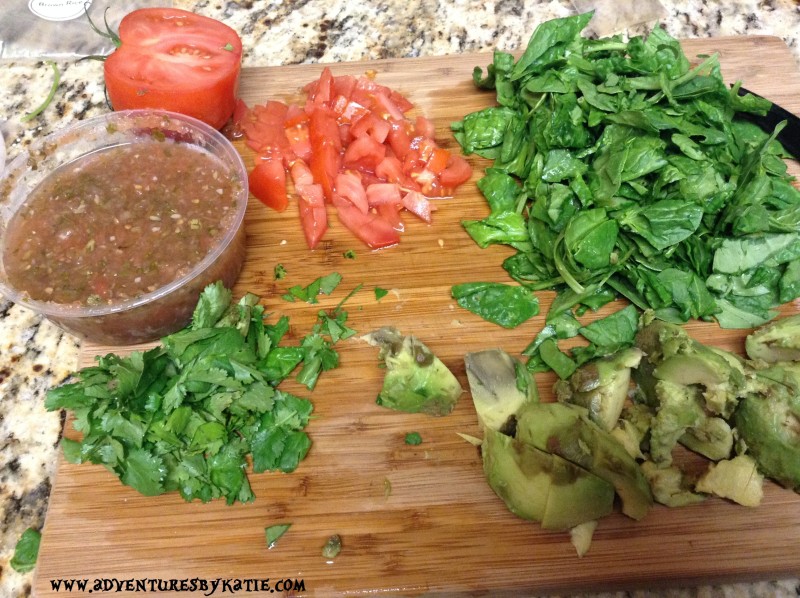 Below was my final creation. Nathan and I absolutely loved the flavors of this burrito. I especially loved the salsa! Each meal is made to feed a family of four. This recipe was enough for four large burritos.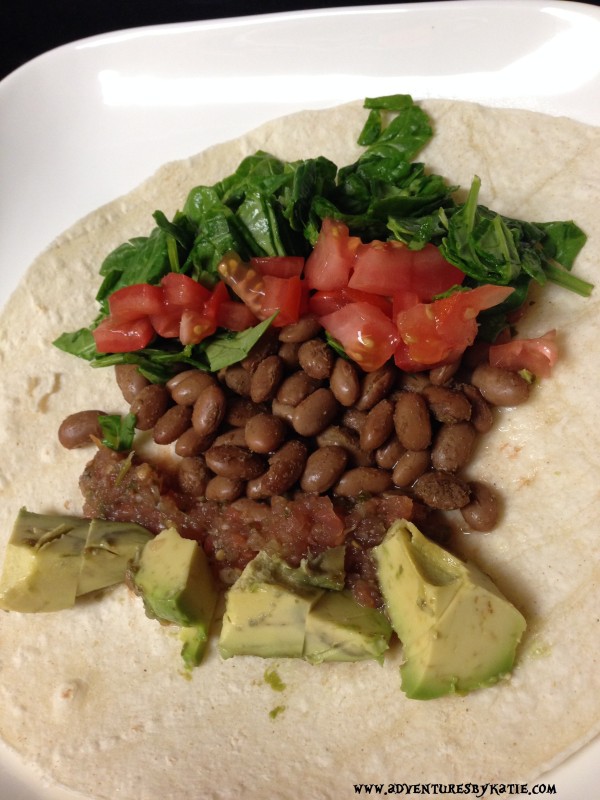 So….is the Purple Carrot worth it???
Here are a few things to think about:
~You pick two plant-based (vegan) meals out of the four offered (at least 2 gluten-free meals are offered), and they will be delivered right to your door, along with ingredients for a yummy snack.
~No contract is needed! Order as often as every week, or just once in a while when you know you are going to be busy.
~There is a recipe archive on the website where you can get some good ideas for other meals.
~The price for a box is $59, delivered, but if you order using the code KATIE50, you can get 50% off your first order!! Order Here! This means that it is DEFINITELY worth at least trying the service 🙂
Nathan and I thought the box was a great idea for those who are busy or those who are beginning out with a vegan diet and may not have the recipes and ideas of what to make for dinner. While we will not be ordering a box every week, I definitely check the website for meal ideas and will be ordering a box for those weeks when I am super busy! I'm already planning to order a box to be delivered the week we get back from vacation, since the house will be empty of food!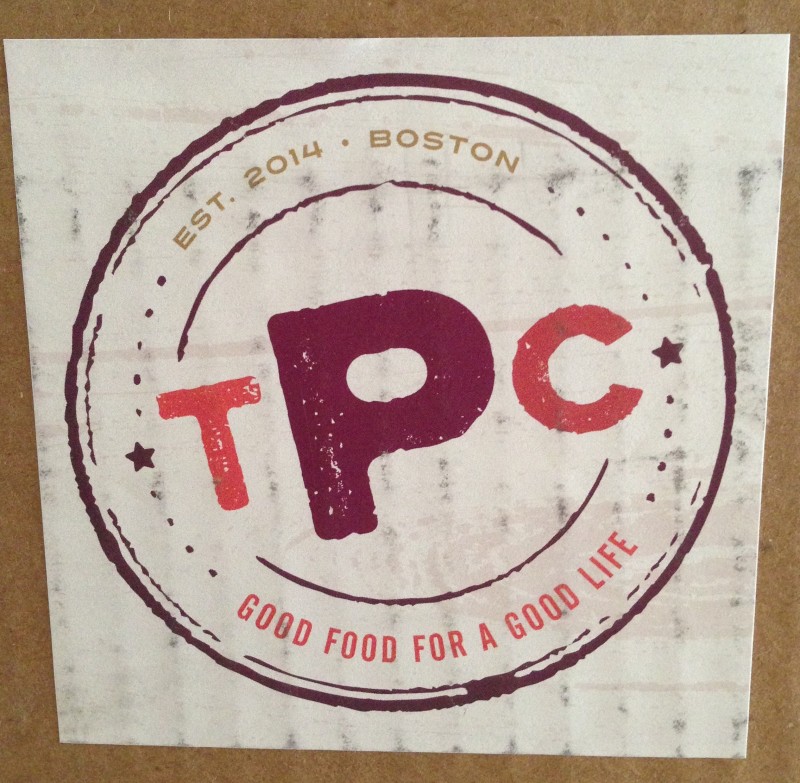 *Disclaimer: I received a free box in exchange for my honest opinions. No other compensation was received.*