Sweet Potato Salad with Lemon Dijon Dressing
The Ingredient of the Month for November is the
Sweet Potato

! Bloggers are encouraged to develop, make, and post a recipe using this ingredient and then post it on the monthly link-up! If you would like more information, please visit my Ingredient of the Month page!
---
I first made this recipe for my 2012 Easter Dinner, but I thought I would share it again. With Thanksgiving right around the corner, this recipe would make a great side dish for your dinner festivities. There are only a few ingredients and it is super easy to put together. And, the taste is great. I love the mix of sweet potatoes and cranberries! And did I mention that this recipe is healthy? Not a lot of sugar or marshmallows in this recipe!
Feel free to add more sweet potatoes if you are feeding a larger crowd!
The Recipe!
2 sweet potatoes
1/2 cup cranberries
green onions, finely chopped
Sunflower seeds
Dressing:
1/2 lemon juice
1/4 cup sweetener of choice
3 tbs dijon mustard
1. Cook sweet potatoes in microwave, 4-6 minutes on each side (make sure you pierce potato before cooking) [you can also roast these in the oven!]
2. Peel and cut the sweet potato into bite sized pieces
3. In a small pan, cook cranberries until they have softened [quick fix: use Cranberries]
4. Chop green onions
5. Assemble salad ingredients in bowl.
6. In separate container, mix dressing ingredients
7. Add dressing as desired and enjoy!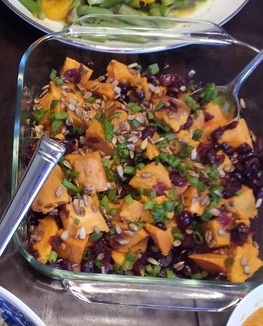 ---
 The Ingredient of the Month for November 2014 is the
Sweet Potato

!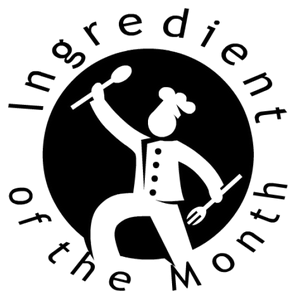 Do you have any recipes using sweet potatoes? Link them up!
Want more information about this link up or becoming a host? Visit the Ingredient of the Month page!