Cranberry Glazed Tofu & Homemade Cranberry Sauce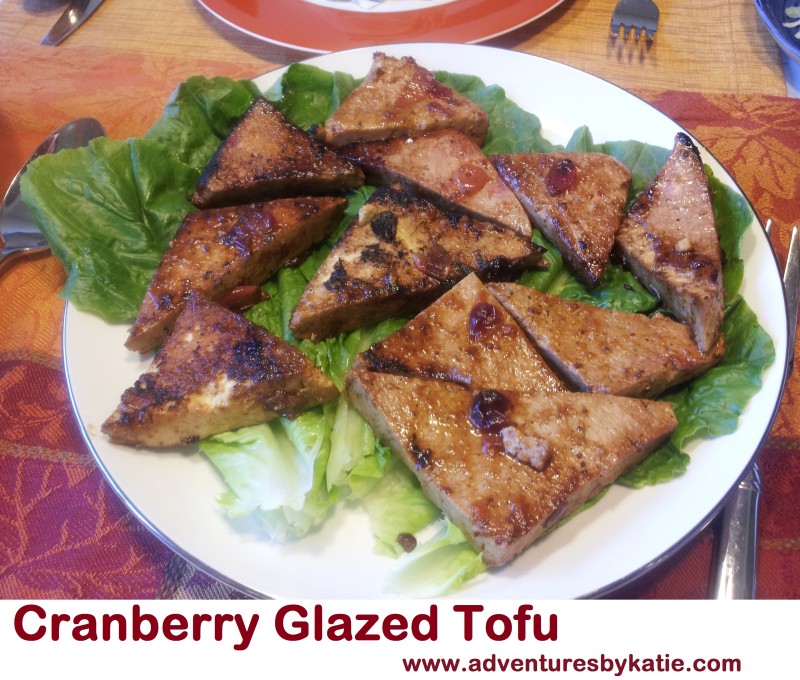 Thanksgiving is coming up this week! I feel very unprepared because I do not yet know if I will be in town or traveling (crazy, right?).
Last year I made this dish as part of my Thanksgiving feast, as the "main dish". Thanksgiving is my favorite holiday (because I love to eat), but it is always hard to come up with a good vegan main dish that can rival a turkey. This is a good alternative, along with some side traditional dishes, such as mashed potatoes, stuffing, or Cauliflower with Nut Topping.
You need to make the cranberry sauce in advance because you want to let the tofu marinate for a while before cooking. Be careful about using canned cranberry sauce because you don't want it to be too firm. This sauce can be made ahead of time and stored in the fridge until ready to use to marinate the tofu.
Homemade Cranberry Sauce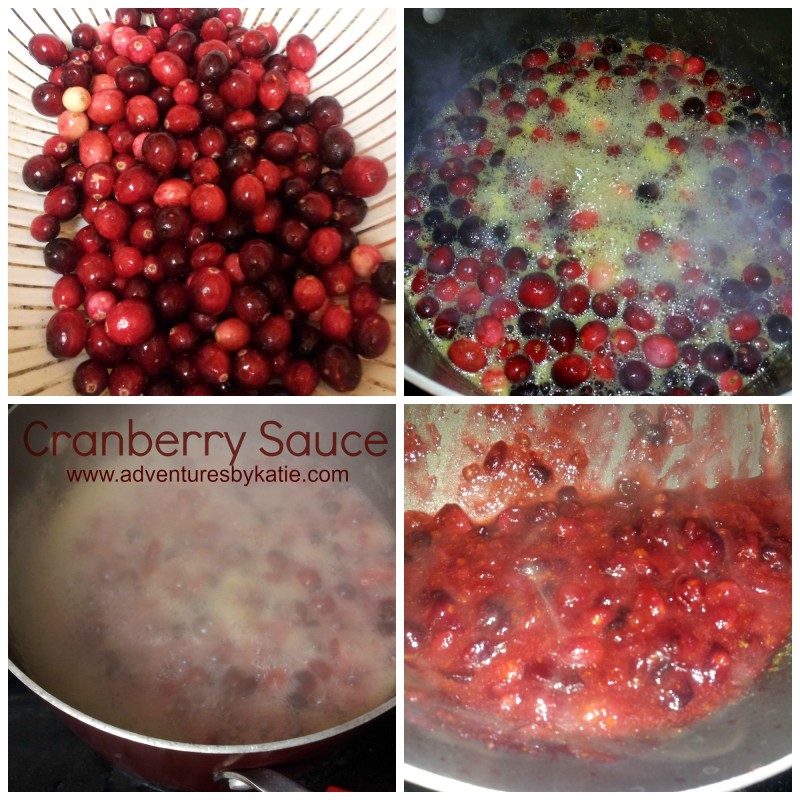 Ingredients
12 ounce bag whole cranberries
1 orange, juiced (about 1/4 cup liquid)
1 teaspoon orange zest
1 cup vegan sugar
3/4 cup water
Directions:
1. Rinse the cranberries.
2. Wash and zest the orange before juicing (aka squeeze that orange!)
3. Pour juice, water and sugar into a pot and bring to a boil so the sugar begins to dissolve
4. Add the cranberries and stir frequently (cover the pot when not in use so the cranberries don't explode on you!)
5. Add in the zest and continue to stir.
6. When all the berries have burst and the liquid is thick, remove from heat and let the sauce cool slightly.
7. Pour into a dish, cover and place in the fridge to firm up.
Homemade Cranberry Sauce
Ingredients
1 block extra firm tofu, pressed and sliced
1 cup cranberry sauce.
1/2 cup tamari (soy sauce)
1/4 cup orange juice
2 Tablespoons lemon juice
1/3 cup honey or maple syrup
1 Tablespoon poultry seasoning (or pinches of sage, thyme, marjoram, rosemary, and nutmeg)
1 teaspoon apple cider vinegar
1/2 teaspoon black pepper
dash of salt
Oil (so the tofu doesn't stick)
Directions:
1. Prepare your marinade by combining all the ingredients (except for the oil) in a bowl or dish. Add the tofu and coat all sides of the tofu by swishing it around.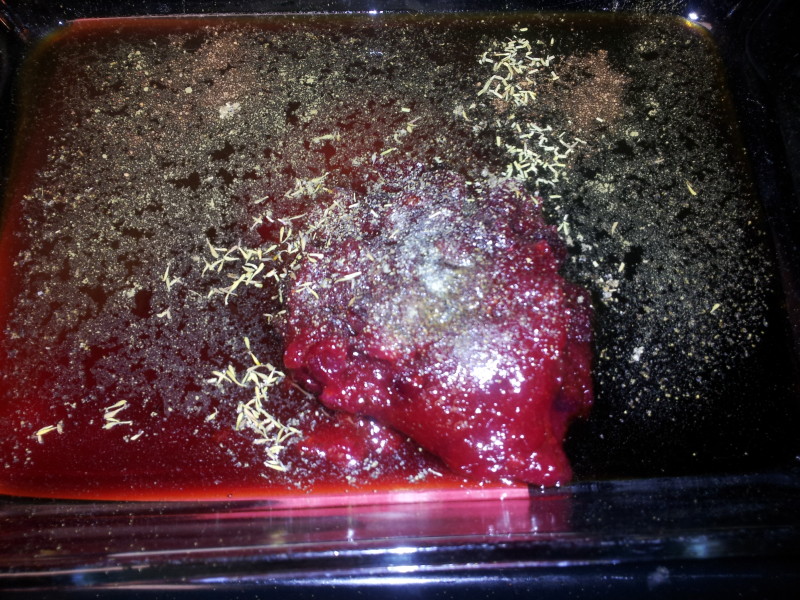 2. Put in the fridge and let the tofu marinate for a few hours (at the minimum). Feel free to swish around the sauce a few times to continue to coat the tofu.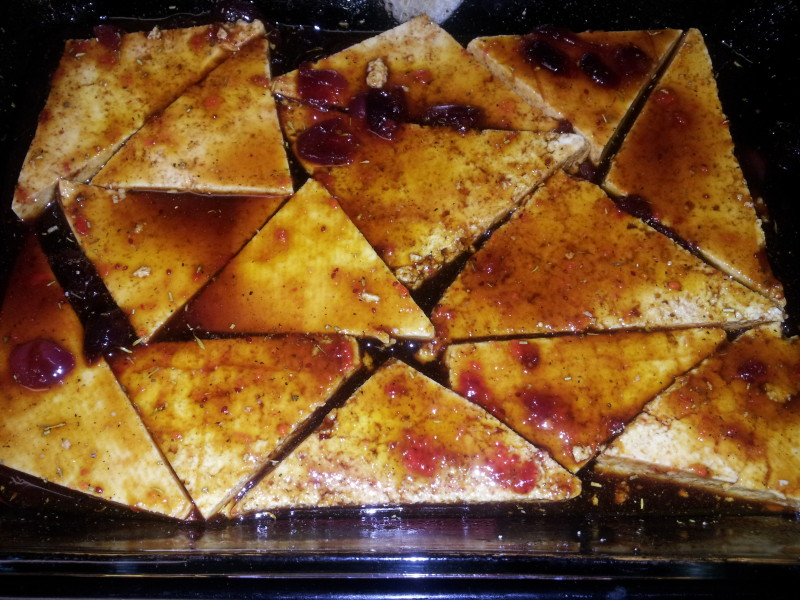 3. When ready to cook, heat the oil in the pan until hot and then add the tofu, along with some of the sauce. Let it brown and glaze on one side and then flip. Add some more marinade sauce and let it cook on the other side.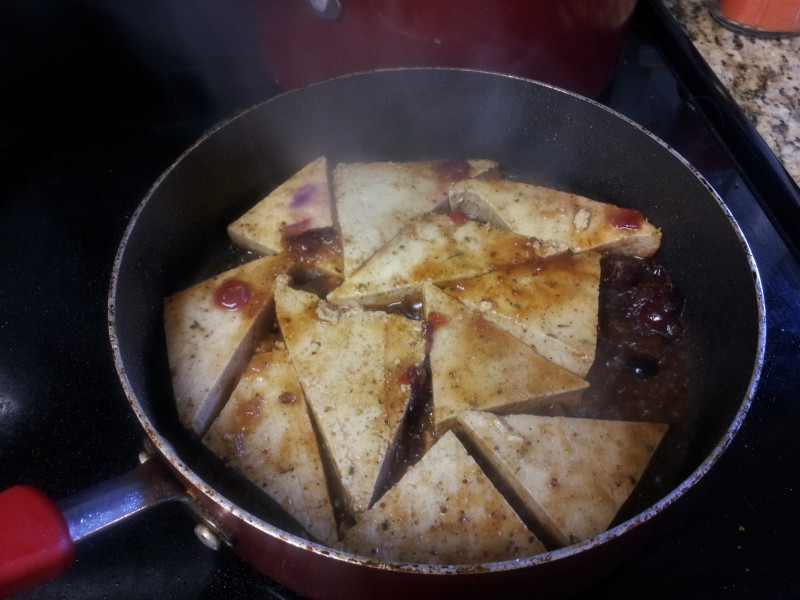 4. Place on a plate to cool and firm up a bit before serving. You can use the leftover marinade as an extra sauce 🙂 Time to eat. So yummy!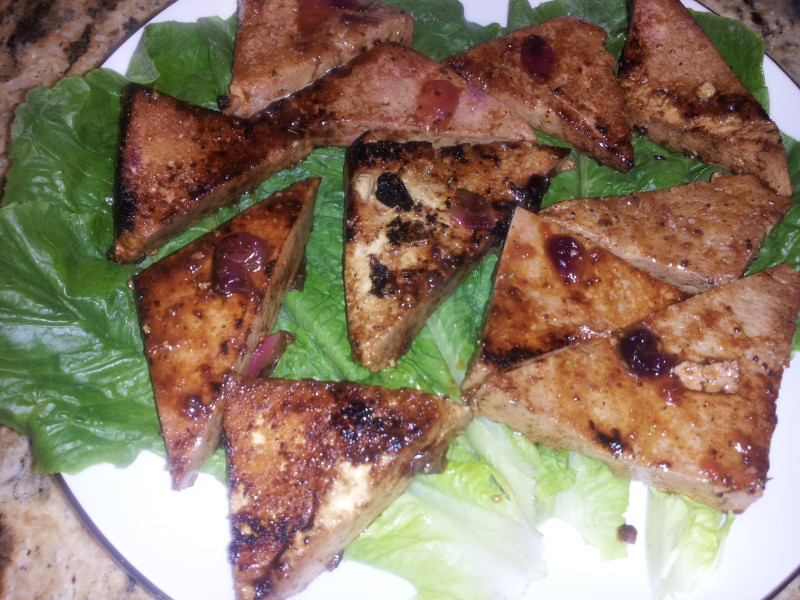 This dish is a good precursor to my delicious Raw Mini Pumpkin Pies!
What's your favorite way to eat tofu? What do you use as a vegan Thanksgiving main dish?