Corn Maze in the Plains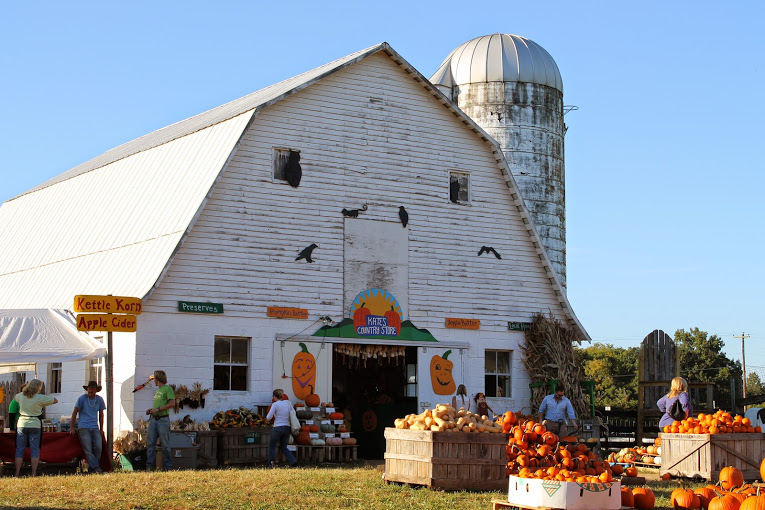 I am always looking for fun adventures to fill my weekends. After a long week of work, I was ready to go out and enjoy the autumn weather and wanted to take part in a fall-time activity.
I headed out to The Corn Maze in the Plains with Kendra and my two nieces. Located right off I-66 in The Plains, Virginia, it was only a 10-minute drive from where I work. It was the opening weekend of the maze, and they were celebrating their 15th anniversary, so $50 and $100 cash tickets were being hidden in the maze. So, not only did I get to go enjoy the afternoon with my nieces, we had the chance to win some money as well!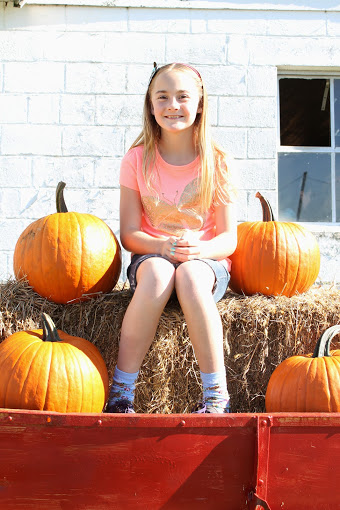 There were pumpkins everywhere! All different types and sizes! There were a lot to choose from, so keep your eyes open for your favorite. Also, be sure to visit Kate's Country Store where you can find fresh kettle corn, apple and pumpkin products, cider, honey, and more!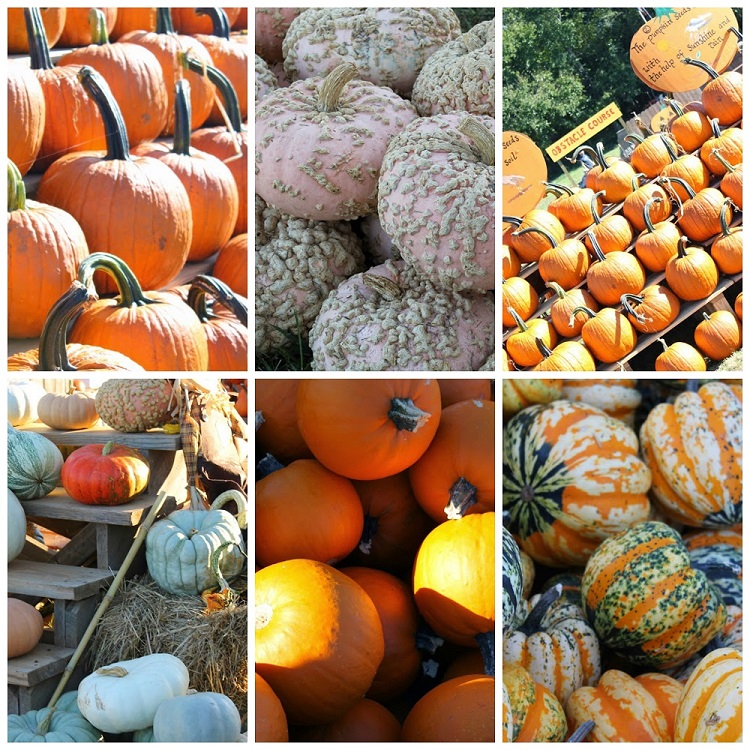 The farm had some fun kids-activities, such as mini mazes (good practice before attempting the 5 acre maze!), roll tubes, slides, Corn Hole, obstacle courses, pumpkin slingshots, hayrides, and a lot of photo opportunities! We certainly kept busy (and had fun!) while waiting for the maze orientation to begin!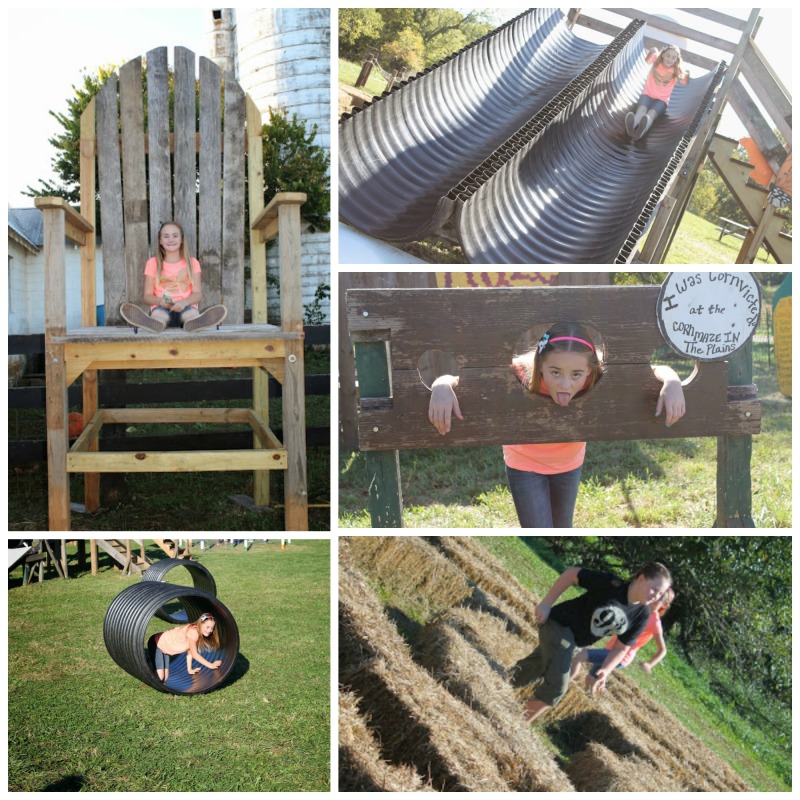 Before we started on the maze, we were given a quick orientation about the maze and how it works. Then we were off on our adventure!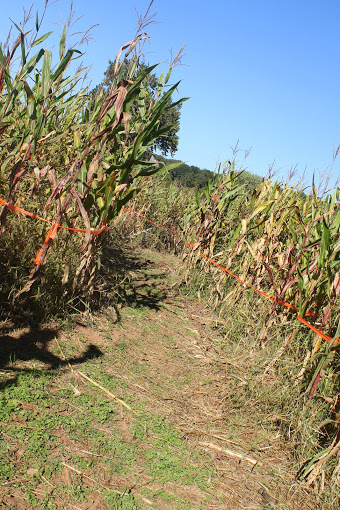 Our plan of attach was to keep turning left as much as we could, unless we figured out that we needed to go right. We definitely kept our eyes peeled for the hidden money. There were stations set up through the maze with some trivia questions about wolves. If you got the answer correct, it told you what way to turn next. I'll just say…we didn't know much about wolves…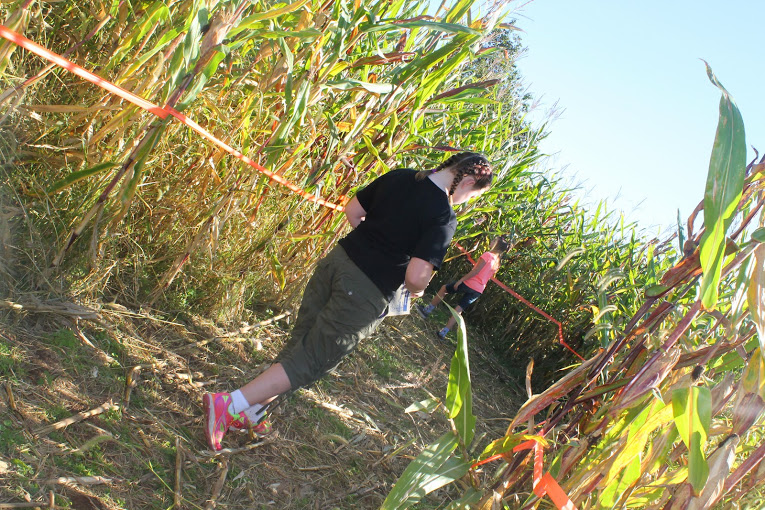 We ended up wandering around the maze for quite a bit. The goal was to make it to a tall look-out, where you could then see the way to the exit. Unfortunately, we could never find our way to the lookout! So, good luck to us to find the exit. We were told at the orientation that the average time to finish the maze is about an hour. Well, it had been an hour…
Hey, look! We found our way to the exit. But, you know what…we never found it! We ended finding our way back to the entrance. We decided to just exit because it was close to closing time for the maze. Regardless of never finding the proper way out, we had a great time getting lost in the corn. I highly recommend coming to spend some time at The Cornfield in the Plains!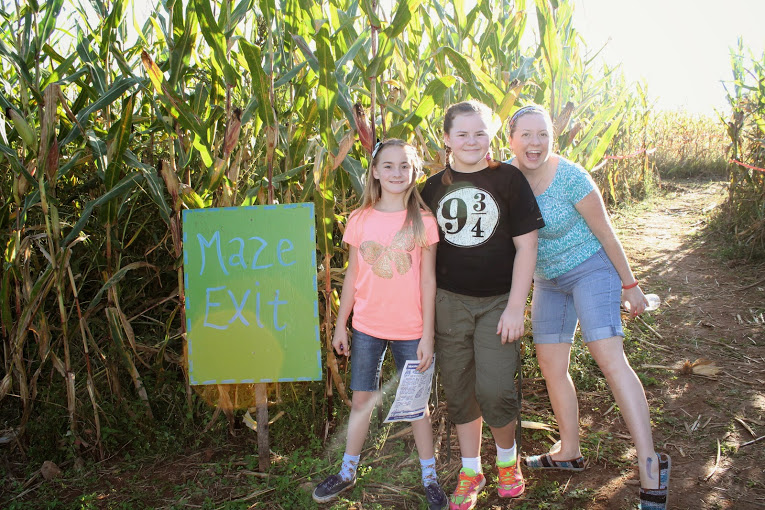 And guess what!!?? My niece Haley found a $100 ticket hidden underneath a pile of mulch. We found out later that it was the second to last ticket still left in the maze. It was such a lucky find and she was kind enough to split the money with all of us! Thanks, Haley! And thanks to The Corn Maze in the Plains for such a great afternoon!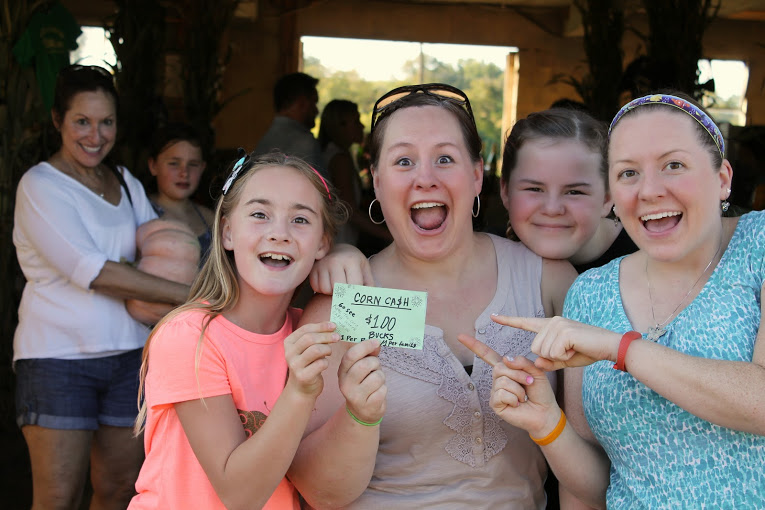 Located in The Plains, Virginia, the $10 General admission (kids $9) includes a 5 Acre Corn Maze, Barnyard of Fun with giant slides, mini mazes, obstacle course, fidget ladders, spider web, roll tubes, hay loft, corn tires, farm animal corral, hayrides and pumpkin sling shot. This is a great price for a lot of fun. You can also get a group (15+ discount), as well as a discount if you visit them on Yelp or 4square.
The Corn Maze in the Plains is open from September 27 – November 9:
FRIDAYS in Oct. and Nov. 10am – 10pm
SATURDAYS in Oct. and Nov. 10am – 10pm
SUNDAYS 10am – 6pm
PLUS COLUMBUS DAY 10am – 6pm
NEWLY ADDED DAYS!: MONDAY, Nov. 3 & TUESDAY, Nov. 4: 10am – 5pm
The Moon Light Maze is open Fridays & Saturdays Oct 3 – Nov 8
PLUS Sunday Oct. 12 from 6-10pm
---
**I was provided free admission to The Corn Maze in the Plains in exchange for this post, but all thoughts and opinions are my own.**